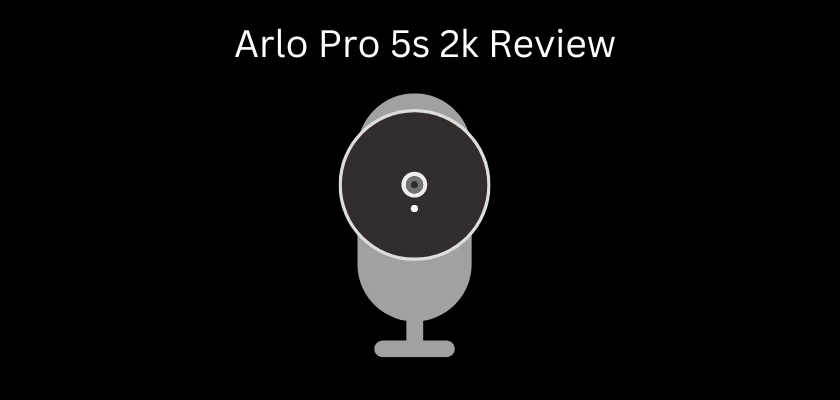 The release of the Arlo Pro 5s 2k camera has come with great expectations. When it comes to security camera brands, Arlo is definitely no new name. The brand is revered for its advanced state-of-the-art functionalities as well as innovative technology.
Over the years, the brand has proven to be worth every hype with chains of high-end camera devices, especially with the Arlo Pro 2 to the Pro 4 home security cameras.
Now, Arlo came back to the market in November of 2022 with a more advanced security camera; the Arlo Pro 5s 2k security camera.
In this article, we will review the camera, ranging through its possibilities and what you can expect. 
Before we delve into the review, it is important to note that the new Arlo Pro 5s 2k camera is one of the most all-inclusive security cameras on the market today. It comes with truckloads of terrific functionalities such as dual-band Wi-Fi support, HDR, a 2k video feed quality, and a wider viewing angle that can shoot up to 160 degrees. What's more? You'll get all these compelling features alongside a powerful battery life.
Now, let's dive right in.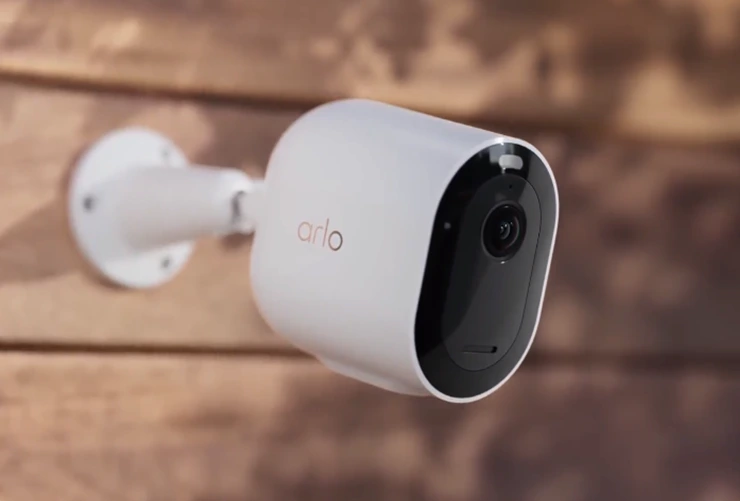 The Design and Build Quality of the Arlo Pro 5s 2k camera
Sleek, compact, and classic. These are words that best define the design of the Arlo Pro 5s 2k camera. Arlo built on the success of the previous version, channeled its deep expertise in product design, and gave us a simple, minimalist, functional, and retail-friendly camera. It has a small, white, weatherproof camera body with a black front face that houses the lens. The camera can also blend into any environment effortlessly.
With its wire-free setup, you can install the camera without dealing with complicated wires.
The Arlo Pro 5s 2k home security camera comes with a magnetic mount that makes it easy for you to position the camera wherever you need it. You can place it on a bookshelf, wall, or ceiling, making it convenient for you to keep an eye on your property. The mount also allows for easy adjustment, giving you flexibility in positioning the camera for the best view possible.
The camera also comes with all-weather protection, which means that it can withstand any weather condition like heat, cold, rain, or sun. Thus, you can place it both indoors and outdoors without worrying about any damage to the device.
Features of the Arlo Pro 5s 2k security camera
First off, the camera is compatible with the Arlo Secure App. If you've been a fan of Arlo for a while, you'll agree with how well this app can take your home security to another level.
Also, you won't have to worry about installation costs because the camera is very easy to set up. The installation process is largely wire-free and devoid of complex connections. You can get everything running easily.
That's not all, the Arlo Pro 5s 2k camera is also accompanied by terrific features such as 30% more battery life compared to its predecessor, 12x zoom, and several others.
Now, let's take a closer look at these features.
The first unique selling point of the Arlo pro 5s 2k home security camera is its video quality. It is much more improved with an enhanced image sensor, compared to what Arlo has been releasing over the years. With this camera, you can record feeds of up to 2k video (2560×1440; 16×9) quality with full HDR. With this, no detail will elude the camera. Every element captured is crystal clear and appreciable.
Another impressive feature is the color night vision. At night, you won't be seeing the normal black-and-white feeds only, you can see all your footage in fully colored form. With this, you'll be able to properly assess every event, see more detail, and easily identify any potential intruders.
Let's talk about the 12x zoom. The Arlo Pro 5s 2k camera's 12x zoom feature allows you to see sharper details and zoom in on specific areas for a closer look. This can be particularly useful for identifying faces or license plates. This is undoubtedly a feature you'd appreciate to monitor your property or identify people in even far away spots. With this feature, you can see the bigger picture, and focus on the details that matter the most.
Another interesting feature is the 160 degrees field of view. This feature allows you to capture a large area with just one shot. Obviously, this is significantly wider than the typical view of most other security cameras you'll find out there. Thus, it eliminates the need for multiple cameras to cover the same area.
The 160-degree view also reduces the fisheye effect and gives you true-to-life imagery. Put simply, you will see more of your property, which can be especially useful for monitoring larger spaces, and outdoor areas, and catching potential intruders without any hassle.
Speaking of intruders, the Arlo pro 5s 2k camera also has a smart siren feature to tackle them. This is a standout feature that lets you know whenever the camera's motion sensor detects suspicious motion within its field of view.  With the ability to trigger the siren remotely through the Arlo app, you can also make an unwanted visitor uncomfortable or scare off any potential intruders.
This feature can be especially useful if you're away from home and want to deter potential burglars, or if you hear suspicious noises while monitoring your property.
Wondering how this camera will fit into your smart home plan? Don't worry. The Arlo Pro 5s 2k camera is compatible with smart home products like Amazon Alexa and Google Assistant. Both of these integration allows you to control your camera with voice commands. For example, you can ask Alexa or Google Assistant to show you the live feed from your camera, arm or disarm the camera, or turn ON the light in the room where the camera is located. This makes it easy to check on your home and adjust the camera settings without having to physically go to the device.
Additionally, the Arlo Pro 5s 2k camera is compatible with IFTTT (If This Then That), which allows you to create custom applets to automate the camera's functions based on specific triggers. For example, you could set up an applet that turns ON the camera and sends you a notification when your smart door lock is unlocked.
Furthermore, the Arlo Pro 5s 2k camera also works seamlessly with the Arlo Home Security System, which enhances the capabilities of the camera's battery life, secured connectivity, and backup power. You can also easily schedule when your security system is armed or disarmed.
Battery Performance
The Arlo Pro 5s 2k camera battery is an obvious improvement on the Pro 4. The battery life is designed 30% better than the Pro 4. Well, this is not far from the truth. From a series of tests, the Pro 5s surpassed the Pro 4 by a mile.
Even better, users can control how they use the Arlo Pro 5s 2k camera battery life using the Arlo Secure application. On the app, you can set the camera to run on low power mode. This is a great way to save your battery power.
The Arlo Pro 5s 2k camera battery can also last you up to six to seven months of normal use. Without a doubt, this is great value for your money, especially at its price point.
You may want to see our review of the Arlo Solar Panels and use with the Arlo Pro 5s 2k camera.
Functional Two-Way Audio
The Arlo Pro 5s 2k camera comes with two-way audio, which allows you to hear and speak through the camera. This feature can be especially useful in a number of situations such as, if you're away from home and want to check in on your family, or if you're monitoring your property and need to communicate with someone on the premises.
The camera's two-way audio feature is easy to use, and you can access it through the app. Right on the secure application, you can activate the microphone and speaker, allowing you to hear any sounds coming from the camera's location and speak through the camera's built-in speaker.
You can use this feature to talk with your family and friends, give instructions to people on your property, or even tell potential intruders that you are aware of their presence.
There are other ways this feature will come in handy. For example, you can use the camera as an intercom to communicate with people in other parts of your home. Also, you don't have to monitor the camera 24/7. You can simply communicate with the person at the end of the camera without even accessing the live footage.
Dual Band Wi-Fi
The Arlo Pro 5s 2k camera comes with dual-band Wi-Fi support, which allows the camera to connect to both 2.4GHz and 5GHz Wi-Fi networks. This provides greater flexibility when setting up the camera and helps to ensure that the camera can connect to the strongest network available.
One of the key benefits of dual-band Wi-Fi support is that it helps to reduce congestion on the 2.4GHz network, which is often shared with other devices such as microwaves, cordless phones, and baby monitors. Ultimately, it can help you make sure that the camera's connection is more stable and reduce the tendency of interference in the video feed.
You can also use the SecureLink feature to pair the camera with the Arlo home security system. This ensures uninterrupted connectivity even where there is a power outage or weak connections.
Full Specifications of the Arlo Pro 5s 2k camera
The specifications of the Arlo Pro 5s 2k camera are shown in the picture below.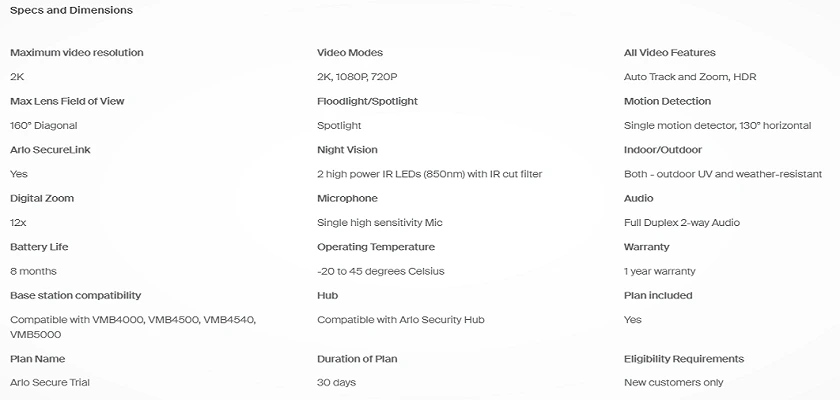 Performance Overview
The features we've been discussing so far are indeed very remarkable features. From 24/7 uninterrupted video footage to seamless access via the Arlo Secure App, bet it is close to the expectations of every user.
Even better, the Arlo Pro 5s 2k camera keeps working even in bad weather. This is thanks to its all-weather protection. With regards to image and video, it delivers great results in the daytime as well as at nighttime.
This camera is definitely a huge improvement to the Pro 4. Testing the siren during the night and day, it fulfills every expectation.
Overall, you don't expect the audio quality to rival that of high-end speakers. It is just good enough to comprehend the message being passed. Especially with the introduction of the low-power mode, there's no reason to say no to this camera.
Final Thoughts
Should you buy the Arlo Pro 5s 2k camera?
At this point, you'll agree that the Arlo Pro 5s 2k camera is a powerful and feature-rich home security camera, offering cutting-edge clarity, powerful protection, and smart home integration capabilities.
If you're in the market for a high-end home security camera with a seamless setup and an overwhelming range of features, the Arlo Pro 5s 2k is definitely worth considering.
However, it is equally important to note that Arlo will require that you pay for some features that you'll typically get free of charge in other home security systems. These include emergency response, priority care and support, cloud storage, etc. If you can do without these features, there's nothing stopping you from considering the Arlo Pro 5s 2k camera.
From a price standpoint, it's hard to say no to Arlo. Even with the number of great features it has, the camera remains cost-effective. You can easily get the Arlo Pro 5s 2k camera for roughly $249.99.
However, note that the price may be higher depending on what accessory you want to add to your delivery.
Also, if you want to have a personalized home security system with the Arlo Pro 5s 2k camera, you can do so and even save up to 20% on this. So, if you want more with less, this is an offer you might want to consider.
You may want to see our review of the eufyCam 3 and eufyCam 3C. or the eufyCam 2C and 2C Pro.