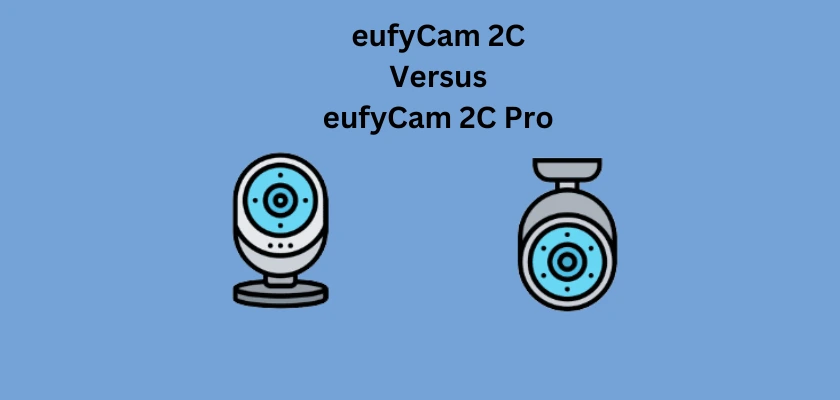 The eufyCam 2C and eufyCam 2C Pro are two well-known security cameras from eufy. This review compares them to see the benefits of both.
Home security has evolved from being a luxury into a necessity. As a homeowner, you want to ensure your safety, the safety of your loved ones and belongings. One of the ways to achieve this is by investing in a reliable security camera system. With so many options on the market, it can be overwhelming to choose the right one for your needs.
In this article, we will compare these two popular eufy models; The eufyCam 2C and eufyCam 2C Pro, to help you make an informed decision. At the end of this review, you will have a better understanding of the similarities and differences between these two IP cameras, and determine which one is the better fit for your home security needs.
So, let's get started!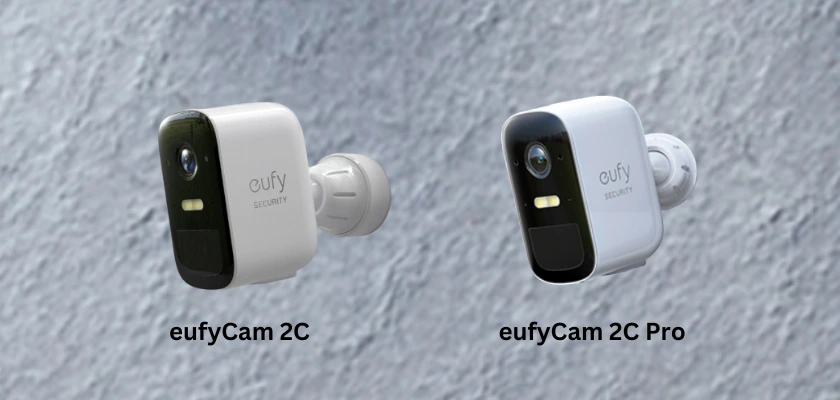 Overview of the eufyCam 2C
The eufyCam 2C is a wireless security camera system that provides 24/7 monitoring for your home. It comes with a range of features that make it an excellent choice for those looking for an easy-to-use, affordable security camera system.
One of the standout features of the eufyCam 2C is its 1080p video resolution. This means that you'll get crystal-clear footage of any activity around your home. The camera also has a 135-degree field of view, which is wide enough to cover most areas of your home.
In addition to video, this camera also has two-way audio, which means you can communicate with anyone in the vicinity of the camera. This feature can be especially useful if you need to scare off an intruder or simply speak to a delivery person.
Another feature that makes this camera stand out is its motion detection with customizable activity zones. This means that you can set specific areas for the camera to monitor, which can reduce false alerts and help you keep an eye on the areas that matter most to you.
The camera is also weather-resistant (IP67 rated), which means it can be used both indoors and outdoors. It has a long battery life and can last up to 180 days on a single charge, depending on usage. You can as well control and monitor the camera using the eufy security app. This is available for both iOS and Android devices.
To cap it all, the eufyCam 2C comes with spotlights and an incredibly smart image enhancement feature. When the camera records a feed, this feature makes it identify and focus on humans. As a result, you can get a brighter and clearer view of people within the frame.
With all these compelling specs, it's undeniable that this camera is an excellent choice if you're looking for a balance between affordability and functionality. You can be rest assured knowing you have a system to keep your home safe and secure.
Overview of the eufyCam 2C Pro
The eufyCam 2C Pro is another wireless home security camera system. It is an advanced version of the 2C, with several additional features that enhance its functionality.
With the eufyCam 2C Pro, you get 2K video resolution, which is twice the resolution of 1080p. This means you get clearer, more detailed footage of what's happening in and around your home. The camera also has an improved sensor, which provides better low-light performance and night vision capabilities.
The eufyCam 2C Pro has a similar field of view as the 2C. This means that regardless of your choice, you can enjoy wide coverage without any hassle. 
What's more, it also has advanced motion detection capabilities. This equips it with the ability to differentiate between people and pets, reducing false alerts.
You can as well use the battery on the eufyCam 2C Pro for up to 180 days. This is kudos to its powerful 6700mAh battery capacity. However, note that for either the eufyCam 2C or eufyCam 2C Pro, the eventual battery life may depend on several factors.
For instance, if you keep recording in high resolution over a long period, the battery might not last as you expect. But the good thing is that you can always turn on the optimized battery life setting using the mobile app.
That's not all. The eufyCam 2C Pro also features a built-in spotlight, which can be triggered by motion or manually activated. This feature helps it provide additional illumination and a deterrent to potential intruders. To cut the long story short, this is quite a loaded and fully-featured camera. Now, the question is how do the eufyCam 2C and eufyCam 2C Pro rival one another?
To answer this, we will take a closer look at both cameras under various headings starting from their design and setup to everything they both have to offer.
Design and Setup of Both Cameras
Design, setup, and build quality are all important factors to consider when choosing a security camera system. In terms of design, both the eufyCam 2C and the eufyCam 2C Pro have similar designs. That is a compact and sleek body that looks great on any home exterior.
They have similar classic white and black build with the lens located superiorly in front. At first glance or even after a closer look, you might not be able to differentiate between both devices.
What's even more interesting is that the design isn't only about aesthetics, it is equally about functionality. The cameras are designed to be weather-resistant with an IP67 rating, making them ideal for outdoor use. They both come with a mounting kit which makes them easy to install in the desired location. Speaking of installation, make sure to charge either camera battery first before mounting and usage. The eufyCam 2C and eufyCam 2C Pro arguably have a seamless setup process. Once you mount them, you then have to integrate them with the HomeBase 2, and to your home Wi-Fi network. Then control them on the eufy security app.
The setup process is straightforward and you can complete it in a matter of minutes. You simply need to download the app, follow the on-screen instructions, and integrate the camera easy peasy.   
You've probably gotten the gist earlier, but let's reiterate that both cameras come with rechargeable batteries. This eliminates the need for any wiring or electrical installation. The battery life for both cameras is impressive with both of them assuring up to 180 days depending on use.
In addition to this, the eufyCam 2C and eufyCam 2C Pro both support the use of the eufy Solar Panel. Now, this is a very useful accessory to include with your cameras as it will top up your camera's battery no matter how much it is discharged. Also, camera batteries have a better useful life when the camera is not permanently plugged into a Mains Power Supply. To get a full understanding of all these, see our review of the eufy Solar Panel.
Another thing worth mentioning is storage. Both cameras have built-in 16GB EMMC storage located in the HomeBase 2. This provides ample space to store your video footage without the need for additional storage devices or monthly fees. With this storage capacity, you can store up to 3 months worth of footage before needing to overwrite. The only downside to this is that both cameras do not support storage space expansion in the HomeBase 2.
Video Quality
When it comes to video quality, both the eufyCam 2C and eufyCam 2C Pro offer impressive capabilities. In fact, the only major difference in their video quality is the resolution.
The eufyCam 2C records in 1080p Full HD, while the eufyCam 2C Pro records in 2K resolution. This means you get sharper and more detailed footage with the eufyCam 2C Pro.
In addition, the eufyCam 2C Pro has an improved sensor, which provides better low-light performance and night vision capabilities. Both cameras have a 135-degree wide-angle lens which is good for capturing a broad area of view. However, if you want a slightly wider field of view, you can always opt for the eufyCam 2 or eufyCam 2 Pro. These are in a different lineup from the 2C and 2C Pro, and they both have a field of view of up to 140 degrees. While this difference may be pretty negligible, it can make all the difference in certain situations.
AI Motion Detection
Motion detection is an important feature in any security camera and both cameras offer it. You can always adjust the sensitivity of the motion detection so you don't get alerts for even a motion as tiny as a tree waving. These cameras can differentiate between people and pets and help you reduce false alerts. Using the app, you can as well set activity zones. This allows you to specify areas that you want to monitor more closely. In theory, the motion detection feature of both cameras works similarly.
8x Digital Zoom
Another great feature of both the eufyCam 2C and eufyCam 2C Pro is their 8x zoom capabilities. This means that you can zoom in on specific areas or objects with great detail, even from a distance.
With this feature, you can easily identify important details such as license plates or faces, which can be critical in the event of a security breach or theft. This can help provide valuable evidence for the authorities and increase the chances of catching any perpetrators.
Furthermore, the 8x zoom feature can also be useful for monitoring specific areas of your property, such as a driveway or entrance. By zooming in on these areas, you can keep a close eye on who is entering and exiting your property, helping you to identify any potential threats or unwanted visitors.
Two-Way Audio
The eufyCam 2C and eufyCam 2C Pro both have two-way audio capabilities. This allows you to communicate with whoever is in the camera's field of view. This can be useful for speaking to visitors or deterring intruders. However, the eufyCam 2C Pro has a slightly better microphone and speaker quality, which can make a difference in how clearly you can communicate.
Smart Home Support
You can integrate both the eufyCam 2C and eufyCam 2C Pro with popular smart home platforms like Amazon Alexa, Google Assistant, and Apple HomeKit. This integration allows you to control and monitor your cameras using voice commands or through the respective smart home apps.
Compatibility with Amazon Alexa, Google Assistant, or Apple HomeKit means that you can live stream your camera footage through your smart devices. This feature is incredibly useful for a more convenient, hands-free control of your cameras.  
Specifications of the eufyCam 2C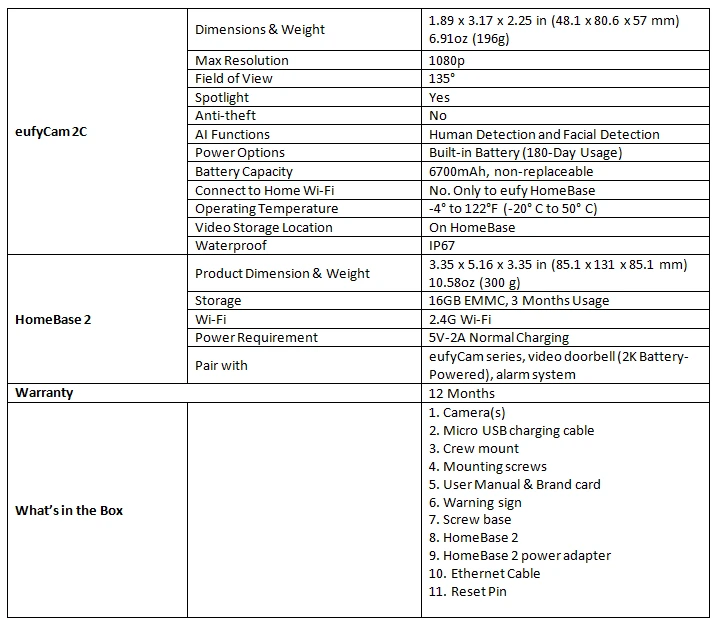 Specifications of the eufyCam 2C Pro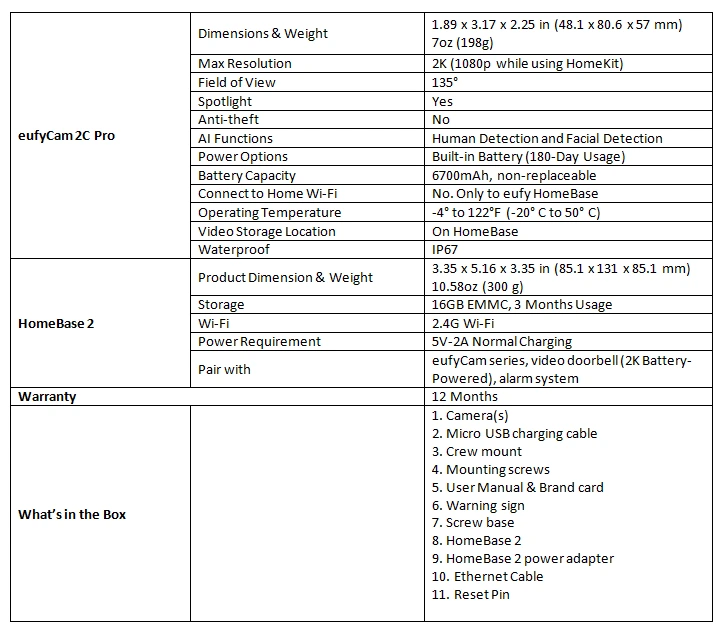 Closing Thoughts
When it comes to choosing the right security camera, price and value are important considerations. The eufyCam 2C and eufyCam 2C Pro are both valuable security cameras and are priced competitively. Not to mention that there are not many differences between the features both cameras offer. The only significant advantage the eufyCam 2C Pro has over the 2C is its higher video resolution.
So, which camera provides better value for money? This really depends on your individual needs and preferences. If you're on a tight budget and don't need crispier and clearer feeds of the Pro version, the 2C may be the better choice for you. However, if you want the best possible surveillance capabilities for your home, the eufyCam 2C Pro is worth the extra cost. Overall, both cameras offer good value for their respective price points and you can't go wrong with either one. It's important to consider what features are most important to you and choose the camera that meets your needs and budget.
You may want to see our review of the eufyCam 3 and eufyCam 3C.