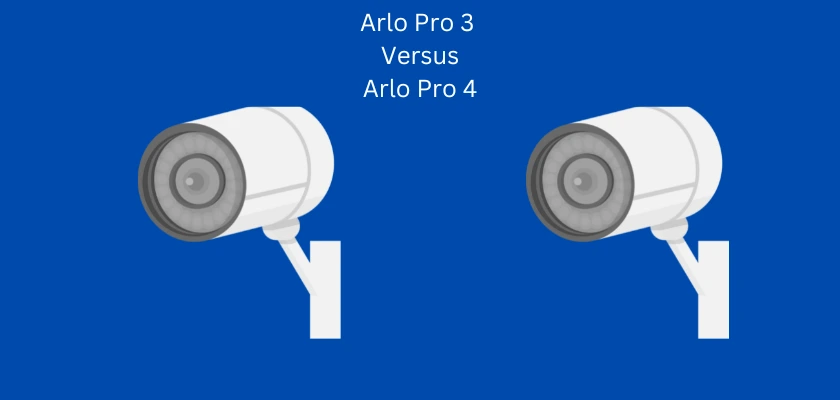 This Arlo Pro 3 vs. Pro 4 review is designed to provide a succinct comparison between both cameras.
If you are concerned about your home security, knowledge in this area is key. Security cameras can provide the needed surveillance for your home and property. Amongst the top-performing security cameras available today are the Arlo Pro 3 Wireless Security Camera and Arlo Pro 4 Wireless Security Camera.
Both cameras offer super smart features, superior video quality in 2K HDR, excellent night vision capabilities, remarkable battery life, a good number of built-in security features, and so on. The Arlo Pro 3 wireless security camera has another model which is the Arlo Pro 3 Floodlight camera, but in this article, we review the former. As we review the Arlo Pro 3 and Arlo Pro 4 wireless security cameras, you will be able to ascertain which of them is most suitable for you.
Let's get started.
Arlo Pro 3 vs. Pro 4: First Impressions, Build Quality and Design
With regards to the build and design of the Arlo Pro 3 and Arlo Pro 4, they are both very similar. Placing both cameras together, you will notice almost no difference. They are both built strong; when you apply pressure on them, they do not creak or snap. This indicates how robust the cameras are and how their weatherproof capabilities will be in any weather condition. The Arlo Pro 3 and Arlo Pro 4 are outdoor cameras with UV protection and are certified to withstand any type of weather condition.

Both cameras are 2K with HDR and have 160 degrees viewing angle lenses diagonally. The lens is capable of Automatic Image Correction and elimination of the Fisheye Effect.  
Both cameras feature integrated spotlights (6500 Kelvin), infrared night vision (850nm), 12x digital zoom, two-way audio, and a built-in siren amongst other features.
When you receive the Arlo Pro 3 Wireless Security Camera, you will get a wall mounting template, screws, a smart hub, a magnetic charging cable, an Ethernet cable, a video surveillance sticker, power adapter, the camera, its battery, and a quick start guide. With the Arlo Pro 4 Wireless Security Camera you will get the aforementioned items except for the smart hub.
Mounting and Setting up the Arlo Pro 3 and Pro 4
Mounting and setting up both cameras is pretty straightforward. Take out the quick start guide and follow the positioning guide. Depending on your choice of installation, you can use the magnetic wall mount provided or the arm mount. Both of them allow you flexible repositioning of the Arlo Pro 3 or Pro 4 at any time. Also, with the shape and size of these cameras, they can be very discreet. However, wherever they are mounted, they provide a perfect view of the environment, and function in the range of 45° C to – 20° C.
A unique feature of Arlo cameras is their ease of setting up, particularly with the mobile app. With the Arlo Pro 3 and Arlo Pro 4 on the app, this is no exception.
Let's see the process below.
To set up the Arlo Pro 3 camera, begin with the smart hub. Plug the smart hub with its D.C adapter to power and plug the Ethernet cable provided, to it and to your router. Then, connect your phone which has the Arlo app to your home WI-Fi network. Open the app, select Arlo cameras wire-free, select Arlo Pro 3, follow the proceeding steps and your smart hub will be found. Rename your smart hub, after this, the hub will update its firmware.
Next, take the Arlo Pro 3 camera and insert its battery. You can do this by pressing the battery release button to remove the camera's housing. Once the camera is ON, the smart hub will automatically detect it. Simply give the camera a unique name for easy identification, click next and you will see a "welcome to Arlo Smart" page where you get a free trial of the service.
To set up the Arlo Pro 4 camera, begin by inserting the battery for the Arlo Pro 4 into the camera. You will notice the status LED in front of the camera flashing blue intermittently. Open the Arlo app, select add device, cameras, Pro, and then select Arlo Pro 4. You will then see a QR code displayed, take the Arlo Pro 4 camera and move it closer to your phone to scan the QR code. You should then hear a sound to indicate a successful scan and the camera will be found on your app. Next, give your Arlo Pro 4 a unique name, it will then look for updates afterwards and you are done with the setup.
Lastly, you can check the Wi-Fi strength indicated on the app to be sure the camera has a strong connection with your home network.
How do the Arlo Pro 3 and Arlo Pro 4 cameras perform?
The Arlo Pro 3 and Arlo Pro 4 cameras have similar features. They both feature High Dynamic Range (HDR), with their 4MP sensors respectively, and produce a 2K resolution. The cameras are built with 12x zoom and the field of view extends up to 160° respectively.
The Arlo Pro 3 and Arlo Pro 4 have night vision capabilities with two infrared LEDs that provide monochrome night vision. Colored night vision is also present with the camera's spotlights, though the image quality is significantly different than that of the daytime. When wanting to see in low-light spaces, you can adjust the brightness of the video feed from the camera settings on the app.
The Arlo Pro 3 and Arlo Pro 4 feature Motion Tracking and it is in a range up to 25ft. The cameras record in different modes and you can choose each one of them to see how the camera performs. However, the first mode is the Disarmed mode where the motion and audio detection recording is turned OFF. The recording will resume when you begin to view the live feed. Next is the Armed mode and in this mode, recording takes place when motion detection occurs. The third is Geofencing and this is based on location. Next is the Scheduled mode and recording takes place according to the periods of the day you want the camera to record for. The last is the custom mode where you can customize your recordings.
The Arlo Pro 3 and Arlo Pro 4 are built with Auto Zoom and Tracking. With this feature, if an intruder tries to get into your property, the cameras will automatically zoom into the intruder's face and with the excellent high resolution of both cameras, you will be able to identify this person easily. Another feature that compliments this is the siren on both camera models. It is loud enough at 80 decibels to scare anyone or animals. At night, the cameras' spotlights are also motion-enabled.
The two-way talk feature on both camera models is also great. If you install the cameras indoors, you will be able to talk to your family members in real-time. Also, if you have acquaintances at the front door and you are unavailable, or for some reason unable to come to the door, you can conveniently talk with them through the camera. The Arlo Pro 3 and Arlo Pro 4 have a microphone with noise canceling and their speakers are very clear for the person at the receiving end to hear audibly.
The Arlo Pro 3 and Arlo Pro 4 wireless security cameras come with removable batteries respectively. Each battery is a lithium polymer battery rated at 3.85 volts, 18.48Wh, and 4800mAh capacity. Each battery guarantees you 3 – 6 months of power on average.
What about Smart Controls?
On the Arlo Pro 3 and Arlo Pro 4, you have smart controls. If you already own smart devices such as Alexa, Siri, Apple HomeKit, SmartThings, and IFTTT, these all work with both cameras.
Arlo Smart
Arlo Smart is a package of security services that you can subscribe to and enhance the functionality of your Arlo camera(s). Arlo is amongst brands that would have you pay for a subscription so as to get more benefits from your Arlo camera. Other brands like eufy, Reolink, etc. do not require you to purchase a subscription.
With an Arlo Smart plan on your Arlo Pro 3 or Arlo Pro 4, you get 30 days of video and event history. You also get instant dispatch of police, fire, and medical responders. Furthermore, you get person detection, vehicle detection, package detection, and animal detection. You can also customize your activity zones to grey out areas you do not want to receive notifications for. Lastly on this, you get access to medically trained security experts who are available 24 hours a day, 7 days a week.
Without an Arlo Smart plan, you only get live viewing on your Arlo Pro 3 and Arlo Pro 4, with no video and event history on the cloud. Access to the security experts is unavailable and no access to instant dispatch of emergency responders. You will get basic notifications, motion detections that you cannot customize, and no object detection.
The screenshot below shows what you should expect to get with any Arlo Smart plan you decide to go for.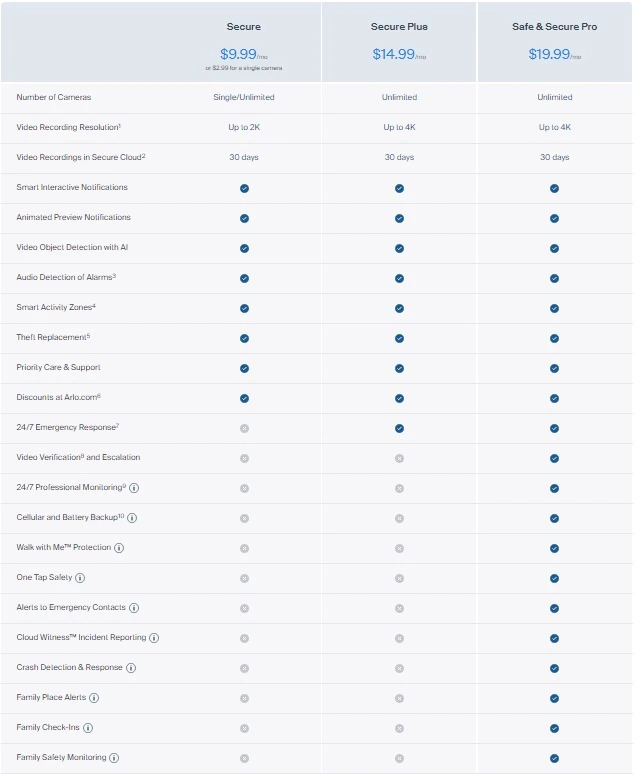 Are there differences between the Arlo Pro 3 and Arlo Pro 4?
The Arlo Pro 4 is designed to connect straight to your Wi-Fi device, Arlo SmartHub, and Arlo Base Station. While the Arlo Pro 3 is designed to connect to a SmartHub and Base Station only. Asides these, both cameras have the same features.
Specifications of both cameras
The entire specifications of both cameras are shown below.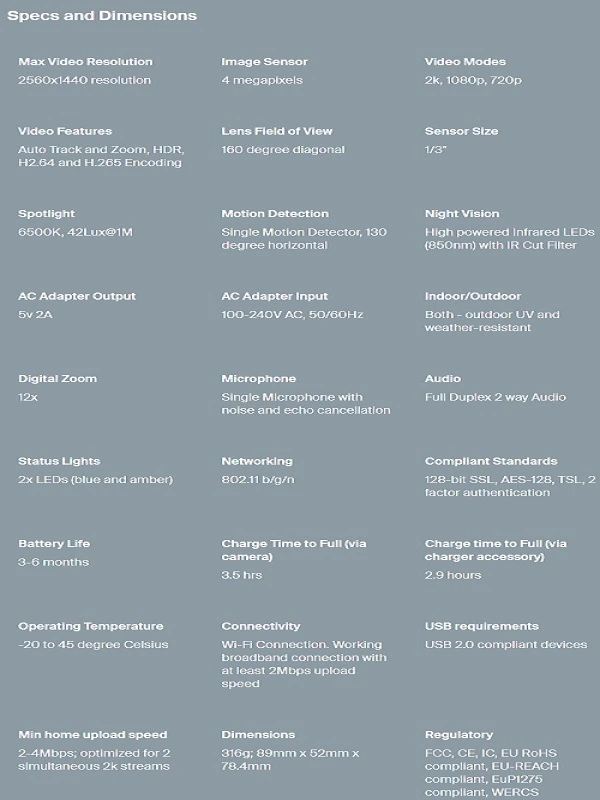 Cons of the Arlo Pro 3 and Arlo Pro 4
| | |
| --- | --- |
| Arlo Pro 3 | Arlo Pro 4 |
| No local storage (Except if you use a Micro SD to USB adapter) | No local storage (If you have a smart hub, use a Micro SD to USB adapter) |
| Essential features are subscription based | Essential features are subscription based |
Final Thoughts
The Arlo Pro 3 and Arlo Pro 4 wireless security cameras are undoubtedly great security cameras but what brings the best out of them is the Arlo Smart subscription.
This may be okay for some individuals and for some others not okay. If you are not okay with a subscription plan, you could look at eufy, Reolink, etc. However, the Arlo Smart subscription plan starts at $3 a month for a single camera and $10 if you own multiple cameras.
The Arlo Pro 4 is a little upgrade in how you connect it, compared to the Arlo Pro 3. However, both models are recommended because Arlo did not trade off quality from one to the other. Both cameras are very versatile and provide the security expected from a surveillance camera.
Get the Arlo Pro 3, Arlo Pro 3 Flood light Camera or the Arlo Pro 4 on Amazon below
Below is the Arlo Certified Dual Charging Station for batteries
Get the Arlo Dual Charging Station on the Arlo Official Website
The Arlo Pro 5s is also available, you may want to check it out. Arlo Pro 5s 2k Spotlight Camera.