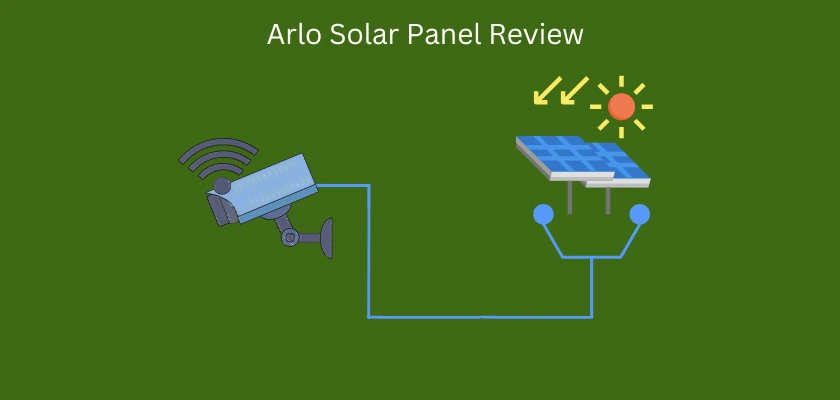 The Arlo solar panel charger just like any other brand of solar panel is designed to provide an external source of D.C power to your security cameras.
The Arlo solar panel charger is a convenient accessory that functions independently of your regular Mains power supply. It simply sucks up the sun's rays with its photovoltaic cells and converts this to electrical power in the form of Direct Current also known as D.C.
Having to recharge your Arlo camera batteries every now and then is inconvenient. This is the essence of having an external source of power in the Arlo solar panel charger. This also helps your camera battery have a sufficient useful life as the camera will not be plugged perpetually into an A.C to D.C Mains power supply.
This review provides detailed teaching about the Arlo solar panel charger, solar panels generally, and best practices for using them if you choose to.
Let's get in.   
Overview of the Arlo Solar Panel Charger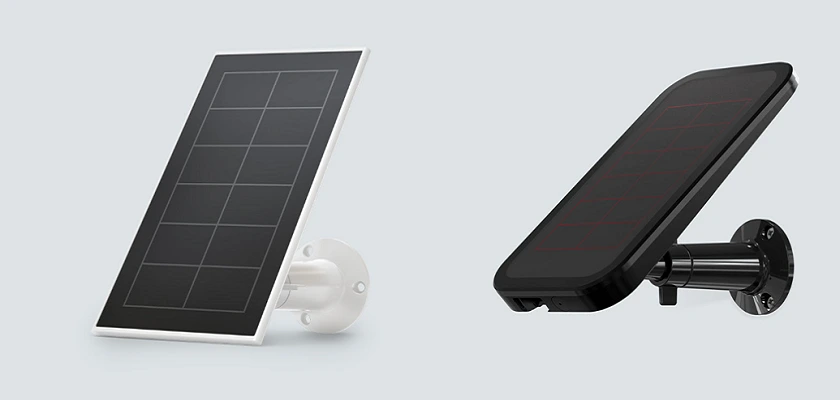 Firstly, Arlo is a top competitor in the smart home and security systems space. So far, they have quite a vast array of products which range from; Smart Wireless IP Cameras, Floodlight Cameras, Doorbells, Smart Hubs, Charging Stations, Cellular & Battery Backup Security Systems, Chimes, Magnetic Charging Cables, Solar Panels, etc.
The Arlo solar panel which is the topic of discussion has different models. They are robust, well-built, and have a solid feel. These Arlo solar panels are designed to operate at a temperature range between 32°F – 122°F or 0°C – 50°C. This means that in different harsh weather conditions, they will not pack up.
When you receive the Arlo solar panel(s), you will find the device itself, mounting brackets, and screws.
Let's see how to install the device.
Installing the Arlo Solar Panel Charger
Mounting the device is pretty simple. You must first ensure to find a location where the device can receive enough sunlight. This is one of the most important factors that determines the overall performance of your solar panel, and your battery's capacity to store charge from the panel.
It is always advisable to find a location where sunlight would normally start out so that the solar panel begins to receive sunlight early enough. Remember that on some days, sunlight may not last for so many hours.
Furthermore, you may position the panel such that you can clean it whenever dust settles on it. This is important because during the dry season for example, so much dust accumulates on solar panels generally and this drastically reduces their ability to suck up the sun's rays, thereby reducing the power they can deliver to your camera.
Also, ensure there are no obstructions around the solar panel's positioning. Things like trees, neighboring houses, etc. can impact on the panel's ability to receive enough sunlight.
To install the panel, simply take out the mount, screw it into position and place the solar panel upon it. Then, tilt it so that it faces the direction of the sun adequately. The next thing to do is to plug the charging cable into your Arlo-supported IP camera. Depending on the Arlo solar panel that supports your IP camera, you may have a charging cable up to 8 feet or 6 feet. You may also be using a magnetic charging connector or a USB connector. If the Arlo solar panel is producing any power, you should see the status LED on your camera blink.
The Arlo Solar Panel Charger and Arlo Supported Cameras
As mentioned earlier, the Arlo Solar Panel Charger comes in different models that support different Arlo cameras.
The latest model is the VMA5600-20000S, then the VMA5600B-20000S, VMA4600-10000S, VMA3600-10000S, and VMA3600B-10000S.
These respective Arlo solar panels provide the needed power for different models of Arlo cameras. Also, they come with USB or Magnetic charging connectors. Below is a table showing each solar panel model and the Arlo camera(s) it supports.
Arlo Solar Panels
Arlo Supported Cameras
VMA5600-20000S
Arlo Pro 5S, Arlo Ultra, Ultra 2, Pro 4,
Pro 3, Pro 3 Floodlight Camera,
Go 2, XL Housing.
VMA5600B-20000S
Arlo Ultra, Pro 4, Pro 3, Floodlight, and Go 2.
VMA4600-10000S
Arlo Pro 2, Pro, Go 1, Security Lights.
VMA3600-10000S
Arlo Essential XL, Arlo Essential Spotlight, Arlo Essential.
VMA3600B-10000S
Arlo Essential XL, Arlo Essential Spotlight, Arlo Essential.
How do these panels perform?
With regards to performance, the Arlo solar panel charger(s) sure perform optimally. Depending on how discharged your camera battery is, and the prevailing weather condition, the charging rate may be slow or fast. At 40% discharge, expect the battery to get to 100% in about two days, with enough sunlight. Also, note that your camera is ON and functional, if it were turned OFF, the battery will get full quicker. However, you do not want your camera turned OFF.
Again, your experience might be different from some other people's experiences, your usage pattern also is different. So it is always best to play around with features and settings to find a balance between battery performance and charging.
What we do not like about these panels.
(1) The Arlo solar panel chargers are pricey compared to other brands.
(2) Features like Activity Zones, and Look back do not work on your camera when using the Arlo solar panel.
With respect to the last point, the regular D.C adapter used to charge your Arlo camera, plugs into the Mains power supply (regular power supply in your home). This Mains power supply is in a form known as Alternating Current (A.C). But the D.C adapter converts this Alternating Current to Direct Current (D.C).
Technically, the D.C power from the Arlo solar panel should work for the above-mentioned features.
Final Thoughts
Overall, the Arlo solar panel charger(s) perform as expected. However, users tend to face some challenges with the device. One thing to note is that if you carry out the solar panel installation properly, it will deliver as expected.
Also, prevailing weather conditions, the settings on your camera, and the movement rate around your camera's view, all affect how long your battery lasts on a full charge.
It is recommended to play around with the camera's settings for a sustained period of time, to be able to find a balance between battery performance and solar panel charging.
We hope this review has provided sufficient information and guidance with the Arlo solar panel charger. If you wish to try it out, find links below to getting it.
Get all models of the Arlo Solar Panel Chargers on Amazon below
Get the VMA5600-20000S Solar Panel on the Arlo Official Website
Get the VMA5600B-20000S Solar Panel on the Arlo Official Website
Get the VMA4600-10000S Solar Panel on the Arlo Official Website
Get the VMA3600-10000S Solar Panel on the Arlo Official Website
Get the VMA3600B-10000S Solar Panel on the Arlo Official Website
You may want to see our review of the eufy Solar Panel Charger, and Reolink Solar Panel Charger.