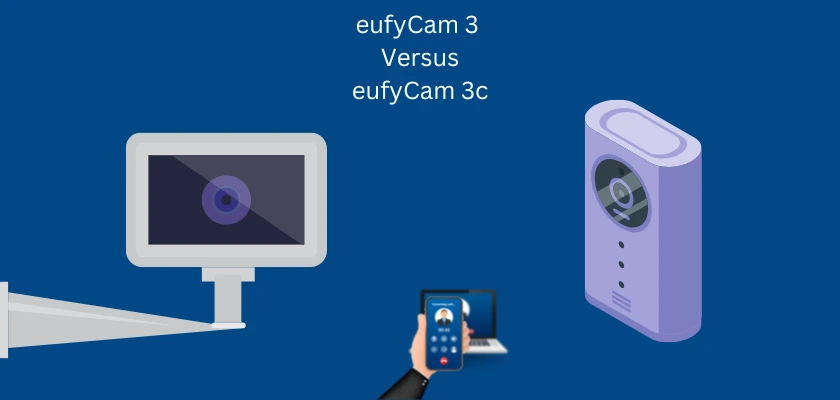 With the release of the eufyCam 3 and eufyCam 3C, eufy has continued to wow users with its smart home security systems. The company has definitely carved an unwavering niche for itself in the security camera ecosystem. From terrific battery life and privacy protection to local storage and subscription-free usage, only a few brands can match the standard eufy has laid.
Even now, eufy is back with yet another lineup of terrific security cameras – the eufyCam 3 series (eufyCam 3 and eufyCam 3C), Will these match up with the standard eufy has set over the years? Or will they exceed it? Which one of the lineups is the best fit for you? Join in as we comprehensively review both cameras, covering their best features and Achilles. With this, you'll be able to make a better-informed decision moving forward.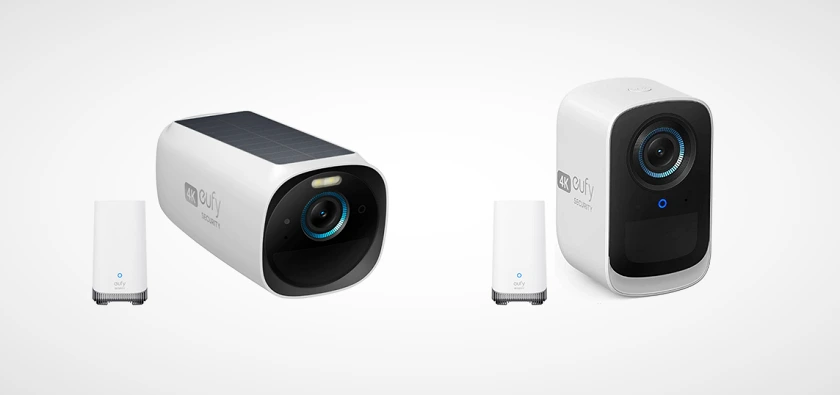 eufyCam 3 vs. eufyCam 3C: Build Quality and Design
When it comes to the build quality and design, the difference between both cameras is negligible, or perhaps inexistent. Both cameras feel pretty solid in hand. When you try to apply pressure, whether diagonally or horizontally, they will neither creak nor loosen. For this reason, the weatherproof ability of both cameras will function throughout every season.
If you check the back, you'll find a weather-sealed port on each device. However, the eufyCam 3 has an IP67 rating while the eufyCam 3C is a little bit below with an IP65 rating. So, your eufyCam 3C will not survive submersion. It only does well against water jets, regardless of the angle. On the other hand, the eufyCam 3 can survive submersion for up to 10 minutes. But only submerge when necessary.
There is also a mounting port and sync button on both cameras. Thus, the only major difference in the build is their structure and weatherproof rating. Besides this, every other difference is negligible.
Take a quick look at the front. Both cameras house the f/1.4 aperture lens combined with the starlight sensor. This allows more light into the device and maximizes light sensitivity. These combined will help you see color even at night.
There is a bit of a difference in the top view. The eufyCam 3 houses a pretty sizable solar panel. This panel is absent in the eufyCam 3C. Still, remember you can use an external solar panel for it. But you will need to use a USB-C cable to actualize this. Below both devices, you'll find a functional loudspeaker. This is what enables you communicate with anyone at your door.
The eufyCam 3 and eufyCam 3C with the HomeBase 3
The eufyCam 3 and the eufyCam 3C function with the eufy HomeBase 3. The HomeBase 3 is the external backup device that stores and synchronizes both cameras via Wi-Fi, and all the footage from both cameras can be accessed via the smart eufy app.
The eufy HomeBase 3 is a more improved, feature-rich device than its predecessor. It fits easily in any location where you want it, and it's easy to set up. To set up the HomeBase 3, simply plug in its power cord and connect the Ethernet cable that comes with it to your Wi-Fi router and to the device. Then, hold the eufyCam 3 or the eufyCam 3C close to connect them.
The HomeBase 3 comes with an inbuilt storage of 16GB, but if you want more storage, you can add up to 16TB to it.
To add your own storage, all you need is a hard drive. The top of the HomeBase 3 has a magnetic cover, simply lift it up and you will find the storage slot. On the storage slot, you will find a single screw, unscrew it and you will then be able to take out the storage slot. Insert your hard drive into the storage slot, and insert the storage slot back into its compartment.
With this, all your backups will be saved and managed on the smart eufy app. Having an external storage in the HomeBase 3 can be beneficial if you want to keep your footage for long, and if you do connect multiple eufy devices to the HomeBase 3.
There is no difference between the eufyCam 3 and the eufyCam 3C when it comes to storage with the HomeBase 3. They both feature 16GB EMMC in-built storage on the HomeBase 3. Since you're likely to record in 4k, this could be insufficient in the long term. As such, you may need to expand the storage. When the need arises, you can use a hard drive for storage expansion.
Installation and Set up of the eufyCam 3 and eufyCam 3C
Mounting the eufyCam 3 or eufyCam 3C is pretty simple. All you have to do is place them following the positioning guide. You need just two screws to secure each camera, and they are included in the box. Simply drill holes accordingly, and mount either camera by rotating them until they are well threaded in.
Advisably, be sure to angle either camera's body to about 7° down. With this, you can get a wide view. Even better, this positioning gives the body a gentle slope that allows water and snow to slide off without any hassle.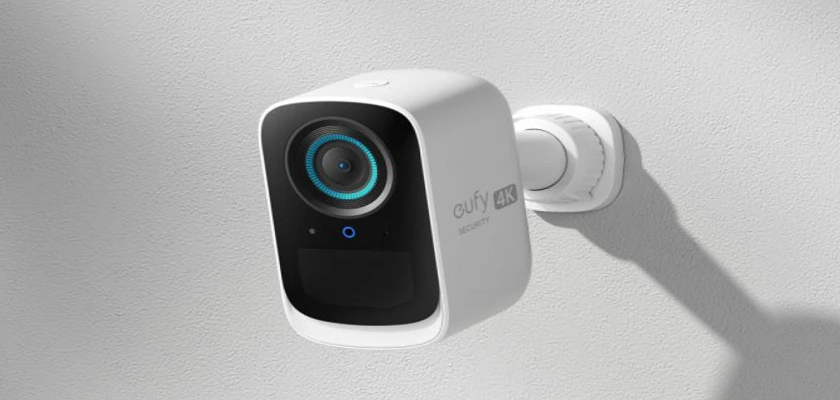 Pretty much, setting up the eufyCam 3 or eufyCam 3C is straightforward. So, if the ease of setting up is your chalk horse, it will be difficult to decide a choice between both cameras. 
The eufy app functionality
The eufy application has truckloads of features that work excellently on either the eufyCam 3 or eufyCam 3C. There is an intuitive dashboard that allows you to access your cameras. There is also a face management feature that allows you to include familiar faces and tags associated with them, this could be their name. So, when motion is detected from them, it automatically recognizes them and tags them with the initial input name. To use this feature, you can either pick an image from your gallery or take a selfie directly from the eufy application. Regardless of your specific camera choice, you can as well set the app to ignore some notifications from familiar faces. As such, it will only alert you whenever a stranger comes near your home.
The eufyCam 3 and eufyCam 3C feature the Bionicmind AI algorithm. This is a self-learning AI that over time, learns to differentiate your acquaintances from strangers. It does well for actual recognition and whole human recognition. Even better, it works excellently for non-human detections as well. These include your vehicles and pets. This feature is present on both devices, and as such, cannot help you pinpoint the superior choice. 
Comparison between the functionalities of the eufyCam 3 and eufyCam 3C
The eufyCam 3 and eufyCam 3C feature AI motion detection, allowing you to enjoy a wide range of sensitivity. You can tweak this sensitivity to your preference. However, if you're not sure of what to do, you can leave this at the default setting. That works satisfactorily.
There is also the activity zone setting. When you enable this feature, you will only capture motion limited to particular areas. This is particularly great if you have to deal with a number of false triggers like dancing tree branches. Thanks to the AI processing mentioned earlier, you can further toggle the motion detection feature.
On top of that, there is the power manager. This is the feature that lets you change the lengths of your video footage. Longer clips tend to drain a battery. As such, to avoid this, you may have to reduce the lengths and this is where the power manager comes in handy.
Again, the spotlight function of both cameras offers optimum illumination. It also allows you to tweak this function quality from high to medium and low. You can always leave it to medium or high and you'll always get pretty crisp night videos.
As a deterrent, the eufyCam 3 features a functional anti-theft alert. This functionality alerts you if anyone attempts to steal your camera. But unfortunately, this feature is not available on the eufyCam 3C. However, the eufyCam 3 and eufyCam 3C feature a siren.  
The primary selling point of both cameras is their video and recording quality. They both give you high-quality 4k feeds. However, of course, you can always bring it down to 2k or opt for full HD in case you're trying to save more storage space or preserve your battery. This will particularly come in handy during the winter months. But with the extra solar panel on the eufyCam 3, you can set your camera to the best quality, and use it over a more extended period than the eufyCam 3C.
If you want to always get 4k quality, you can always achieve this by setting the streaming quality to 4k on the application. But if you're working with limited data, it would be best to set the streaming quality accordingly. This helps you manage your internet data optimally.
The eufyCam 3 and eufyCam 3C confirm that you don't have to settle for conventional IR night vision when you can get optimally illuminated color night vision at a similar price. You can operate both devices fully at colored night vision without taking too much toll on the camera.
If you think exterior lighting is already good enough, then you can settle for the spotlight or IR function to serve you through the night.
Both cameras also offer you some form of flexibility and customizability. For instance, if you navigate to the security tab, you'll find information on some modes that allow you to dictate the behavior of the camera at certain times. This could be when you're outside your home, at home, or in several other situations. For example, if you're tending to your garden or carrying out other short-term activities, you can simply snooze your camera notification by setting a particular amount of time. But if you are renovating your home or other long-term processes, you can simply disarm the systems.
Finally, the eufyCam 3 and eufyCam 3C can record with a frame speed of 15FPS, which is more than enough to capture sufficient details. Furthermore, you can zoom in up to 8x with the zoom feature on either device.
Comparison of the battery life
Perhaps, the biggest deciding factor between both devices is their battery capacity or power supply modes. For the eufyCam 3, the company assures you can enjoy up to 365 days of battery life with the 13,400mAh battery. Let's put this in perspective. Imagine a camera you can use for an entire year without having to unplug it for charging or running a power bank cable to it. In addition, it has a solar panel built into it. Then, on the eufyCam 3C is a 10,000mAh battery which assures 180 days of battery life, without a solar panel built into the camera, but you can purchase an external solar panel to use with it.
So, if you position the cameras where they can receive enough sunlight, they will almost always maintain a 100% battery life both day and night. It doesn't matter if you use it with the 4k video setting or you set the spotlight to the highest brightness or you keep every setting running at maximum.
In winter, where gloomy days and snowfalls are the reality, of course, solar charging will be impeded because snow tends to cover the panel. But during this period, you enjoy prolonged battery life with these cameras.
Tabular comparison between the eufyCam 3 and eufyCam 3C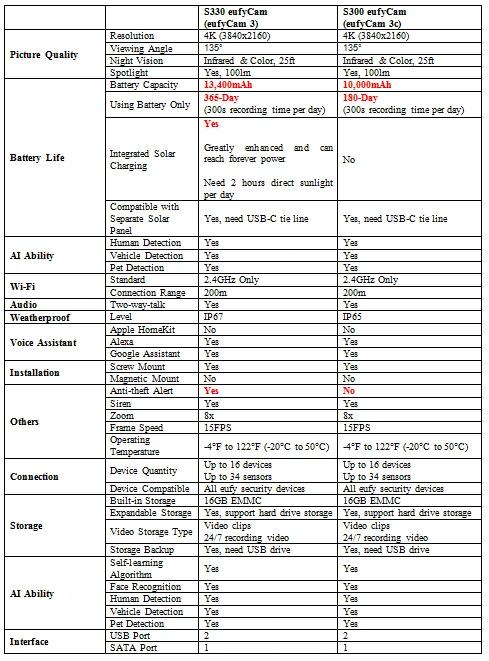 Final Thoughts  
eufy outdid itself with the new eufyCam 3 series and the HomeBase 3. Whether you're getting the eufyCam 3 or eufyCam 3C, you can be sure you're getting the best value for your money. In this comparison, of course, the eufyCam 3 edges the eufyCam 3C in a few ways. The first is the battery life, promising over 2x more extended battery life than the eufyCam 3C. Another area is the anti-theft functionality, which is absent in the 3C. Also, the eufyCam 3 has an excellent solar panel built into it. And as such, you won't have to spend extra bucks buying an extra panel as in the eufyCam 3C. Another major difference is the IP67 weatherproof rating of the eufyCam 3, which does significantly better than the IP65 rating of the eufyCam 3C.
But in terms of camera quality, night vision, and AI functionalities, both devices can rival. Now, the choice is yours. Which devices do you think fit you the best? See them below.