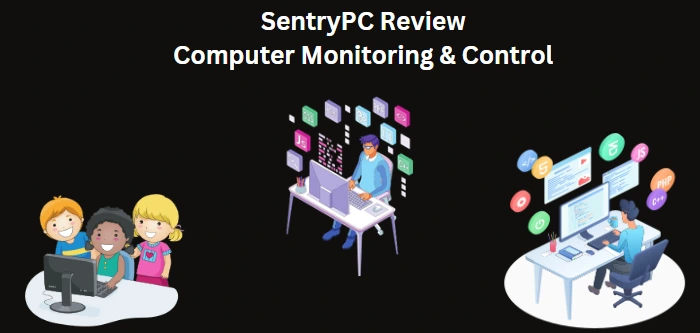 SentryPC is a popular Computer Control and Monitoring Software today, and our review of SentryPC seeks to explore it and find out if it lives up to the hype.
Our daily lives are intertwined with technology and there has to be an efficient way to ensure responsible and secure use of computers and devices as a whole. You may be a diligent employer looking for a way to maintain productivity and security within your Company, or you may be a concerned parent who wants to safeguard your children's online experience, SentryPC may be the watchdog you require for your digital oversight.
SentryPC provides a centralized command center to help monitor, detect, notify, and protect PC activities effortlessly. It gives you unparalleled full control over PC usage with the potential to help you optimize your business operations, and help you steer your loved ones away from digital pitfalls. let's go into our review of SentryPC in earnest.
Overview of SentryPC Computer Monitoring and Control Software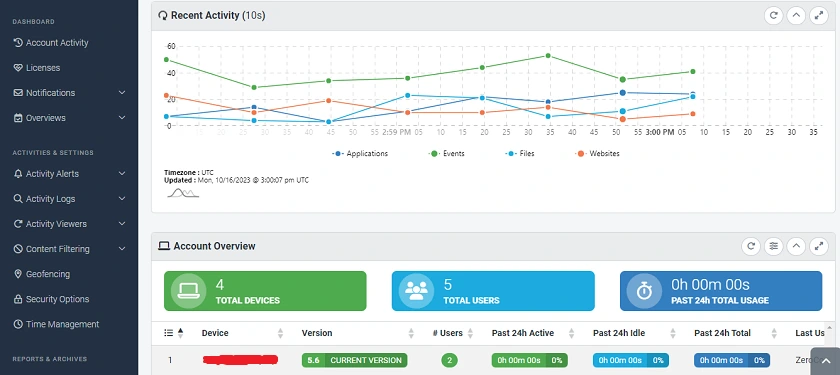 Firstly, SentryPC Computer Monitoring and Control Software functions by installing a discreet agent on a target computer. It then begins to capture and record activities on that machine such as keystrokes, chat conversations, applications being used, et cetera. While all these happen, it collects all of the data and gives you valuable insights into the computer's usage patterns.
SentryPC Computer Monitoring and Control Software provides several broad features which include; Activity Monitoring, Content Filtering, Geofencing, Time Scheduling, and Remote Cloud Access. These are provided for Business use, for School, and for Family with support for Android devices, Chrome, Mac, and Windows devices. Let's look at these one after the other.
SentryPC for Business
SentryPC has a vast array of comprehensive features for every use case it supports. As a business or an employer, SentryPC Computer Monitoring and Control Software can be a great asset in ensuring that staff are focused on their tasks and not involved in activities that could jeopardize your Company's interests. SentryPC for business provides you with the following:
(1) Real-Time Monitoring: As an employer, this empowers you to see and monitor the activities of your staff members in real-time, and gain insights into how they are using your resources throughout the workday.
(2) Time Tracking with Productivity Analysis: With this feature, you will be able to gauge the productivity levels and the efficiency of staff members, individual employees, or team members.
(3) Screenshots and Recording: SentryPC Computer Monitoring and Control Software is able to take screenshots, and record the screens of your staff at regular intervals, thereby providing you with visual records of work activities and if tasks are being carried out as required. It also gives you external drive logging with the device name, user, drive letter, and date. In addition, you have clipboard logging, print job logging, text message logging, sessions, events, and window usage logging.
(4) Monitoring of Applications Usage: Just like screenshots and recording, application usage monitoring enables you to see what applications are being used by your employees, how often, and how long they interact with them, giving you valuable insights into which software applications are essential for your business activities.
(5) Internet Traffic and Website Monitoring: This is another powerful feature within SentryPC Computer Monitoring and Control Software that lets you see internet traffic and website visits from employee computers. So, over a period of time, you can know which websites your employees visit frequently during work hours, if this is a distraction, and if it contributes to the unproductiveness of a staff.
(6) Alert Notifications by Keywords: This is a great feature that allows you to configure keywords and be alerted when those words are used. With this, you can instantly detect potential policy violations and security breaches.
(7) Prevention of Data Loss: This feature is one you would find extremely beneficial. It helps to mitigate data leaks by monitoring file access, transfers, and usage. It will immediately identify and notify you when sensitive data is being mishandled.
(8) Reporting: SentryPC Computer Monitoring and Control Software gives you so many reports. This is good because it gives you enough information on various aspects of staff activities. It also allows for the customization of reports to be generated.
(9) Remote Control and Lockdown: As an employer or business entity, this feature gives you the power to remotely take control of a computer and lock it down when necessary. This makes it possible for you to instantly intervene when you notice security threats or policy violations.
(10) Geofencing
SentryPC can monitor the geolocation of a device and send you constant updates on the current location of the device. All you have to do is create a virtual fence of your office location.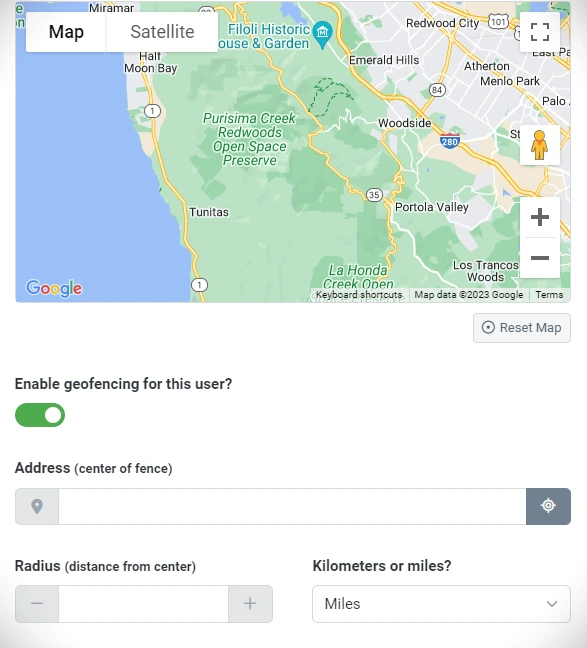 SentryPC for Family
In today's world, ensuring the online safety of your family members, particularly children is a paramount concern. As we look through SentryPC for Family, you will get to know how it could empower you as a parent to monitor your children's online activities, ensure responsible usage, and protect them from online threats.
(1) Activity Monitoring: This feature helps to record and log several activities which include; websites visited, chat conversations, applications used, files accessed, et cetera. With these, you have detailed activity monitoring and a total overview of the device usage.
(2) Screenshot Recording: This gives you a visual record of a child's online activities as SentryPC Computer Monitoring and Control Software takes screenshots and records screen activity at regular intervals.
(3) Content Filtering, Application, and Game Blocking: As a parent, SentryPC provides content filtering features for you to block access to specific applications or games, and limit access to websites with inappropriate or harmful content. This helps you to conveniently ensure that your kids are not engaging in age-inappropriate content, and shield them from online dangers.
(4) Time Management
SentryPC Computer Monitoring and Control Software can help your kids develop better computer usage habits and balance their online and offline time with Time Management. So, as a parent, you can conveniently set specific time limits on device usage as shown below.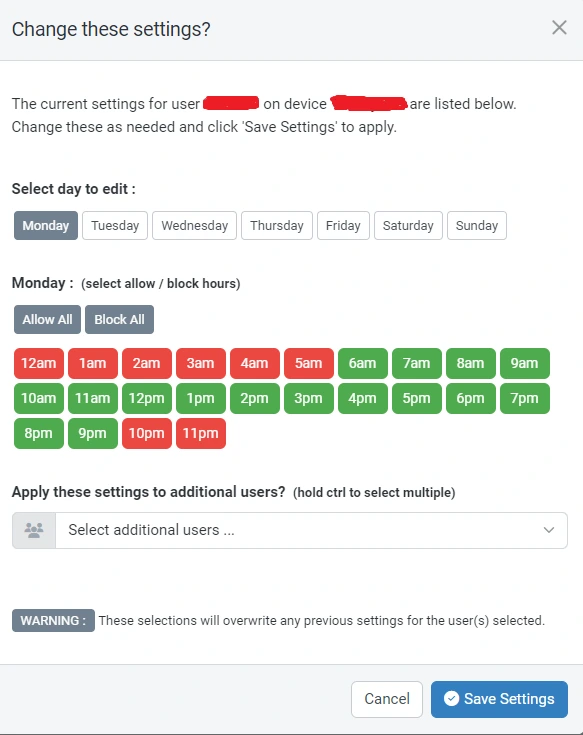 (5) Alert Notifications by Keywords: This is a very easy-to-deploy, and powerful feature to benefit from. It can detect keywords and phrases for explicit content, cyberbullying, or other concerning languages.
(6) Remote Monitoring: With this, you can view real-time activities on your child's device and it allows you to intervene when necessary.
Overall, SentryPC for Family can provide you with Child Safety, Responsible Usage of devices, promote Open Communication between you and the kids, and give you Peace of Mind knowing that your children's online activities align with your family values.
SentryPC for School
For an Educational Institution, SentryPC for School could be the watchdog you require to enhance the digital learning experience of your students while maintaining a secure and accountable computing environment. All of the features we've mentioned so far for SentryPC Computer Monitoring and Control Software are incorporated in SentryPC for Schools. Essentially, the benefits you can expect to get are; Ensuring Student Safety, Academic Integrity, Productivity Enhancement, Legal Compliance, and Staff Accountability. Also, to better utilize SentryPC Computer Monitoring and Control Software in an Educational Institution, ensure to carry out the following:
(1) Training: This is a very important step to making SentryPC available for use. It is necessary for you to provide training for administrators of the software as this will ensure that it is used efficiently and effectively.
(2) Establish Clear Policies: To gain the trust of your students and staff members, it is essential for you to set clear guidelines and policies on computer usage and monitoring.
(3) Collaboration and Privacy: With the presence of a Computer Monitoring and Control Software like SentryPC, it is recommended that you discuss the relevance and benefits of computer monitoring with students, teachers, and staff members so that everyone can have an open mind and feel comfortable with its presence.
(4) SentryPC Updates: SentryPC as a brand provides regular updates for the software and you can easily see their availability, and deploy them via the software's dashboard.
Comparison of the features between Android, Chrome, Mac, and Windows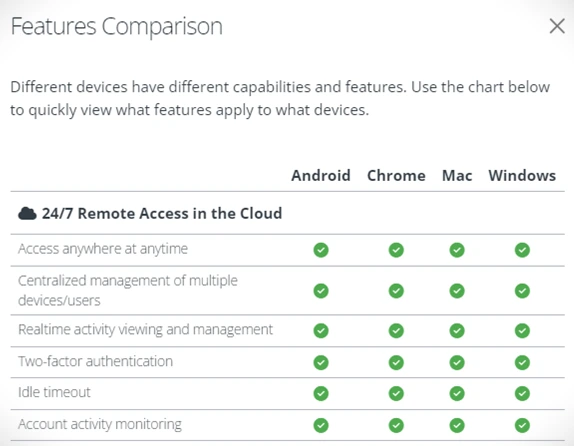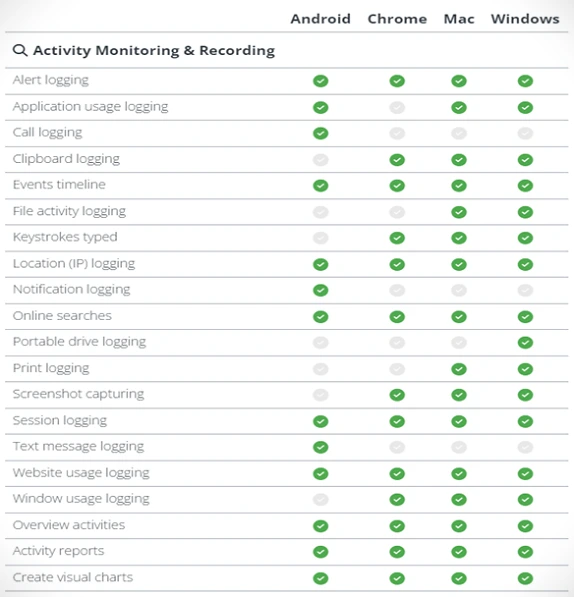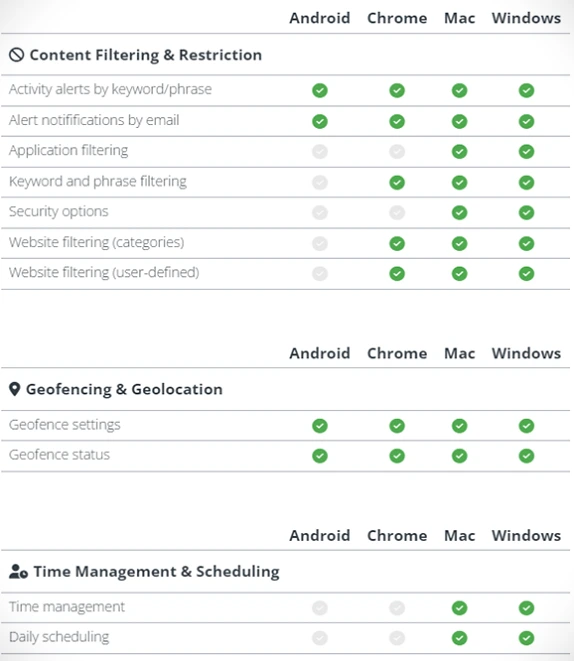 How to Install SentryPC Computer Monitoring and Control Software
Getting started with SentryPC means you need a license for any device you wish to install it on and use it on. If you purchase a license, you get additional licenses at a lower price of $29.95. After your purchase, an online account and download information will be given to you. SentryPC is compatible with Android 7 and above, Mac OS X 10.6+ and all macOS, Windows 7 up to 11, Chromebook, and Operating Systems using Chromium Browser (browser activity only).
It is worth mentioning that some Antivirus Software or Internet Security Software may flag SentryPC as a threat. So, you have to exclude or grant permissions for SentryPC. After this, go ahead to Download the software and install it accordingly. Then, you are free to install SentryPC on as many devices as you want but note that any additional licenses you decide to purchase will be deployed on a first come first serve basis. This means that the second device you installed SentryPC on, will take the first additional license you have purchased, and so on.
Also, if you want to remove a device from your account, simply tick the checkbox next to it, and select delete. When this is done, all logs, screenshots, settings, et cetera, for that device will be removed from your account. But if someone else uses that device to log in, it will appear in your SentryPC account again and its position will be changed with no logs, screenshots, settings, et cetera for that device.
From your account, you can remotely uninstall the SentryPC software on any device. Simply select the checkbox next to it, and select delete. If the device is turned ON, the software will be removed immediately but if the device is OFF, you will see that the uninstall status is pending. From within your SentryPC Dashboard, you have a number of options you can play around with. You have Username, Device, Past 24h Active, Past 24h Idle, Past 24h Total, Status, Last Settings Sync, Last Settings Change, and User Added. You will also see status messages displayed as you use the SentryPC software.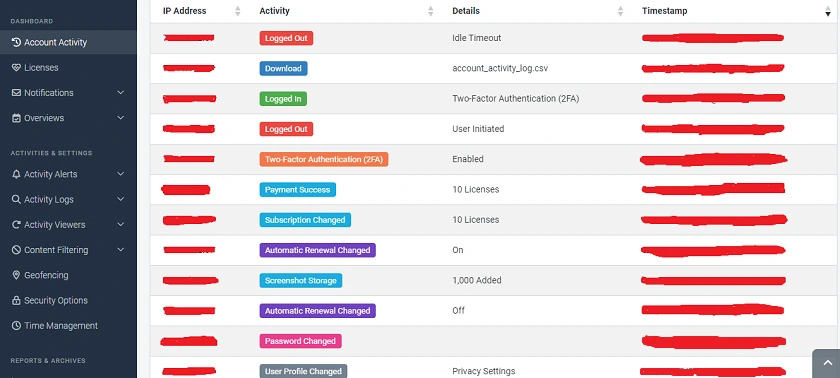 Limitations of SentryPC Computer Monitoring and Control Software
Privacy concerns may arise with a monitoring software like SentryPC. It is crucial to gauge legal and ethical practices so as to find a balance between monitoring and respecting the privacy rights of individuals.
With SentryPC, you need to take some time to test and play around with its features so that you can interpret results accurately when the software is fully deployed. This is necessary to enable you avoid false positives as legitimate activities may be flagged as suspicious.
Final Thoughts
SentryPC Computer Monitoring and Control Software is an invaluable tool that offers a wide range of comprehensive features and benefits. Maybe you are an employer, a parent, or an institution seeking to increase productivity and security, SentryPC has the capacity to provide you with the tools you need for comprehensive monitoring and control. Having understood the features and benefits of SentryPC, as well as its limitations, you should now be able to make an informed decision.
Get SentryPC as a single user on the SentryPC Official Website