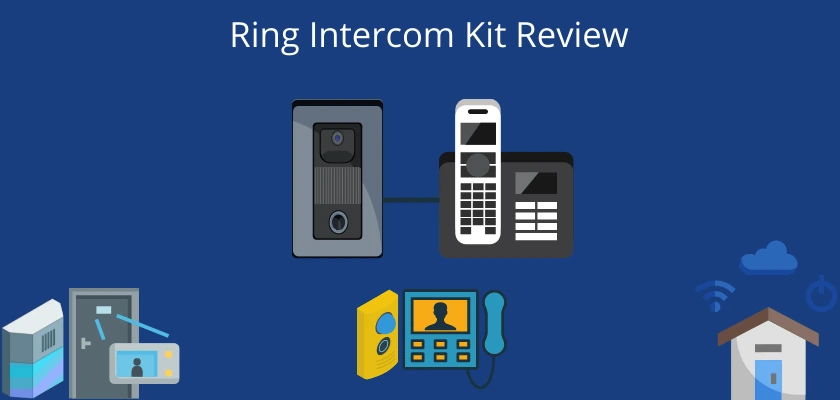 What should you expect to get from the Ring Intercom? For quite some time now, homeowners and tenants of recently refurbished buildings have had access to smart home technology, while those living in apartments are left with nothing. Over the years, they have always envisaged an apartment with a more sophisticated level of technology.
Guess what? The good news is that Ring has developed its latest gadget called the Ring Intercom. The Ring Intercom is a wireless gadget, and it's very easy to set up and install without the services of a third party.
This ideal gadget is a must-have for people who rent a condo or apartment. However, residents of apartments that already have old intercom systems installed can also upgrade and have the Ring Intercom installed in order to improve their lives and living conditions.
As a result of the upgrade made to the existing intercom, they are no longer required to be present during the delivery of packages or to keep guests waiting outside when they are not at their residences. What a fantastic upgrade! 
The Ring Intercom is suitable for the best overall audio/video doorbells. It is a device assuring good value for the price. I guess your ears are itching to hear more about this newly launched gadget. Let's dive in.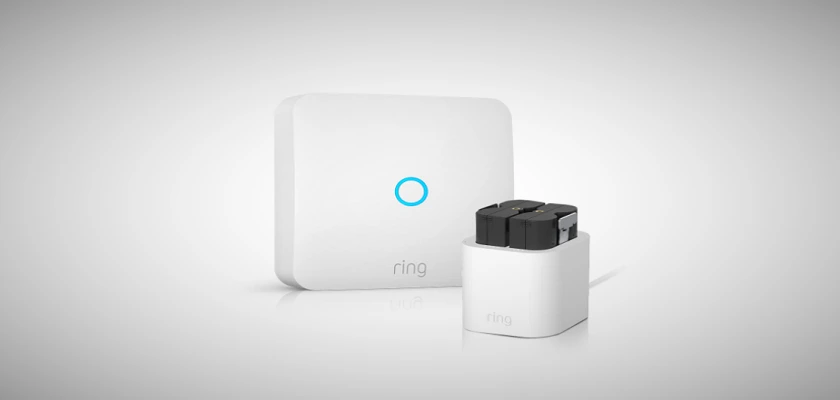 How does the Ring Intercom work?
The Ring Intercom lets you communicate with visitors, delivery drivers, couriers, etc. from any location using phones or echo devices. This simply means that, with this newly developed gadget, users can have a conversation with a visitor and let them in even when they are not at their residence.
For instance, if you are stuck in traffic but have already ordered a delivery, you can use the Ring Intercom to speak with the delivery driver and let them into your apartment instead of having the delivery agent wait outside till you get back.
The Ring Intercom can be used on various property types, ranging from single-family homes that require only one connection between a resident and the front door to multi-unit complexes that require intercom gear in each unit.
It can also be used in schools and official settings. Numerous schools and office buildings now use audio/video systems that can be linked to the building's access control system in order to identify anybody attempting to enter the building when it is locked.
In addition to being installed in fixed locations, the Ring Intercom can be used in various transport modes, such as trains, boats, airplanes, and armored fighting vehicles.
With the Ring Intercom, some specified Amazon drivers can come to your area and deliver your packages at a certain spot without you having to worry about not being around. This is because Auto-Verify Guests is a feature that will allow you give virtual keys to anyone you want, so they won't have to bother you when they get there.
It doesn't end there; just as you can give anyone access to your apartment, you can also deny anyone access to your apartment at any time.
The video below shows you what the Ring Intercom can deliver to you.
Features of the Ring Intercom
One of the nice features of the Ring Intercom is its smartness, which allows users to control it remotely. As a result, if someone rings your intercom while you're still away, you will be able to respond, communicate with them, and even let them in using your phone. The Ring intercom is designed to be functional inside and outside a building. Technology has gone far, right?
Obviously, this newly developed device is here to solve the problem that the Peephole Cam couldn't solve a couple of years ago. With the Peephole Cam, answering your front door or buzzing your visitor in with your phone while you are away was impossible. However, with the Ring Intercom, that is now a possibility and a reality.
This Ring Wi-Fi-based kit carries out a number of tasks, including permitting the development of a list of "shared users" who may use the app to buzz themselves into the building and providing trusted users with Remote Unlock. In addition, the entire setup process for the device is do-it-yourself (DIY), so you won't have to deal with an installer.
How do you mount the Ring Intercom?
Thanks to its universal mounting system, it can be mounted on virtually any type of wall, including brick and stucco. The Ring Intercom device has a wall-mountable box and is compatible with most audio intercom phones. Everything you need to mount the Ring Intercom outside your home is included in the kit, from the drill bits to the wall plugs. Sounds great, right?
What about charging the device?
Removing the entire unit from where it is mounted on the wall is not necessary. After removing the faceplate and releasing the screw that secures the device, you can easily remove the battery, which features a Micro USB port, and the battery can be charged within a few hours.
The Ring Intercom gives access to the entrance system of a building using the Ring app. Furthermore, it establishes a connection to the Wi-Fi network in your home, allowing it to remain continuously online.
This intercom system allows visitors to call the person whose house they want to enter. In addition, it doesn't require any rewiring or system replacement. Instead, it can be retrofitted with existing intercom systems, allowing quick installation.
It enables you to expand the capabilities of your existing audio solution, which includes Remote Unlock, Shared Users, Auto-Verify Delivery, and Auto-Verify Guests. As we stated above, even if you're not at home, you can use the Ring app to buzz in anyone who rings your intercom.
The Ring Intercom will also keep a record of missed and answered calls. Multiple members of your household are permitted to utilize the remote unlock feature, and the activity log will be updated accordingly each time it is used.
Ring's app's "Shared Users" feature can provide people access to your intercom. This way, other members of your household can allow people into your space.
The point is that you can grant shared access to others who live with you, and they can use the Ring Intercom just like you. You can also activate settings for visitors. For example, the system will auto-verify, allowing someone using a virtual key to get access to your building. Of course, you won't have to let them in; they can use their phone to buzz themselves in, but you can remove this access anytime.
Indeed, Ring is currently one of the most reputable companies in the smart home automation and security field. When you think of a smart home, you should picture complete automation of your entire home devices, for your overall comfort.
Watch the video below for a visual demonstration of how to install the Ring Intercom.
Why is the Ring Intercom highly rated?
When you have the Ring Intercom, it is simple to grant access to a visitor without having to utter a single word. It functions in the same way as other Ring products, via the Ring app. The Ring Intercom device can help you upgrade your intercom to a wireless Ring Doorbell and easily change the look of your front door.
Even if you don't respond when someone buzzes your door, Ring Intercom will remember each time it happens. So you may check to see if there were any missed calls, as well as see if anyone who has access to your account permitted anyone into the building.
To prevent unauthorized access, the Ring Intercom's two-way communication is fully encrypted by default. This implies that only people standing at your apartment door will be able to buzz for your attention. This device allows you to grant your building access to anyone who pleases you.
The Ring Intercom has relatively fair pricing. The kit includes not just the intercom but also a quick-release battery, a spare battery, and a charging station for the quick-release battery.
Ring Intercom leverages the current compatible intercom system to enable encrypted Two-Way Talk via the Ring app, allowing users to only accept calls from apartment building door buzzers. In addition, the Ring app makes it simple to set up individual privacy and security settings, with the option to manage shared users and instantly activate or disable access.
The system which operates through Wi-Fi covers a variety of responsibilities, including Remote Unlock for trusted users and the option to create a roster of "shared users," who will be able to buzz themselves into the building via the app.
The Auto-Verified Guests feature is not available at the device release date, but when it does, authorized guests will be able to be assigned "keys," which can be withdrawn at any time. It's also inherently compatible with Amazon's delivery services, allowing consumers to automatically let drivers in.
However, when a visitor or delivery person arrives, you don't need to keep picking up the phone because Auto-Verify Amazon Delivery and Auto-Verify Guests both take care of that for you.
As said earlier, the Ring Intercom is powered by a rechargeable battery, allowing easy installation without needing to modify the home wiring. In addition, it is compatible with the vast majority of audio intercom handsets.
The Ring Intercom can only allow you to answer calls when someone buzzes your apartment; you cannot use it at will to eavesdrop on anyone standing in the doorway. However, there is no recording functionality; only live, two-way chat is possible.
The Ring Intercom works in line with any Alexa-enabled devices that you have installed in your home. Hands-free use of the Ring Intercom system is possible if you opt to make use of the voice control feature instead. This is useful if you are busy with something and don't want to get your phone dirty while answering the call. Amazon's voice assistant, Alexa, will transmit the call via two-way encryption.
There is also the option to use your voice to open the door. However, in order to do so, you will first need to set up and utilize a voice PIN code.
Through the Ring app, you have complete control over your home, allowing you to authorize access to trusted visitors while you're away or receive notifications for attempted break-ins. You will be able to see a summary of both the missed and answered intercom calls within the activity log section of the Ring app. All these are accomplished using the Intercom Remote Unlock function.
Final Thoughts
The Ring Intercom is aimed at making neighborhoods safer for both inhabitants and visitors, regardless of the type of home they live in. Also, smart features are being incorporated into apartments to aid tenants in having a smarter home.
The technology used in the home must evolve to keep pace with changing customer expectations and their busy lifestyles. The Ring company has certainly continued innovating simple solutions for its customers with the Ring Intercom.
The Ring Intercom satisfies all the expectations you would want for such a device. It's easy to set up and use, has good audio quality, is dependable, has an attractive design, and comes with great features such as wire-free operation.
The takeaway is that Ring has made tremendous steps toward improving security for everyone.