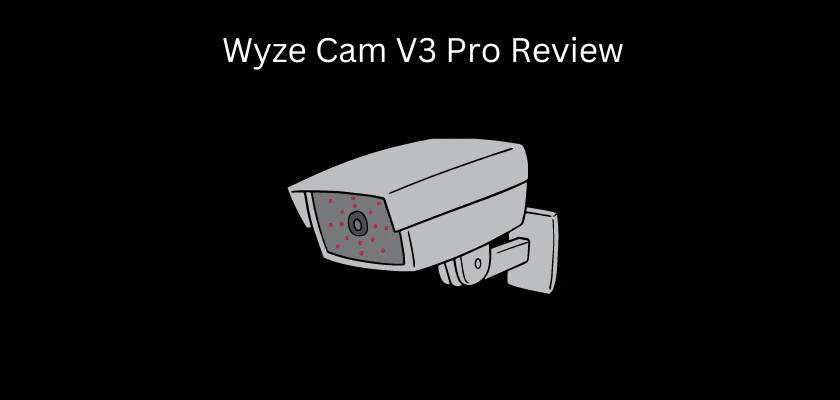 Wyze, the smart home brand is back in the market with another budget-friendly security camera, the Wyze Cam V3 Pro. The camera is packed with improvements from its predecessor and comes with innovative functionalities. Perhaps its greatest selling point is its 2K resolution, with terrific AI human detection.
Wyze has carved a reputation for itself when it comes to affordable security cameras. It is safe to say that the brand has successfully hacked the balance between cost-effectiveness and excellent functionality. Will the Wyze Cam V3 Pro camera also embody this? You will find out here.
In this guide, we will cover everything you need to know about the Wyze Cam V3 Pro starting from its build, to its quality and performance.
So, let's dive right in.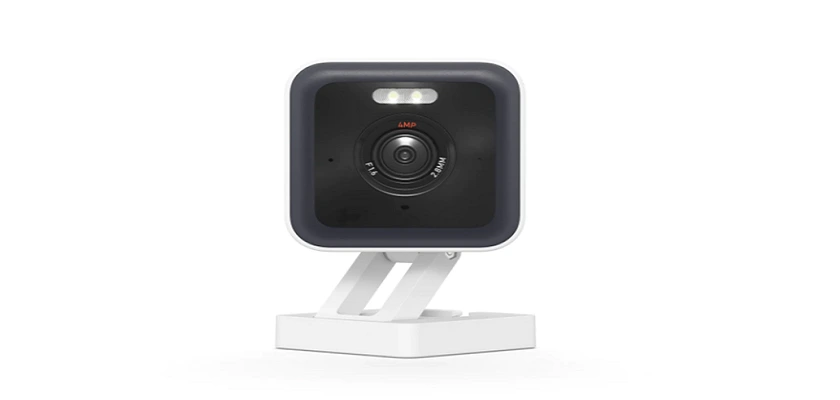 The Wyze Cam V3 Pro Design and First Impression 
Let's first take a quick journey through the unboxing process. When you unpack the box, you'll find the Wyze Cam V3 Pro, a 6-foot micro USB cable, metal disc mount, mounting tape, and a D.C adaptor rated at 5 Volts, 2 Amps.
The micro USB extension power cable offers you some form of flexibility in your camera placement and to help you get started, there is also a quick start guide for your perusal.  
At first glance, this camera looks almost exactly the same as its predecessor. However, a major distinguishing factor is the spotlight present on the Wyze Cam V3 Pro.
The V3 camera is shaped like a cube, measuring 2 x 2 x 2.3 inches. It sits beautifully above a square base. This base also has a hinge that can increase the camera's height by up to 1.2 inches on full extension. The hinge also allows 180° adjustments vertically and 360° horizontally. At the front of the camera, you'll find its microphone, light sensor, status LED, spotlight, and of course its 4 Megapixel lens.
Depending on the situation, the status LED shows different lights. For instance, if you've fully set everything up and they are functioning correctly, you'll notice a solid blue light. However, if you're still carrying out the setup process, it either displays red or blue.
When you look at the back of the camera, you'll find a speaker that works hand in hand with the microphone to provide two-way communication. Alongside the speaker, you will also find a USB charging port for Power.
Finally, at the bottom of the Wyze Cam V3 Pro, you'll find a micro SD card slot for local storage. There is also a setup button. However, note that you won't find these components below exposed. They are covered by a rubber protective cover.
How to install the Wyze Cam V3 Pro camera
If you're planning to save yourself expenses, you can carry out the installation of the Wyze Cam V3 Pro yourself. Fortunately, this takes only a few effortless steps.
Begin by powering ON the camera. Then download the companion Wyze smartphone application. Click on the Plus Sign – Add Device – Wyze Cam V3 Pro. Then the status LED on the camera will begin to flash, press the setup button under the camera until you hear "ready to connect". Click next on the app, type in your Wi-Fi password, a QR code will be displayed afterward, take the camera and scan this QR code. You will hear "QR code scanned, please wait", the camera should connect successfully.
Viewing the Wyze Cam V3 Pro on the app shows a more intuitive and redesigned interface than what other versions were. With this interface, camera customization and video playback have never been so easy. Even better, it serves as Wyze's introduction of multiple compelling functionalities.
One such is the innovative feature called Smart Focus. In essence, this is a feature that shows you a zoomed-in display (picture-in-picture) automatically, in live view.
With this, you can have a better assessment of faces and the situation at hand. The zoomed-in display decently retains vital details from the default camera view.
Also, when viewing the Wyze Cam V3 Pro in the app, under the SD card view, Timeline is broken down to show you when specific events took place. You will see when a car, person, or animal was detected. This enables you to find events easily and faster.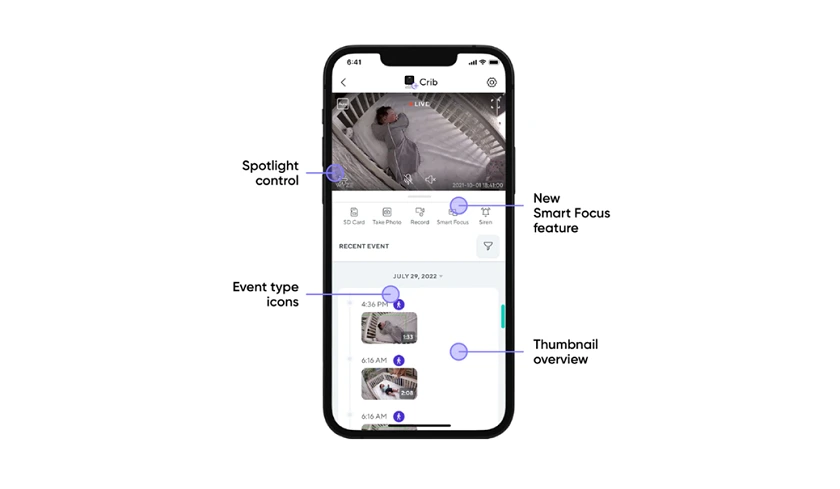 Furthermore, it is now very much easier to activate several tools including the siren controls and the spotlight feature.
With the Wyze Cam V3 Pro built with edge AI detection coupled with a faster processor, you don't even need the cloud to use the camera to a satisfactory speed. Its human detection is almost instant and you're sure to get notified in just a matter of seconds.
The app also powers your communication with anyone outside your door. You can speak to an individual using your smartphone microphone and he or she hears you through the camera's speaker. The speaker also has satisfactory volume and sound quality. You'll agree that it's cool to do almost everything from one smartphone application.
Features of the Wyze Cam V3 Pro
The Wyze Cam V3 Pro camera is an improvement to the Wyze Cam V3. For one, it is accompanied by a starlight sensor which allows you to capture full color even at night. It is also built with an 80 Lumens spotlight as against the external 70 Lumens spotlight which you attach to the top of the V3. You can capture footage on this camera up to 2K at 20 frames per second in daytime and colored night vision. While with infrared night vision, it can capture at 15 frames per second.
Furthermore, the camera comes with an inbuilt 80-decibel siren. This alarm can be set to come off anytime the camera detects motion.
This camera is built with Edge AI in it for person detection. This means it doesn't require cloud computations to interpret motion detection, thereby delivering near-instant notifications.
The camera is touted as the fastest when it comes to human detection. Even at its very cheap price, this is not so far from the truth. Its person detection is terrific and works with limited false alarms. With this feature, you require no cloud subscription and you can have 24/7 nonstop recording to your SD card up to 256GB FAT. With no Wyze Cam Plus Subscription, you will get notifications once every 5 minutes, each notification will arrive with a thumbnail on the timeline. As mentioned earlier, the timeline shows you motion detection for different events so it's easy to find specific events. With a cloud subscription, additional AI motion detection for pets, vehicles, and packages are available.
Let's move further on the features of the Wyze Cam V3 Pro.
Smart Home Integration
Many of us have a strong affinity for our home and family. This is one of the reasons for smart home devices. So, when choosing a security camera, you're perhaps factoring smart controls into your considerations.
If the smart home is your chalk horse, the Wyze Cam V3 Pro camera has tons of functionalities that fit your bill. It renders support for voice commands on Google Assistant and Alexa. In essence, you can always control your camera without even laying your hands on the Wyze companion application.  However, it does not support Apple Home Kit integration.
Even though it does not work with home kit integration, you can use your V3 camera with IFTTT applets. This allows you to use the device with several other third-party smart home systems. You can further integrate the Wyze Cam V3 Pro camera with several other smart home devices native to Wyze. These include smart door locks, motion detectors, smart light bulbs, and the list goes on and on.
Motion Zones
There are some areas of your home where you need surveillance. These typically include your kitchen, garage, living room, etc. Definitely, the same cannot be said about a location like the powder room just around your kitchen.
Fortunately, this camera makes provision for both options. You can create activity or motion zones for the camera. In essence, you can tell it specific areas where it should focus its attention and places it should ignore. In fact, you can set the camera to ignore specific components in the areas. For instance, if you're using it outdoors, you can tell the camera to ignore the cars.
The Wyze Cam V3 Pro Smart Sound Recognition
The sad reality is that over half of the deaths caused by home fire outbreaks happened in apartments without smoke alarms. If they have smoke alarms, chances are they are not functional. Even if you already have a fire or smoke alarm installed, it doesn't hurt to have an extra layer of protection. This is what the Wyze Cam V3 Pro camera brings to the table.
If your smoke alarm goes off, the camera can recognize the sound of the alarm. When it does, it will send you notifications immediately. Of course, you can test this. Simply light a tiny candle around your smoke alarm. Within a few seconds, your smoke alarm will go off (if it actually works). Once it starts sounding, you'll almost immediately receive a beep on your phone, alerting you of a fire emergency. This feature does not only work for fire alarms, it also works for a truckload of sounds you can imagine.
Tabular Representation of the Wyze Cam V3 Pro Specifications
Below is a complete list of all the features and specifications of the Wyze Cam V3 Pro.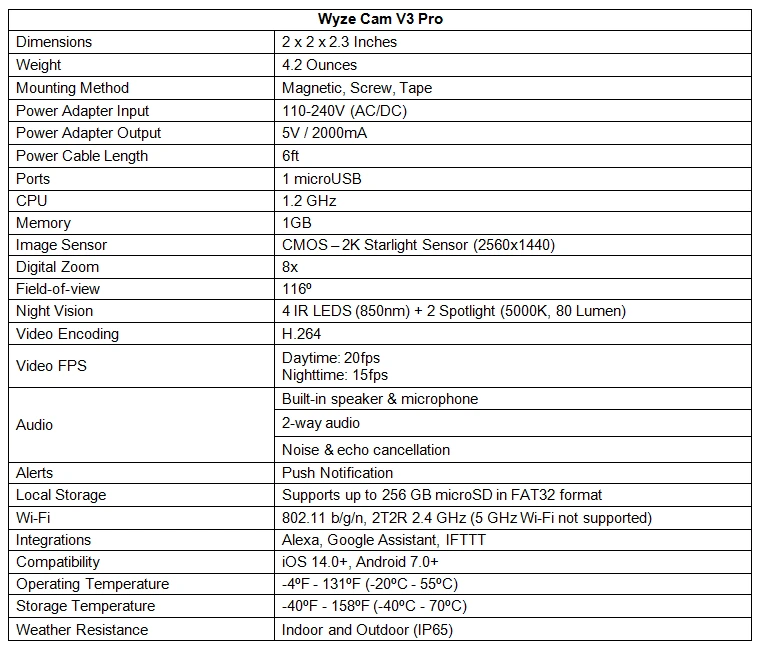 Cons of the Wyze Cam V3 Pro
The field of view is narrow at 116º as against 130º in the previous model.  
Most features require a subscription.
Conclusion
Should you buy the Wyze Cam V3 Pro?
If you already own the previous model, you may not need to discard it to get this new model.
From a price viewpoint, the straightforward answer is yes. Also, when you consider the functionalities, you'll agree that getting one or more of this camera unit for your home is recommended.
You may want to see our review of the Wyze Cam OG and Wyze Cam OG Telephoto.