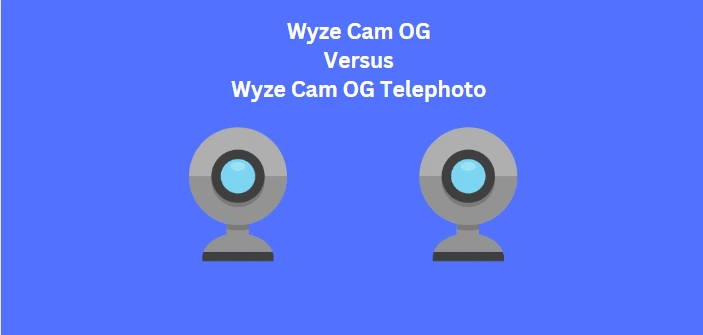 Wyze is back with another set of camera lineups – The Wyze Cam OG and Wyze Cam OG Telephoto. This article compares both and provides you with a succinct review.
When it comes to securing our homes and loved ones, there's no such thing as being too careful. That's why having a reliable and easy-to-use security camera is a must-have for any homeowner. But let's be real, the options out there can be overwhelming; not to mention, expensive. But fortunately, that's where the Wyze Cam OG and Wyze Cam OG Telephoto cameras come in.
Imagine being able to keep an eye on your property, inside and out, without breaking the bank. With these two cameras, you can do just that. Overall, they are affordable, user-friendly, and budget-friendly, just like every other product from Wyze.
So, if you're finding it difficult to decide which one to choose between the Wyze Cam OG and Wyze Cam OG Telephoto, don't worry. In this review, we'll delve into both options and compare their features, so you can make an informed decision on which one is right for you.
With no further ado, let's get started.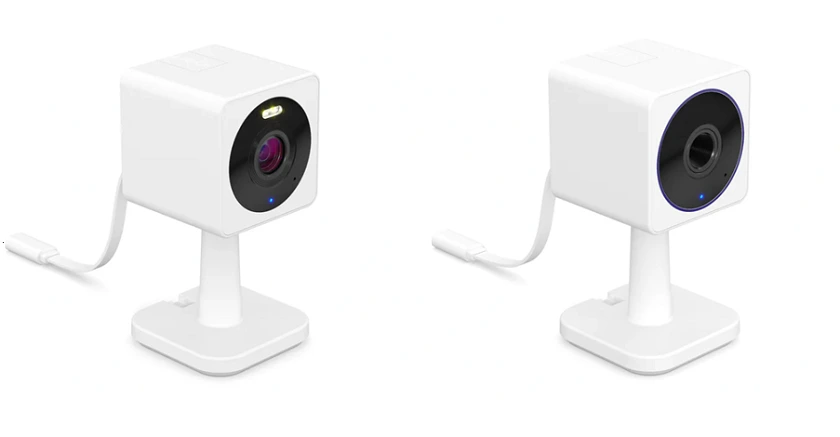 Design of the Wyze Cam OG and Wyze Cam OG Telephoto
When you open the box of the Wyze Cam OG or Wyze Cam OG Telephoto, you'll find everything you need to set up both cameras. A Power Adapter, USB Cable, Wall Anchors, Wall Plate, Mounting Screws, and a Quick Start Guide. 
The intention that Wyze has for the use of both cameras is that you use them together, but not mandatory. So, at the very top of each camera, you have a space that enables either camera to sit above the other. However, you are free to purchase just a single camera and use it as a standalone device.
When you open the box, the first thing you'll observe is the camera itself. The Wyze Cam OG and the Wyze Cam Telephoto pretty much look the same; sleek, simple, and compact. They both come in a classic white color with a matte finish. This makes them easy to blend in with any home decor.
The cameras are small and compact, measuring in at just 1.89 inches in each dimension and weighing in at 4.1 ounces. This makes it easy to place in any room in your home without taking up too much space.
But the design isn't just about how they look; it's also about how they work. One of the most practical features is the 6-foot power cable. This gives you plenty of flexibility when it comes to placing the camera. You can put it on a shelf, mount it on a wall, or even place it on the floor, all while still being able to reach a power outlet.
With an IP65 rating (Operating Temperature of -20°C to 55°; Storage Temperature of -40°C to 70°) these cameras are built to withstand both indoor and outdoor conditions. Whether it's a hot summer day or a cold winter night, your camera will keep on working satisfactorily. As such, you can place it anywhere, like your backyard, front yard, garage, or even by the pool, without worrying about it getting damaged by the elements.
Additionally, the cameras are also dust-tight which means they can keep out dust, dirt, and other particulates from entering their casing. This is especially important if you're planning on placing it in a dusty area, such as a garage or workshop.
With all these, the Wyze Cam OG and Wyze Cam OG Telephoto undoubtedly tick the boxes of practicality and aesthetics.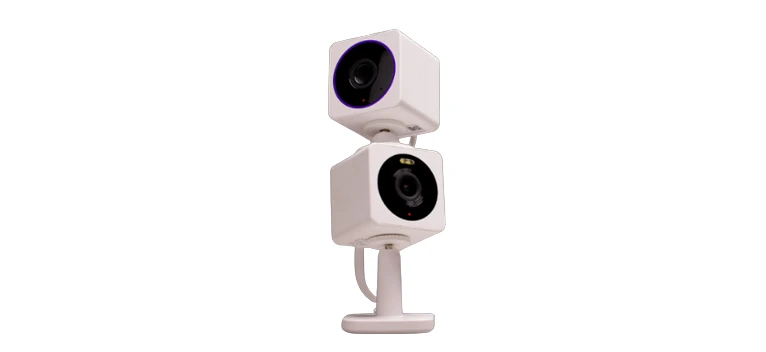 What is the difference between the Wyze Cam OG and Wyze Cam OG Telephoto?
While both cameras are pretty similar in almost every feature, there are still some key differences to note.
Firstly, the Wyze cam OG comes with a wide-angle lens having 121.4 Degrees Diagonal Field of View. This allows you to monitor larger areas in your home. It's perfect for keeping an eye on your living room, kitchen, or even your backyard. With its wide-angle lens, you can be sure that you're getting a complete view of the space you're monitoring.
Additionally, the Wyze Cam OG has an integrated spotlight. This can be a great feature when it comes to monitoring your property at night. In essence, this feature allows it to illuminate dark areas when the camera is triggered by certain events.
Now, let's talk about the Wyze Cam OG Telephoto. This camera has a 3x telephoto lens. Unlike the wide-angle lens of the Wyze Cam OG, it allows you to zoom in and see more details with a reduced Diagonal Field of View at 27 degrees. This is perfect for those who want to keep an eye on a specific area of their property such as a gate, a driveway, or even a window. With the Wyze Cam OG Telephoto, you can be sure that you're getting a clear view of the area you're monitoring. Also, note that you won't be getting the spotlight feature with the OG Telephoto.
With that said, let's see how to set up both cameras and take a closer look at some terrific features you can expect if you want to get any of these cameras.
Setting up the Wyze Cam OG and Wyze Cam OG Telephoto
As mentioned earlier, both cameras were built to work together but can also work individually. To set up either camera, you have to set them up individually.
Simply plug in the USB power cable to the camera and to your power socket. You should then hear ''ready to connect''. Then, connect your phone to your Wi-Fi network (Only 2.4GHz is supported), open the Wyze app, click on the + sign at the very top, and click on Add Device – Cameras – Wyze Cam OG. Follow the proceeding steps to complete the setup.
If you purchase both of them, after setting up both, you can simply add them to a Group on the app. With this, whenever you tap on this group, you get to see the live view from both cameras at the same time.
Let's see the features you can expect to get from either camera:
(1) Video Quality
What is a security camera without decent video quality? Fortunately, both cameras definitely don't disappoint in this area.
With a resolution of 1080p on both the Wyze Cam OG and Wyze Cam OG Telephoto, you can expect crisp and clear footage of your home. Whether you're checking in on your property during the day or at night, you'll be able to see everything in great detail.
One of the standout features of the Wyze Cam OG is its night vision capabilities. The camera is equipped with 2 Spotlights (5000k, 40 Lumens) and 4 IR LEDs (850nm). This allows for effective colored night viewing. So, even in complete darkness, you'll be able to see what's happening on your property clearly. The fact that the night vision is in color makes it even better. You'll easily identify people, animals, and objects in the footage.
The Wyze Cam OG also uses the H.264 video encoding, a widely used standard for video compression. As such, the footage will take up less space on your device (a maximum of 256GB SD card is supported) and will be easier to stream. Not to mention the advanced CMOS-Starlight Sensor (1920 x 1080), works in sync with other features to give you excellent image quality.
Imagine you're on vacation and you receive an alert that motion was detected in your backyard. You pull up the live feed on your phone, and you see a person trying to break into your shed. With the high-quality image from either camera, you can see the person's face clearly. Combined with the night vision capability, you can see what's happening clearly. With this information, you can quickly call the police and have them intervene.
(2) Two-Way Communication
When it comes to security cameras, audio is often an overlooked feature. But certainly, it's an incredibly important one. The beauty of a good security camera also lies in how it lets you hear everything going on.
The Wyze Cam OG and Wyze Cam OG Telephoto come with built-in speakers and a microphone, which allows for two-way audio communication. This means you can hear what's happening in your home or office, and you can also talk to anyone who's there.
Let's say you're at work and you see from the app that your kids are home from school, you can use the two-way audio feature to talk to them and make sure they're doing their homework or to tell them to put their shoes away.
Or maybe you're out of town on vacation and you see someone on your property who shouldn't be there. You can use the two-way audio feature to tell them to leave. The built-in speaker and microphone make it possible for you to communicate with anyone who's near the camera, no matter where you are.
But that's not all, both cameras also come with noise and echo cancellation. This means that the audio will be clear and crisp, even if there's a lot of background noise. So, if you're trying to talk to someone in a busy coffee shop, the audio will still be clear. This feature is especially helpful if you're monitoring a large area such as a store or a warehouse. All in all, the audio system is undoubtedly satisfactory. It's not just a feature, it's a benefit that makes your life easier, safer, and more convenient.
(3) Motion Detection Alerts and a Built-in Siren
Another important feature of every security camera is motion detection. After all, you want to be alerted if there's any suspicious activity happening around your home. Now, the good thing is both cameras have some pretty impressive motion detection capabilities.
They come with advanced motion detection technology for Persons, Pets, Vehicles, Packages, Friendly Faces, and Motion Tagging. With these, either camera can pick up even the slightest movement. This also means that you'll be alerted if there's any movement in the area that you're monitoring. In addition, the cameras also feature Sound Detection and Detection Zones.
A remarkable part of the sound detection is the smoke alarm sound and CO alarm sound. Whenever the cameras pick up these sounds, you will be notified with a push notification and a 12 seconds video. Then, detection zones enable you to mark areas you do not want to be notified about.
The best part is that you can customize the sensitivity of the motion detections from Low to High so you can be sure that you're only getting alerts for the things that matter.
When the cameras detect motion, they send an alert to your phone. Then, you can check the live stream or playback the video footage. If you see something suspicious, you can take action by calling the police or turning ON the built-in siren.
Speaking of the built-in siren, this is another great feature of these cameras. The 90 decibels siren is loud enough to be heard from a distance. Plus, you can activate it remotely from the Wyze app.
Thus, if you see something suspicious happening in your home, you can turn ON the siren to scare off any intruders. If the situation is serious, you can then contact the police and give them your live footage with the siren ON. The motion detection alert and built-in siren are great features, but they're even more powerful when used together.
With regards to night vision, the Wyze Cam OG performs excellently with very clear images. It edges over the Wyze Cam OG Telephoto with its spotlights.
(4) Smart Home Integration
Both the Wyze cam OG and Wyze Cam OG Telephoto are standouts when it comes to home integration. With the ability to integrate with Alexa, Google Assistant, and IFTTT, they are a great choice for those looking to take their home security to a new level.
With Alexa integration, you can control your Wyze Cam OG or Wyze Cam OG Telephoto using voice commands through your Amazon Echo device. This is great for those moments when you're busy doing something else and don't have time to pull out your phone to check in on your camera. With Alexa integration, you can simply say "Alexa, show me the living room camera," and the feed from your Wyze Cam OG will pop up on your Echo Show or Fire TV.
Google Assistant integration is similar; you can control your Wyze Cam OG using voice commands through your Google Home device. This is perfect for those who are always on the go and want to check in on their camera without having to pull out their phone.
IFTTT integration is a bit different but no less powerful. IFTTT is a service that allows you to create "recipes" that automate different tasks in your smart home. For example, you can create a recipe that automatically turns on your lights when motion is detected on your camera. Or, you can create a recipe that sends you a push notification to your phone when motion is detected. The possibilities are endless.
Note: The Wyze Cam Plus Subscription is required to get the best out of both cameras.
Closing Thoughts
Apart from the spotlight feature and field of view, both the Wyze Cam OG and Wyze Cam OG Telephoto are similar in almost every way. In fact, you can integrate both to enjoy the best of both worlds.
Overall, the performance of both is satisfactory. Budget-wise, they are very cheap and if you are on a lean budget, they might just be right for you.
Get the Wyze Cam OG and Telephoto on the Wyze Official Website
You may want to see our review of the Wyze Cam V3 Pro.