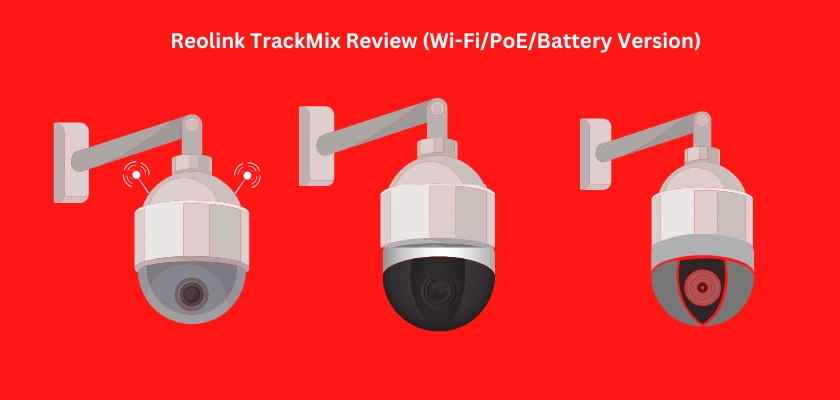 With the Reolink TrackMix cameras (Wi-Fi, PoE, and Smart Battery), Reolink has continued to churn out truly innovative security camera products.
In 2021, Reolink came to the market with the Reolink Duo, offering an innovative 150° FoV. In 2022, the Reolink Duo 2 was introduced, offering 180° FoV with both lenses working in sync. Reolink also wowed many with the innovative Pan-Tilt-Zoom (PTZ) cameras offering up to 8 megapixels of crisp and high-quality feeds. With these, the brand has undoubtedly set a high standard and a pace that others are striving to meet up with.
The Reolink TrackMix is a blend of functionality and aesthetics. It evidently reflects the innovation that has been synonymous with Reolink over the past couple of years. This is a dual-lens camera offering PTZ functionality amongst other features. Also, the Reolink TrackMix comes in a Wi-Fi model, PoE, Smart Battery version, and LTE version.
That's just a glimpse of what the Reolink TrackMix camera is about. Now, let's delve deeper into the functionalities and what you can potentially expect. We will begin with the Reolink TrackMix Wi-Fi and PoE models, and afterwards the Smart Battery model.
The Reolink TrackMix Camera Overview: Wi-Fi and PoE Models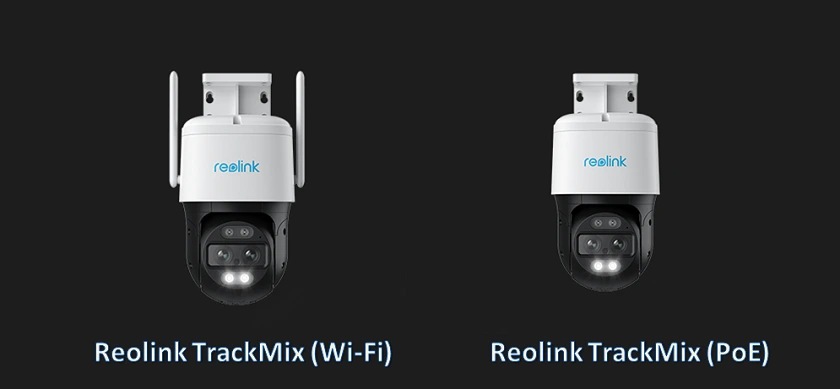 The Reolink TrackMix Wi-Fi and PoE cameras have exactly the same features; except for the fact that the Wi-Fi model doesn't support Power over Ethernet. While the PoE model doesn't support direct connection to Wi-Fi.
Whichever model you decide to go for, the features we are about to discuss below will be seen in both models.
Perhaps, the primary selling point of the Reolink TrackMix is its dual-lens functionality. In essence, it uses two equally functional and full-featured lenses.
Of course, you're probably thinking these lenses will make it capture a wider image. But that's not the case, both lenses serve different purposes.
The first lens is a wide-angle lens. This is what captures the full view of an event. This wide-angle lens is an 8 megapixels lens and records in 4K.
Then, there is the telephoto lens. This lens is what captures closed-up or zoomed-in images of events tracked by the camera. The telephoto lens captures in 1080p, which is enough to show zoomed-in details of detected objects.
There are three modes in which you can use the Reolink TrackMix camera. These modes are; Digital Tracking, Digital Tracking First, and Pan/Tilt Tracking First.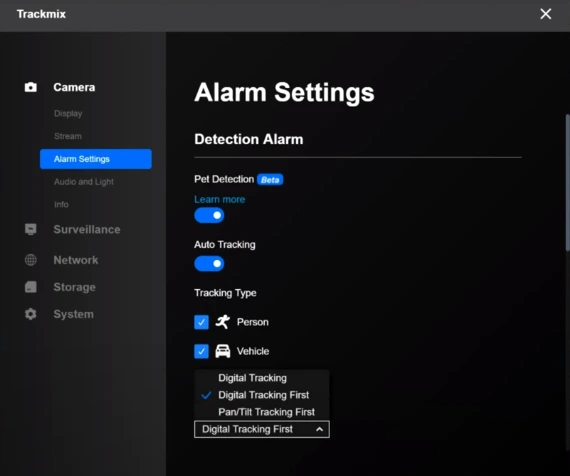 In the Digital Tracking mode, when motion is detected, the camera will not Pan and Tilt. The wide-angle lens will not move, but the telephoto lens will zoom in on motion detected and digitally track this motion.
In the Digital Tracking First mode, when motion is detected, the wide-angle lens and the telephoto lens will move accordingly as objects pass around the camera and track this motion digitally and optically.  
Then in the Pan/Tilt Tracking First mode, the Reolink TrackMix will tilt and swing to wherever motion is detected and at the same time track this motion digitally and optically.
Speaking of Tracking, the Reolink TrackMix adopts AI smart detection and Pan-Tilt functionality to automatically track specific objects within its scope of capture. The wide-angle lens is what tracks objects in full panoramic view. Combined with the telephoto lens, both lenses provide you with hybrid zoom. Helping you track the full scope of an event accurately up close. They both ensure that nothing passes you by in the area. 
With the Reolink TrackMix dual lens comes a 6x hybrid zoom with a viewing angle of 104 – 38 degrees horizontally, and 60 – 21 degrees vertically.
The picture quality of this camera is nothing below exceptional. During the day, you can get impeccable 4K image quality. This quality is high enough to rival almost every extremely prized professional model.
The night vision is also excellent, the camera is built with two powerful spotlights and two infrared LEDs. The spotlights provide full-colored night vision and even in total darkness, the infrared LEDs perform excellently.
The camera has a very functional motion detection feature for vehicles and human recognition. While there is also a pet detection feature, this is still in beta mode. By default, the Reolink TrackMix only begins to record when it identifies any of these objects.
You can also set up the camera in a way that it notifies you anytime a human, vehicle or pet passes through its field of view. The human detection feature is pretty excellent. Its effectiveness further guarantees that you almost will not receive false alarms or notifications.
For pet detection, the camera filters recordings just like it does for humans. It's no surprise that this is less effective compared to human detection. Plus, in most cases, it only rings its notification when it detects larger dogs. However, it still struggles to recognize cats and other smaller pets.
Even at a distance and with minimal lighting conditions, the motion detection functionality works pretty satisfactorily. You almost won't have any complaints using it.
Furthermore, the Reolink TrackMix can be a vital piece in solving the smart and secure home puzzle for you. You can use truckloads of advanced functionalities, including mobile live views; smart alerts after motion have been detected as well as storage flexibility, which we will touch on after the pictures below.
Full Specifications of the Reolink TrackMix (Wi-Fi)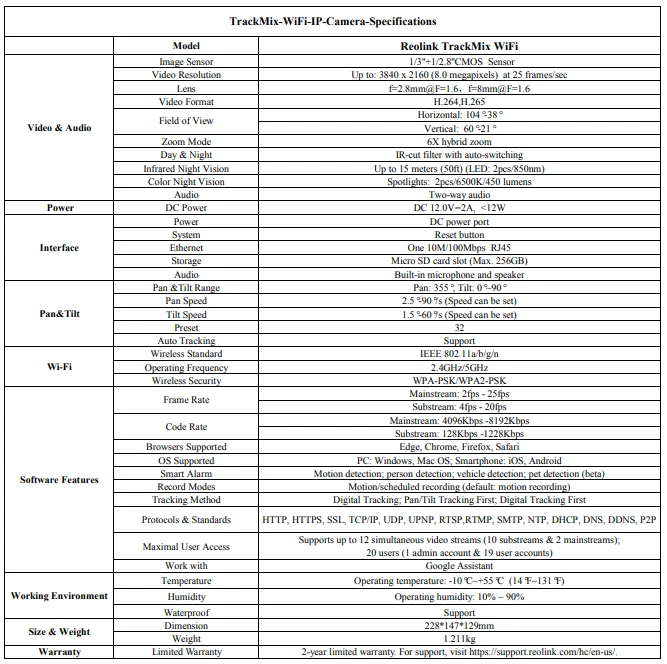 Full Specifications of the Reolink TrackMix (PoE)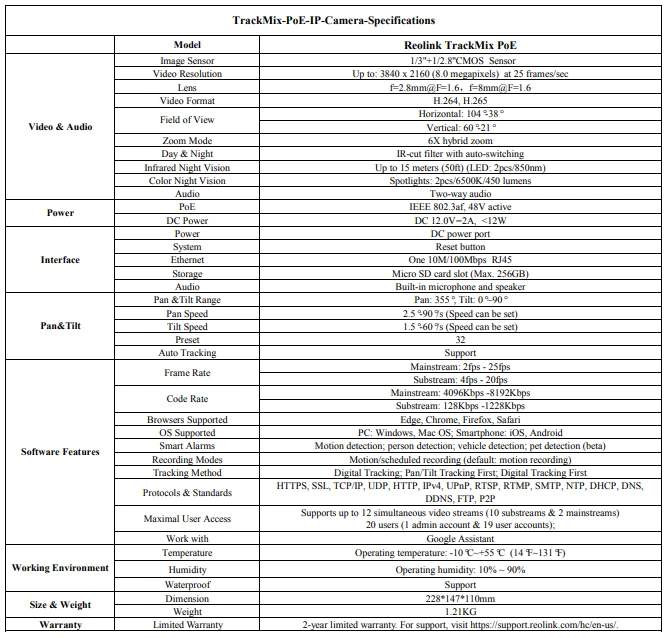 We now move over to the storage mediums available with the Reolink TrackMix camera.
Storage
Reolink has a cloud storage option for your streams but this is only supported on the Reolink TrackMix Smart Battery camera model. You also would have to pay a few bucks for this. But primarily, the Reolink TrackMix (Wi-Fi/PoE) cameras store your recordings on a Micro SD card with maximum capacity of 256GB. Generally, the camera accepts almost every commercially available SD card. So, if you have one lying lazy around, you may simply slot it in.
Also, the Reolink TrackMix (Wi-Fi/PoE) camera supports 24/7 continuous recording, motion-triggered recording, and scheduled recordings. Depending on your settings and the traffic around your camera, the SD card space may get full quickly. However, you still have an FTP option and Reolink NVRs to support your local storage.   
As mentioned before, you can get your Reolink TrackMix camera to record only when it detects specific motion, this can help you conserve your storage space.
However, if you don't want to miss out on anything happening in front of your door, you can always tweak it to record constantly. But expect your storage space to get filled up easily in this case.
The Reolink TrackMix camera shows your recording in timelines. So, you can always filter and find specific recordings recorded on a specific day.
Another option available is by the trigger. This simply refers to what the camera detected before initiating recording. As mentioned before, these range from animals to humans and vehicles.
The Reolink TrackMix Smart Battery Camera Review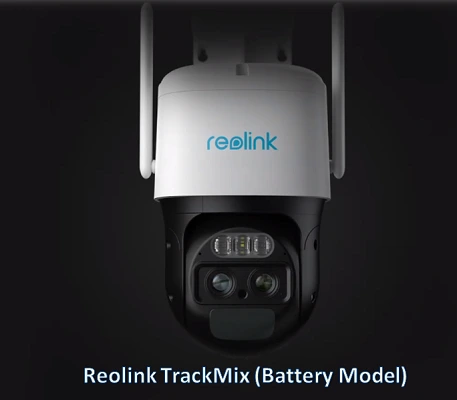 The Reolink TrackMix Smart Battery camera is a similar model to the ones previously discussed. It is a Wi-Fi camera with a wide-angle lens and a telephoto lens. It also features dual view, dual tracking, and hybrid zoom. But, this model is a 2K camera.
Asides the dual-lens capability of this model, the other remarkable feature it has is an inbuilt rechargeable battery, and support for a Reolink Solar Panel (purchased separately). You may want to see our review of the Reolink Solar Panel.
The battery is capable of lasting between 1 week and 4 weeks after a full charge. However, this may not be the case for everyone as actual use cases differ.
It is recommended to use a solar panel with this Reolink TrackMix Smart Battery camera. This is because having the camera plugged into a constant power supply is not the best for the battery. This is applicable to battery-powered cameras generally.
If not having to deal with cables or the flexibility of installing your camera anywhere you want is your desire, then the Reolink TrackMix Smart Battery camera may be the best option for you.
This camera also features smart motion detection (humans, vehicles, and pets) with customizable motion zones and alerts. The camera functions on both 2.4 and 5GHz Wi-Fi frequencies, has two-way audio and night vision capabilities.
With regards to night vision, the camera has two infrared LEDs and a spotlight, different from the Wi-Fi and PoE versions which have two spotlights. You would have to play with the night vision settings here to see which turns out fine for you.
The Reolink TrackMix Smart Battery camera is IP65 rated, similar to the Wi-Fi and PoE models. It supports local storage up to 128GB as against 256GB on the Wi-Fi and PoE models. However, this is suitable for a battery-powered IP camera that records by motion detection and not continuous 24/7 recording.
Another remarkable feature of the Reolink TrackMix Battery camera is its support for cloud storage. This is not available in the Wi-Fi and PoE versions. Do note also that the Reolink cloud storage is not available in every country.
Full Specifications of the Reolink TrackMix Smart Battery Camera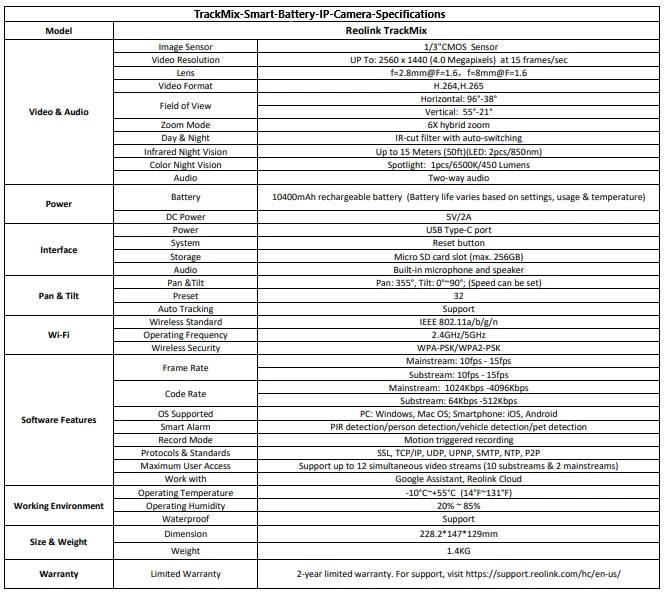 Setting up the Reolink TrackMix (Wi-Fi, PoE, and Smart Battery model)
Before using the camera, you have to download the Reolink app. This application is what helps you oversee everything about the camera.
If you're using the Reolink TrackMix Wi-Fi version, setting up is relatively easier and cost-effective. All you have to do is connect the camera and the app using your local wireless network. Once the Reolink application automatically recognizes the camera, you can then follow the preceding instructions to complete your setup.
However, if you're using the Reolink TrackMix PoE version, you need a PoE switch. Simply connect the camera to the switch. Once connected, the application will automatically recognize the camera. Then, you can continue with the setup. The process here is also easy by the way. After the app has recognized the camera, the next step is assigning a password. Following this, other processes are easy-peasy.
Once you've completed the setup process, you'll have the full-featured Reolink application at your service. Right on the dashboard or start page, you'll find the connected Reolink TrackMix camera. Here, you can preview the feeds and take full control of everything happening within the app. If you click on the preview button you'll be able to access the live view. On the live view, you'll find two streams; The first stream is what displays the feed using the wide-angle lens. The second stream is what uses the telephoto lens to give you a zoomed feed.
Of course, you can decide to view both streams individually. However, if you want a better range of details and feed assessment, you can view both footages as one. There is also a PTZ button. This is what helps you control the motorized part of the camera. The button enables you to Pan or Tilt the camera. If you don't want to do this manually, you can set up the camera in a way that it automatically follows and keeps track of specific movements. Generally, this works quite well, especially if the particular movement is not occurring at an overly close or very far distance.
While this has been the trend with most Reolink cameras, it is also worth mentioning that the application also allows you to initiate two-way communication. In essence, you can use your smartphone microphone to speak with someone outside your home. The other party will hear you via the Reolink TrackMix camera speaker and they can also decide to respond to you using the camera's microphone. Plus, the app also allows you to capture videos and images manually. You also view the recording right on its intuitive interface.
It's also worth mentioning that the Reolink TrackMix camera lenses don't work turn-by-turn. They work simultaneously. However, you can always tweak how and when you want the camera to film using the straightforward options available in its settings.
All in all, the Reolink app is what best defines functionality. However, it may seem overly old-fashioned in some aspects. Besides, it tends to be slow in some cases, especially if you're trying to get a full 4K stream on your device. If you switch the stream to full quality, you may sometimes notice slow-loading streams.
Finally, apart from smartphones, you can also control your Reolink TrackMix camera using your PC as mentioned in the introductory part of this review. The Reolink TrackMix Wi-Fi/PoE, and Smart Battery cameras work with the intuitive Web GUI and Reolink smartphone app.
Final Thoughts
The Reolink TrackMix cameras are undoubtedly extraordinary. They offer the strengths synonymous with Reolink cameras.
The dual-lens and flexible zoom levels are nothing short of impeccable. Right from first glance, you can testify to its extraordinary design. It's one camera you'll be more than proud to install on your front door.
Digital and Optical Tracking is also excellent with these cameras, and something you would like to experience.
Furthermore, you can use the Reolink TrackMix with the PC software, web browser, and smartphone application as the three options work excellently.
Conclusively, this is a super surveillance camera you don't want to miss out on. From the pricing and functionality viewpoint, getting one for your home is recommended.  
Get the Reolink TrackMix (Wi-Fi) on the Reolink Official Website.
Get the Reolink TrackMix (PoE) on the Reolink Official Website.
Get the Reolink TrackMix (Smart Battery Camera) on the Reolink Official Website.
For Reolink NVRs, you can get them on Amazon below or the Reolink Official Website.
You may want to see our review of the Reolink Duo Floodlight Cameras (Wi-Fi/PoE).