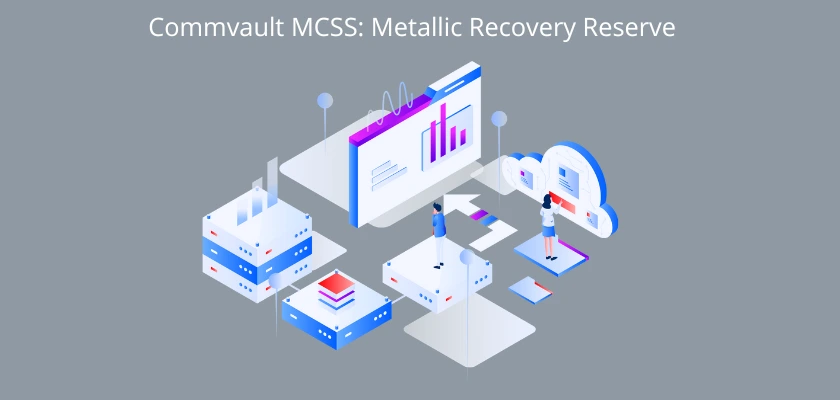 Commvault MCSS now Metallic Recovery Reserve used to be known as Commvault Metallic Cloud Storage Service. Now, while getting the right cloud solution is definitely not a walk in the park, you'll always find the decision fairly approachable with the right guide. One solution that has been making rounds recently is the Commvault MCSS also known as Metallic Recovery Reserve. Wondering if it fits your current demands or perhaps if it can ever be the right fit for you, you can be sure of a clearer picture by the end of this Commvault MCSS Metallic Recovery Reserve guide.
Commvault MCSS: Metallic Recovery Reserve – The Basics
Commvault is a reputable international enterprise heavyweight when it comes to intelligent data solutions. This spans everything from on-premises data services, to SaaS and obviously, the cloud.
In late 2020, the leading enterprise rolled out its Commvault MCSS and at that time known as Metallic Cloud Storage Service in a bid to make the cloud accessible for all and sundry in their data management. And over the years, its quality in this regard has been nothing short of terrific. Combining the best of Microsoft and Commvault, this cloud storage service allows absolute security, scalability, and simplicity, offering you a seamless one-stop data management framework on top of that.
While Commvault has quite a reputation in recovery and backup, its Commvault MCSS Metallic Recovery Reserve solution is undoubtedly an offering that catalyzed its firm catapult into the cloud. This latest metallic offering, the Metallic Recovery Reserve, then further cemented its position. This is essentially a Backup as a Service (BaaS) & Storage as a Service hybrid solution, offering you the best of cloud and on-premises protection without any hassle.
Commvault MCSS: Metallic Recovery Reserve – The First Impression
First off, the Commvault MCSS Metallic Recovery Reserve offers a free trial. This gives you access to any of its Backup as a Service (BaaS) solutions, whether you want to try just one or the entire 7 it offers. This lets you properly assess its services and determine whether or not it is right for you. Besides, this trial gives you access to its entire features without restrictions. However, it caps your usage at 1 terabyte backend storage for every workflow, spanning one month.
Overall, it has a pretty straightforward configuration. You don't have to bother yourself about complex documentation as well. Not to mention its practical instructions guide that makes your experience as seamless as it can be. All you have to do is install its software and you can hit the ground running.
On completing the signup process, you can then log into your portal. Here, you'll find an overview of the offered modules, documentation, etc. You'll also notice a hamburger icon at the top left corner where you'll find a drop-down menu to select which module you'd like to leverage. It's worth mentioning that besides its flexible pricing plan, its intuitive and seamless interface is quite commendable.
You can as well select the advanced view, where you will access a page offering unrestricted access to the entire metallic modules. You can as well monitor the status of your local backups from here. There is a module that caters to that.
Once you've exhausted your lengthy trial, don't fret – The Commvault MCSS Metallic Recovery Reserve pricing framework is still reasonable. Metallic is very upfront about this and depending on your business needs, you can decide to opt-in for the yearly and monthly plans. In essence, your workload, Salesforce, among other factors will play a significant role in the eventual pricing.
Should you buy the Commvault MCSS?
Well, the straightforward answer to this is a Yes. This isn't a wild claim, and you'll definitely agree once we explore the compelling features and upsides embedded in Commvault MCSS Metallic Recovery Reserve.
Let's factor security in
In the data industry, the security of a hybrid or cloud storage solution makes or breaks it. It is undoubtedly a leading priority. Commvault understands this and actively replicates this understanding into its Commvault MCSS with its multi-layered security framework. The Commvault MCSS Metallic Recovery Reserve solution is tailored for typical retentions and daily backups. Not to mention its innovative ransomware protection that not only protects it but catalyzes its recovery from ransomware attacks.
Needless to say, Commvault MCSS Metallic Recovery Reserve adopts an offsite storage framework. However, to ensure that no one intentionally or unintentionally deletes any data without Commvault's consent, it also has its Commvault software transparently handling key management.
If you consider these, coupled with its state-of-the-art air gap security, anomaly detection, and troubleshooting, you'll agree that this is undoubtedly a secure option for you. So, if you're very heavy on security, Commvault MCSS Metallic Recovery Reserve is a product you should definitely have in your corner.
Beginner-friendliness and ease of use
If any solution deserves a position as the "easy button" for cost control, cloud management, and data security, any answer apart from Commvault MCSS Metallic Recovery Reserve is definitely wrong. It lets you use the cloud as a storage target without any hassle. In essence, you don't have to stress yourself about technical cloud terms, processes, and tools. Since the Metallic Recovery Reserve features full integration with the Commvault software, the software automatically helps you handle the technical parts.
In essence, the Commvault MCSS Metallic Recovery Reserve solution offers you every benefit synonymous with cloud storage whether you're a cloud every or not. Best of all, you can manage everything happening from one intuitive UI called the Commvault Command Center. You also won't have to worry about the additional vendor management. Its full integration with Hyperscale X or Commvault Backup & Recovery naturally caters to that. All in all, within a few minutes, you can easily upscale your IT ops without worrying about improving your cloud skills or hiring new talents in this regard.
What can you do with the command Center?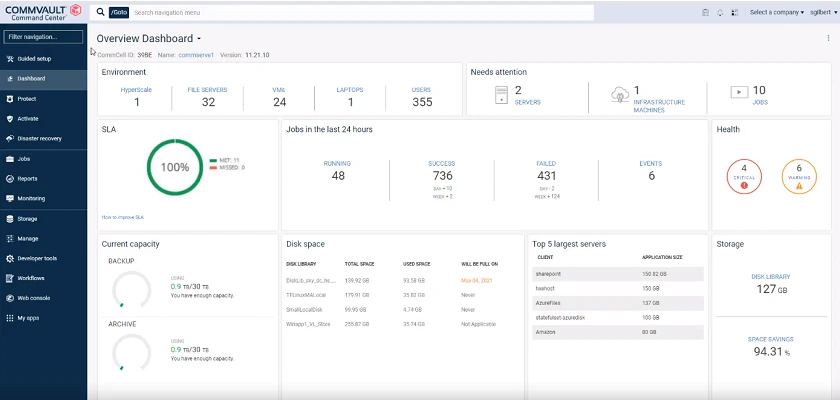 As mentioned before, this is essentially a seamless interface that allows you to manage your data with a hassle-free experience. It is easily configurable and features streamlined processes that help you oversee your recoveries and data protection with the most minimal effort possible. You can set up your data protection environment right on the interface while pinpointing the specific content you'd like to protect. It is also where you get to kick-start and manage backups and restores; your entire data estate, whether you have them built on-premises or cloud.
The command center further helps streamline the cost-optimization and data mobility the Commvault MCSS Metallic Recovery Reserve promises. Apart from not worrying about gaining extensive knowledge into the nitty gritty of the cloud, you can also enjoy an experience without regress, guesses, and of course, hidden costs. With its deduplication, you can even be sure to save more costs.
To conclude its ease of use, Commvault MCSS Metallic Recovery Reserve is essentially a lightweight SaaS and BaaS solution giving you the best of Commvault and Metallic innovations. You get to control your data storage without worrying about hidden costs. Without any doubt, this is the ease you can always bank on. Commvault is also a brand synonymous with quality and simplicity, so you can be sure that it actively replicates this in its Metallic Recovery Reserve.
Versatile and flexible cloud solution
It goes without saying that the cloud potentially offers you and your business truckloads of benefits. However, it is also true that transitioning into this births quite a number of questions. In most cases, these questions revolve around the storage choice, approach to egress charges, and the potential plugins and additional features needed for full functionality.
Fortunately, if you're transitioning to this hybrid solution, you'd be glad to know that the Commvault MCSS Metallic Recovery Reserve eliminates these worries and associated complexities. As mentioned in the first impression section of this review, the solution is available on a subscription basis, which is as well predictable. Regardless of your usage frequency or workload, you can be sure of an experience free from egress charges as well. This helps eliminate the fear of the unknown from your experience, consequently offering you the cloud as a straightforward, seamless, and very accessible backup and storage solution. Overall, the buyer's experience is so seamless. Especially with its accessible integration with Hyperscale X, you can transact the cloud service via various Commvault portfolio partners.
Worried about storage profile? This is your best bet. To optimize your choice, it features a pretty straightforward TCO calculator that lets you weigh your options in terms of commit period and storage needs to better understand Commvault MCSS Metallic Recovery Reserve as your best bet. As you've probably thought, it is very clear that the Commvault MCSS Metallic Recovery Reserve is a strong evolution from whatever Commvault has been offering before. It now better suits the full spectrum of the storage demand for a wide range of customers. Whether you need it as your primary or secondary storage solution, it fits your bill just perfectly. 
Commvault MCSS: Metallic Recovery Reserve Final Verdict
In concluding this Commvault MCSS Metallic Recovery Reserve Review, What is the first rule in the cloud backup community? Well, it is keeping it simple. Guess what the second is? It is still keeping it simple. Evidently, from this review, you'd agree that the Commvault MCSS Metallic Recovery Reserve solution embodies that rule quite admirably.
Essentially, it is an intelligent hybrid solution that allows you to manage your nature cloud from one intuitive interface. Regardless of your workload, it blends just rightly. Its scalability also makes it adapt to rising demands and expansions. That's not all. The most admirable consideration is the experience is devoid of hidden costs.
So, if you're still wondering if this is a solution you should explore or not, you should definitely give it a try.