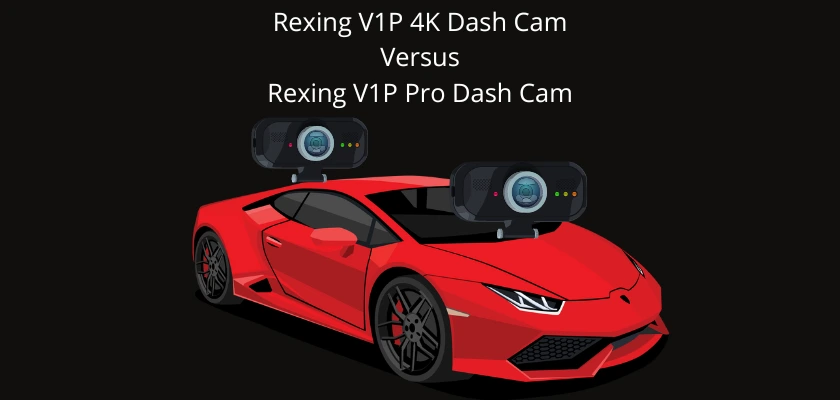 This Rexing V1P 4K vs. Rexing V1P Pro dash cam review is designed to enlighten you in deciding on these two dash cams.
There's no better time to invest in a dashboard camera than now! Having one does more than just capture crime evidence, as you've always seen in the news. Its benefits extend to capturing new road trip memories and making you feel a lot safer on the road. The Rexing V1P 4K and Rexing V1P Pro dash cams are two of the most popular choices available.
So are you stuck between the Rexing V1P 4K or Rexing V1P Pro dash cam and as such, can't make an informed choice? Well, join in as we range through a review of both devices, spanning their captivating specs & features; upsides and downsides; and everything you need for a better decision.
Rexing V1P 4K Dash Cam and Rexing V1P Pro Dash Cam Summary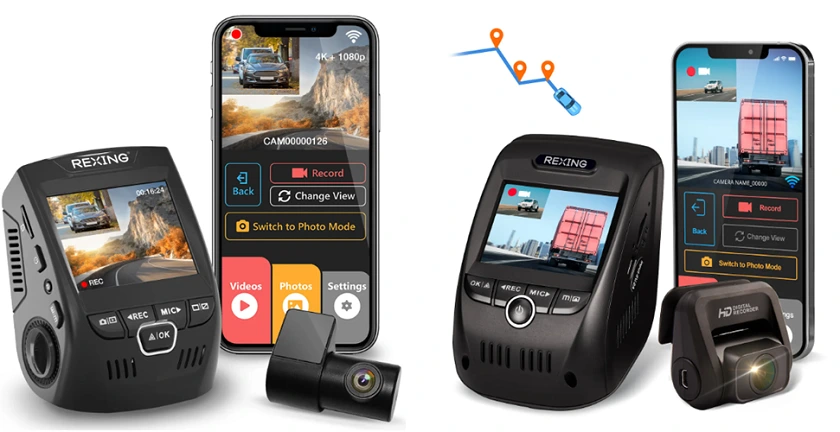 Rexing V1P 4K Dash Cam Review Summary
The primary selling point of the Rexing V1P 4k dash cam is its impressive dual camera, 4k video, and image quality. With this, you can be sure of a superior, clear, crisp, and highly defined video. Even when in the dark, the dash cam always comes through regardless, with clear footage. The Rexing V1P 4K dash cam is the relatively more affordable choice, featuring several compelling functionalities. One of such is the security lock that helps you maintain the integrity of accident footage. Others are integrated Wi-Fi and impressive parking surveillance. The only thing that may discourage you from opting in for the eye-arresting Rexing V1P 4K dash cam is the absence of GPS functionality. So, these are the considerations you need to factor in and compare with the costs before taking the first step.
Tabular summary of the Rexing V1P 4K Dash Cam features below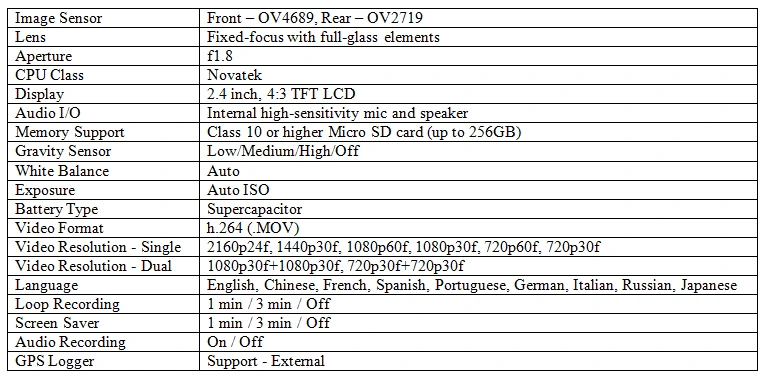 Rexing V1P Pro Dash Cam Review Summary
The somewhat pricier option is the Rexing V1P Pro dash cam. Just like the Rexing V1P 4k, it also has a dual camera that allows you to record footage from both the front and back. However, it cannot record up to 4k. You can only record 1080p videos on both front and rear at 30 frames per second. It has quite a commendable hardware framework. But for its $169 price point, that is pretty much expected. The design of its operational keys and menus is quite intuitive and logical. In essence, the build quality is what you'll typically find in a premium-quality dashcam. Using the Rexing V1P Pro dash cam, one thing that stands out is the consistency and reliability it delivers. 
Tabular summary of the Rexing V1P Pro Dash Cam features below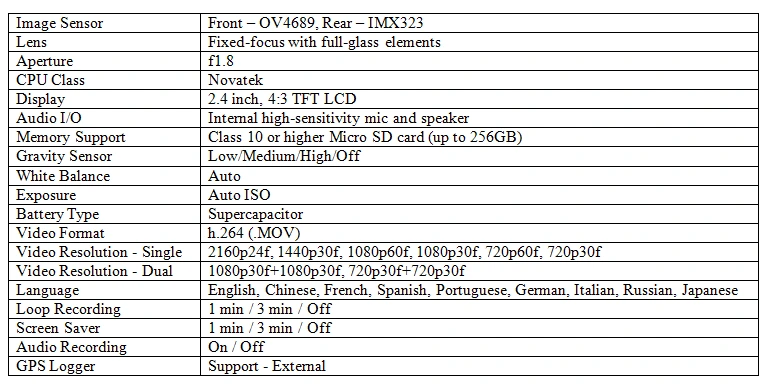 The First Impression – Set up and how the Rexing V1P 4K and Rexing V1P Pro Dash Cams work
The Rexing V1P 4K and Rexing V1P Pro dash cams are both HD dual cameras respectively that you can easily mount against your rear window, windshield, or other places of your preference. Usually, an adhesive mount should get the mounting done. But before using either device, be sure to find out relevant state laws binding the use of dash cams around you.
While the Rexing V1P 4K dash cam and Rexing V1P Pro dash cam are fairly straightforward to use and set up, you might find them difficult to operate at first glance or trial. However, they have a truckload of seamless features on the camera coupled with a smartphone app that makes everything about the operation more straightforward. To even cap it all, they are very customizable. You can always tweak your dash cam settings according to your preferences as well.
To make your Rexing V1P 4k dash cam or Rexing V1P Pro dash cam hit the ground running, all you have to do is put in a micro-SD card (not included). You can use an SD card of up to 256GB size on the Rexing V1P 4K and Rexing V1P Pro dash cam. Once you've mounted either dash cam using the adhesive, you can then take a step to rotate and optimize the view using its display. And that's everything about the setup. The loop recording starts automatically immediately after you start your vehicle. There is also a sensor that detects a collision. Anytime it detects this, it automatically secures your footage with a lock. As such, you'll be able to see the essential footage when needed.
Generally, the cameras usually record new footage over the older ones. But once the sensor is activated, it doesn't record over the incident footage. Instead, it retains it and prioritizes it. When you park your car, the Rexing V1P 4K and Rexing V1P Pro dash cams automatically switch to a parking surveillance mode. If perhaps the sensor detects unusual vibrations, it automatically starts recording.
Both dash cams also have built-in Wi-Fi capabilities. You can also download Rexing Connect on your smartphone. With this, you can control several functionalities right from the comfort of your phone. These include camera settings, setups, and several others. With months of warranty, you can also be rest assured of maximum coverage over an extended period. Please remember that you need a micro-SD card to use either the Rexing V1P 4k dash cam or the Rexing V1P Pro dash cam. But then, be sure that the card you're using has a minimum speed rating of 10/UHS-1.
In terms of ease of setup and operation, the Rexing V1P 4K dash cam and Rexing V1P Pro dash cam share similarities. In fact, there is no notable difference between both devices. So, if ease of use is your thrill, any of these dash cams fit your bill perfectly.
Night performance capability
The Rexing V1P 4k dash cam features an inbuilt automatic light adjustment. With this, you can be sure of a very clear picture even with minimal lighting.
The Rexing V1P Pro dash cam on the other hand only has a little to offer at night. It is not so much of a nighttime camera. However, this doesn't mean you can't use it at night. It has a wide dynamic range feature which works quite well in this condition. But then, getting the best from this lies heavily on you. You need to try out, experiment, and learn how to fine-tune the settings to suit your environment. Nonetheless, even without any fine-tuning, you can always bank on the camera to capture license plates when you're not using headlights or you're not on a street with lights.
Performance Review – Both Dash Cams
A dash cam was solely created to record footage. From this footage, the involved parties can better assess accidents. As such, a large percentage of the deciding factor should fall under this criterion.
Let's start with the power source. It is quite interesting that they don't have a battery. Rexing replaces the battery with its innovative supercapacitor. This is essentially a superior choice to the Li-ion batteries you'd find almost everywhere today. This reinforces the weather-proof capability of both the Rexing V1P 4k and Rexing V1P Pro dash cams. You're probably wondering how. Essentially, the innovative supercapacitor can work in conditions where the temperatures are at extreme highs and extreme lows. No battery can offer you this. Not to mention the longevity they offer.
Generally, when it comes to coverage, the Rexing V1P 4k dash cam or Rexing V1P Pro dash cam performs quite satisfactorily. The ultra-wide 170° angles found on the dual cameras respectively are one of a kind. Only a handful of dash cams offer that these days, especially at that price range.
For the resolution, the Rexing V1P 4K dash cam is obviously the superior choice as it allows you to film footage of up to 4k resolution. This is one of its primary selling points as it presents you with over 8 million pixels of image quality at about 30fps. However, even as the Rexing V1P Pro dash cam doesn't feature up to 4k resolution, it has everything you'd typically need to create clear footage.
Furthermore, there is built-in Wi-Fi capability on both cameras that allows you to share your video footage directly to different locations. Since you can access the camera footage via the mobile app, as mentioned before, it makes the entire thing even more approachable. Whether you're using an Android or iOS Operating System, it works regardless.
Why should you consider the Rexing V1P 4k Dash Cam?
The excellent camera footage quality is without a doubt the most arresting feature here. Both options have a dual camera, so that shouldn't be a major deciding factor. The 170° view is yet another selling point, giving you a wide coverage of both the front and the back views. The innovative supercapacitor also plays a terrific role in the decision-making process. It starts immediately after you start your engine and goes off when you put it off. While this might not be the most budget-friendly dash cam in the market, it is still relatively more affordable than options with similar specs.
Why you may not want to consider the Rexing VIP 4K Dash Cam
If you place quality at the top of your priority list, then you don't have to worry about making the wrong choice with this. Many of the reasons why you shouldn't buy it revolve mostly around what is absent rather than quality.
One instance of this is the GPS or GPS logger feature. Considering the absence of this, you cannot keep track of some essential aspects of your vehicle. In essence, you can't keep track of speed, the route you took, time, and location, among others. These are insights that can help resolve incidents and cases a lot easier.
Besides the absence of a GPS feature, the entire package doesn't come with a micro-SD card. And as such, you'd have to spend extra cash on that. Similarly, if you'd ever love to hardwire your dash camera, you'd typically have to spend extra cash on a hardwire kit. Lastly, are you looking for a waterproof dashcam? Then, this is not a product you should be exploring. However, it goes without saying that waterproofing is an unnecessary feature when it comes to dash cams. You're essentially mounting the camera inside your car and in a place usually out of constant reach. Hence, seeking this feature in a dashcam is somewhat fruitless.
Why buy the Rexing V1P Pro Dash Cam? 
There are a number of reasons this sleek and full-featured dash cam will work for you. The first notable edge it has over the Rexing V1P 4k is its significant Wi-Fi improvement. You'll notice a considerably faster connection speed. This further eases the process of connecting the application to your hardware device and sharing footage among them. Not to mention the superior efficiency attributable to its supercapacitor.
While the footage may not be as crisp and clear as 4k, it still allows you to see number plates regardless of the time of the day. After all, this is the primary thing we expect from every dash cam. Just like several other Rexing products as well, it has seamless installation and a straightforward mode of operation.
Another commendable feat is the incorporation of a GPS logger feature. With this, you can keep track of where your car had gone, the time, route, speed, and several other metrics that will help better assess accidents and other incidents.
Are you heavy on audio quality? This is a dash cam you don't want to miss out on. With just about $169, you can access an excellent in-built speaker and microphone. With this, you can even record the cabin at will. If you don't like this feature, you may switch it off from the settings menu whenever you want to.
Why you should not consider the Rexing V1P Pro Dash Cam?
The first thing that might be a dealbreaker for many is the length of the rear camera's wire. This is quite lengthy. As such, more often, you can find it blocking your view or disturbing you if perhaps you don't put it in the right place. Rexing also advises not to use the SanDisk Ultra SD card with this camera and the Rexing V1P 4k. So, if you own one of that and you're not ready to make a compromise, this is definitely not for you. Furthermore, there have been complaints about green vertical screens in this model. If perhaps you notice this, don't fret! It's something a simple firmware update will typically fix.
Conclusion
Should you buy the Rexing V1P 4K dash cam or the Rexing V1P Pro dash cam?
The Rexing V1P Pro is not so much of an improvement over the Rexing V1P 4k, especially from a quality perspective. In fact, it is very true to say the Rexing V1P 4K edges it a bit in this regard. Still, the video qualities of both devices can rival most higher-priced alternatives seamlessly. They are undoubtedly some of the best in their classes. The prices between the Rexing V1P Pro and the Rexing V1P 4k are not much. For the V1P Pro, the increased Wi-Fi speed, coupled with upscaled audio quality and application performance are excellent justifications for its price. However, if you'd love to forgo these, then the Rexing V1P 4K is the option you should explore. However, regardless of your choice, you can be sure you're not making the wrong one. In fact, Rexing has quite a dedicated customer support who are always there to cater to your technical issues without any hassle.
Get the Rexing V1P 4K Dash Cam on the Rexing Official Website
Get the Rexing V1P Pro Dash Cam on the Rexing Official Website
You may want to see our review of the Rexing V2 Pro AI Dash Cam