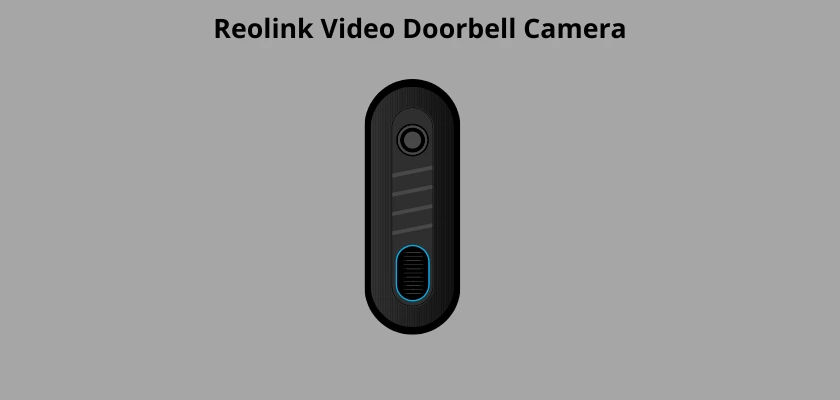 The Reolink doorbell camera is here. Tired of asking "who is there?" after every knock? Well, you don't have to anymore. 
The Reolink doorbell camera just as using any video doorbell camera enables you to see who is at the door regardless of your location. Even if you're a thousand miles away, you can see and speak to the person through a mobile app. 
Even better, you don't have to break the bank on this. The Reolink doorbell camera offers you options tailored to every budget. That's not all. It doubles as one of the most remarkable Wi-Fi and PoE doorbell cameras around today.
So, if you're not sure where to begin, this article covers a comprehensive review of the Reolink doorbell camera; your expectations, pros, cons, and every other thing you should know. With no further ado, let's delve right into it. 
Reolink Doorbell Camera Features and Performance
Firstly, just a little background. Reolink is one of the top-performing players in the smart home trend. It is a smart security solution provider that has penetrated the market with an arresting lineup. These include video doorbells, IP cameras, PoE cameras, and other smart home devices. 
Starting from the setup, Reolink cameras have one of the most seamless and straightforward setup processes out there. However, some of the cameras tend to make some annoyingly loud sounds at start-up. These are informational voice prompts and can be annoying when you're looking to set up multiple cameras. However, what the cameras have in store for you is the utmost priority. 
We know Reolink to be a major player when it comes to digital surveillance and several home devices, boasting quality on all fronts. But the question remains, will it replicate this in its Reolink doorbell camera?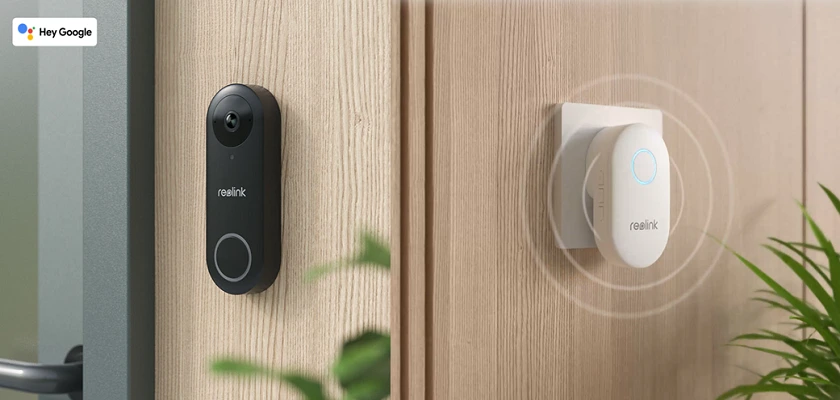 The Reolink doorbell camera is in two models, each boasting terrific features. These are the Reolink video doorbell Wi-Fi model and the Reolink video doorbell PoE model. The Wi-Fi model as you've probably guessed works with Wi-Fi connectivity only. And on the other hand, the PoE model functions via Power Over Ethernet.
So far, the Reolink doorbell Wi-Fi camera works well with respect to Wi-Fi connectivity. The output is terrific whether you're using it outdoors or indoors. The same goes for the PoE model, as it is very stable which is expected of any Power Over Ethernet camera.
In setting up the Reolink doorbell camera (Wi-Fi or PoE), the process is pretty straightforward. The necessary accessories required for the installation are included in the box. If you are opting for the PoE model, all you need to get the camera up and running is your Ethernet cable, catering to the power and connectivity requirements. If you are treading the path of the Wi-Fi model, the camera does its transmission with the 2.4GHz and 5GHz Wi-Fi bands. The camera is powered by its power adapter.
In setting up both cameras to get the best possible feeds, it is advisable to place your camera roughly 1.2m off the ground at your front door or entrance. But getting the right angle sometimes is not always easy. Fortunately, the Reolink doorbell camera package has a 15° wedge in it. With this, getting the right angle or changing angles becomes easier. 
The Reolink doorbell camera (Wi-Fi and PoE) is capable of capturing up to 2K+ resolution, with 5MP at the core of its functionality. This will help you capture more details than what you'd today find on similarly priced competitors. So, while you can't compare it to a 4k camera, only a few Wi-Fi and PoE-operated cameras can rival the quality of the Reolink doorbell camera.
Whether you're using them outdoors or indoors, you can expect excellent quality regardless. The field views of both models are particularly wide, showing up to 180°. This should cover almost everything happening in front of your door.
Another major point is its recording flexibility. The doorbell cameras let you decide whether you want them to record 24/7 or when they detect motion. Even better, you can set a time frame for these settings. 
Another compelling feature here is that the camera pre-records footage even before sounding an alarm. This is to say, it will record what caused the alarm and seamlessly sound the alarm. This also potentially eases criminal identification. It records this footage in color, which you can either store on the Reolink NVR, your microSD card, or on the Reolink cloud. Cloud availability is country-specific and may not be available in your country.
Reolink Doorbell Camera Night Performance
Both Reolink doorbell camera models feature infrared LED night vision. This is more than enough to capture visible feeds at night. With this, you can have high-quality recordings of the night and identify the exact person present at the door regardless of when and where. 
Chime and Automated Responses
This is a feature that has always been in traditional doorbells. But it's not as enhanced as this. Alongside the Reolink doorbell camera package, there is a chime that you can simply plug into any electrical outlet in any place. Whenever someone presses the doorbell, you can hear it from anywhere you've placed it. 
The chime is quite flexible for you as well. It has a simple button that allows you to increase or decrease its volume without any hassle. When you press the button at first, the volume increases. At the second press, it goes up again. This trend keeps happening until it reaches its highest volume. When it gets to this volume and you press it, it then goes to the lowest. The cycle goes on like that. 
You should also understand that you can only increase or decrease the chime volume locally with the physical button. It is not possible to do this using the Reolink mobile application. It is worth mentioning that Reolink only allows you to use its chime. In fact, this is true for almost all its accessories. Besides, you cannot use any of its accessories for any smartphone doorbell solutions as well. The only thing it supports is live feed third-party software and some smart assistant solutions. 
With regards to the chime, imagine someone unfamiliar rings your doorbell and you want to know what they have come for. Opening your door to do that can be dangerous. So, the Reolink doorbell camera models also feature in-built microphones and speakers. With this, you can communicate with the person before hurrying to the door. You'll know whether to deter them or otherwise. Even if you're not home, you can still talk to them using the Reolink mobile app. 
What if it's an unnecessary ring that you don't even want to break a sweat on at all? Well, you can simply let the Reolink doorbell speak for you. You can preset various voice messages like Leave my home now, drop the package at the door, and customize messages when you are unavailable.  
Reolink Doorbell Camera Network Connectivity
As mentioned before, the only major difference between both Reolink doorbell camera models is in how they connect to the internet. As the name suggests, the Wi-Fi version connects via Wi-Fi, while the PoE model connects via Power Over Ethernet. 
Note that even if your Reolink doorbell camera is offline, it still works. It can still perform motion detection and save the feeds into your microSD card. In fact, you can still use your chime. As long as it's connected to your doorbell, it will always make a sound when the doorbell is activated. However, you will not be able to access feeds from the mobile application nor view what's happening at your door in real-time.  
Rich notification is a feature available with your Reolink doorbell camera. It is essentially that feature that sends you push notifications when motion is detected.
First impression from the mobile app 
For a more fulfilling experience with using your Reolink doorbell camera, you have the Reolink desktop application and mobile app. 
Firstly, you can use the mobile app as a two-way audio system. This means that it can function like a walkie-talkie. Regardless of your location and as long as there is an internet connection, you can speak to anyone near the camera and hear their response. 
That's not all. With the mobile app, you gain the full experience of the camera's motion sensor. Here, you can tweak the sensitivity according to your preferences. So, you won't just be overwhelmed with annoying notifications every time a fly passes your house. With its real-time alerts, you receive instant push notifications alongside an email containing snapshots of any motion detection around the camera's field of view. 
Fancy live streaming? The app has something for you! 
The mobile app is extremely robust and reliable. It allows you to monitor what is going on around your home conveniently.
The intuitive, seamless, and straightforward interface also lets you take shots of the feeds, view recordings at will, and record videos as well. 
From the mobile app, whenever your Reolink doorbell camera detects suspicious motion, you can use a preset voice to indicate such suspicion and raise an alarm from anywhere. This message can be up to 5 seconds long. 
Easy and smart playback are some features that are sure to pique your interest. It allows you to replay saved videos. With this, you can find key information at will. You can also filter videos using the type of detection modes they feature. You can also streamline your timeline to help you find the videos you're looking for without any hassle.  
If you love dark modes, the Reolink mobile app has this available. In addition, it has quite a straightforward setup process and truckloads of resources that will guide you in using the app.
Storage
As mentioned earlier, the Reolink doorbell camera models support local storage. Hence, you can save files on a MicroSD card that can only be a maximum of 256GB. You can also use the Reolink NVR if you already have one.
On top of that, you have budget-friendly cloud subscriptions. Note that you may not have to pay for this except if you're looking to boost your cloud storage. 
If you're using the cloud storage option, you can as well enjoy the rich notification feature on top of that. 
Is the Reolink doorbell camera compatible with your smart home? 
Reolink only allows you to watch live video feeds on select few smart displays. This is possible with Google Assistant and Alexa. Apart from these, the cameras do not support any other form of smart home controls.
With these, you can view your recordings and streams on devices such as Chromecast, Echo Show, etc seamlessly. For instance, you can say, Hey Alexa, show me my front door. And it'll respond accordingly. 
The video below gives you a brief overview of the Reolink video doorbell camera.
Conclusion on the Reolink Doorbell Camera
With the Reolink doorbell camera delivering benefits that range from installation flexibility, smart home integration, excellent night vision, top-notch resolution, and crisp image qualities, you'll agree that the Reolink doorbell camera is one you should definitely try. 
The only major difference between the Reolink doorbell cameras (Wi-Fi and PoE) is their mode of internet connection. For most parts, the camera quality, and other features remain the same. On top of that, you can also expect a crispy clear picture showing enough details to analyze live feeds correctly without any hassle.
Get the Reolink Doorbell camera (WI-FI) on the Reolink Official Website
Get the Reolink Doorbell camera (PoE) on the Reolink Official Website
Get the Reolink Video Doorbell camera (Wi-Fi and PoE) on Aliexpress
You may want to see our review of the eufy Video Smart Lock (3 in 1)