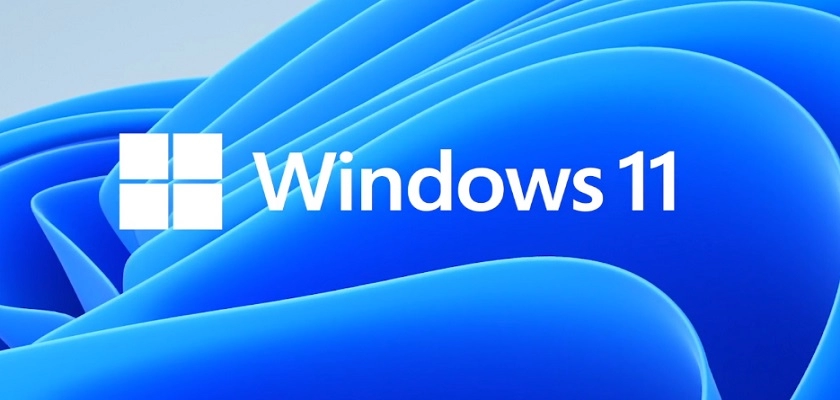 Windows 11, the next generation of Microsoft Windows, is here already. After months of beta testing, the company finally started rolling out the operating system to the public. This means if you have a compatible system, you can now download Windows 11 and install it, though the operating system is released in a phased approach. 
Most importantly, this operating system has brought multiple amazing features and a visual overhaul. It hasn't changed the basics of how windows functions necessarily. However, it comes up with various features that users will either like or not. It is important to understand that not all of these features are available to use at present.
Windows 11 Overview: What do you need to know about it?
Windows 11 is the next Microsoft client operating system. This operating system was built on the same foundation as Windows 10. Therefore, for Windows 10 users, starting to use Windows 11 will be a natural transition. Windows 11 is just like an update to what you already are familiar with.
However, this windows version comes up with innovations. These innovations focus on enhancing user experience and productivity in the best possible way. It is also well-designed to support the hybrid work environment of the present day.
Even more, the overall look of the Windows 11 interface has also changed. The interface is now cleaner and has a mac-like design. Well, when it comes to this operating system, there is much more to know. To help you know everything about it, we have brought a complete overview of Windows 11.
Hardware requirements for windows 11
Whether you want to update or install Windows 11 on your system. You have to meet the minimum system requirements. Below are the minimum system requirements you must meet:
(1) 1 Gigahertz (GHz) or more processor with 2+ cores on a 64-bit processor or SoC.
(2) RAM of the system should be at least 4 Gigabytes.
(3) To install Windows 11, you need 64 GB or higher of device storage. However, to enable certain features or download updates of Windows 11, you will require additional storage too.
(4) The system's Graphics Card must be compatible with DirectX 12 or even later with a driver of WDDM 2.0.
(5) Secure Boot capable and UEFI should be the system firmware.
(6) Version 2.0 of TPM is essential to install Windows 11.
(7) The device must have 720p (High Definition) display. At the same time, the monitor should be 9-inches or above with 8 bits for each color channel.
(8) To download, update and enable features of Windows 11, internet connectivity is a must. Even more, to complete device setup for the first use, Windows 11 home edition needs a Microsoft account and internet connection.
Important Note: There can be additional requirements for updates or enabling and using Windows 11 features over time.
Requirements for specific features in Windows 11
Besides system requirements, there also exist some feature-specific requirements to use this operating system. Let's get to know about these requirements below.
So, here we go:
Windows 11 requires 5G support. So, it's better to have a 5G supported modem.
It also requires an auto HDR monitor.
Windows 11 will require a USB drive for the BitLocker to Go feature. However, this feature is available for Windows pro editions and above.
The Client Hyper-V feature needs SLAT (Second-level Address Transition) capabilities. This feature is also for Windows pro edition and above.
Cortana feature is currently available for certain geographical locations only. However, it requires a speaker and microphone to work.
This OS requires an NVMe SSD for storing and running games using a standard express controller driver for direct storage.
Most importantly, the feature of DirectX 12 Ultimate is also available but with supported graphics and game chips.
The presence feature needs a sensor to determine the distance and intent from the device.
Windows 11 also came up with Intelligent Video Conferencing. This feature requires a microphone, video camera, or microphone.
A speaker and microphone are necessary to use the Multiple Voice Assistant feature.
The spatial Sound feature needs supporting software and hardware.
It would help if you had a phone with Bluetooth or Wi-Fi connectivity to use the Two-factor authentication feature. Also, a biometric and PIN management system is essential.
To enable Voice Typing, you will need a system with microphone compatibility.
Key features of Windows 11
Even though Windows 11 includes numerous amazing features. However, not all the features of this operating system will be available at once. Here are some of the stand-out new features that you must know in this regard.
So, here we go:
Windows 11 comes with a newer, cleaner interface
Firstly, this OS arrived with a cleaner and better user interface. The interface of Windows 11 is much like a mac interface. It has rounded corners and pastel shades. Also, the taskbar and start menu have a centered place on them.
Android apps integration
The Amazon App Store will allow Android applications to be available on Windows 11. Most importantly, this app store will be easily accessible within the updated version of the Microsoft App store. Even though in Windows 10, there were some certain ways to access and use android apps, especially if someone had a Samsung Galaxy phone. Fortunately, in Windows 11, users can make it native easily.
However, it is important to understand that android apps on Windows 11 aren't available in the initial release.
Widgets
Even though the feature of widgets has been around for a while. You might even remember the desktop gadgets of Windows Vista in this regard. However, in this OS, you can directly access this feature from your taskbar. Even more, personalization is also super easy. So, you can customize your widgets on Windows 11 to see whatever you will like.
Xbox tech
Windows 11 is here to provide you with a better gaming experience. It comes with some certain gaming features that you can find in Xbox consoles. These features include DirectStorage and Auto HDR to boost the gaming experience on Windows in the best possible way.
Microsoft Teams
The feature of Microsoft Teams is also getting a facelift in Windows 11. This app you can now find pinned on the taskbar. So, this has made it straightforward and easier to access Microsoft Teams. You can also use this app from Mac, Android, iOS, or Windows.
Virtual Desktop support
This operating system is here to offer you better support for virtual desktops. You can set up virtual desktops using this OS in a way that's pretty similar to the mac operating system. Due to which toggling between different tasks for personal or work uses will be easier.
Most importantly, you can also customize each virtual desktop individually. Even setting a separate wallpaper for each option is also possible.
The transition from monitor to the laptop
This operating system has brought Snap Layouts and Snap Group features. This feature will ensure easier task switching and make multitasking more convenient and easier. This is because of using Snap Layouts and Snap Group feature. You can make a collection of apps to sit in the taskbar at once. These can also be minimized or maximized at once. Most importantly, you can plug or unplug your monitor more easily using this feature. With this, you don't need to remember where open windows are located.
How to customize the desktop experience in Windows 11
Windows drastic designs have proven disastrous for Microsoft previously. Windows 8 was the worst case at that point. However, in the case of Windows 11, it seems like the interface is a bit different. Still, it won't take long to understand how things will work out in this regard.
However, if you want to customize the desktop experience, here are the ways to do it:
Change snap layout
When you open any application in Windows 11, you hover your mouse on maximize or minimize options. Doing this will enable you select different layout options for that application. This feature will enable you customize the sizes of the apps on the desktop. Even more, when you add more apps to the layout, the snapped layouts will stay in place.
Users can also manage some of their snap features from Settings Apps. Then click on the System > Multitasking. Most importantly, Windows 11 will also enable you add Snap layouts to your organization's created apps.
Start menu
The Start Menu will have some applications pinned by default. However, you can customize the layout of the Start Menu by unpinning or pinning apps of your preference. For example, you can pin all commonly used apps that you use regularly. While unpin the apps that you no longer need.
Also, you can manage some of your Start Menu features by going to Settings Apps and then Personalization.
Widgets
Widgets is a personalized feed available on the taskbar. The feed commonly includes a clock, weather, news, calendar, stock prices, and more. To enable or disable this feature, you can follow the steps below:
Click on Computer Configuration > Select Administrative Templates > Choose Windows Components and then click on widgets.
So, from here, enabling or disabling the feature of widgets is easier.
Taskbar
Pinning or unpinning apps on the taskbar is also easier. For example, here you can also pin your more frequently used applications such as Microsoft Excel, Word, PowerPoint, Outlook, or any other.
However, you can also manage some of the taskbar features through Settings and then Personalization.
Virtual Desktops
The taskbar will enable you select Desktop icons. From here, you can create a new/virtual desktop.
You can use a virtual desktop for multitasking. This will allow you use different applications based on what you are doing. For example, using the virtual desktop feature, you can create a travel desktop containing websites and content regarding travel.
You can also manage or customize this feature from Settings > System > Multitasking.
Power Automate for desktop
This key feature is also included in Windows 11. This low code app will allow users to create flows for help in their everyday tasks. For example, OneNote will notify you when there's a new Forms Response.
Microsoft Teams
The feature of the Microsoft teams is also available in Windows 11. Most importantly, this feature is available on the taskbar automatically. Users can click on this icon and sign in using their Microsoft account and can start using this feature.
Most importantly, this Microsoft Teams feature is for personal usage only. However, if you want to get this for an organization, you can deploy the app with MDM policy.
Windows 365
This is a desktop system and a cloud service from Microsoft. On Windows 11, you can easily use another device to run Windows 365, it will work just like a virtual machine.
Security and scanning features in Windows 11
Fundamentally, the security and scanning features of this OS are a bit similar to Windows 10. The security will start from the system's hardware and then includes:
Application security
Operating system security
Identity and users security
Fortunately, Windows 11 includes security features in all these areas and here we will describe these security features below for a more comprehensive overview.
So, see below:
Windows Security
This security application has also been built into the operating system. It comes up with an easier-to-use interface. Even more, it has combined all the essential security features used commonly. For example, it will enable you access:
Firewall and network protection
Virus and threat protection
Account protection and other similar features at the same place.
Security Baselines
This feature includes security settings that are configured and all set to be deployed already to your devices. If you are unaware of where you should start your security settings or even if it is highly time-consuming for you to review all the settings, then it would help if you went to security baselines to get done with this process effectively.
Microsoft Defender Antivirus
This antivirus is specifically designed for Windows. It helps your system to stay protected with next-generation security solutions. When you use this app for endpoints, you can have stronger and advanced endpoint protection and response.
Application security
This security feature will prevent your system from running malicious and unwanted code. This will keep your system protected from untrusted office files and untrusted sites.
What's the difference between Windows 11 Home and Windows 11 Pro?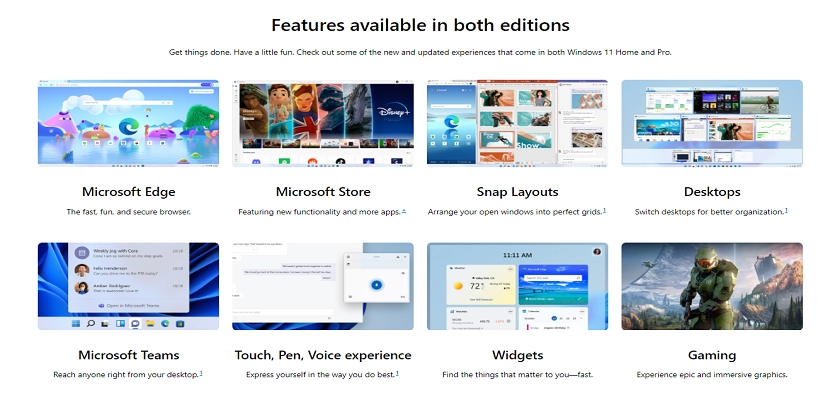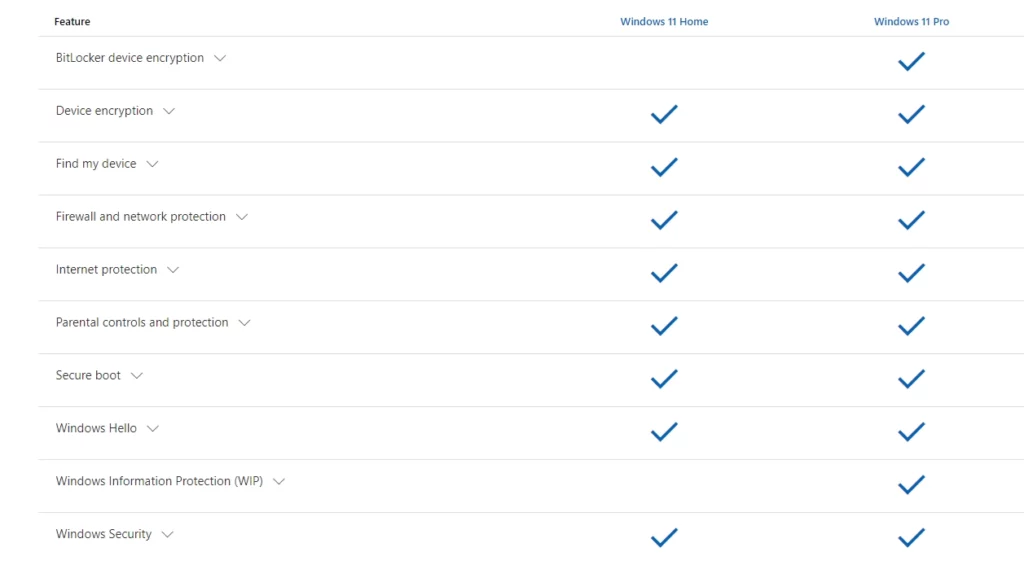 Based on your preferences for your type of operating system, you can upgrade to Windows 11 Pro or Home.
Regardless of your personal preferences, both Windows versions come up with simple minimum system requirements. So, you have to meet all these requirements to have a seamless experience using this OS on your computer.
However, when it's about Windows 11 Pro, it comes up with multiple amazing features. It will offer security solutions to protect the data of your business or organization in the best possible way.
Also, Windows 11 Home PC will not join Active Directory that's often used on business systems to control certain resource access.
Another difference between Windows 11 Home and Pro is that the Home Edition requires an internet connection and a personal Microsoft account to set up firstly.
Other than that, there are no such restrictions that tempt a non-enterprise user to buy Windows 11 Pro. Simply, there are some features in the Pro Edition that is more suitable for business users. You might keep getting updates on these features later as Windows 11 features roll out.
Final Thoughts: Should you upgrade your current Windows to Windows 11?
Well, no new operating system comes flawless at its first launch. Similarly, after beta testing of Windows 11, a few issues have popped up already. Fortunately, the issues discovered till now aren't that major or risky. So, if you want to upgrade to Windows 11, then don't let these issues stop you.
However, one of the major problems that have appeared on the Microsoft Status Page is the compatibility issue. For Windows 11 Intel Killer network driver's compatibility issue, this is causing video streams and websites to be slow and sluggish.
Succinctly, some issues have popped up recently in this operating system, but none of them is system-breaking.
Even more, it is also worth noticing that Windows 11 has been a major update by Microsoft since the release of Windows 10 in 2015. Therefore, it also marks an important point for Microsoft. Microsoft itself has claimed that this OS will be an exciting milestone in the history of Windows operating systems.
When it comes to should you upgrade your OS to Windows 11? Then, the final choice is completely yours.