This Insta360 link webcam review is aimed at providing a well-researched guide about this webcam. The widespread adoption of video conferencing for collaborations has produced an increasing demand for clearer and highly functional webcams. The Insta360 link webcam surfaces in this regard. If you want a webcam that checks the box of sharpness, functionality, and clarity, you are in the right place.
The Insta360 link webcam has been in the mouth of all and sundry. At the end of this review, you will be able to make a better-informed decision as to whether this webcam fits your bill or not.
Insta360 Link Webcam Overview
The Insta360 Link webcam is a product by Insta360, a Shenzhen-based brand known for its high-quality 360° cameras. Well, you've probably guessed from the name. These cameras won't only capture every angle but are also available in a pocket-friendly build. The Insta360 Link webcam or simply Link, marks the brand's penetration into the booming webcam ecosystem.
Essentially, the Insta360 Link webcam is a Compact AI-powered omnidirectional Webcam. It features gimbal stabilization which is one of the USPs of Insta360. On top of that, you get two noise-canceling microphones and up to 4k resolution with a $299 listing price.
Of course, it's normal to think this is outrageous for an accessory. However, after extensive testing, the Insta360 Link is a top performer, especially as a first-generation product. Its functionalities meld together nicely, offering you a more refined and superior alternative to what you'd typically find in that price range.
With this said, let's see how the Insta360 Link webcam performs under different criteria.
The Insta360 Link Webcam Design and First Impression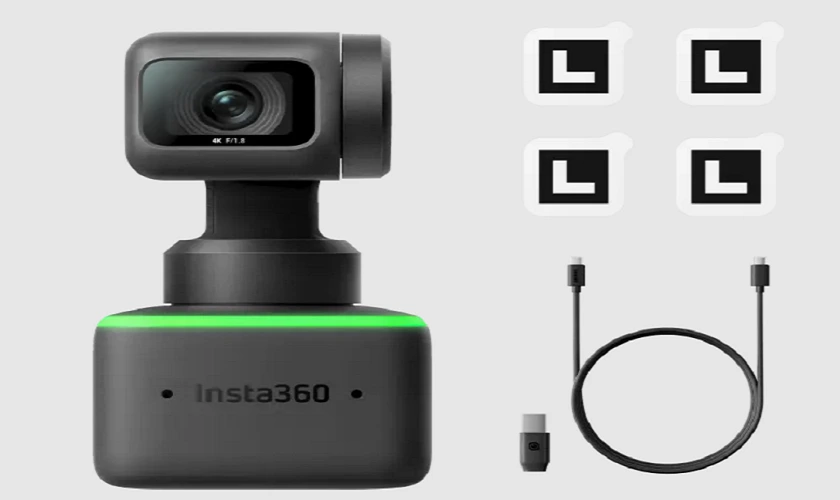 In terms of design, nothing stands out with this webcam at first glance. It is just like every webcam.
What separates it from the pack is its gimbal-like design, featuring a stabilized 4k-enabled camera. This moves to and fro when you're not using it. Imagine a bobblehead, that's how the movement looks like when you're not using it. It has a 3-axis gimbal, allowing it to move vertically, horizontally, and diagonally.
The camera has a maximum field view of 79.5°. While this is quite lower than similar cameras offering ultra-wide lenses, its ability to spin won't make you notice this limited field view. 
The Insta360 Link webcam weighs 106g. Considering its motorized features & aluminum build, you'll agree this is relatively lightweight. That's one of the pleasant surprises awaiting you. 
Regardless of your monitor size, you won't have any problem balancing the Insta360 Link webcam or keeping it still. Even better, if you're using it on your laptop, you won't feel it dragging your displays down or weighing them down. While the camera tends to cover the ambient light sensor in some MacBooks, you can always find your way around this with the manual brightness setting. 
Another interesting part of its design is the LED ring surrounding its base. Anytime the Insta360 Link webcam comes ON, it displays green. When it has a software issue, it is signified by the yellow indicator. And for the standby mode, a blue indicator comes ON. With this, you can know whether your camera is functional or when it requires specific troubleshooting. 
How easy is it to set up the Insta360 Link Webcam? 
The Insta360 Link webcam comes with a rubber-tipped mount. So, setting it up is as easy as clasping this part to specific areas of your screen. That's not all. If you check the back, it has what seems to be a springy structure. With this, it can adhere to any surface without any hassle. Once it is held firmly, you can then move forward to connect the USB-C cable which is the link between your computer and the webcam. Just like most brands, Insta360 also advises that you use the cable that comes from the manufacturer. But if you're not satisfied with that, you can always try other cables. Again, remember this might not be the case for every webcam.
Regardless of your cable choice, one thing is certain. You'll find out that your gadget feels pretty warm after at least an hour of use. This could be normal or be a cause for concern, depending on how long you plan to keep it plugged to your computer. So, if you're not using your webcam, be sure to unplug it from your computer. Again, considering its terrific 4k image resolution output, and power consumption, that warmness you feel is definitely not far-fetched. 
The Webcam Controller Software
The plug-and-play feature is perhaps the most interesting thing about the software. Fortunately, you don't even need to install any software to enjoy this. However, if you want access to a full suite of functionalities, you may want to consider installing the Link Controller Software. 
With the companion software, you can refine your output to your preferred levels. This includes your contrast, saturation, white balance, temperature, and almost any image quality factor you can think of. It even offers a graph that allows you to modify your exposure to the finest levels.
On top of these, it features a gimbal control. This is essentially a directional pad that gives you the freedom to control the webcam yourself. You'll find this especially helpful when your webcam is no longer calibrated. 
All in all, this software is just there to make life easier for you. It features sufficient fine-tuning features. What's even more compelling is you can render these settings across various video conferencing platforms. These include Google Meets, Zoom, and several others. 
Another interesting thing about the software is the steamer mode. When you enable this, it helps you stream your recordings on third-party applications such as OBS. This is perfect for content creators who just want to get everything done in the comfort of their PCs. These videos are available at a 9:16 aspect ratio which is perfect for mobile devices. 
How well does the Insta360 Link webcam perform? 
The Insta360 Link webcam is a premium-level webcam. So, you can expect it to stack up to a DSLR camera in most metrics. For instance, it uses a 0.5-inch sensor, which can compete with those DSLR cameras deemed the best by many. Its relatively sizable sensor helps it capture more dynamic range and even the tinier details than what you'd typically find in a standard webcam. 
The Insta360 Link webcam can capture up to 4K resolution at 30fps. On top of that, there is a 79.5 degrees DFOV (diagonal field of view) which could be the only caveat to using the webcam. 
Using the Insta360 link webcam, you can expect an excellently balanced output, embodying your natural colors. Even better, it does well in both low light and relatively bright surroundings. 
Having worked with multiple WFH systems over the years, it goes without saying that the default color setting on the Insta360 Link webcam is close to perfection. You almost won't have to change anything. It automatically balances its saturation and sharpness, giving the feel of a lively reflection. 
Its picture quality is one of the best out there. Although everyone has their idea of what an ideal image should look like, you can be sure that this checks every box. If you've been a fan of the contrasty image that most webcams offer, you might find the Insta360 Link webcam a little different. The webcam gives you a more true-to-life picture. However, this might be a little duller. 
Now, if you put ON the HDR mode, this offers more warmth. Use it around your windows and you'll be amazed by how well it makes your windows appear not so overblown. 
Having said that, let's examine the sharpness. The Insta360 Link webcam uses Phase Detection Auto Focus and some state-of-the-art automatic exposure technologies to help you focus and minimize the tendency of getting a grainy video. It has an effective near-instant focus. This is just as the name implies. If you keep moving toward the camera, it only takes one second or two to adapt its focus accordingly. However, sometimes, you may find out the webcam does not dial closer. To fix this, just slightly wiggle it and it comes back to life. 
Another impressive thing about the Insta360 Link webcam is how fast it focuses when moving. When you're moving around, the True Focus feature can help you retain your focus without any hassle. This is especially true when you're having a presentation or pitching an idea or a product in your hands via a video call. 
Even when you're using the fast-tracking feature, it focuses on other objects quicker than you can ever expect. However, there are still some situations where you will lose focus when you stand still. So if you want something for your YouTube thumbnails, look no further than the Insta360 Link webcam. 
When it comes to lowlight detail retention, this is one of the best out there. Its sensor features an f/1.8 aperture. However, remember that the output supersedes the specifications. Its lowlight capability is one of a kind. 
Insta360 Link webcam AI features review 
Insta360 link webcam embodies quite a number of AI features. These are optional and as such, you can choose to activate or deactivate them according to the current demands. 
What's even more interesting is you can control these features with different hand gestures. For instance;
(1) If you show the camera an open palm, the webcam stops its current activities and follows your head movement. 
(2) If you show it a peace sign, it goes into a mode called the whiteboard mode (find more details below). In this mode, it starts searching for sticker guides. 
(3) If you use your thumb and pointer finger to make an L shape, the webcam activates its zoom feature. When you lower your hands or raise them in this position, the zoom reacts accordingly. 
Remember the indicators mentioned earlier in this review, the webcam shows green anytime it recognizes any of these features. That's not all; the base also flashes a blue light. 
In terms of accuracy, the webcam recognizes these gestures better when you have sufficient contrast behind your hands. So, it doesn't always do well in overtly bright or any form of low light condition. So, the right lighting matters. Having discussed these gestures, let's have a concise run-down of the AI features. 
The overhead mode is also called the desk view mode. In essence, if your recording involves a lot of scanning, writing, or work with other physical documents, this is a feature you'd find very handy. As the name implies, it helps you bring your camera low enough to record whatever you're doing on your desk. That's not all. It processes these images in a way that makes them look very natural with optimum height and depth.
AI tracking is great for virtual meetings, lectures, or presentations. This is the AI feature that lets the Insta360 Link webcam follow you anywhere you move around your room. To turn this OFF, all you have to do is wave at the webcam for about three seconds. In terms of panning, you have no worries at all. 
The whiteboard mode: The Insta360 Link webcam features four recognition markers. By placing these on your whiteboard corners, the webcam can seamlessly balance your contrasts. With this, you can be sure of optimal contrast when using the camera. If you're capturing written texts, it makes them even more legible. 
Is the Insta360 Link webcam good for privacy? 
If you've been in a situation where your webcam keeps recording without your knowledge, then you should be heavy on privacy. Fortunately, the Insta360 Link webcam is a great fit for you. 
Whenever the camera notices that you've not used it for a few seconds (about ten seconds), it automatically switches to the inactivity mode, signified by the blue light. As such, the webcam automatically rotates downwards to be sure that it's not capturing footage you do not want. This is perhaps the most compelling feature of the camera. Its proactivity is one you'd enjoy at times you least expect. 
Final Thoughts 
For a first-generation webcam, Insta360 undoubtedly outdid itself with the Insta360 Link webcam. The webcam checks numerous boxes that most of its similarly priced alternatives can only dream to. With features ranging from crisp qualities to a number of AI modes, you won't have anything to complain about. So, for the price, this is a webcam you won't regret in any way.
You may want to see our review of the Dell Pro 2K Webcam (WB5023)