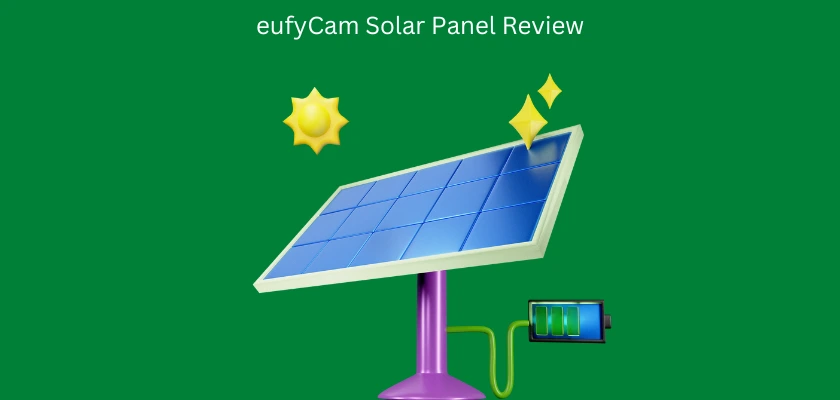 The eufyCam solar panel charger is an external power supply device designed to provide power to specific eufyCams. This eufy security certified eufyCam solar panel can be a useful device to your existing eufyCam set up, and an understanding of this device will help you if you decide to use it.
Solar panels generate electricity by sucking up the sun's rays and converting this to electrical power. This electrical power is in the form of Direct Current also known as D.C which is applicable to different smaller electrical devices. Alternating Current also known as A.C exists, and is applicable to small and large electrical devices, depending on the Manufacturer.
The benefits of solar panels are many and has given rise to their large-scale implementation with different electrical gadgets.
The eufyCam solar panel is one of the several types of solar panels available today, and this review will enlighten you on how this eufyCam solar panel functions, what eufyCams support it, and best practices with using it.
Let's dive in.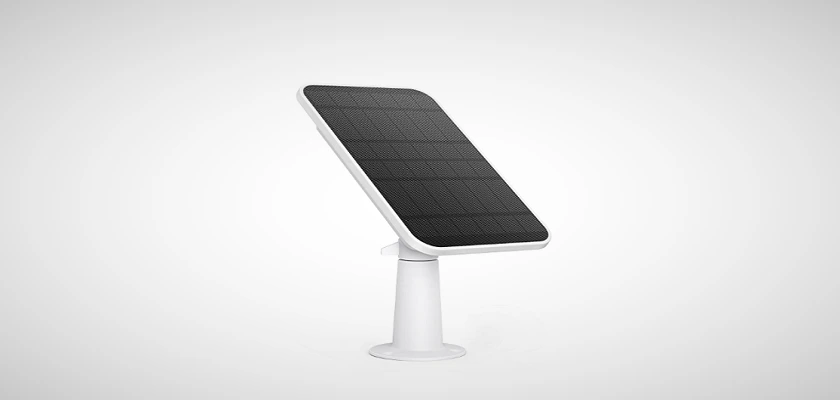 An Overview of the eufyCam Solar Panel Charger
eufy, a top player in the smart home and security systems ecosystem designed its 2.6 Watts eufyCam solar panel with users in mind. You might be wondering, what is 2.6 Watts? This simply means the rated power of the solar panel. Power in terms of electrical devices is rated in Watts. Along with Watts come Current and Voltage. The formula below can help you carry out basic power calculations.
Power = Current x Voltage (where Current will be indicated as I, and Voltage indicated as V)
With the formula above, you can calculate the Power of an electrical device provided you have the current and the voltage of that device.
With this basic understanding of Power with respect to electrical devices, let's build further on the overview of the eufyCam solar panel.
The 2.6 Watts solar panel charger is an IP65 Weatherproof solar panel which is enough to withstand any weather condition. It is designed with a 4 meters cable that connects to your solar panel-supported eufyCam. Along with this, it comes with different adapters that fit into whichever battery-powered eufyCam you own.
The 2.6 Watts solar panel charger is lightweight, convenient to mount, and performs optimally. Generally, high-efficiency solar panels begin to supply power even before the heat from the sun is at full blast, and the 2.6 Watts proved this.
This solar panel has a dimension of 7.32 inches in length, 4.56 inches in width, and an inch in height, which is sufficient to generate a little above 2.6 Watts of power. The solar cells are high-efficiency absorbent, TPT anti-corrosive, eco-friendly, and have high-efficiency heat dissipation. Along with these, it is designed to withstand excessive harsh weather which makes it durable.
With this solar panel charger, you can be rest assured of continuous daily power, as you only need a few hours of sunlight to keep your eufy camera batteries at 100% capacity. When mounting the solar panel charger, make sure to place it where the sun would normally begin to shine from, at your home. This is important because, on some days, you will not get several hours of sunlight and as such, it is better to place your solar panel charger where the sun would normally start out from, so that your panel begins to receive sunlight early enough, for the amount of time the sun shines for that particular day.
When using the eufyCam solar panel charger or any other solar panel, it is advisable to unplug it from your camera on some occasions, to allow your camera battery discharge. Plug it in afterwards and allow your battery to recharge. This is helpful in keeping your battery at optimal performance even though it might be an inconvenience for some users. 
What cameras can work with the eufyCam Solar Panel Charger?
Quite a number of eufyCams are battery-powered and support the use of the eufyCam Solar Panel. The table below shows the eufyCams that are solar panel-supported.
Do note that as of the time of writing, eufy has released the eufyCam 3, and eufyCam 3C outdoor Wi-Fi cameras. The eufyCam 3 comes with an in-built solar panel, and also supports attaching an external solar panel. The eufyCam 3C doesn't have an in-built solar panel but supports the attachment of an external solar panel. See our review of both of them.
Frequently asked questions regarding the eufyCam solar panel charger
(1) Can the eufyCam solar panel charge two eufyCams at the same time?
The answer to this is No.
(2) Is there any negative effect of using this solar panel?
There is no negative effect with using this solar panel. However, during the dry season, dust tends to cover solar panels generally, and this reduces the power it can generate. But, simply cleaning it or spraying some water to wash away the dust returns it to full power.
(3) What if there is little sunshine? Will this solar panel still work?
Yes, the panel will still work. Before the sun even begins to shine at full blast, the panel can suck up the available rays from the sun and convert them to electrical power.
(4) What are the Voltage rating and Current rating of this solar panel?
It is rated at 5 Volts, 500 Milliamperes 
(5) Can this solar panel cause damage to your eufyCam or battery?
No, this solar panel is built with a Power Management Integrated Circuit, which immediately cuts off charging when your eufyCam battery is full.
(6) Can another brand of solar panel work for your eufyCams?
Technically, the answer is yes. As long as the power rating of the intended solar panel conforms to the power requirements of your camera. But, this is not recommended, you cannot get accurate power management from a non-eufy solar panel (visible on your eufy smart app), only eufy security certified eufyCam solar panels are recommended for use with your eufy camera.
Conclusion
The eufyCam solar panel is a simple device you should give a try. The use of a solar panel as an external power supply is one of the nicest features you can add to your existing camera setup. Even if you intend to purchase a battery-powered camera, adding a solar panel to it is something you sure will not regret.
The benefits are many, and in the long run, it's going to be a beautiful experience as you watch your camera function outside of your home power supply. We hope this review has enlightened you about this solar panel, the concept of solar panels generally, and D.C Power, helping you make an informed decision.
Get the eufy Solar Panel Charger on the eufy Official Website