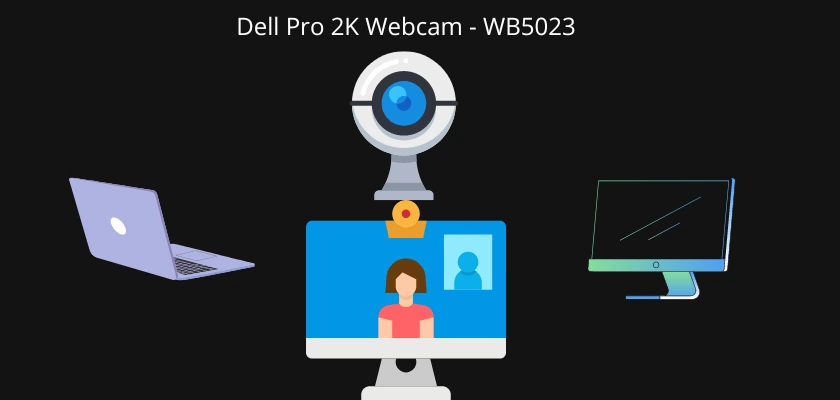 The Dell Pro 2k webcam (WB5023) is another addition to the portfolio of Dell webcams. Millions of people work remotely and use video conferencing frequently. If you're one of those, undoubtedly, your webcam is an integral part of your career life.
While most of the new laptops today come with recent inbuilt options, you will more than often notice weird outputs. Besides the mobility issue, the distance and angle between your laptop display and yourself are not always the best for capturing an attentive look. Unfortunately, since they are fixed, there's only a little you could do to rectify this.
Fortunately, an external webcam offers you a seamless way out, allowing you to capture your best shots at different angles with even better image qualities. One of the cost-effective options for this is the Dell Pro 2k webcam.
In this article, we will go over a comprehensive review of the Dell Pro 2k webcam so you can decide whether it's right for you or otherwise.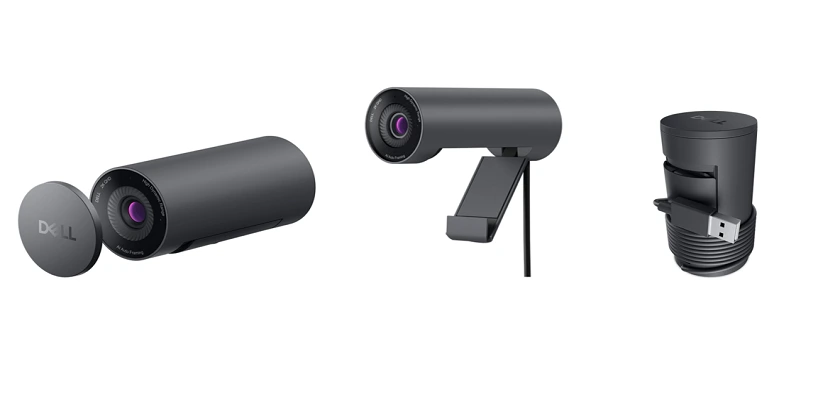 Dell Pro 2K Webcam Background
Needless to say, the Dell UltraSharp 4k webcam (WB7022) converted doubters to believers with its sleekness and truckloads of terrific features. But there's a caveat. Not everyone can pay $199 for a webcam. Besides, 4k is significantly more than what most video conferencing solutions demand today. So, you will find yourself spending more money on a camera quality you might not even get to use.
But fortunately, Dell has extended its wings to accommodate anyone planning to get a webcam with a not-so-hefty budget. The Dell Pro 2k webcam (WB5023) offers you just the right fit for your remote work and other activities. It is modestly priced while allowing you to enjoy up to 78° field view, 4x digital zoom, and HDR shots.
If you're very attracted to hardware components, the monitor clip, inbuilt microphone, and several hardware features are sure to pique your interest in the Dell Pro 2k webcam.
While it is difficult to see the Dell Pro 2k webcam going head to head against the Dell UltraSharp 4k webcam in terms of performance, it is still true that it holds its ground quite well.
Dell Pro 2K Webcam First Impression
If you take a glance at the Dell Pro 2k webcam, you'll notice obvious similarities with the Dell UltraSharp 4K webcam. Gunmetal sleek cylindrical body; coupled with the sizable and perfectly curved lens; with detachable magnetic lens cap. These are things you'd typically find on the high-end 4k model. But even at that and the price of the 4k model, you get to enjoy all these in the Dell Pro 2k webcam.
The Dell Pro 2k webcam is a very portable model, measuring 3.62 inches and 1.73 inches in length and diameter respectively. The body is made of plastic. While this is not a premium design element, its ease of cleaning and maintenance makes it one you'll enjoy for an extended period.
You'll also notice its inbuilt monitor clip featuring a mounting point for a tripod. What's even more interesting is the movable foot of the monitor clip. Along with its rubberized body, these allow you to enjoy a nice grip and the freedom to adjust their tilt angle when attached to your computers.
Remember, the Dell UltraSharp 4k webcam uses magnetic mounts. Of course, you can't deny that this is way sleeker visually. However, it may not be very adequate when it comes to security. Not to mention that you can misplace it easily. But fortunately, Dell redesigned the mounts on the Dell Pro 2k webcam.
When it comes to connecting the Dell Pro 2k webcam to your laptop, it is with a non-detachable USB-A cable. You'll find this lying perpendicularly to the body of your webcam.
Performance of the Dell Pro 2k Webcam under different lighting conditions
Are you perhaps looking to work in a location devoid of natural light but an abundance of artificial light? Let's see how well the Dell Pro 2k webcam performs.
When it comes to reining exposures, the webcam does well. It also has a white balance that does decently but is not the most perfect out there. Still, it's better than what's obtainable from most similarly priced webcams.
The only limitation, in this case, is that its sensor actually takes quite some time to adjust its focus, white balance, exposure, and several other features. This is not so long to a noticeable extent, still. It only takes a second or two. But if you're the impatient type, you might notice this.
Now, let's see how well the Dell Pro 2k webcam does in low light conditions.
One thing that will definitely impress you is that the Dell Pro 2k webcam has the ability to distribute the lighting evenly across the scene even in low light. It allows you to see the fine details of faces quite well. What's even better is that the webcam strives to make the background as crisp and visible as possible. This is what you won't find in most similarly priced and even some high-end webcams. They make little to no effort to lighten the background.
The dell pro 2k webcam also has a digital overlap HDR feature. This gives you a better image quality while guaranteeing optimized settings in terms of white balance and color balance. It works great even in lighting conditions extremes.
When you use the HDR feature in low lighting, you'll notice a significantly more evenly-lit image. On top of that, you'll notice even more color accuracy. However, this potentially takes a toll on the picture clarity. You'll notice a lot more grains on the HDR picture than on the image without.
Now, let's see how well it performs when overexposed. An overexposed lighting condition is quite extreme. As such, if it does well in this regard you can be sure that it will survive most extremes. When used in overexposed conditions, you should expect some grains. However, not so many grains to leave you with cheap quality feed. If you turn ON the HDR of the Dell Pro 2k webcam in an overexposed scene, you'll notice a significant improvement in the output exposure levels. However, while it does well to improve the colors, it only does a little when it comes to image accuracy.
Software components and features
Once you plug in the Dell pro 2k webcam, the system automatically installs Dell's Peripheral Manager. This is where you get to control almost everything related to the webcam. You'll have to go through a seamless and straightforward setup process. Here, you'll find a practical guide that shows you the way through image presets. You'll also be able to adjust various settings including the HDR, the artificial intelligence-powered auto framing, and everything else the camera has to offer. The Peripheral Manager is one of the most comprehensive webcam software out there. It also embodies sections to control your camera zoom, image adjustments, capture settings, colors, and several others.
With the software, you can play around with the sharpness saturation, white balances, contrasts, and other image quality metric. But in most cases, you won't find anything to edit. The AI white balance and auto exposure typically handle everything pretty well.
The Dell Pro 2k webcam also features advanced image signal processing, alongside a 2D/3D noise reducer, digital overlap, and FDAE. With the temporal and spatial noise reducer, you can automatically eliminate noise from already taken picture without needing a third-party application or leaving the application's interface at all. The digital overlap allows you to create a true-to-life color even in areas with extreme lighting conditions. The FDAE means Facial Detection Auto Exposure. This is what's responsible for balancing and evening out harsh lighting to give you the optimal picture quality.
Hardware features and resolution
The dell pro 2k webcam allows you to adjust your resolution as you deem fit. You can use the 2560 x 1440 pixels resolution. This is the same as QHD and it is locked at 30fps. It's worth mentioning that you can always improve the frame rates.
If you think this resolution is more than what you need, you can bring it down to the full HD or just regular HD, with 1920 x 1080 pixels and 1280 x 720 pixels respectively. The frame rates can go as high as 60 frames per second. However, in cases where you're dealing with a particularly bad network, you can bring the frame rates to as low as 24 frames per second.
While the software part of the Dell Pro 2k webcam offers some of the most compelling features that are sure to pique your interest, the hardware also holds its ground with different arresting features.
With the integrated mounting clips, you can minimize the number of distractions emanating from your screen and your background. Even better, this clip never blocks your screen.
If you're perhaps heavy on privacy and protection, it features a shutter cap that stows behind the device. This helps you safe keep it without any hassle.
 Another unique hardware component here is the microphone.
The Dell Pro 2K webcam features an inbuilt microphone with excellent noise reduction features. This can help you block distracting sounds and place the focus on just your voice. Generally, the quality of webcam microphones is not the best around. But you will find out that the Dell Pro 2k webcam's microphone performs pretty well.
Depending on how you use it, you may notice some difficulty picking up your voice. This is especially true when perched on your monitor. Well, this is reasonable. The average person places their computer monitors about one or two feet away from their mouth. So, the difficulty in picking up voices, in this case, is understandable. Simply repositioning your monitor will give your webcam's microphone better reception.
let's consider other features.
The FOV (field of view) of the Dell Pro 2k webcam model does not match up with the 4k model and that's expected. But then, it has two practical FOV configurations of 78 and 65 degrees. While, on the other hand, the 4K model can go up to 90 degrees. 90 degrees might even be too much if you don't typically have much to reveal in your presentations.
The USB-A connection it uses can also sometimes be an issue. The USB-C is the most common today. So, using the USB-A means the number of devices you can use your webcam with is very limited. But if you're looking to work your way around this limitation, you can find adapters that allow you to use the USB-A port with a USB-C. Well, this is a little compromise to make for a webcam priced at $135.
To enjoy an even more seamless collaboration experience, the Dell Pro 2k webcam renders compatibility for different operating systems. For a clearer insight into what operating systems it supports and preferences, be sure to check out the technical specifications which we've shown in the picture below. On top of that, you get to enjoy a warranty of up to 3 years. Be sure to refer to the terms and conditions to understand what voids the warranty of your Dell Pro 2k webcam and what doesn't.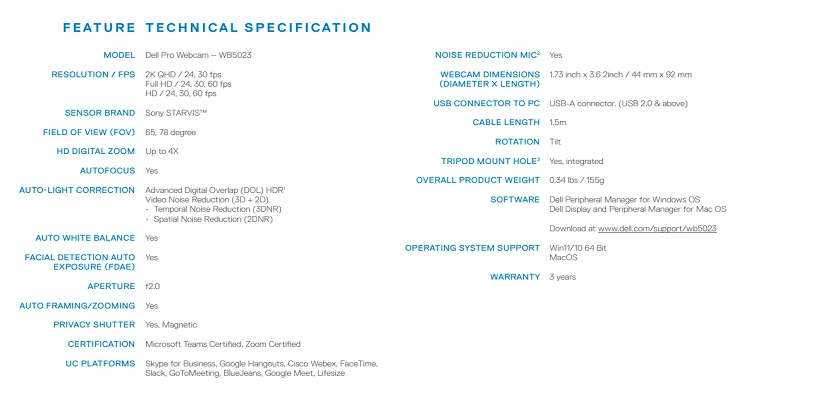 Final thoughts
If you're looking for a webcam that not only works but offers you the best value for your money, the Dell Pro 2k webcam (WB5023) fits your bill just well. You can simply stick it on your monitor, use the USB-A to plug it in, and hit the ground running almost immediately. It is perfect for your video conferencing, live streams, and selfies. Depending on your lighting and other conditions, you can expect high image definition. Another interesting piquing feature of the Dell Pro 2k webcam is how much it helps you balance your picture automatically with optimum coloring whether you're working with low light, high light, or overexposed situations.
In closing, while the Dell Pro 2k webcam makes an ideal fit for most individuals, not everyone will enjoy using it. For instance, if you're the type that likes to edit and fine-tune your picture to a great extent or standard, the software only has very little to offer you. It lacks the comprehensive controls that you need to bring that creative picture to fruition. In fact, although the editing options available work excellently, detail-oriented editors will find it lacking in most cases. But for everyone else, it is a great camera to take crispy and top-notch images. Even better, it is reasonably priced.
You may want to see our review of the Insta360 Link Webcam.