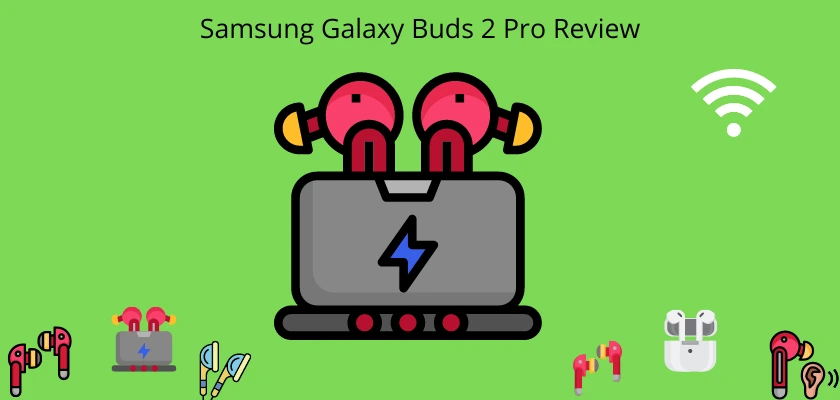 Perhaps you wonder what the Galaxy Buds 2 Pro features look like. You might have tried out the Galaxy Buds 2 and wondered what new features were added to this new update. In this review, every one of your questions will be accurately answered.
The Galaxy Buds 2 Pro is the new exciting wireless earbuds from Samsung released in August 2022. This wireless device comes with outstanding features that can be compared to other highly rated wireless buds, such as Google's Pixel Buds Pro and Apple's AirPods Pro. Quite amazing right? That's not all. The Galaxy Buds 2 Pro proves to be one of the most exceptional noise-canceling feature buds due to its luxurious features.
The Galaxy Buds 2 Pro is small, making it comfortable as it lies flat on the ear. Not just that, it is designed in such a way that it has excellent connectivity features. Also, it comes with manageable battery life.
You really cannot afford to miss out on the exciting updates that have come with this model. Also, you will get to know the Pros and Cons associated with these buds which will help you in your decision-making process.
Follow through this review to learn all you should about this device and you will be glad you did.
Galaxy Buds 2 Pro Design and Features
The Galaxy Buds 2 Pro has an outstanding overall design than most of the earbuds that have ever been designed and released by Samsung. They come with a perfect blend for users and have a sleek design with an all-matte finish that completely compliments the look.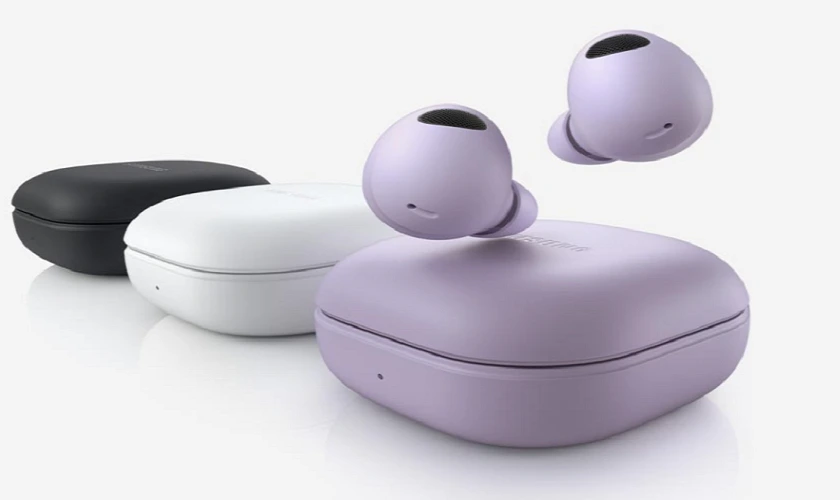 Size
If we are to compare the Samsung Galaxy Buds 2 with the Galaxy Buds 2 Pro, the latter is much more lightweight than the former. Each earbud of the Samsung Galaxy Buds 2 Pro weighs nothing more than 5g. They are in a compact size form, which makes them comfortable to put on for long and does not exert much pressure on your ear.
The Samsung Galaxy Buds 2 Pro is found to be 15 percent smaller than the previous earbuds model. They sit tightly on your ear and when you move or run, they do not fall away. They have been perfectly designed to stick very well to the ear.
Airflow Control
Compared to other earbuds that you might have used, you can be sure that the Samsung Galaxy Buds 2 Pro is different from them all when it comes to airflow control. It offers an exceptional design that enables air to flow in, while your buds are placed firmly on your ear. Samsung Galaxy Buds 2 Pro has a special substantial top grill that welcomes a continual flow of air. This in turn reduces the build-up of pressure on the ear. Imagine such convenience!
Shape
These wireless earbuds come in an egg shape. An advantage that is synonymous with this shape is that it prevents massive protrusions. The Samsung Galaxy Buds 2 Pro also comes with matte plastic steel that is well-guarded.
Well-Improved Cancellation Feature
With Samsung Galaxy Buds 2 Pro, you can be sure of eliminating background noise. You will be amazed that this total noise canceling feature is much more enhanced in this model than in its predecessor.
Neck-Stretch Reminder Feature
This is another mind-blowing feature built into these wireless earbuds. The neck-stretch reminder detects the position of your head and notifies you when your head is not well positioned. This helps you maintain the right position while using the device.
IPX7 Water Resistance
Another amazing feature that accompanies the Samsung Galaxy Buds 2 Pro is the fact that it has a water resistance feature. You can perform your exercises with the device on your ears without any worry of getting wet with sweat.
Likewise, the device is able to resist water for up to thirty minutes when immersed. Although it is not advisable to use it while swimming, this device still has one of the best water resistance ratings.
High-Resolution Audio
Have you possibly heard about the high-resolution audio that comes with the Samsung Galaxy Buds 2 Pro? Well, this feature makes music or any other thing you do on the device enjoyable.
In addition to this, it gives access to listening to audio files precisely how the artist recorded them. However, this is an exclusive feature for only Samsung Galaxy device users.
Furthermore, the Samsung Galaxy Buds 2 Pro is designed with a 5.3mm tweeter and a 10mm woofer.
Note: A Samsung Galaxy device user can enjoy 24 bits of high-resolution audio under two conditions (Samsung's One UI 4.0 and on High-Resolution Streaming Platforms).
How to get started with the use of High-Resolution sound on your Samsung device
(1) Check your device to confirm if it is provided with Samsung One UI 4.0.
(2) Check out a music streaming platform with high-resolution audio tracks. For example, platforms such as Qobuz, Tidal, or Amazon Music.
Battery Life
The Samsung Galaxy Buds 2 Pro does not have a strong battery life but then, it is moderately okay to some extent. The period the battery is likely to last is determined by the features that are in use at that period of time. For instance, noise-canceling features consume a lot of battery power when it is turned ON for some time.
So, in the absence of usage of the noise-canceling feature, you can be sure of eight hours of usage at a moderate level. For usage with noise-canceling features, you can be sure of five hours.
It is important to note here that the Buds 2 Pro can be charged wirelessly or via a USB cord. Fortunately, it charges pretty fast, so you can always enjoy your day with your device.
Sensor Detector Feature
There is a sensor functionality that discerns when your buds are removed. The music playing is automatically paused when the buds are removed. Although they are not played back automatically when the buds are placed back on the ears, you will have to use the touch sensor to play it back.
Voice Detector Feature
The Buds 2 Pro comes with a voice detector feature that you can activate. When you do this, you will be able to speak to your device. For example, when you need your noise-canceling feature switched ON or when you want it switched OFF.
SmartThings Find Feature
Usually, Samsung has this feature called SmartThings Find that can help track the location where you previously connected your device.
LE Audio Feature
This feature enables you to capture 360 degrees of environmental sound. This is still a work in progress though.
Charging Case Design
The Samsung Galaxy Buds 2 Pro has a captivating design with respect to its casing. It comes in a small size that can fit into the palms of your hand or put inside your pocket. It is smaller in size than its competitors such as Sony XM4 or AirPods Pro.
Software Features
Samsung curates a software application on their devices called the Samsung Galaxy wearable app. This software application is designed in such a way that users find it easy to navigate through and enjoy the different benefits attached to the earbuds. You can easily access the SmartFind Me option, touch controls option, 360 audio option, and enabling/disabling voice detection.
In the Samsung Galaxy wearable app, you will find a whole lot of guides that will assist you in navigating through all the exciting features embedded in the Samsung Galaxy wireless earbud. However, this application is only available on Android devices.
iOS users are/will be limited in some way if they are to use this Samsung wireless earbud. An Android user will benefit more than a non-android user. Similarly, a Samsung device user will benefit more than any other user.
With the Samsung Galaxy wearable app, you can know when your earbuds are either in ambient or ANC mode.
The Samsung Galaxy wearable app also provides help with the following:
Equalizer presets
Ambient sounds during calls
Hands-free Bixby
An earbud fit test
Neck-stretch reminders
Lab option features
In-ear detection for calls
In addition to these, you have an accessibility area that allows you to make adjustments needed for your earbuds balance. Also, the accessibility area can help you to maintain the active noise canceling ON-mode status even when you remove one earbud. (This removal is meant to switch it OFF automatically).
Sound and Call Quality
The call quality of this device is not the best we can have from Samsung. But over the years, Samsung has improved. In some cases, the background noise always seems so obvious. However, Samsung permits using ambient voice features while on call, which helps tackle this issue of hearing yourself.
The Samsung Seamless Codec was introduced into the Galaxy Buds 2 Pro. It is competent for up to 24-bit HI-FI, an incredibly high resolution. This is a remarkable improvement to the sound quality of the earbuds.
This 24 bits high resolution is dedicated to those with Samsung devices (with One UI 4.0 or more and a high-resolution streaming platform). If you can satisfy these conditions, be assured of fantastic sound quality.
In addition to that, Samsung has also advanced in its improvement of the 360 audio.
Also, the active noise cancellation feature was improved. When you compare the previously released model with this new model, you would realize that the latter performs better and is mind-blowing.
The Touch Control
As most of the earbuds parts are touch-sensitive. Here are some points on how you can maximize the touch control:
You can play or pause your music or audio files with a single touch
Double-tap to change the music to another
Triple tap to go back
You can use a long press to alter noise controls – Active noise canceling (ANC) or Ambience sound
You can also use a long press to regulate the volume or activate Spotify
For regulation of volume, there's another alternative to it (You'll find a lab option that permits you to double tap the front edge of the earbuds to regulate the volume).
The touch control of the Samsung Galaxy Buds 2 Pro has not been greatly improved
As aforementioned, different parts of the earbuds are sensitive to touch and their touch functions. This makes it hard to adjust your earbuds without touching a part that will bring out or display unnecessary stuff to you.
For example, in a situation where you need to adjust or suitably fit the buds well, it's easy to mistakenly tap any sensitive part of the earbuds, which will perform a different activity. That can be annoying.
But then, we hope that Samsung will improve in this touch control aspect too.
Samsung Galaxy Buds 2 Pro Specifications
| | |
| --- | --- |
| Type | Wireless Earbuds |
| Active Noise Canceling | Yes |
| Bluetooth Type | 5.3 |
| 360 Audio | Yes |
| Earbuds Weight | Within 5g Per Earbud |
| Charging Case Weight | 43.4g |
| Battery Life | 5 Hours (With ANC ON), 18 Hours With Casing |
| Audio Codecs | Hi-Fi, AAC, SBC, Samsung Seamless Codec (SSC) |
| Finishes | x3 |
| End-To-End 24-Bit High-Resolution | Samsung Users Only |
Advantages of the Samsung Galaxy Buds 2 Pro
The advantages of the Buds 2 Pro are highlighted below:
Very user-friendly
Incredibly suitable for a long period of usage on the ear
Enhanced strong noise cancellation
Audible sound
IPX7 water resistance rating
Ideal buds for Samsung Galaxy device owners due to some additional features included for them, such as 360 audio surround sound
The Buds 2 Pro has an impressive sound quality performance
Can be used with non-android devices
Numerous features, although most are limited to Samsung users
Disadvantages of the Samsung Galaxy Buds 2 Pro
The Buds 2 Pro is not well functional with multipoint capabilities
There are remarkable features on it that are limited to usage with Samsung devices only. Such as the high-resolution audio
The touch controls can be improved upon
The battery life is not very adequate. If you are the type that greatly desires a long-lasting battery, you might not enjoy the Galaxy Buds 2 Pro to the fullest
It is quite expensive due to its incredible features
Differences between the Samsung Galaxy Buds 2 Pro and the Samsung Galaxy Buds 2
There are four major differences between these two devices, which are:
(1) The Samsung Galaxy Buds 2 Pro has an IPX7 water resistance rating as against an IPX2 rating on the previously released model
(2) The Samsung Galaxy Buds 2 Pro has an Advanced Active Noise Cancellation feature as against that of the Samsung Galaxy Buds 2
(3) The Buds 2 Pro has a higher resolution streaming quality than that of its predecessor
(4) As expected, the Buds 2 Pro is more expensive than its predecessor
Some Similarities
(1) Same battery life
(2) They both have similar USB Type-C ports for charging
What makes the Samsung Galaxy Buds 2 Pro stand out among other competitors?
Compared to the highly rated Airpods Pro and Google Pixel Buds Pro or the original Samsung Galaxy Buds 2, the Galaxy Buds 2 Pro surpasses them all with its comfortability. This exceptional benefit enables a user to put on the device for a very long time without itching or pain. That's good news, right?
This means you can enjoy your entire playlist on your favorite piled-up podcasts without any disturbance to the ear. The only limiting factor would be when it's time for you to charge the device.
Another remarkable stand-out feature is the Active Noise Cancellation feature, which is completely secure.
Price and Availablity
The Galaxy Buds 2 Pro is at a price of $230. This also depends on the store you purchase from.
The Galaxy Buds 2 Pro is available in three colors;
(1) Graphite
(2) White
(3) Bora Purple
Conclusion
The Galaxy Buds 2 Pro can be one of the best wireless earbuds you can own if you take the time to study the amazing features incorporated into it.
If you are a Samsung Galaxy user, this device is one you should give a try as it is more favorable to you. But if you are not a Samsung user, you might need to select the kind of earbuds that will be best for you based on your preference.
We hope this review has given you all you should know about the Galaxy Buds 2 Pro. Enjoy your time trying out the device.