Will the Reolink Duo 2 cameras be better? This is the question in the minds of users. In 2021, Reolink released its somewhat unusual Reolink Duo camera. It was a relatively impressive camera, but with mixed opinions. While some sang the praise of its simplicity, it's no doubt that it did not quite live up to the pedestal we anticipated. Now, will this be the same as the Reolink Duo 2 cameras?
From security camera reviews over the years, you'll agree that they are not particularly designed to be thrilling. Most of them are just functional and reliable, which should suffice for a camera you can simply leave outdoors and forget.
But the Reolink Duo 2 camera is a genuinely interesting model, serving as the hotspot for shedloads of compelling hardware and software functionalities. This sets it apart from similar brands exploring the home security market. Plus, it has a dual-lens 180° view which is absent in a similarly priced camera today.
In this review, we will cover everything there is to know about the Reolink Duo 2 cameras. We'll see a quick review of both lineups, including the wired PoE version as well as the Wi-Fi version, starting from their first impression to actual performances.
What's in the Reolink Duo 2 Package?
The Reolink Duo 2 camera size is quite decent and comes in a beautifully packed, compact, and small retail box. It weighs just a little above 0.6kg.
Now, when you drill into the content, you'll be faced with a quite diverse lineup of components. You'll find the standard Reolink Duo 2 PoE or Reolink Duo 2 WiFi camera inside, alongside a power cable, screws, mounting plate, a wall guide, water seals, manuals, Cat 6 Ethernet cable, and everything else to make your setup as effortless as possible. 
However, you might find the 1.8m cable a bit underwhelming, especially if you're planning to use the camera for high heights. Besides this, everything else about the camera's content and packaging is worth the hype.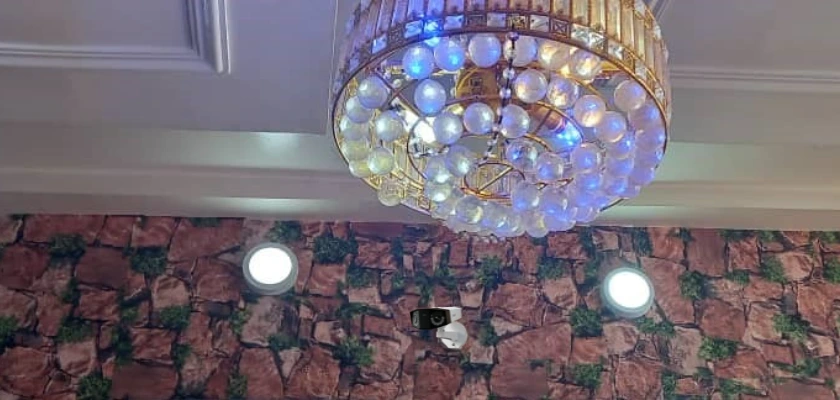 The design of Reolink Duo 2 camera
Compared to most IP cameras in the market, you'll agree that the design of the Reolink duo 2 cameras takes quite a better turn. Almost every camera out there is either designed with the bullet camera form or some other style. But Reolink took a turn from this and came up with something more sophisticated and modern.
The external build is completely made of metal, featuring beautifully carved sharp edges. It further features a monochrome color scheme which further emphasizes its modern and contemporary feel. If you take a look at the side, however, you won't find ventilation marks. You'll only find the Reolink logo.
At the side panels of the Reolink Duo 2 Wi-Fi version, you'll find screw threads. These are there to help you attach the antenna and the camera together. Even with its size, the Reolink Duo 2 camera comes with some terrific quality antennas. These antennas render support for 5 and 2.4 Giga Hertz frequencies. However, you are limited to WPA 2 encryption and can't use WPA 3 encryption.
At the top of the camera, you'll find a screw hole that allows you to attach the mounting kit to the camera and mount it easily in your preferred location. You'll find a similar screw hole below the camera as well to make room for more stability.
The Reolink Duo 2 Wi-Fi version, although described as a Wi-Fi-powered security camera, also comes with an Ethernet port. This enables you to connect this Wi-Fi version of the Reolink Duo 2 via Ethernet if you have a router, and you prefer to connect your camera via Ethernet. But note that if you are doing this, you would have to power up the camera with a D.C power adapter or PoE injector. With a LAN connection, it is over a hundred times easier to set up. They don't mention this on Reolink's official page. So, guess that'll come as a pleasant surprise.
Besides the additional screw joint below the camera, you'll also find a speaker. This allows you to talk using your Reolink mobile app and communicate with anyone outside. Besides, it doubles as a siren that you can blast out just by hitting a button.
You may as well link the speaker to an automated trigger using the camera software. So, when it senses certain predefined triggers, it blasts out loud. But a warning; Be ready for the noise, it's louder than you can ever expect.
Also below the Reolink Duo 2 cameras, you'll find an area covered by the screw panel. Here, you can simply slot in an SD card to store your recordings. With this, you have up to a maximum of 256GB of SD card storage. Do note also that if you are looking into having cloud storage, the Reolink Duo 2 Wi-Fi or PoE do not support the Reolink cloud storage.
Overall, the design is almost without any fault. It is compact with two effective lenses that are stitched digitally into a unit. Besides, with the IP66 rating, you can enjoy quite a wide deployment scope. You can completely prevent moisture or dust ingress and ultimately prolong your camera lifespan.
Setting up and using the Reolink Duo 2 camera
Just like every Reolink camera, setting up the Reolink Duo 2 is just as easy. All you have to do is add the camera via the Reolink mobile app and create an administrative password.
Depending on your preference, you may decide to manage the camera using the mobile application, Windows app, or using a web browser. With the mobile app, you can download it to your android and iOS devices. For most parts, the controls, services, and functionalities are uniform across every Reolink camera.
The only difference is that a few special features come with particular cameras. For instance, the Reolink Duo 2 (Wi-Fi/PoE) feature a twin lens as well as color night vision, which is what primarily distinguishes it from most of the other versions. So, the differences between the presentation and performance depend largely on the camera you're using with the app.
Since it was designed several years ago, the mobile app has enjoyed well over a million downloads. It's updated regularly and as such, there are lesser bugs.
If you're using the smartphone application in portrait mode, you only see a single camera view, further displaying the settings menu and relevant controls. You can take things further by changing to the landscape mode which allows you to see up to nine split screens of the camera footage.
Reolink Duo 2 camera features
Let's take a look at some interesting features of the cameras.
Camera resolution
The Reolink Duo 2 cameras can help you capture images of up to 8 megapixels in resolution. This means you can set your cameras to record up to as high as 4608 x 1728 pixels.
Even better, it can help you capture up to 180 degrees field of view, which is an upgrade to the limited field of view, which was a major setback in the Reolink Duo. You can record this footage at up to 20 fps, which is more than enough.
Weatherproof rating
The Reolink Duo 2 cameras feature an IP66 weatherproof rating. This means that you can install the camera outdoors without bothering yourself about weather conditions. When using outdoors, it is also easier to tailor your camera for a wider angle visualization.
Motion detection
There is almost no difference between the motion detection feature on the Reolink Duo 2 and on almost every recent camera lineup from Reolink. However, the Reolink Duo 2 has a wider field of view, as mentioned before. So, it is important that you set the detection zone appropriately so it doesn't keep detecting every now and then.
Furthermore, if you think the setting on your camera is too sensitive or the sensitivity is not sufficient, you can leverage the sensitivity options, object size, and alarm delays to tailor the detection optimally.
You can also take advantage of the new and innovative pet detection feature, although this is still in beta. Depending on your camera position, it can help you detect and alert you whenever your pet is roaming around.
Pictorial Representation of the Reolink Duo 2 Specifications
The full specifications of the Reolink Duo 2 are shown below.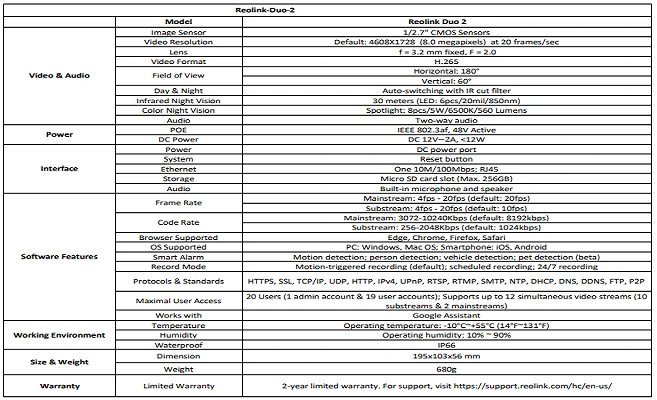 How do the cameras perform?
If you get the right placement, the Reolink Duo 2 cameras work excellently both in the daytime and at night time. The previous Reolink Duo versions used to produce two feeds for each lens, which you can then stitch together manually to get a comprehensive feed.
However, with Reolink Duo 2, you can directly get just one feed, which it gets from seamlessly stitching together feeds from the two lenses. These videos give you a field of view that sums up to 180 degrees.
In essence, you don't have to worry about the quirks of the previous Reolink Duo version. It matches up images near and far together satisfactorily and will give you almost 100% perfect footage every time.
Even better, you can manually handle the footage stitching in case you notice any issues. But more often, you won't have any need to use this feature. Plus, the previous Reolink Duo versions typically feature varied lighting intensity between feeds coming out of both lenses.
However, with the Reolink Duo 2 cameras, Reolink has managed to find the right balance between the lighting for the two lenses. Both outputs give you similar results in terms of brightness and lighting regardless of where they are facing.
Another thing you might notice is some sun glare. While this is not a given, chances are you might notice this due to the wide field of view. This FOV makes it more and more difficult to align the camera in a way that prevents the skyline.
You will likely notice this glare in the morning when the sun is just rising above the house. There is a lesser tendency for such glare to appear in your feed later during the day.
The nighttime capture is also satisfactory. Especially with the spotlight feature, you can capture clear footage beautifully at night.
In the settings, you can also get your Reolink Duo 2 to switch colors, play with spotlight settings and set your preferred brightness. You can also set the spotlight setting to come up anytime you want. For instance, when someone comes near your camera.
When it comes to recording options, you're spoilt for choice. It has recording options tailored to both day and night recordings with or without dynamic backlight. You may also move on to tweak your brightness, sharpness, contrast, and saturation settings to your taste.
Conclusion
The Reolink Duo 2 camera is exactly what we expected Reolink to release when it launched the original Reolink Duo. The features are nothing short of compelling, offering just the best value for your money.
The two Reolink Duo 2 lenses work in sync with one another to offer you a terrific 180-degree field view. Also, you get to enjoy one high-quality video feed, which could be necessary for NVRs. This doesn't take much away from the original Reolink Duo. Of course, that has already gained the hearts of many as a unique and innovative surveillance camera. However, with the Reolink Duo 2, there's no doubt that you're getting better value for your money.
Of course, the Reolink Duo 2 camera is by no means the cheapest from Reolink or for any outdoor security camera. However, if we factor in the double lens, on top of its 4k output, then throw in the satisfactory capture area and IP66 weatherproof rating into the mix, every penny spent is for optimum value.
Even better, the cameras render support for Alexa and Google. With regards to pricing, both cameras are priced competitively and very affordable. Also, you may choose to include an SD card along with your purchase. Your choice of storage further depends on how much of the footage you want to retain. All in all, this is a camera that leaves no room for you to fault it in any way.
Get the Reolink Duo 2 (Wi-Fi) version on the Reolink Official Website
Get the Reolink Duo 2 (PoE) version on the Reolink Official Website
Get the Newly Released Reolink Duo 2 (Battery Powered) on the Reolink Official Website
For Reolink NVRs, you can get them on Amazon below or the Reolink Official Website.
You may want to see our review of the Reolink Duo Floodlight Cameras (Wi-Fi/PoE).