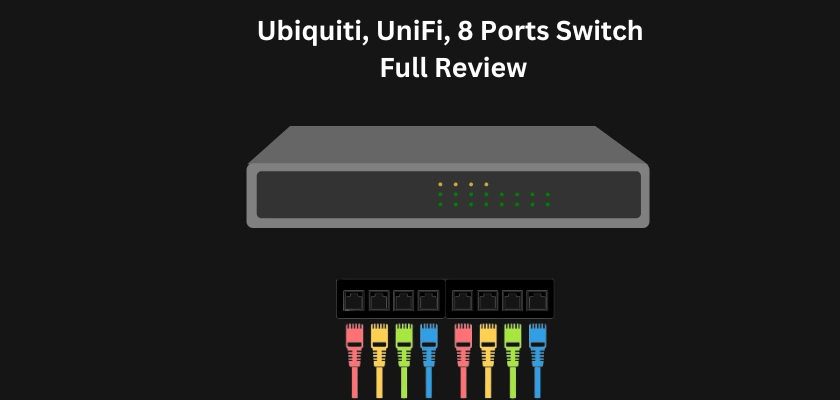 The UniFi Switch 8 Ports or Ubiquiti Switch 8 Ports is one of the several network devices manufactured by the brand Ubiquiti Networks. In network implementations, a switch is an integral component that enables multiple devices to connect and talk to each other. You may be a tech-savvy homeowner, or maybe you own a business, however, the reliance on technology and dependable network infrastructure is essential. The UniFi Switch 8 Ports/Ubiquiti Switch shows up in this regard, as it can function in small to medium-sized network implementations.
In this review, we are taking a close look at this UniFi Switch 8 Ports, to see its features, benefits, performance, and how it can improve the performance of your network. As a home user, business owner, or a network administrator, you will find this teaching helpful, and in the end, be able to decide if the UniFi Switch/Ubiquiti Switch is a suitable device for your network needs.
Overview of the UniFi Switch 8 Ports/Ubiquiti Switch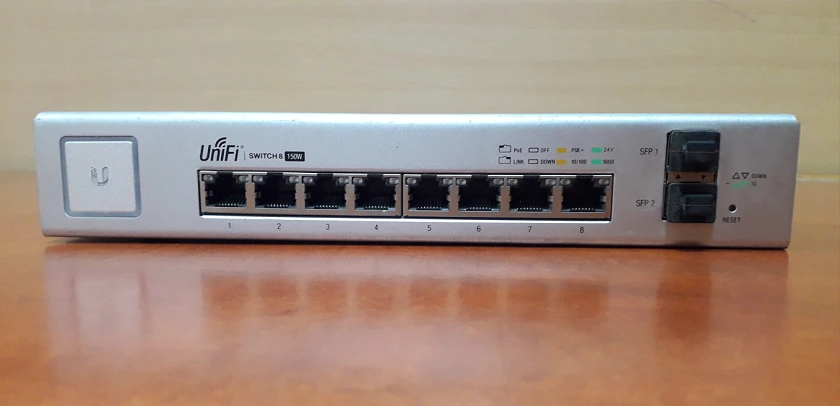 Looking at the UniFi Switch, you will observe 8 Ethernet Ports. These ports are 10/100/1000 Mbps Ethernet ports. Then on the right-hand side, you have two SFP Ethernet Ports that are capable of 1 Gbps data transfer rate. Just after the SFP Ports is a Reset button. For this UniFi Switch 8 Ports/Ubiquiti Switch, this button performs two functions. The first is to restart the switch and the second is to restore the switch to its factory default settings. To restart the switch, simply Press and release the Reset button. To perform a factory reset, Press and hold the Reset button for at least five seconds.
The switch's dimensions are 235 x 43 x 204 mm (9.25 x 1.69 x 8.03"). It weighs 1.65kg and is very portable. It has an operating temperature between -5° to 45° C (23 to 113° F) and operating humidity between 5 to 95% Noncondensing. This UniFi Switch 8 Ports/Ubiquiti Switch is a Fanless device which means, it achieves cooling using heat sinks. It is a PoE Switch and can power up compatible network devices such as VoIP Phones, Wi-Fi Access Points, IP Cameras, et cetera, without the need for a separate power supply. This is also very beneficial when you are deploying your network devices where power outlets are not very accessible.
This UniFi Switch 8 Ports/Ubiquiti Switch performs auto-sensing for 802.3af/at devices, and for 24 Volts Passive PoE, you have to manually activate this. Also, this switch seamlessly integrates with other UniFi devices like Access Points, Gateways et cetera.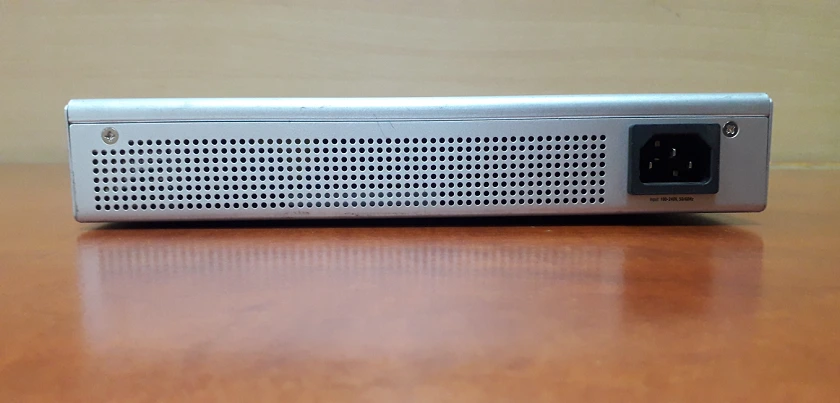 The input power for the UniFi Switch 8 Ports/Ubiquiti Switch is 100 – 240 VAC/50 – 60 Hz. While its Maximum Power Consumption (Including PoE Output) is 150 Watts and (Excluding PoE Output), it is 20 Watts.
How to Set up the UniFi Controller Software or UniFi Network Application
The UniFi Switch is a managed device and with it, you can monitor network activities, configure, manage, set up VLANs, Link Aggregation, carry out software updates, Quality of Service, and other advanced network implementations. All these are made possible with the UniFi Controller Software or UniFi Network Application. This application provides for easy set up and manageability of the UniFi switch and has a very friendly Graphical User Interface as well as being very intuitive.
In our testing, we used the UniFi Network Application Version 7.3.83 for Windows. It is also worth mentioning that Java is required to run the application, and at least Java 11.0.18. So, simply go ahead to download the applications and install them accordingly. On completion, you should see the screenshot below.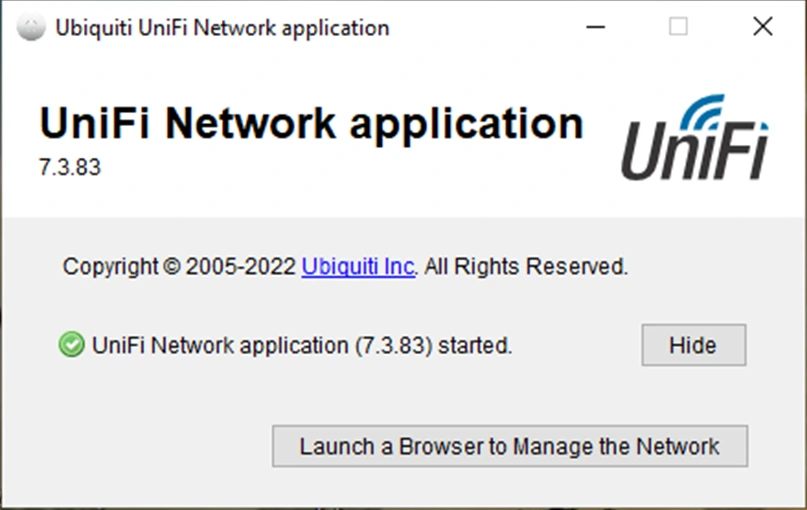 The next step is to click on "Launch a Browser to Manage the Network". You will then need to configure the application in a few more steps to be able to use it. The first step is for you to Name Your Network Application, you can leave the default name there (UniFi Network), then accept the End-User License Agreement and click Next.
On the next page, you will be required to Log in with your Ubiquiti Credentials. If you are a new user, you can simply go to https://account.ui.com/register to create an account. After a successful Log on, you will be presented with a UniFi Network Setup page. By default, Enable Auto Backup will be checked and this simply means that your entire setup will be periodically backed up. Then, click on Next.
The following page is the Devices Setup page and you should see "You have no devices", so click on Next. You will then see Wi-Fi Setup page, click on Next, and the last page is to Review Configuration and click on Finish. Now that the UniFi Controller Software has been fully configured, you will be presented with a homepage as shown below.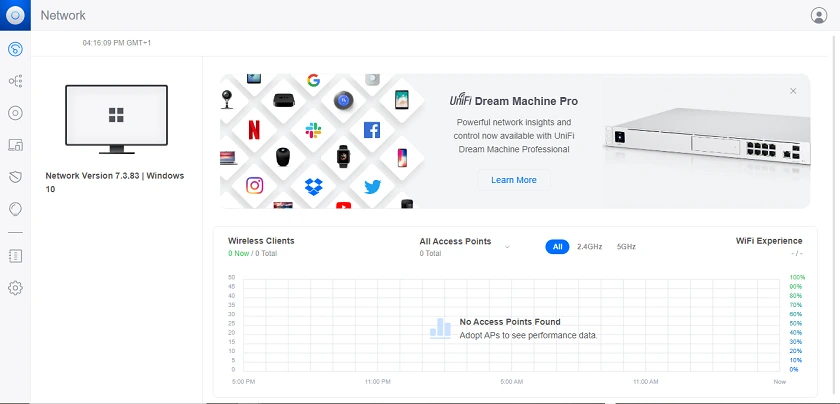 Before we proceed to how to configure and set up the UniFi Switch 8 Ports/Ubiquiti Switch, let's see the features of the UniFi Controller Software. Looking at the picture above, on the left-hand side, you will observe eight icons (not including the picture showing an Access Point). Now, the first icon showing in blue is the Dashboard icon. The second icon is your Topology, the third is UniFi Devices, fourth is Client Devices, the fifth is Security Insights, sixth you have Wi-Fi Insights, then System Log, and lastly you have the Settings icon. Let's explain them further:
(1) Dashboard
The dashboard is the central hub for an overview of the real-time situation of all connected network devices with the UniFi Switch/Ubiquiti Switch. You have comprehensive metrics for network performance, bandwidth usage, network health, recent alerts or warnings, the graph of network patterns/trends, network traffic, and overall insights.
(2) Topology
Clicking on the Topology icon shows you how your network devices are connected together with the UniFi Switch/Ubiquiti Switch, and how data flows among them. This graphical representation helps you see connectivity issues such as congestion and points of failure. With this, troubleshooting and making changes is very easy.
(3) UniFi Devices
This simply shows you all UnFi devices as connected to the UniFi Switch/Ubiquiti Switch. On the right-hand side, you will find Display Options. Clicking on this further gives you "Show All Devices", and then Clients. Here you see 2.4 GHz devices, 5 GHz devices, and Wired devices. You will also find Description just under these, providing you with descriptions of devices and Wireless SSIDs.
(4) Client Devices
Here you will find the Name, Vendor, Connection, IP Address, Wi-Fi Network, Experience, Down, Up, 24 Hour Usage, and Uptime information of all of your client devices connected to the UniFi Switch/Ubiquiti Switch.
(5) Security Insights
Security Insights is a remarkable area in the UniFi Controller Software. It gives you Traffic Identification for all Apps and Clients with Downloads, Uploads and so much more, to help manage your network traffic. You will also see 1 hour, 1 day, 1 week, 1 month, the option to customize the time frame, and a search button for easy manageability.
(6) Wi-Fi Insights
This gives you Wi-Fi Performance for all Clients and Access Points. You get to see a graph of your 802.11 Phy Rate (bps) along with Signal Strengths. Then you have a Watchlist that shows Clients, Experience, APs Connected, Standard, Max Phy Rate, DL Phy Rate, Signal, Roaming, and TX Retries. On the right-hand side, you find Display options that enable you to filter what you view and customize accordingly.
Then you also have Environment Scan. With this, you can see Wi-Fi Channel Interferences for your 2.4 GHz and 5 GHz frequencies. You will be able to see AP Count, Wi-Fi Name, MAC ID, Security, the Wi-Fi Standard, Signal, Channel, Band, Width, Vendor, Last Seen, and Nearest AP. In addition to these, you can customize the time frame of this view.
(7) System Logs
This is one of the most important features of the UniFi Switch/Ubiquiti Switch's Graphical User Interface. Firstly, you have Critical, then Updates, Admin Activity, Client, AP, and Push Notification Settings.
Now, Push Notifications provides for easy manageability of your system logs and alerts with email configuration for you to receive them via email. The table below shows you the types of alerts you should expect to get.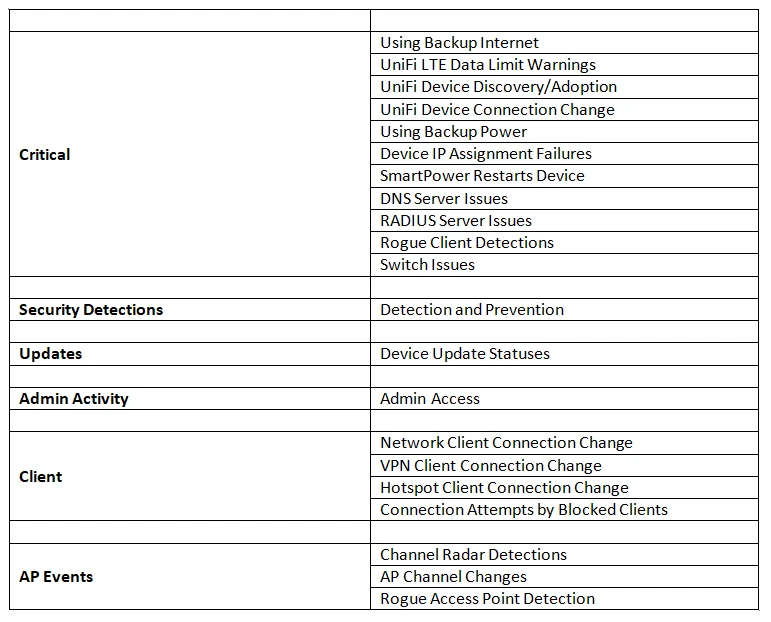 (8) Settings
With settings, you can do a whole lot like configuring Wi-Fi settings, network settings, internet settings, VPN, Traffic Management, Firewall & Security, Profiles, and System settings.
How to Configure and Set up the UniFi Switch 8 Ports/Ubiquiti Switch
Now, to configure your 8 Ports, UniFi Switch/Ubiquiti Switch, you do have to know that the default IP Address for the switch is 192.168.1.20. So, simply connect an Ethernet Cable to Port 1 and the other end of the cable to your computer. You can then give your computer an IP Address within that subnet. In our case, we used 192.168.1.21 with the subnet mask 255.255.255.0, and no default gateway. Then, to ensure connectivity or reachability between the UniFi Switch/Ubiquiti Switch and your computer, simply ping 192.168.1.20 from your computer and if there is no timeout, you are fine with this step as shown below.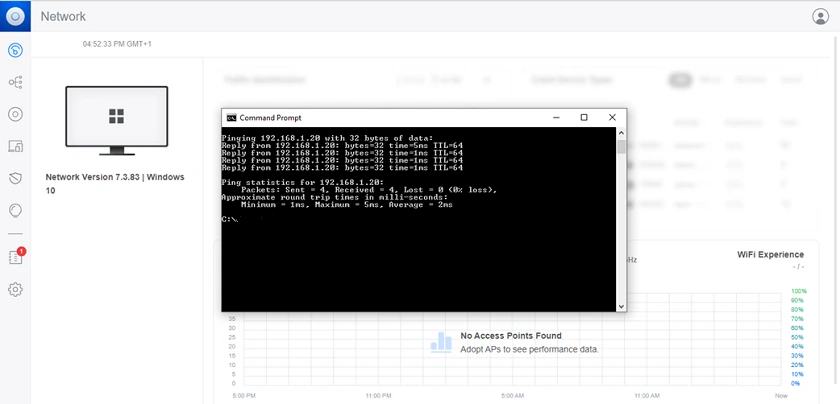 Now, as you can see on the left-hand side of the screenshot above, on the System Logs icon, we already had a notification. Clicking on it, we had '' 1 Unresolved System Critical Event'', A new US-8-150W has been detected. Click to adopt it. This simply means that our UniFi Switch/Ubiquiti Switch had been found. So, simply click on this and the UniFi switch will be Adopted. You may get a prompt asking you to Update the device first before Adoption. You will also observe the status light on the front of the UniFi Switch/Ubiquiti Switch turn white intermittently and then become fully blue during this process.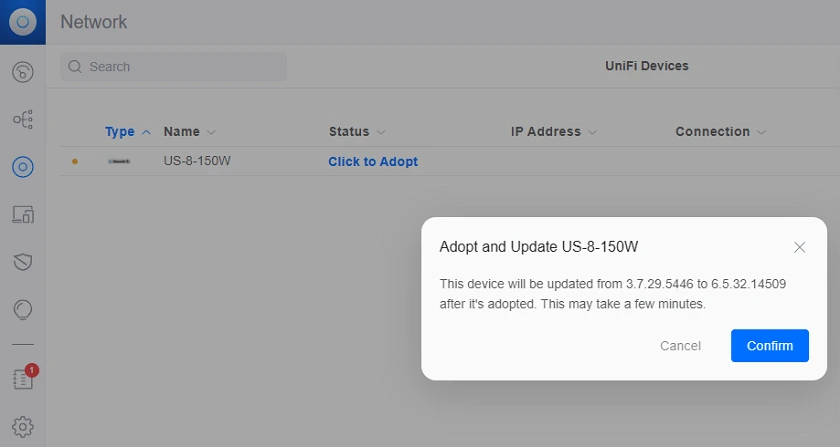 In the end, your UniFi Switch 8 Ports/Ubiquiti Switch will be ready and fully functional. Below are the full specifications of this switch.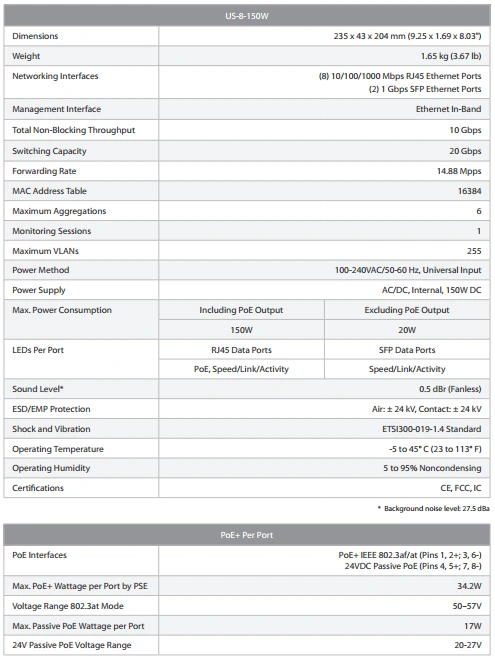 Final Thoughts
The UniFi Switch 8 Ports/Ubiquiti Switch proves to be a feature-rich, high-performing network device. It provides you with essential networking functions, security, and scalability. It is very well suited for small to medium-sized network implementations and is easy to manage.
You may want to see our review of the Ubiquiti U6-LR Wi-Fi 6 Access Point and the Cisco 9120AXI-E Access Point.