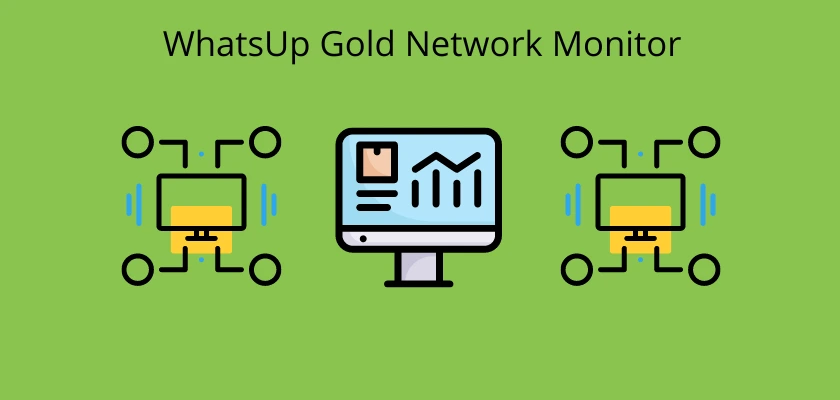 WhatsUp Gold Network Monitoring Tool is one of the well-known, top-notch, network monitoring applications in the world today. It was initially owned by a company known as Ipswitch but it is now owned by the company Progress.
WhatsUp Gold Network Monitoring Tool is a powerful network infrastructure monitoring software designed to enable network and systems administrators have a complete overview of their infrastructure.
Network Monitoring is an essential part of keeping a business alive. With network monitoring, preventive measures and proactive measures can be taken by systems and network administrators to avoid downtimes.
This teaching is aimed at enlightening systems, network administrators, and individuals alike on making the most of the WhatsUp Gold Network Monitoring Tool.
Let's go straight into it.
What is WhatsUp Gold Network Monitoring Tool?
As mentioned in the introduction, WhatsUp Gold Network Monitoring Tool is one of the surest tools for network and systems administrators to use, to enable them have a complete overview of their infrastructure.
It is a tool capable of monitoring applications running in your network, servers, virtual deployments, end-user devices connected to your network, device(s) performance, network traffic performance, and carrying out automatic backups and restoration of configurations.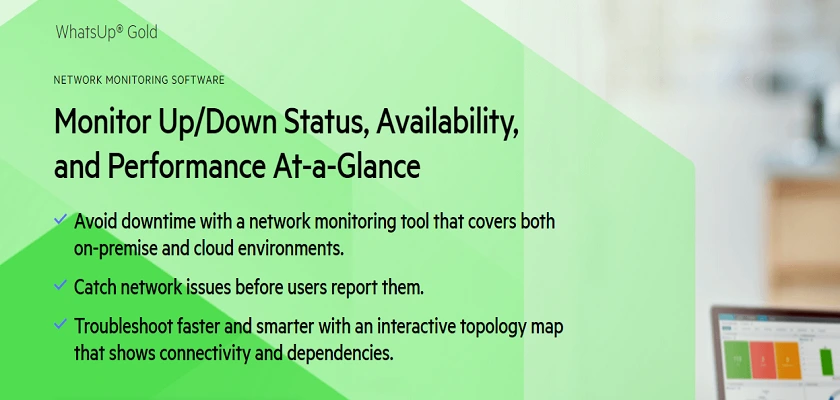 Features of WhatsUp Gold Network Monitoring Tool
There are several features built into the WhatsUp Gold Network Monitoring Tool, and these features enable it provide network visibility for on-site and cloud deployments.
Let's take a look at these features individually:
(1) Network Monitoring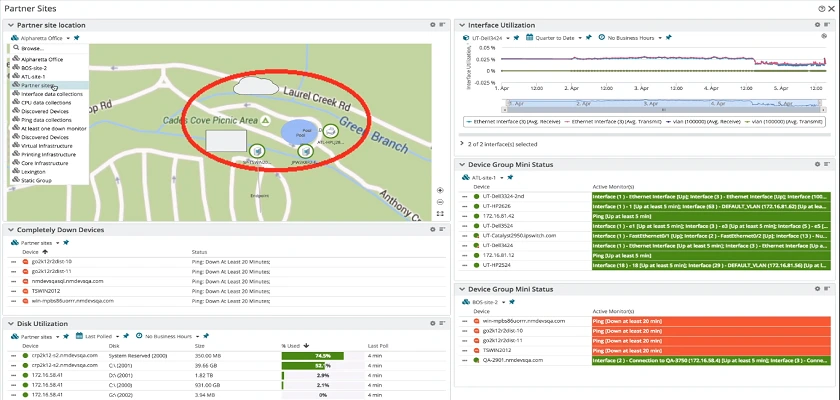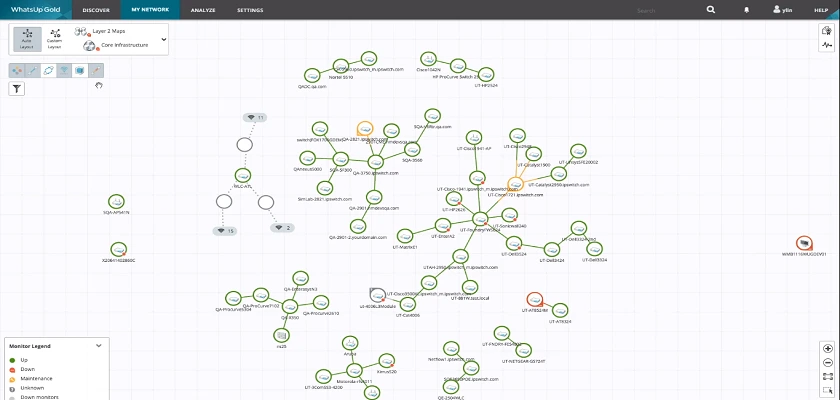 Network monitoring is the core of the WhatsUp Gold Network Monitoring Tool, it shows you network status and performance with the following sensors:
Network Discovery and Mapping
In network discovery, WhatsUp Gold Network Monitoring Tool uses protocols such as SNMP, ICMP, ARP, and other vendor-specific protocols like CDP to detect and build your network topology, this is then displayed as a map for granular viewing.
Device Dependencies and Anomaly Prevention
When network devices are connected to each other, this results in device dependencies. When one device is down, the other device becomes unavailable which is not true, and this triggers a false alarm. WhatsUp Gold Network Monitoring Tool is designed to detect this anomaly and notify you only when a device is truly down.
Bandwidth Utilization
WhatsUp Gold provides the bandwidth utilization of all your links. With this, you can see who or what is clogging your network. Now, it displays this information in three different colors which are red, yellow, and green.
Red tells you the bandwidth utilization is very high, yellow tells you the utilization is getting high and green tells you your links are fine.
Map Customization
After the installation of your WhatsUp Gold Network Monitoring Tool, it scans your network to detect all active nodes, and then builds a default map. You can redesign or customize your map to your specifications like arranging nodes according to subnets, changing the icons of nodes, and labeling links and interfaces accordingly.
Wireless/Virtual Deployments
WhatsUp Gold Network Monitoring Tool is designed with a feature called wireless overlay. This feature shows you the connection between your LAN and WIFI network. With WhatsUp Gold, your SSIDs, Wireless LAN Controllers, Wireless Devices, and Access Points are captured and displayed in a map view.
Also, a virtualization overlay is present with WhatsUp Gold. Your virtual environments which could include VMs, hosts, clusters, Hyper-V, and much more, are captured and their real-time statuses are displayed in a map view.
Hardware
With WhatsUp Gold, you will be able to know the conditions of your hardware. Things such as the temperature of your devices, the temperature of your data center, toner level of your printers, the battery level of your backup devices, and much more. Also, the change in device status is shown with the colors Red, Yellow, and Green. This immediately tells you on your dashboard screen that something has changed along with notifications.
Files/Folders
WhatsUp Gold Network Monitoring Tool can help ensure the integrity of your files or folders. Any change made to a file or folder is captured by WhatsUp Gold and this can help you when compliance issues arise.
Scalable Network Maps
Scalable Network Maps mean that as your network infrastructure grows with new nodes, links, etc., WhatsUp Gold Network Monitoring Tool is able to adapt to new changes in your network. It is able to do this automatically without any user inputs.
You can also set this tool to perform network scans at periodic intervals and your existing maps will be updated accordingly.
Alerts
The alert feature of the WhatsUp Gold Network Monitoring Tool is in three forms, Performance Monitor, Active Monitor, and Passive Monitor. When threshold values are reached, the Performance Monitor sends alerts. The Active Monitor reacts when the status of a node changes. For example, from Up to Down. The Passive Monitor uses Windows Event Logs and SNMP traps to collect and send you information. As an example, reports of logins into a server are generated and sent using the Passive Monitor.
You can also customize these alerts according to the performance needs you require from your network.
Log Analysis
WhatsUp Gold enables you to view and manage logs. You can view historical data and track changes with network and device performance. With search and filter, this is made easy along with being able to save these logs for as long as you want.
WhatsUp Gold also enables you to customize these logs for alerts. Whenever any set conditions are met, alerts are generated and sent accordingly.
REST API
WhatsUp Gold Network Monitoring Tool is built with a REST Application Programming Interface to enable you automatically carry out tasks by running scripts. With this API, you can pull data from another system or send data to another system, even setting a device to maintenance mode.
These are the values you have in the Network Monitor feature, Let's now move to the second feature which is Application Monitoring.
(2) WhatsUp Gold Network Monitoring – Application Monitoring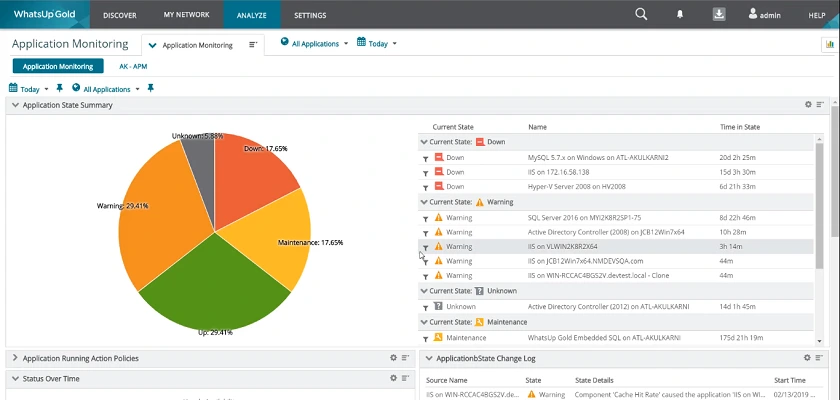 Application monitoring with WhatsUp Gold enables you monitor business applications effectively. This will enable you immediately identify problems with applications and restore them to Service Level Agreements.
WhatsUp Gold Network Monitoring Tool comes with default optimized profiles for all major business applications. However, you can fine-tune or create your own profiles as you require. Some of the business applications you can monitor are;
Active Directory Components, MS Exchange Server, Hyper-V, SharePoint, etc.
With Application Monitoring, you also have alerts and notifications feature. On your dashboard, you can see the health of all applications in your network. Use this to carry out performance analysis on your applications and set notifications as you require.
With Application Monitoring, WhatsUp Gold enables you to run scripts anywhere in your network. This is made possible by two software extensions built into WhatsUp Gold, which are iMacros/iDrone. With these, you can run scripts to immediately activate when a set condition has been reached.
(3) WhatsUp Gold Network Monitoring – Flowmon Integration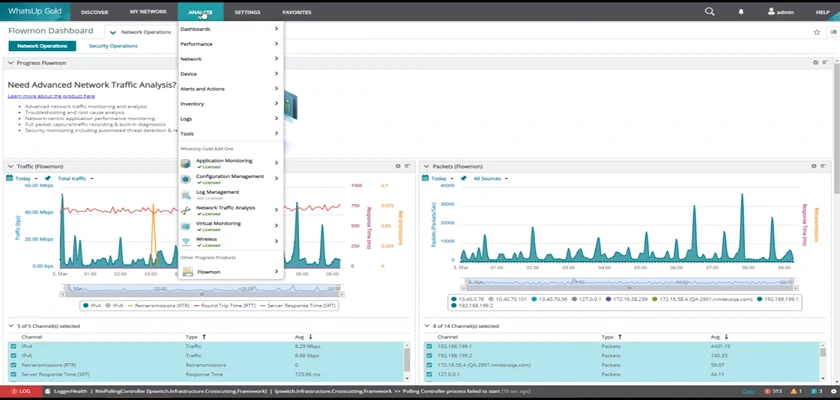 Progress WhatsUp Gold Network Monitoring Tool is integrated with Flowmon. Flowmon is a very powerful, scalable, network visibility and threat detection application. With this, systems and network administrators can view network traffic, security status, performance, advanced reporting, all in one intuitive dashboard.
Also, security teams, systems and network infrastructure teams can collaborate together to have a more comprehensive network outlook and security. This can enable them identify and close loopholes, and respond to situations immediately without any downtime because of the collaboration that Flowmon with WhatsUp Gold Network Monitoring Tool brings.
Next, we look at Cloud Monitoring.
(4) WhatsUp Gold Network Monitoring – Cloud Monitoring

WhatsUp Gold performs efficiently on your cloud deployments just like on your on-site infrastructure. It automatically discovers your cloud deployments and uses the Azure API and AWS API to report data. Integrating this data into your existing dashboard is simple and enables you to have a granular and simple view of your entire infrastructure. This also enables you to see device statuses and deal with issues faster.
Also, you can create your own cloud monitors and set up alerts to notify you when threshold levels are reached or exceeded.
The Cloud Monitoring of WhatsUp Gold Network Monitoring Tool is built with a remarkable cloud usage and cloud billing feature. You are able to view these all at once. With this feature, you can track your cloud usage for longer than 30 days, reduce costs and generally improve your resources.
The alerting and notification feature also enhances your Cloud Monitoring, you can set thresholds for performance levels and receive notifications via any medium of your choice.
Let's now move to the next point, Network Configuration Management.
(5) Configuration Management
The Configuration Management of WhatsUp Gold comes packed full of several features which we shall look at in detail below:
Automated Network Tasks
With automation, WhatsUp Gold can carry out administrative tasks efficiently and error-free. This can help systems and network admins save time on these tasks. WhatsUp Gold Network Monitoring Tool automation can carry out tasks such as upgrade of firmware, backups, etc.
Scheduled Configuration Backups
Regular backups are extremely important today in this world of ever-emerging cyber threats and WhatsUp Gold carries out automated regular backups with Industry Standards. This enables you avoid mistakes and in the event of a cyber attack, WhatsUp Gold can enable you to restore your configurations automatically, quickly, and error-free.

Change Management Alerting
Configuration changes can occur at any point in time within your network infrastructure and you need to be able to know immediately and track such changes. Using the WhatsUp Gold Network Monitoring Tool's Alert Center, you can set up a notification trigger and an action to take effect immediately, for any configuration change. For this to be effective, you must enable SNMP traps on your nodes so that when a change occurs, this information is immediately sent to WhatsUp Gold and you receive the notification trigger. You can receive notifications via any medium you choose such as text messages, IFTTT, or email messages.
If at any point in time configuration changes take place, WhatsUp Gold Network Monitoring Tool can show you the former and new changes, it will also make bold the differences in the data for easy comparison.
Compliance and Audit Fulfilment
With compliance, you have set rules that shouldn't be violated. These rules can be adequately monitored by WhatsUp Gold Network Monitoring Tool and it shows you any change that has occurred to your set rules, thereby enabling you to fulfill compliance requirements.
Also, you can set policies with WhatsUp Gold that affect newly installed devices and verify if that device was configured with the set policies. For example, you could set a rule that the SNMP Community String 'public' should never be in a device configuration and WhatsUp Gold Network Monitoring Tool will immediately verify this on your behalf.
Furthermore, WhatsUp Gold is built with Regulatory Standards Audit features such that you can perform audits automatically, on all your nodes' configurations. Also, you can schedule this audit to run at any point in time.
Bulk Changes
Infrastructure-wide changes may be required at different points in time. For example, password changes on all routers or switches. WhatsUp Gold Network Monitoring Tool helps you achieve this automatically, saving time and administrative effort.
Central Backup of Network Configurations
WhatsUp Gold enables central storage of configurations in an encrypted location. With this, backup configurations for every node in your network can be stored securely. When a new device is to be deployed, a configuration matching its model can be imported into the device securely, saving time and effort.
The video below gives a full overview of WhatsUp Gold Network Monitoring Tool and what you should expect to get from it.
A Simple Table Showing WhatsUp Gold Network Monitor Specifications
WhatsUp Gold Network Monitor
Latest Version (2022.0)
Price
Free Version (20 Features)
Click here for Paid Version
Operating System Requirements
Windows Server 2012 R2,
Server 2016 and Server 2019 (64-bit)
RAM
8 GB
Installation Space
25 GB
Processor
2.6 GHz Quad Core Processor
Network Interface Card (NIC)
100 Mbps
Database Requirements
SQL Server (2017 – Built-in)
Browsers
Google Chrome, Microsoft Edge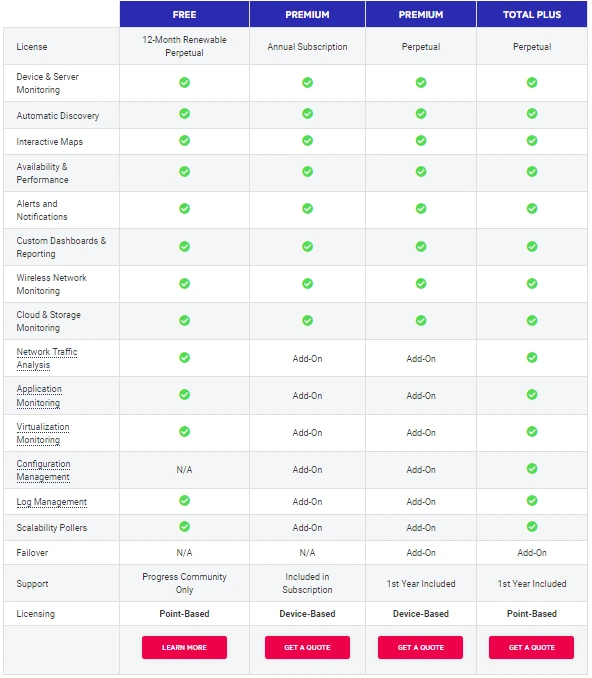 Pros and Cons of WhatsUp Gold
| | |
| --- | --- |
| PROS | CONS |
| Performs well with Network Monitoring and Alerting | Device(s) discovery during setup can be cumbersome |
| Very robust customization features | – |
Conclusion
WhatsUp Gold Network Monitoring is no doubt very useful for systems and network administrators. This teaching has brought out all you need to know in harnessing the several potentials of this network monitoring tool.
However, a tool may be excellent for some while it may not be so fantastic for others, we recommend you give it a try as a free trial is available to you for 30 days. With this, you will be able to ascertain what this tool is capable of.
We hope this teaching has been helpful to you, see also our review on PRTG Network Monitor.