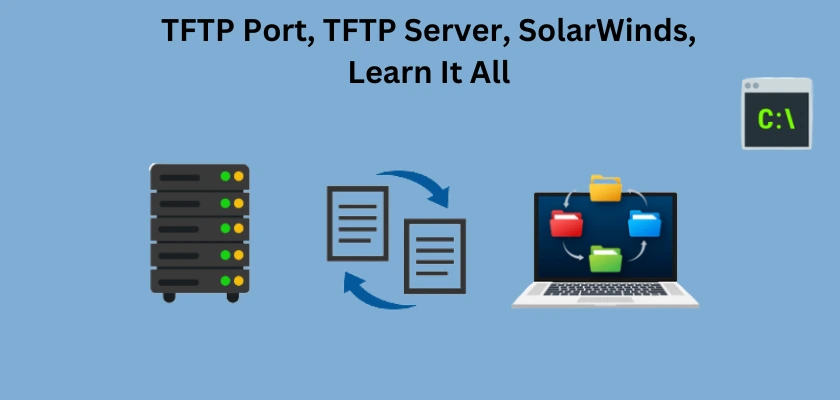 TFTP otherwise known as Trivial File Transfer Protocol is a very simple protocol that functions using UDP (User Datagram Protocol), and the TFTP Port is Port 69. This TFTP Port 69 is used in the communications between a Host and a Server. The communication is such that a Host sends a request for a file to the Server, and the Server responds with the file, but there is no connection established before the sending and receiving of the data. Packets are sent with no form of acknowledgment or confirmation.
TFTP with UDP provides connectionless communications between Hosts and is most commonly used where File Transfer Protocol (FTP) or Secure File Transfer Protocol (SFTP) is not necessary. Now, FTP and SFTP are secure and more robust file transfer protocols but TFTP is not. Based on this, it is not recommended to use TFTP in moving files or sensitive information on the internet.
Also, TFTP does not have certain features that you find in more advanced file transfer protocols. It is simple and operates with low overhead to carry out file transfers faster and more efficiently. Its small size, and its simplicity, are what make it suitable for use in situations where resource usage will not be a concern. Typically, TFTP is applied in situations such as transferring configuration files, backing up of configuration files, firmware updates, et cetera.
Overview of SolarWinds TFTP Server
SolarWinds TFTP Server was developed by SolarWinds as a brand. It is a free software application that enables you to carry out all tasks related to TFTP. With SolarWinds TFTP Server, you have a very simple Graphical User Interface. You can use this tool to push Operating System Updates, back up your network device(s) configs, perform firmware updates, and transfer files up to 4GB. Also, the SolarWinds TFTP Server provides you with multiple concurrent file transfers, enables you to permit a specific range of IP Addresses, enables you to specify your default directory and the directory access that should be allowed.
How to Set up SolarWinds TFTP Server
Getting started with SolarWinds TFTP Server is easy. Simply download the installation file and extract it. You will then see TFTPInstaller.msi, double click on it to begin the installation process.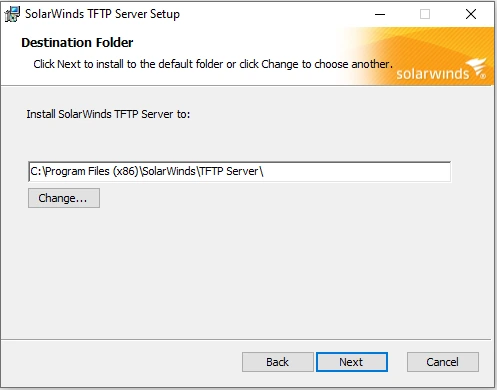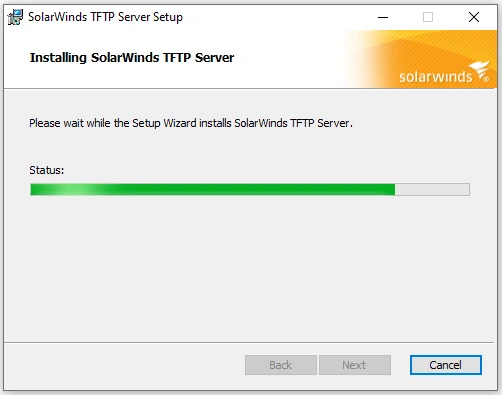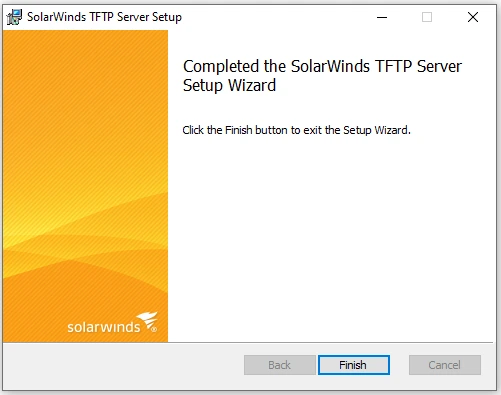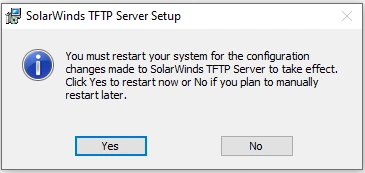 After you have restarted your computer, you can then launch SolarWinds TFTP Server. You will be presented with the Graphical User Interface as shown below.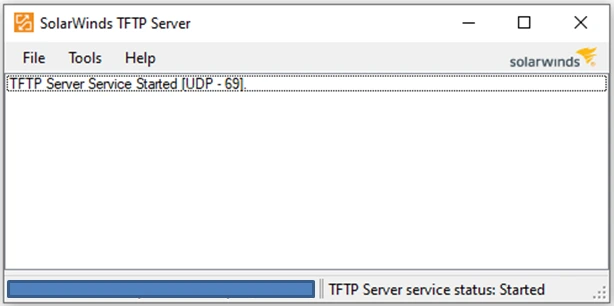 At the top left of the picture above, clicking on File will show you three options which are Configure, Clear Log, and Exit. When you click on Configure, you will be presented with four tabs that are shown in the pictures below. (General, Server Bindings, Security, Language).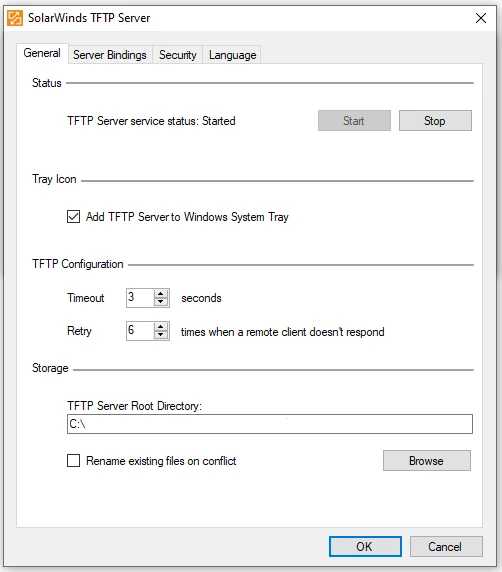 In the picture below, all the IP Addresses that are on your computer's Ethernet adapter or Wi-Fi adapter will be shown.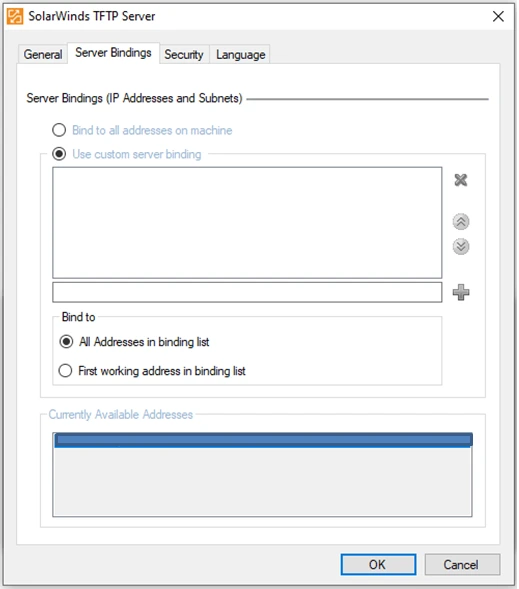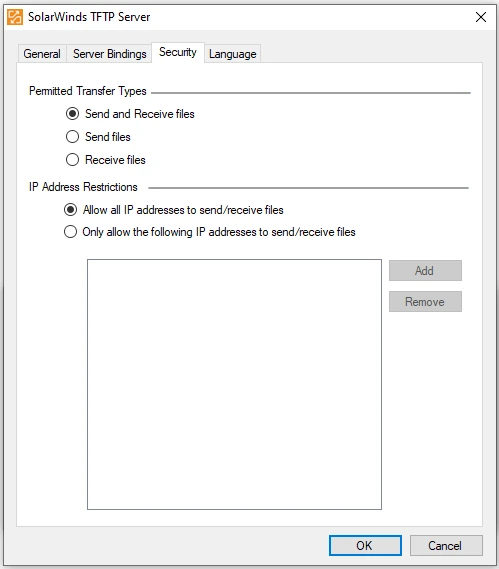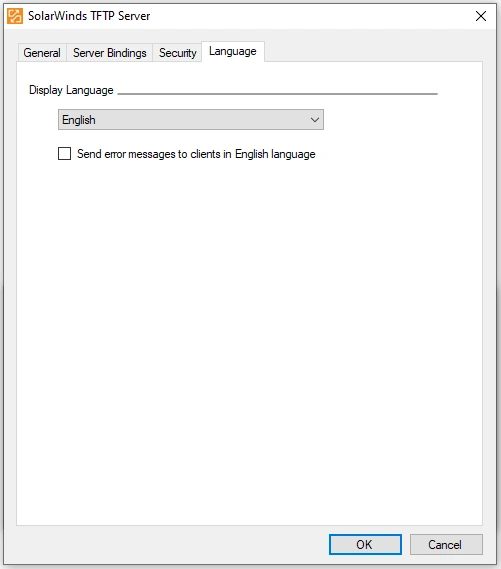 Moving further, there are several tools built into the SolarWinds TFTP Server. These are very simple, yet powerful tools to enhance your Network Administration. These tools are Bandwidth Guages, Cisco Config Editor, IP Network Browser, MIB Browser, Network Performance Monitor, Ping Sweep, Proxy Ping, CPU Load, SNMP Graph, Network Sonar, Switch Port Mapper, Syslog Server, and WAN Killer. As a network administrator, these are enough tools to enable you carry out network monitoring, performance baselines, diagnostics, and overall network optimization. These SolarWinds TFTP Server tools are shown in the picture below.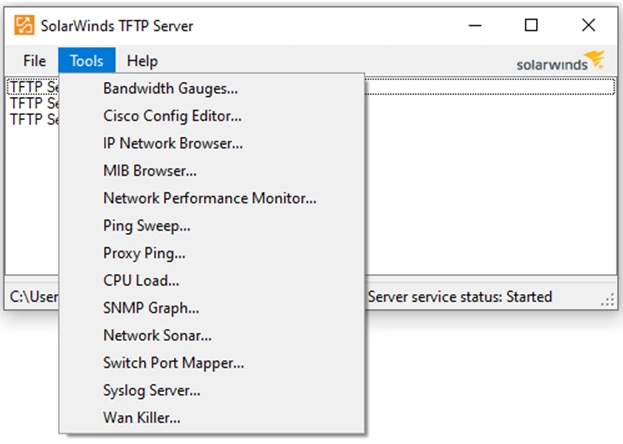 How to transfer files using SolarWinds TFTP Server
Using SolarWinds Server for file transfers is a very easy and straightforward process. When you launch it, it automatically picks the IP Address of your PC. If you want to change the IP Address, you can as well do so.
Using a Cisco router as an example, we can backup the router's config onto SolarWinds TFTP Server. To do this, we first of all ensure that our Cisco router and our SolarWinds TFTP Server are pingable. Connectivity between them is the most important step before a backup can take place. When this is ensured, simply SSH or console into the device to be backed up. In our example, the IP Address of the router to be backed up is 192.168.0.1 and the SolarWinds TFTP Server is located at 192.168.0.2. Now, we type each config one after the other on each line as shown in the picture below.
Do note that you can leave the Destination filename as it is, or you can choose a Destination filename as you want by typing it after [router_office_1-config]. After the file has copied successfully, you should see it in your C:\TFTP-Root folder.
This is as simple as it gets to using SolarWinds TFTP Server for file transfers or taking backups. Furthermore, this entire process is the same if you want to try it out with another TFTP Server. For example, Tftpd64. This is another free and open-source TFTP Server and Client. It features DHCP, DNS, SNTP, Syslog, and TFTP.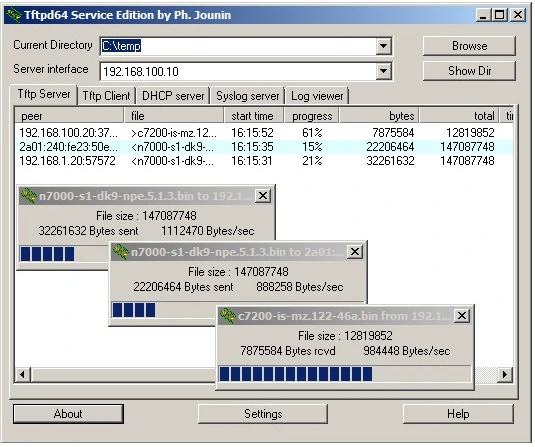 Why should you use SolarWinds?
If you are looking for a feature-rich, versatile, and robust tool, then SolarWinds TFTP is recommended. It is a free tool that you can simply download and use with full functionality.
It is a very lightweight application and will run smoothly on your computer, requiring minimal system resources. Then also, it has a very intuitive user interface which will make it easy for you to configure and perform file transfers. Another reason why you would want to use this tool is its ability to transfer files of up to 4GB in size. Then, the security that this tool provides is another remarkable feature. With this, you have features such as IP Address Filtering as well as Access Control, thereby making sure that access is granted to only authorized users.
Overall, SolarWinds TFTP Server is very popular and a go-to choice for so many Network Administrators, and SolarWinds as a brand has remained a top performer in IT Management Software.
Final Thoughts
This teaching explained TFTP (Trivial File Transfer Protocol), TFTP Port 69, SolarWinds TFTP Server, and an optional TFTPD64. Having a thorough understanding of these is essential to enable you manage your network infrastructure and prevent network disasters. Taking backups, performing firmware updates, et cetera are key tasks that must be performed from time to time, and a reliable tool is needed to make these tasks easy and efficient. To get started with SolarWinds, see the link below.