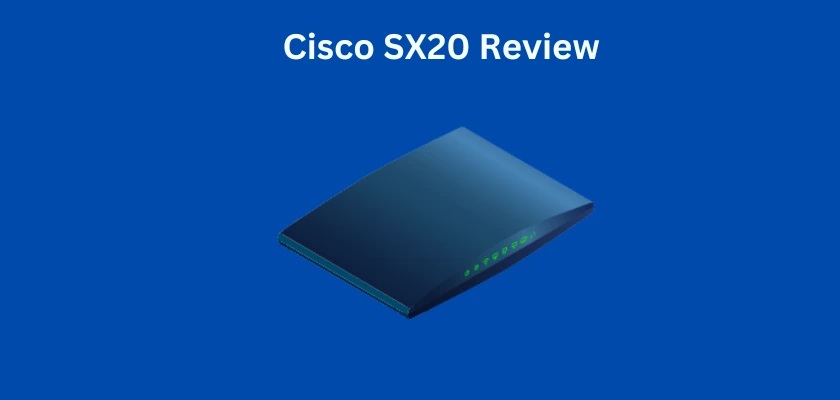 Cisco released the TelePresence SX Series a while back and one of these is the Cisco TelePresence SX20 Codec. It is one of Cisco's sleek and elegant video conference codecs and has a trove of technical features that deliver advanced video conferencing solutions.
From high-definition video and audio to robust network integration, and a friendly Graphical User Interface, the Cisco TelePresence SX20 is one of Cisco's game-changing video conferencing devices. The brand has a wide range of video conferencing solutions and is one of the well-known brands in not just video conferencing solutions but Networking and Communications generally.
As we discuss the Cisco TelePresence SX20 Codec, you will get to see its components, capabilities, setup, ease of use, and how its collaboration features are able to seamlessly bridge the gap between remote and onsite Teams.
Overview of the Cisco SX20 Codec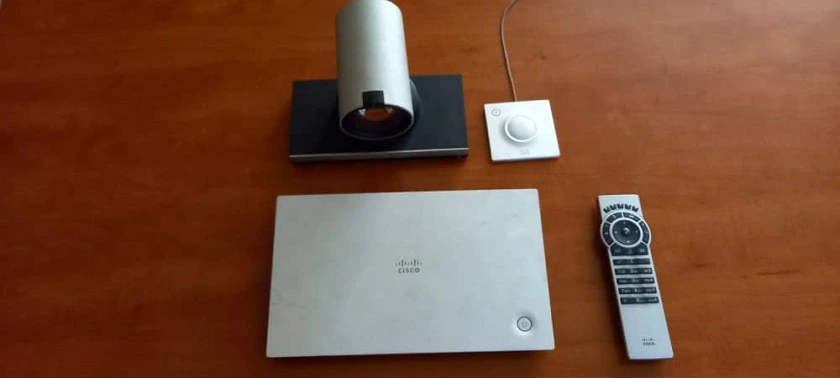 Beginning with the camera, it is a vital component in the entire Cisco TelePresence SX20 video conference system. On the camera base, in front, it has an infrared sensor on the right-hand side where it receives responses from the remote control. Still on the camera base, at the back, you find Ethernet ports and a Power jack to connect the camera to the SX20. The camera is designed with Pan, Tilt, Zoom, Auto Focus, and is easily adjustable and mountable. This provides flexibility in placing the camera in meeting rooms, and its sleek and compact design makes it blend with the SX20 Codec aesthetically.
Looking at the Cisco TelePresence SX20 Codec itself, on the front is its Power button. At the back, you find a number of input connectors. From left to right you find its Power input jack (FSP FSP060-DIBAN2). Then you have an external loudspeaker jack, a PC jack, two microphone jacks, two standard USB ports, and a LAN/Ethernet port. Also, you have a DVI connector for sharing presentations, two HDMI ports for your Primary and Secondary Displays, and the last port to connect the camera.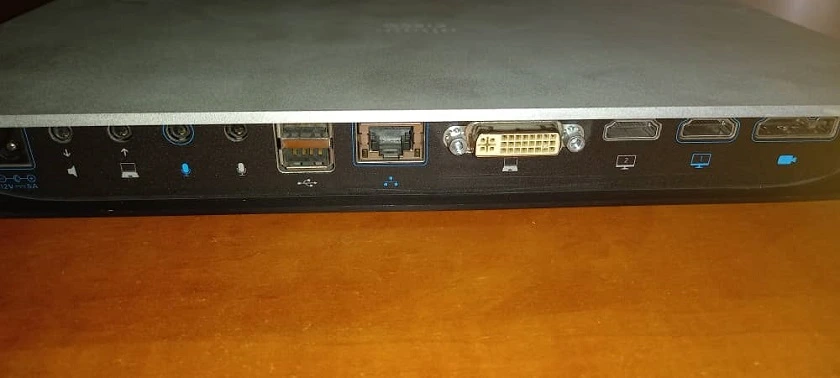 Features and Performance of the Cisco TelePresence SX20
There are a number of features and services with this system for you to benefit from, and we've discussed them below;
(1) Camera and Video Performance
The camera quality and performance of the Cisco TelePresence SX20 system is truly remarkable. The camera is a powerhouse that reliably delivers exceptional video and video capture technology. It is able to deliver crisp and lifelike images that make participants feel they are together in the same meeting room. With its High Definition 1080p resolution, and advanced imaging features built-in, the Cisco SX20 camera optimizes video even in low-light conditions. In addition to these, it has a wide Field of View, even as it is capable of Pan and Tilt capturing large portions of the meeting room. Then also, it is able to perform Automatic Focus, Automatic White Balance, and Noise Reduction. With these, visual artifacts are taken care of and image quality is seamlessly optimized.
(2) Audio Performance
The Cisco TelePresence SX20 system provides you with a rich and balanced reception from your microphones and audio from your speakers. Now, depending on what you already have or how you set up the Cisco SX20 system, you must ensure to position your microphones strategically to get an immersive and natural sound. Also, the Cisco SX20 system performs echo cancellation. With this, feedback or background noise is eliminated from your meetings, resulting in clear communications, and no distractions as a result of unwanted noise. You also have the option to integrate external sound systems to your Cisco SX20 if you have a very large meeting room.
(3) The Graphical User Interface of the Cisco TelePresence SX20 System
This is one of the key components of the Cisco TelePresence SX20 system. It is a central hub for all functions of the system. It has a very friendly user interface with ease of navigation. You get to the GUI using the IP Address of the device on your PC's browser. You get a very visually appealing interface that enables you to control the device, dial a conference ID and join a meeting, adjust the layout of the view, video resolution, volume, and microphone settings. Essentially, the Graphical User Interface is where you configure everything about the Cisco SX20 and without it, you can't even perform the basic Network tasks to get it integrated into your LAN or get it Registered.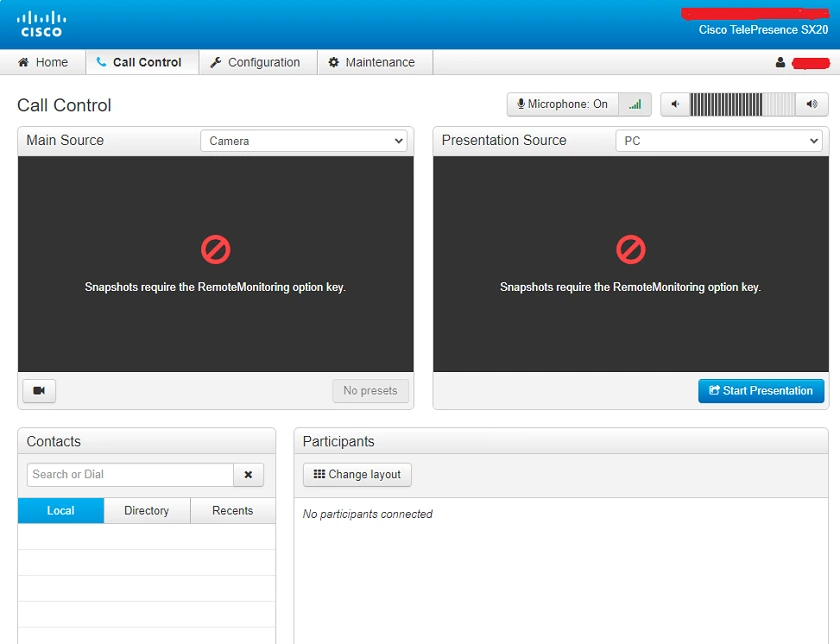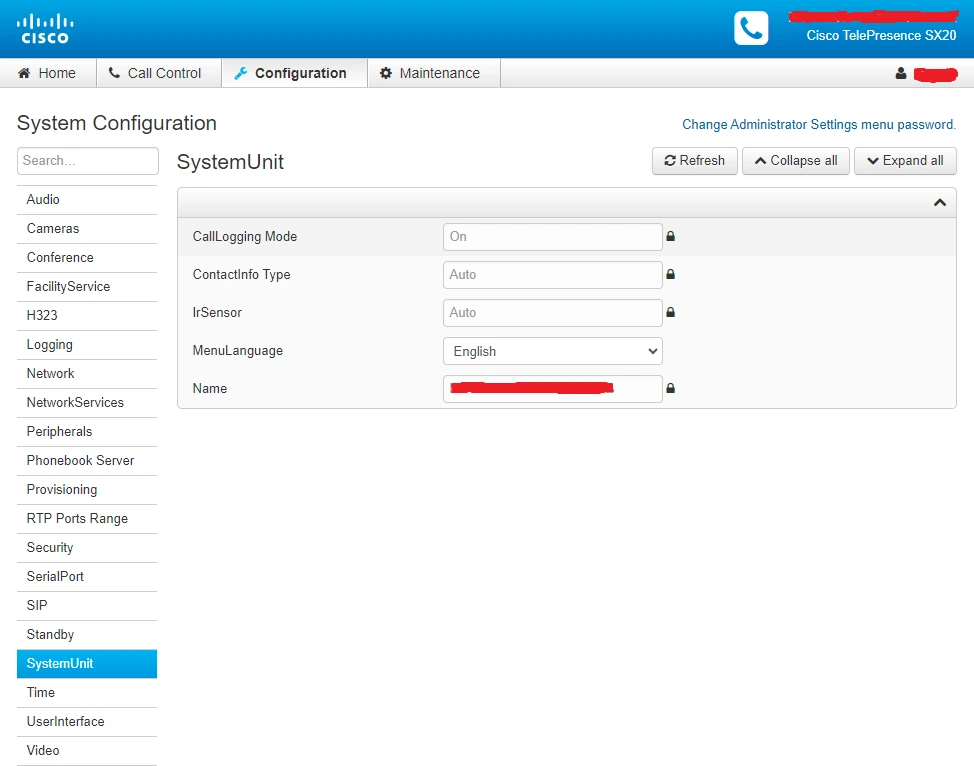 (4) Content Sharing and Collaboration Tools
With the Cisco TelePresence SX20 system, you have dynamic content sharing. Participants in a video conference session can collaborate on presentations, multimedia content, and integrate with other forms of collaboration tools. This helps them take advantage of their preferred tools which enhances efficient collaboration and productivity. Typically, content sources would be from laptops, tablets, and what have you.
(5) Versatility and Scalability
This device is compatible with various video conferencing platforms. This provides harmonization with existing collaboration tools, software, industry-standard protocols, and Unified Communication Systems. Also, this system provides for scalability to meet your evolving needs. You can integrate it with your existing video conference infrastructure, add more features as you require, and the device can accommodate additional endpoints.
(6) A wide range of usage scenarios
Collaboration or video conferencing is an essential part of any business. The Cisco TelePresence SX20 can be used in any type of business or industry such as Manufacturing, Education, Broadcasting, Healthcare, Finance, et cetera. Any business or industry can harness the potentials of the Cisco TelePresence SX20 system to address its unique needs and operational requirements.
Final Thoughts
The Cisco TelePresence SX20 is a powerful and built-to-last system. It was designed sleek and compact to fit easily into any type of setup you want, without compromising performance. It has enough features that deliver you cutting-edge video conferencing services. The security features like Encrypted Communications, Secure Login, et cetera, would also give you peace of mind with your video conference sessions, knowing that your meetings and data are secure. The Cisco TelePresence SX20 system is not a very recent system, but for whatever reason you are looking at it, find links below to get it. Also see our review of the Cisco Webex Codec Plus.