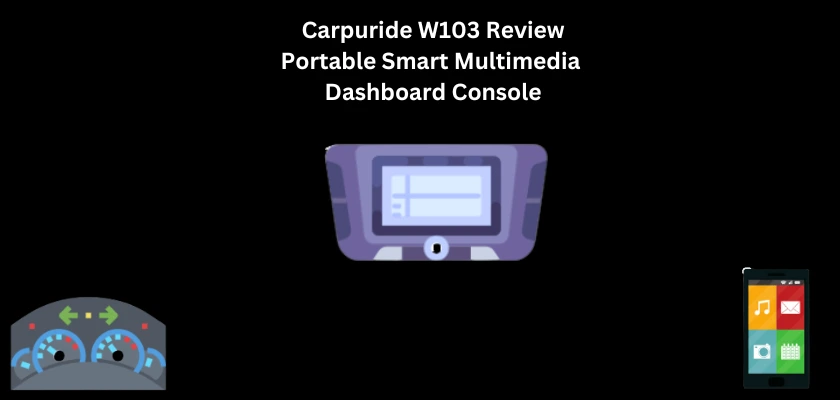 The Carpuride W103 Portable Smart Multimedia Dashboard Console is here. Sometimes, there is the desire for you to want to upgrade your vehicle with a better multimedia infotainment system. This may also be so because the vehicle is older. Whichever the case, the Carpuride W103 Portable Smart Multimedia Dashboard Console can be the device you need.
Carpuride as an automotive electronics brand, has quite a vast array of captivating, and feature-rich portable smart multimedia dashboard consoles. They are a very cost-effective way of upgrading your vehicle's multimedia and connectivity features, and your overall driving experience.
This review speaks to the Carpuride W103 Portable Smart Multimedia Dashboard Console. In the end, you will be better informed about the device, and if it is the best fit for your vehicle.
Let's get started.
Carpuride W103 Overview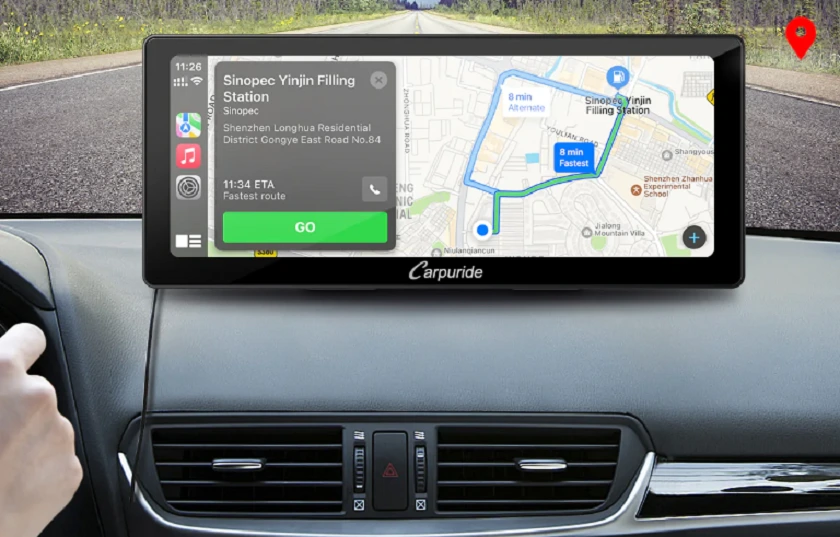 The Carpuride W103 is a beautiful, well-crafted, compact, and portable device. It is designed with a 10.3" FHD IPS Capacitive Screen to provide a better video experience. Now, horizontally, the device measures 10.8 inches, and vertically it measures 4.5 inches. It can be mounted on your vehicle's dashboard or windshield. Again, the Carpuride W103 is suitable for both cars and trucks with a vehicle voltage range of 12 Volts to 24 Volts. Carpuride has another device that's suitable for trucks as well, and you may want to take a look at it; The Carpuride W101.
Moving further on the Carpuride W103, its package contains the device itself, and all that's needed to mount it and get it operational. These include a suction mount, a dash mount, rearview camera with its manual. Then, a charger that plugs into your cigarette lighter port with an input rating of 10 – 36 Volts, and USB-C output with a rating of 5 Volts, 3 Amps. You will also find an auxiliary cable and an installation manual included.  
Taking a quick look at the Carpuride W103 device, on the left-hand side is a USB-C port for power, followed by a USB port for plugging in a flash drive, MP3 player, etc. Then an audio out jack, cam in jack for the rear camera, an SD card slot, and an external microphone jack. This device has an inbuilt microphone as well.
At the back of the Carpuride W103, you will observe its mounting holes and inbuilt speaker. Then at the top, you will find the power button to turn ON the device.
How to Set up the Carpuride W103 and Rear Camera
Depending on your preferences for the installation, you may want to mount the Carpuride W103 on your windshield or on your dashboard. If you are using the suction mount bracket, it is capable of 360° angle adjustments. While the self-adhesive bracket can be adjusted 180° back and forth, 360° round.
You do also have to consider how you're going to hide the wires of this device. With this in mind, simply mount either of them with the Carpuride W103 accordingly, and plug in the charger. The device will come ON and you can integrate it with the sound system of your vehicle using either FM Transmit or Bluetooth Transmit. To do this, simply tap on the Transmit button on the home screen. Then select FM Transmit, and you will then see a frequency displayed. Set the sound system on your vehicle to this same frequency and you are done.
Integrating with Bluetooth Transmit can easily be done by pairing the Carpuride W103 with your vehicle's Bluetooth system. For the rearview camera, we will explain using the picture below.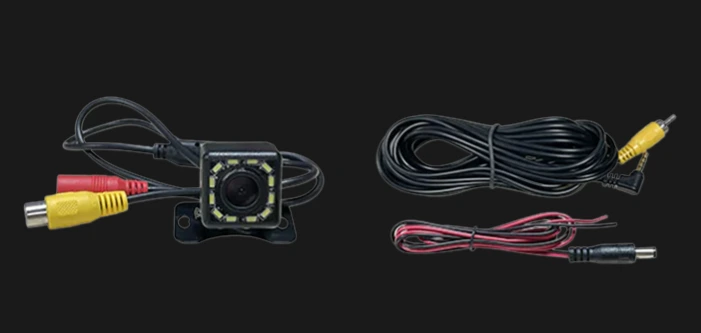 You will observe that the camera has a yellow connector on its cable, as well as a yellow connector on the first cable on the right. Now, simply plug both yellow connectors together. Then, the other connector on the first cable on the right should be plugged into the "cam in" port on the Carpuride W103.
The camera is designed to function with the reverse lights on your vehicle. This means that when you put your vehicle in reverse, the camera should come ON and the camera's feed is displayed on the Carpuride W103. So, to achieve this, take the second cable on the right of the picture above (Red is Positive, Black is Negative) and connect it in parallel with a positive wire as well as a negative wire that's connected to your vehicle's rear lights. Then the Black connector on the other end of this red and black cable plugs into the Red connector of the camera's cable.
Features and Performance of Carpuride W103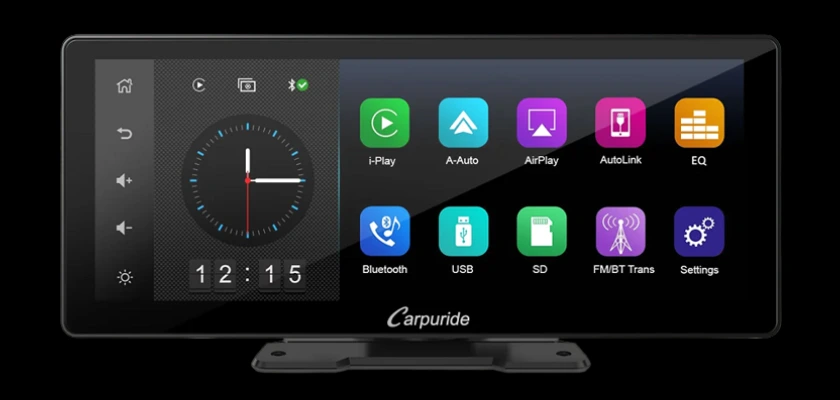 (1) i-Play (Apple Car Play)
With i-Play or Apple Car Play, you have a more convenient and safer way to stay connected with your iPhone. To accomplish this, simply tap on the i-Play button on the Carpuride W103 and you will see the device name. Then open the Bluetooth settings on your iPhone, search for the Carpuride W103, and pair them. The homepage of Apple Car Play will then appear on the home screen of the W103. One nice thing to note is that this is a one-time setup. You do not have to do this pairing every time you get into your car.
Your Apple Car Play gives you access to your contacts, messages, Apple Music, Maps, Podcasts, making and receiving phone calls, etc. You also get to enjoy using Siri voice control, helping you focus more on the road and on the steering wheel. Overall, Apple Car Play functions excellently with the Carpuride W103.
(2) A-Auto (Android Auto)
Android Auto just like Apple Car Play is another convenient way to stay connected with your Android device. If you don't already have it on your Android phone, simply download it from the Google Play Store. Integrating the Carpuride W103 and your Android device is similar to that of the Apple Car Play. So, simply tap on A-Auto and pair both devices.
With Android Auto, you have complete access to apps such as Google Maps, Spotify, Google Assistant voice control, etc. You also conveniently make and receive phone calls, access your contacts, send and receive text messages, and a whole lot more.
(3) Airplay (Mobile Screen Mirroring)
Airplay is another remarkable application to benefit from on your Carpuride W103. It allows you to completely mirror your mobile phone on your W103. You will be able to wirelessly stream media such as audio, video, photos, etc. It simply functions by establishing a wireless connection between your mobile phone and the Carpuride W103. Once this is done, you can begin to stream content in up to 4k resolution. In addition, there's no lag between your mobile phone and the W103; it's a smooth experience all the way.
Before using Airplay, disconnect i-Play. Then tap on Airplay and a Wi-Fi name and Wi-Fi password will be displayed. On your mobile phone, go to its Wi-Fi connection settings and connect to the credentials displayed on the Carpuride W103. Now tap on the screen mirroring on your mobile phone and you should see the Carpuride W103 showing your phone's display.
(4) EQ
This is a sound equalizer that enables you to adjust the sound levels and achieve your desired balance and tone. On the screen, you will observe sixteen knobs that you can play around with and adjust accordingly. As you adjust the sound levels, make sure to do this carefully so as not to excessively boost the sound and lose precision, which will produce distorted and unnatural sound.
(5) Bluetooth
This is a separate function such that if you do not want to connect with Android Auto or Wireless Carplay, you can simply connect your mobile phone via this Bluetooth option. You will then be able to make and receive phone calls, listen to music et cetera.
(6) USB
This is a storage option that enables you to insert an external flash drive to your Carpuride W103 and play the media contained in it. It provides ease of use, and simply tapping on the USB icon takes you straight into the external storage device. The video playback is a smooth experience.
(7) SD Card
Similar to the USB option, you also have the SD Card option. This also gives you instant access to your SD Card's content by simply tapping on the card icon. Also, video playback from the SD Card is a smooth experience.
Full Specifications
The specifications you get from the Carpuride W103 are shown in the table below.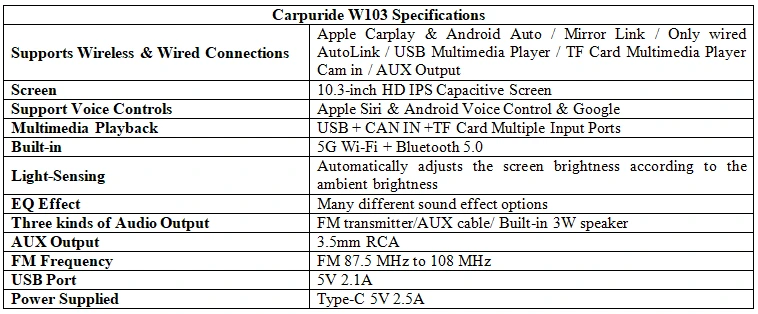 Final Thoughts
The Carpuride W103 is a smart portable multimedia dashboard console that enhances your overall driving experience. You can be more productive while you're on the go, and enjoy a variety of entertainment options.
Along with these is the beauty it brings to your vehicle's interior. Overall, the performance and features of this device are satisfactory.
Get Carpuride W103 on the Carpuride Official Website (30% OFF) Black Friday Discount Code [SHOP30]
You may want to see our review of the Carpuride W901 Pro.