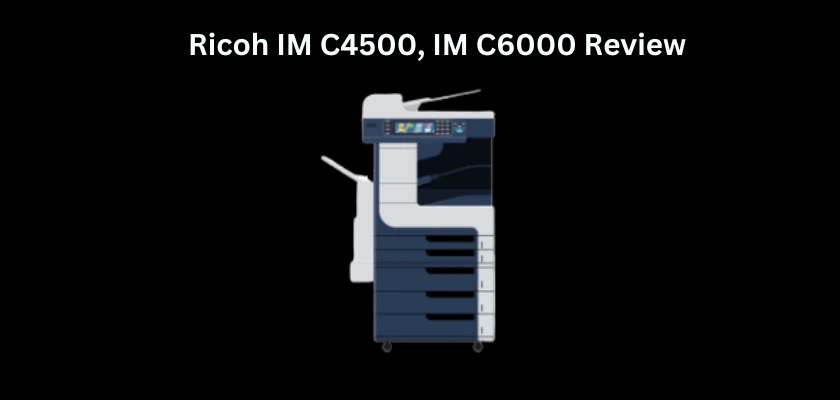 Welcome to our review of the Ricoh IM C4500 and Ricoh IM C6000 Color Laser Multifunction Printers. These are machines that seek to streamline workflows and provide quality print-related tasks.
We look at these machines in detail from their design to their functionalities, to how they combine printing, copying, scanning, and fax effortlessly. They are multifunction powerhouses that individuals and businesses look forward to getting better manageability of document processes. Join in as we journey through this review.
Overview of the Ricoh IM C4500 and Ricoh IM C6000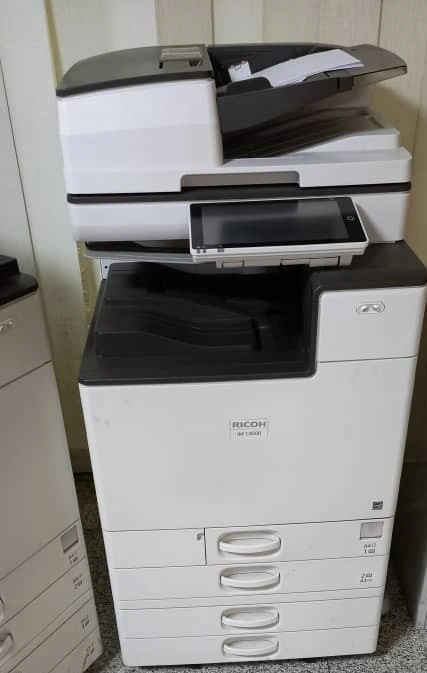 The Ricoh IM C4500 delivers Printing at 45 ppm, as well as Copying, Scanning, and Fax. It has a Maximum Print Resolution of 1200×1200 dpi and a Maximum Paper Capacity of 4,700 pages. The Ricoh IM C6000 delivers prints at 60 ppm, as well as Copying, Scanning, and Fax. It has the same Maximum Print Resolution and Maximum Paper Capacity as the IM C4500.
Both machines have a keyless Smart Operations Panel that enables you to log into them and perform various tasks. They have a Single Pass Document Feeder (220 Sheets), two 550 Sheets Paper Tray, a 100 Sheets Bypass Tray, Automatic Duplex, Drums and Developer, PostScript3 Emulation, PDF Direct Print Emulation, and Envelope Feeding using the second paper drawer and bypass tray.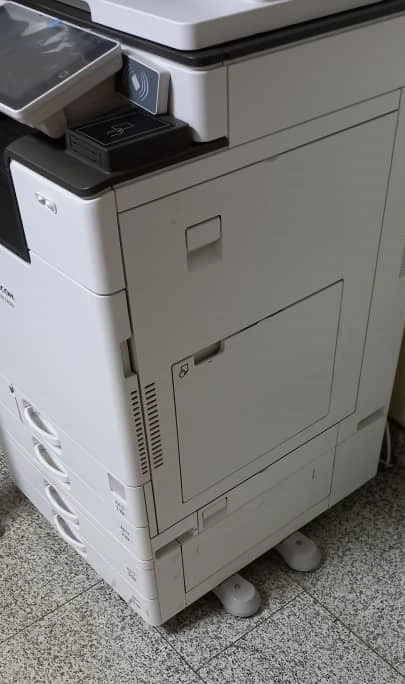 Other features are USB Host Interfaces that provide Scan to and Printing via USB or an SD Card, 320GB Hard Disk Drive, Hard Disk Encryption, 2GB of RAM, DOSS (ISO 15408 Certification), and Gigabit Ethernet. With both machines, you have optional hole punching for Internal Finisher with the PU3070 NA Punch Unit, and supports 11" x 17" paper sizes. You also have the PU3080 NA Punch Unit for SR3260 Finisher and SR3270 Booklet Finisher (11" x 17" Paper Sizes).
Fax with these machines supports the Fax Option Type M37. Its transmission time is 2 seconds, with a speed of 33.6 kbps. It features T.37 Standard Internet Fax, IP-Fax T.38 and Local Area Network Fax, as well as Fax Forward to Email, Paperless Fax, Standard JBIG, and Standard 320 Pages Memory. These machines also support the M19 64MB Fax Memory Unit and deliver a Fax Resolution of 400 x 400 dpi, and increase Fax Memory to 4,800 Pages.
Adobe Photoshop, Adobe Illustrator, PDF/X, and additional font support are available with Standard PostScript3 and PDF Direct Print Emulation on the Ricoh IM C4500 and Ricoh IM C6000. Then, you can also make use of PostScript3 Unit Type M37.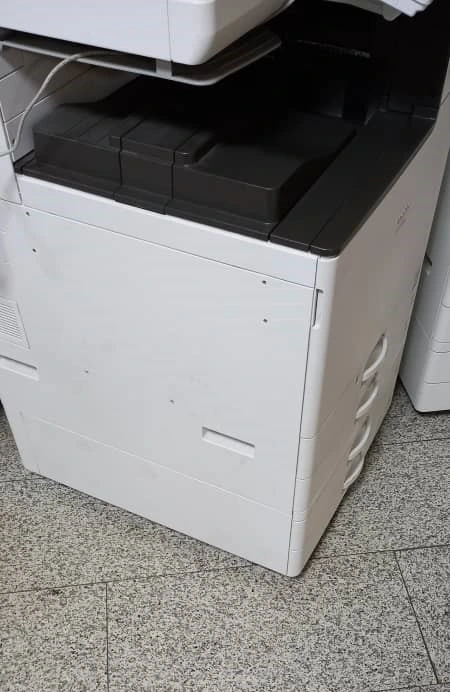 It is worth mentioning that the Ricoh IM C4500 and Ricoh IM C6000 Multicolor Function Printers are extremely powerful machines with more optional accessories and advanced printing technologies that provide remarkable results for end-to-end document reproduction.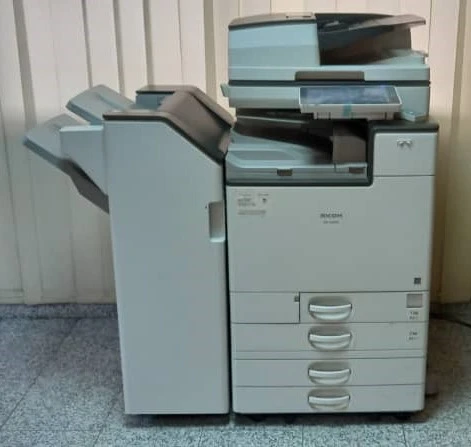 The Smart Operations Panel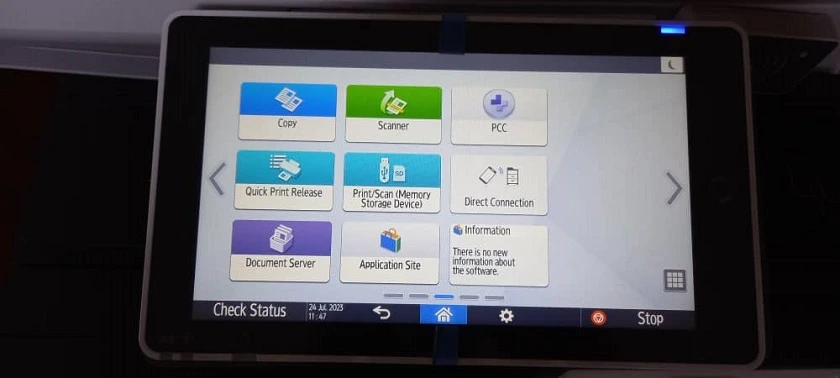 The Ricoh IM C4500 and Ricoh IM C6000 are both designed with a large, 10.1-inch, full-color, smart operations panel. This panel is a key feature of these machines and a central hub to getting into the printers' capabilities and customizing them.
It is user-friendly, intuitive, and provides easy-to-understand icons, buttons, and simple navigation through Menus, which makes it easy for any user to get started with these machines without extensive training. Its Multifunction Control capabilities give you access to integration of Applications and Services such as Cloud Storage Platforms, Mobile Printing, Scanning to Folders, Scanning to Email, Copying, Scanning, Printing, and Fax.
Firstly, every user must be Authenticated. An Administrator must create a Username and Password in the address book of the Ricoh IM C4500 and Ricoh IM C6000 to enable Basic Authentication. Also, User Code Authentication is another type of access that can be granted to any user. With this, a user is to enter in a code of up to 8 characters, which is then checked with registered data in the address book, before access is granted.
In addition, the Ricoh IM C4500 and Ricoh IM C6000 Multifunction Print Machines both support Lightweight Directory Application Protocol Server (LDAP) and Windows Domain Controllers. With this, you can provide user authentication with Windows/LDAP. Also, you can attach a Card Reader to the Ricoh IM C4500 and Ricoh IM C6000 to enable Card Authentication (as seen in the fourth picture in this article). So, a Username and Password is eliminated, and a user can simply use a properly documented and registered card to log in. Common Access Card (CAC) Authentication, Personal Identity Verification (PIV), SIPRNet Token Authentication Solution, et cetera are all usable with both print machines.
Performance of the Ricoh IM C4500 and Ricoh IM C6000
(1) Design and Appearance
The Ricoh IM C4500 and Ricoh IM C6000 have a very robust build as expected of top-tier print machines. Both machines weigh 223.5 lbs (101.4 kg), and W x D x H is 23.1 x 27 x 37.9 inches and in millimeters 587 x 686 x 963. Having them on the ground, they do not take up much space, and they have a modern design that blends well in any office setting.
(2) Print Speed
This is one of the most remarkable features of both machines, 45 pages per minute on the IM C4500 and 60 pages per minute on the IM C6000. With these, you are assured of timely delivery of print tasks, without compromising on the quality of the output.
(3) Versatility with Paper Types
Both machines are designed to handle multiple paper types which makes them suitable for various print jobs. With up to 4,700 pages capacity, they can deliver your standard office documents, as well as your brochures, marketing materials, and all other diverse printing needs.
(4) Scanning Capabilities
In addition to their print capabilities, the Ricoh IM C4500 and Ricoh IM C6000 also perform rapid scanning with support for various file formats. You also benefit from Optical Character Recognition, and all these enable you to quickly digitize your documents and take away the need to acquire separate scanning machines.
(5) Network Integration and Network Security
These machines integrate with your Local Area Network and security with these machines is extremely important. Some of the ways in which security can be compromised are tapping that occurs through your Local Area Network, leakage of data from Hard Disk Drive, through Fax telephone lines, and through unauthorized access that's gained through the operations panel. Now, these machines have measures to take care of these aforementioned potential security threats.
Firstly, Ricoh DataOverwriteSecurity System (DOSS) obliterates temporary data that are stored on the hard drives of these machines when they scan, receive data from a computer, or user-entered data. Then, hard drive encryption is also provided with the AES 256 bits standard to ensure that if a hard drive is stolen, all data in it is encrypted and cannot be read.
Protection of the Fax line is also ensured. Only Fax data is processed via this line and routed to the appropriate functions of the device. With this, unauthorized access via Fax is eliminated. These machines are also designed with SSL and TLS protocols that provide audit trails as well as administrative control.
Another remarkable security feature in the Ricoh IM C4500 and Ricoh IM C6000 is Locked Print. With this feature, only a document owner can access it with a PIN. This can also be tied to his or her user account and card authentication. Lastly on this, Copy Data Security is built into these machines. This enables unauthorized copying of hardcopy documents such that, invisible lines are imprinted on documents, and if it is reprinted, these watermarks become visible.
Ricoh IM C4500 Drivers & Ricoh IM C6000 Drivers
Ricoh IM C4500 and Ricoh IM C6000 Printer Drivers, Scanner Drivers, Fax Utilities, and Firmware are essential tools for their key operations and any other printer you own. They are also very essential to taking care of vulnerabilities. Then also, Ricoh Multifunction Printers do not boot up if the device firmware is compromised or altered. With the Ricoh Trusted Platform Module (TPM) and a digital signature, these machines are able to validate Application Firmware, Operating System, Boot Loader, and BIOS. In addition to these, there are also some key points to consider in obtaining and using Ricoh IM C4500 Drivers as well as Ricoh IM C6000 Drivers. Let's see them below:
(1) Driver Compatibility
Ricoh IM C4500 IM C6000 Drivers are specific to their respective models and the Operating System running on your computer. You have Windows Client OS, Windows Servers, Mac OS X, UNIX, and SAP R/3. So, ensure to select the appropriate Ricoh Driver that supports your Operating System.
(2) Functionality
The Ricoh printer drivers essentially provide device functionality. They can also give you access to more advanced features for the machine, and you may find out that different options are available. Some may have functionality for particular features while others may not. For example, Printer Command Language and PostScript.
(3) Ricoh Printer Drivers for Network Printing
The Ricoh IM C4500 Drivers and Ricoh IM C6000 Drivers are needed for network printing. When these machines have been integrated into your Local Area Network, you can install them on all the computers that are running in your network. With this, users can print simultaneously. Ricoh IM C4500 Drivers and Ricoh IM C6000 Drivers, Scanner Drivers, Fax Utilities, and Firmware can be Downloaded on the Ricoh Offical Download Page.
Ricoh IM C4500 Specifications & Ricoh IM C6000 Specifications
The full specifications of both machines are shown below.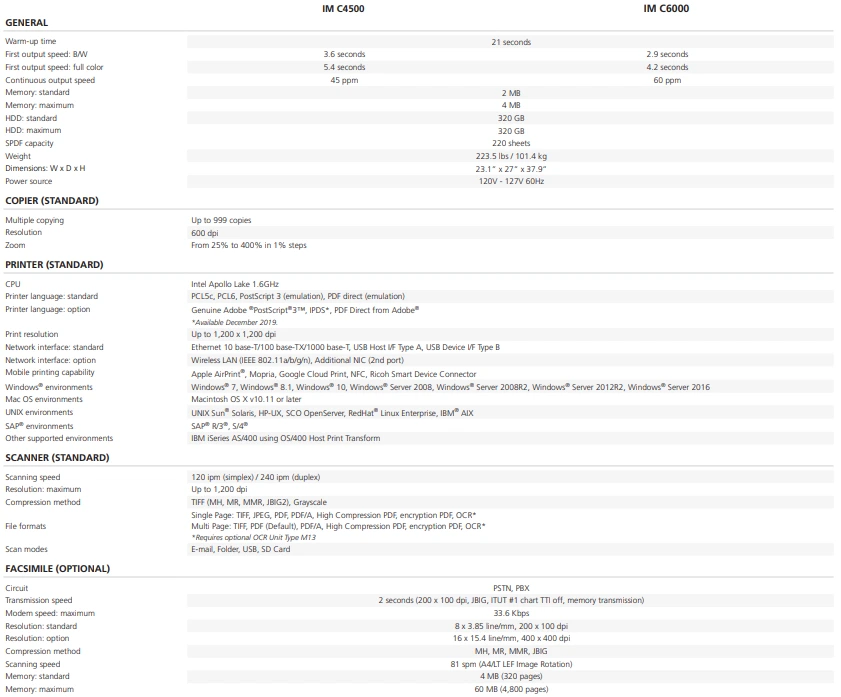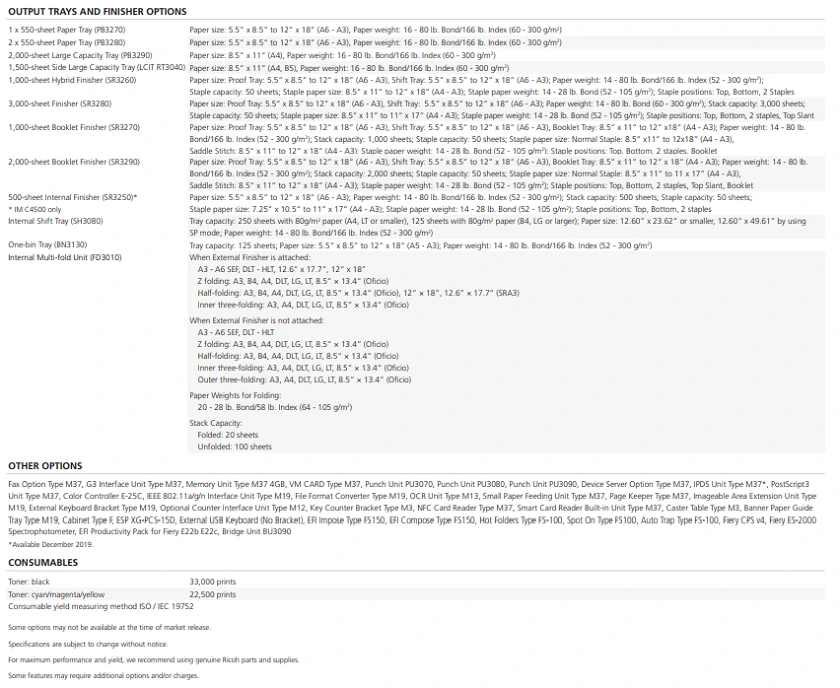 Final Thoughts
The Ricoh IM C4500 and Ricoh IM C6000 MFPs can be the machines you desire. Versatility, high performance, excellent print quality, speed, durability, user-friendly features, advanced capabilities, and a lot more are available to streamline your workflows. Whatever your business size, or the needs of your office, you will find both machines suitable for achieving professional-quality results with print-related tasks.
You may want to see the Epson WorkForce Enterprise WF-C21000 Color Multifunction Printer (100 PPM)
See our review of the Ricoh IM C3500 and IM C3000 or the Kyocera Taskalfa 3050ci.