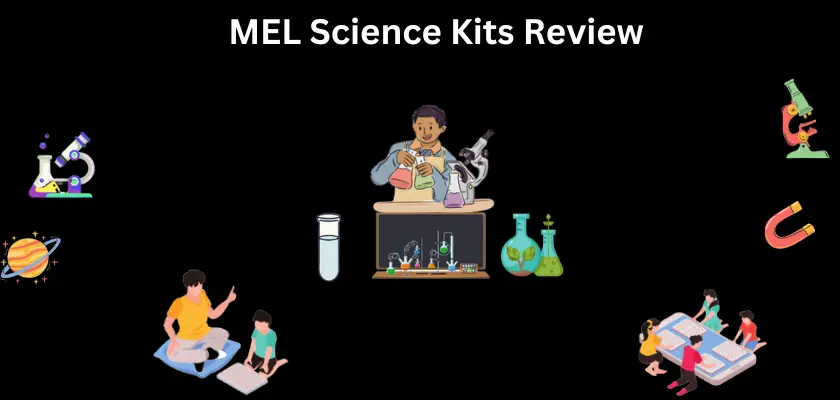 This MEL Science Kits review is aimed at providing a valuable guide for all and sundry who desire Homeschool Science Kits for the overall benefit of their children.
When it comes to something as important as your kids' education, you want to be sure it's left in the right hands. The right hands in this case should be a tool or a place where your kids can learn while having fun. Turns out, fun experiences release hormones that help with successful learning.
One tool most parents love and believe ticks this box is the MEL Science Kits, especially for kids from ages five to fourteen. MEL Science aims to make science education interactive, fun, and effective with subscription-based homeschool kits. Inside the MEL Science Kits' Subscription Boxes, your science-hungry kids will find hands-on experiments they won't be able to resist (just a little heads up, though they might need a bit of parental supervision). Examples are the MEL Science Medical, MEL Science Maths, MEL Science Space, MEL Science Physics, MEL Science Chemistry, and MEL Science STEM.
I bet you have questions. Is this kit the perfect fit for your kid? Are there any drawbacks you should know about? How does it stack up against other science subscription services? Don't sweat it, by the end of this guide, you'll find your answers.
Fun Fact: MEL stands for More Efficient Learning. Let's see if it lives up to the name.
What is MEL Science?
MEL Science is a subscription-based learning service that offers various hands-on science experiment kits to your kids. They bring these kits right to your doorstep once a month. The idea here is to get the best of homeschooling and traditional school settings.
Take for instance, students often learn through practices, textbooks, and theoretical explanations in school. However, with MEL Science Kits, they get to experience real experiments at home, just like they would in their school's science lab. This makes learning more memorable and impactful. The setup is also just like a teacher guiding them through the experiments in a school lab.
MEL Science offers six homeschool science kits (we'll get to these later) with high-tech solutions like augmented reality and virtual reality. In each box, you'll find the instructions and materials your kids need to conduct up to three experiments. However, the right MEL Science Kit or experiment will eventually depend on their ages. Again, you can always stay to watch or support them a bit.
MEL Homeschool Science Kits
Primarily, there are four subscription kits but you have the STEM (Science, Technology, Engineering, and Mathematics) Kits, the Physics Kits, Medical Kits, Chemistry Kits, Maths Kits, and Space Kits.
MEL Science STEM Kits
As mentioned earlier, the right one for your kid will largely depend on his or her age. Take for instance, the STEM Kit, also called the MEL Kids, is most appropriate for children from ages five to nine. In each box, you'll find brain-tasking projects alongside augmented reality and live class sessions. As for the projects, your kids can build a gyroscope, a robotic hand, DIY headphones, a hydraulic lift, or an electric boat. These homeschool science kits are an opportunity to hit on one of the S, T, E, or M Educational Pillars.
MEL Science Maths Kits
Suppose you want a stand-alone Maths learning experience for your kid, opt for the Maths Kits. You should go for this only if the kid is between eight to twelve years old. With MEL Science Kits for Maths, kids can enjoy activities like infinity cubes to test their Maths knowledge in real life. There are also Geometry activities to show your kids how beautiful Mathematics can be. What's more, keep the kids busy with unbeatable games where they can test their understanding of Probabilities. Even better, the little Mathematicians will be able to learn with a renowned YouTuber, Kevin Lieber who will help them understand complex Maths concepts in an interactive and fun way.
MEL Science Physics Kits
Moving on to MEL Physics, bet the name is a giveaway already. This is best for kids around eight to fourteen years. As expected, you will find two to three Physics experiments in a MEL Science Kit for Physics. Each experiment will be about Physics concepts like Luminescent Lighting, Internal Stress, et cetera. For instance, working with Crystals on a Tin or Cyanotype. If you've heard about MEL Science as far back as 2021, chances are you'll only know the brand for its Chemistry Kits. Kids above 10 years will definitely find this a fun experience.
MEL Science Chemistry Kits
In the first month, you'll get a Starter Kit alongside two experiments. The deal also comes with a Virtual Reality Headset. Then, subsequently, you'll start receiving two to three fresh Chemistry experiments. Speaking of which, your kids will have fun doing things like Converting Cool Liquid to Hot Ice, and making Metallic Quills grow on Zinc Pellets. Your aspiring Ben Carson or Georges Mathé won't definitely mind exploring the Medical Kits. But you should only allow them if they are over fourteen years of age.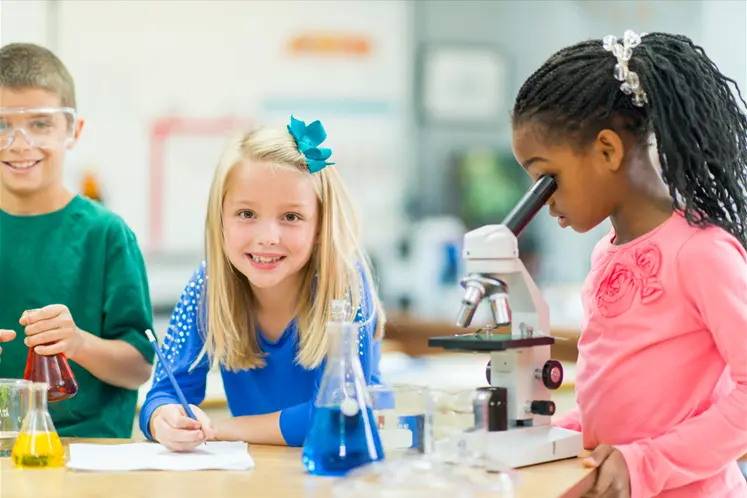 MEL Science Medical Kits
In this kit, you'll find Forehead Thermometers, Sphygmomanometers, Theraphy Sets, Stethoscopes, and other interesting Medical Equipment. The experiments range from Surgery and Dentistry to Pharmacy. There's also an in-app video guide where real doctors and virtual parents will help streamline your kid's learning experience. Finally on the MEL Science Homeschool Kits, say you have a child who can't stop talking about space. Here's the opportunity to satisfy their curiosity with the MEL Science Kits for Space.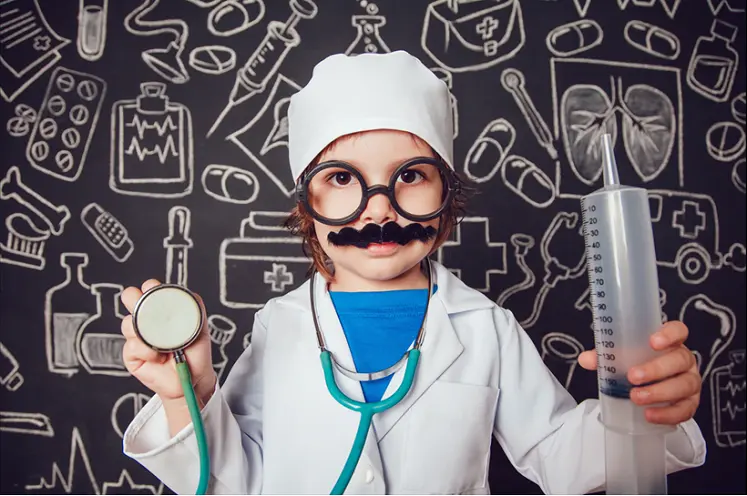 MEL Science Space Kits
Before gifting your kid with a MEL Science Space Homeschool kit, ensure he or she is above eight years of age. That said, the MEL Science Space Kit will help them better understand the Concept of Energy in space, and probably help them launch their first space rockets. Again, always bear in mind the recommended age range when buying any of these kits as a gift. Your children might have to deal with chemicals, glass, scalpels, motors, et cetera. These are not toys, they are highly lively and interactive. In fact, if care is not taken, you'll find things igniting, moving, flying off, or even getting cut open. Of course, that's not all. These learning experiences are highly tailored. Depending on the age they are meant for, they might sometimes include complex vocabulary and professional languages. So, if a younger student is using it on their own, these things can go over their head.
How Does MEL Science Work?
MEL Homeschool Science Kits subscription works just like any other subscription program. You Signup for the plan you want, and every month, you get various experiments to conduct at home. A chunk of the learning is done on MEL Science downloadable apps. There are three of them (MEL Science, MEL VR Science Simulations, and CuriosityQ) and the appropriate one to download depends on the chosen kit.
In essence, these apps serve as a central hub for education and instructions related to MEL Science Homeschool Kits. So, you, for the most part, won't have to worry about losing various instructions and manuals. Also, the app has some interesting and practical features. For example, you will get visual instructions on how to get started with the experiments the right way. You will also see simple diagrams to make the user experience even smoother.
Here's where it gets even more interesting. You will find video demos for different experiments in the app. It further tells you how difficult or dangerous each project can be. So, as a parent, you will get a better idea of what to expect and how wrong things can go. This will help inform the level of supervision you want to ensure. When the kids are done with the experiments, they can take pictures of the results of the experiments. The kids can keep these pictures or send them out as a form of social recognition for the feat they just achieved.
There is also a progress tracker. With this, you and your kids can keep monitoring projects carried out by the kids and how much they are learning over a period. The MEL Science STEM app is quite different from the rest. Because it is mainly made for kids, it features a more interactive cartoon experience. For other apps, there's a different section for demonstrations and explanations. But things are different with STEM. Essentially, it showcases animated lessons as shown below.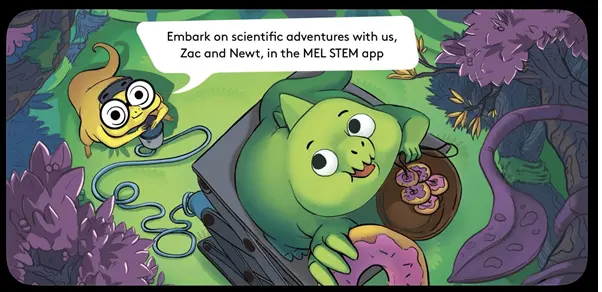 You will agree that this structure makes more sense considering that it is for younger age ranges with an attention span lower than that of a goldfish. This leads nicely to one of the major drawbacks of MEL Science apps. This is the fact that there's no unified app for all the Homeschool Science Kits' products. As such, you might sometimes be forced to download different apps if you have kids of diverse age ranges. Say you have a kid interested in Physics and Chemistry, then you might have to download CuriousQ. You will also be required to download the MEL VR Science Simulations app. Then you have a younger kid whose most appropriate kit is STEM, in this case, you have to download the actual MEL Science app as well. But the good thing is that the apps are less bloated. They are quick and very well streamlined which is essential for resource and storage-intensive Virtual Reality sessions.
What are the Pros and Cons of these Homeschool Science Kits
MEL Homeschool Science Kits have their fair share of ups and downs. To make the best decision, it's important for you to weigh both sides. So, let's dig in.
Pros
(1) Every box comes with multiple projects that will last the kids for up to a month.
(2) It also has some super cool high-tech VR and AR lessons. This presents kids with a more engaging, informative, and immersive learning experience.
(3) Anyone can follow the instructions to set up and carry out the experiments.
(4) The box contains everything needed to complete an experiment. This is something most other Homeschool Science Kits lack.
(5) The quality of the learning material is super high and in-depth, which is quite surprising, to say the least. Most similar services just want the kids to have fun so they often sacrifice the quality and depth of their lessons. But MEL Science is different in this case.
(6) The applications are smooth, functional, and have the most features you'd need.
(7) On to the main part – the experiments. Although they are just like classic science experiments, you can be sure of mostly dramatic and interesting results.
Cons
(1) These Homeschool Science Kits often need parental supervision. As mentioned earlier, they sometimes involve chemicals, glass, and other sharp objects that an unsupervised child can wreak havoc with.
(2) MEL Homeschool Science Kits are not the cheapest you'll find around. Although, they are not the most expensive either. At $29.9 monthly, these prices can add up gradually.
(3) To get the best out of this tool, the kids need an ample amount of screen time, which is not always advisable for their sight.
Final Thoughts
If there's one thing you've discovered in this review, it is that MEL Homeschool Science Kits are a surefire way to give your kids a fun and hands-on learning experience. MEL Science Kits come with great instructional materials coupled with supercool gadgets and features. It is safe to say MEL Science has hacked the balance between interactivity and education.
Still, before deciding, be sure to weigh the upsides and downsides. If the pros overweigh the cons for you, then bet $29.9 to $65 isn't so much to shed out monthly for the best learning experience for your kid. Fairly, every one of the kits is similarly priced at $29.9. Except for the Medical Kits which tend to be more complex and demanding. Thus, they cost about $64.9. These prices include several add-ons; for example, with $29.9 you can get a starter kit, a hands-on video guide, and a virtual reality headset with MEL Chemistry Kits. Your kids will also get everything they need to set up their home labs such as a flask or a microlens.
The subscription frequency is monthly. Thus, your child can keep up with their education and build on what they learned the previous month. In addition, you can decide to pay annually. This comes with its own set of benefits. For example, MEL Science assures you can get a 12-monthly subscription at the price of eight months, that's money saved for four months. But this also means that you will have lesser control over the subscription. If you pay monthly, you can always decide to pause or cancel your subscription anytime you want without incurring any cost. Now, the choice is up to you.
Get started with MEL Science on the MEL Science Official Website ($40 Discount)