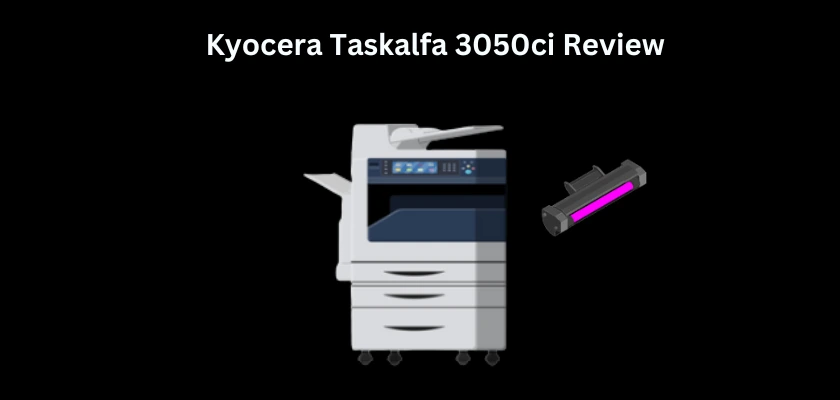 The Kyocera Taskalfa 3050ci is featured in this review. High-quality document management is very desirable for any business. It is synonymous with productivity and can be achieved with a device with outstanding quality.
We explore the Kyocera Taskalfa 3050ci multifunction color printer to see what it is capable of. We will look into its technical aspects, its print and scanning performance, additional features, physical components, user interface, security, and overall suitability for document management needs.
Let's get started.
Overview of the Kyocera Taskalfa 3050ci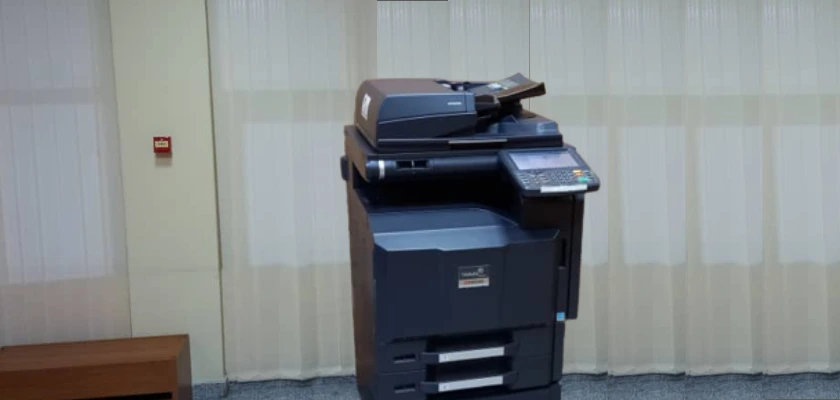 Firstly, the Kyocera Taskalfa 3050ci is a powerful multifunction color printer with a vast array of features and components. The key features and components of the device are:
(1) It's Control Panel
The Kyocera Taskalfa 3050ci is designed with a control panel just at the top, in front of the device. It presents you with a Graphical User Interface and a Numeric Keypad to enable you Log into the device. Also, on the Control Panel, you have Navigation Buttons and Function Buttons to provide you with quick access to commonly used features such as copying, scanning, printing, et cetera.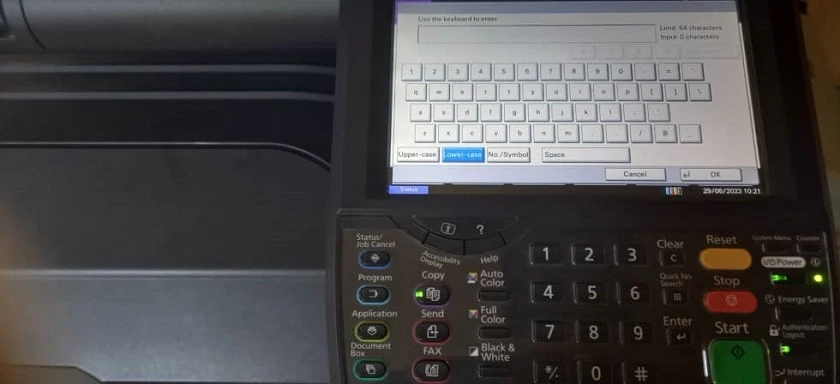 (2) A Document Feeder
At the top of the Kyocera Taskalfa 3050ci, you have a Document Feeder that enables you to put a bunch of papers while scanning or copying. With this, you save time as it quickly processes these papers or documents without you having to do it manually, page by page.
(3) Scanning Glass
If you lift up the Document Feeder on the Kyocera Taskalfa 3050ci, you will find the Scanning Glass. This helps you to scan or copy small documents or single pages that would not be suitable for the Document Feeder.
(4) Output Tray
The Output Tray is the next compartment just below the Scanning Glass area. This tray is the receptacle for all printed and copied documents. It has a large capacity to keep all processed documents, and it keeps them sequentially just as they were fed into the device.
(5) Paper Trays
Next, on the front of the Kyocera Taskalfa 3050ci you will observe two drawer-like compartments. These are the Paper Trays and the first houses A4 sizes and the second houses A3 sizes.
(6) Bypass Tray
The Kyocera Taskalfa 3050ci is designed with a Bypass Tray located on the right-hand side. With it, you can print on different paper sizes like envelopes and labels. With this also, you do not need to unload the main paper trays.
(7) Toner Cartridges and Drum Units
Toner Cartridges hold the powder that is used for print jobs. The Kyocera Taskalfa 3050ci operates with individual cartridges for Black, Magenta, Cyan, and Yellow. Obviously, they have to be replaced when they are out of toner. Then, the Drum Units function by moving toner onto paper during printing.
(8) Fuser Unit and Duplex Unit
The Fuser Unit uses heat and pressure to permanently fuse toner onto paper. With this, the finished document does not smudge and remains durable. While the Duplex Unit provides you with Automatic Double-Sided Printing.
The above points are key aspects of the Kyocera Taskalfa 3050ci and it is a feature-rich machine with accessories and configurations that you can deploy based on your specific needs.
How to Set up the Kyocera Taskalfa 3050ci
Setting up this machine requires you to have some knowledge of Networking in relation to computers and network devices. For example, the machine needs an IP Address, a Subnet Mask, and a Default Gateway to function. With these, it can communicate with your PC and other PCs in your office. Now, this IP Address can be Static or Dynamic. With a Static IP Address method, you simply input it in the Network Settings on the Kyocera Taskalfa 3050ci. Then, with a Dynamic IP Address, you would need a DHCP Server which will issue out an IP Address to the machine and other devices in your office that connect to your network (LAN). It is preferable to use a Static IP Address and Reserve this IP Address in your DHCP Server so that you can manage the machine easily, remotely via Graphical User Interface. Also, it will be easy to Ping this IP Address from your PC and know if the Kyocera Taskalfa 3050ci is reachable or not.
Moving further, depending on your office setup, you may have your own office email address and you would need SMTP Settings. This means Simple Mail Transfer Protocol and provides you with Scan to Email on your Kyocera Taskalfa 3050ci. SMTP Settings come with an SMTP Server Name, Port Number (20, 465, 587), Authentication Protocol, and your office Email Credentials.
A Print Server will also be integrated in your office network infrastructure and configured accordingly. Printer Drivers (KX Print Drivers) are also essential for the functionality of the Kyocera Taskalfa 3050ci. The kX Print Drivers are also updated regularly to provide Security Enhancements, Driver Fixes, and New Model Support. With these in place, you can power up the machine, follow the On-Screen prompts and enable print services for multiple PCs.
Features and Performance of the Kyocera Taskalfa 3050ci
(1) Build Quality
The Kyocera Taskalfa 3050ci is a very rugged machine. It is built strong to withstand the rigors of daily use in any type of business or use case. Its appearance is also visually appealing, as attention to detail is very obvious in the machine. It has well-carved edges, a well-organized Control Panel, and its overall appearance blends seamlessly into any business or office environment.
(2) Print Performance
The Print Performance of this machine is remarkable. It produces very crisp and clear print quality with its Advanced Kyocera Technology. With a maximum print resolution of 9600 x 600 DPI, a maximum print speed of 30 ppm (Black & Color, A4), with 15 ppm for A3 (Black & Color), it delivers exceptional print quality and its speed is very adequate for high-volume printing.
(3) Copy and Scan
In this regard, this machine is also able to reproduce documents and images accurately at a maximum resolution of 600 x 600 DPI. It is capable of a maximum of 999 copies and digitizing documents with this machine is desirable. You can conveniently distribute and archive your documents with Scan to Email, and Scan to Folder. Its capacity to copy at 999 at a time caters to large-scale copying requirements and its Automatic Document Feeder makes this process easy and rapid. You also benefit from ID Card Copy and Image Repeat.
(4) Fax
On this machine also, you get a 3 Sec/Page Fax Transmission Speed. It has a 12MB Fax memory and supports JBIG, MH, MMR, MR, and Duplex Faxing.
(5) Control Panel and Graphical User Interface
This is another remarkable part of this machine. The Panel Navigation is a full-color, touchscreen display that is very user-friendly with a lot of options and settings to enhance your use of the machine. You will discover the Menu to be very well organized such that you are able to locate and customize the machine easily. You also have Shortcuts that take you to frequently used functions thereby providing easy access to repetitive tasks.
(6) Security
The Kyocera Taskalfa 3050ci is also built with security features to ensure your files and sensitive information are protected. Users of the machine first have to Log in with their credentials and so unauthorized access is prevented. Then, you have Data Encryption with Network Authentication that are also available to give you satisfactory security with your use of the device.
(7) Maintenance
With this machine, you have Kyocera's long-life components. These have very long lifespans and provide consistent print quality over a long period of time.
Final Thoughts
The Kyocera Taskalfa 3050ci is evidently a machine with remarkable print quality and performance. It is a suitable machine for any serious business that desires an efficient document management solution.
The device is built strong to cater to the demands of large printing activities with remarkable speed to eliminate delays and maintain efficient workflows. Its performance with regards to reproduction of documents and images is very impressive and overall, the device leaves no room to be faulted.
You may want to see the Epson WorkForce Enterprise WF-C21000 Color Multifunction Printer (100 PPM)
See our review of the Ricoh IM C3500 & Ricoh IM C3000 or the Ricoh IM C4500 and Ricoh IM C6000.