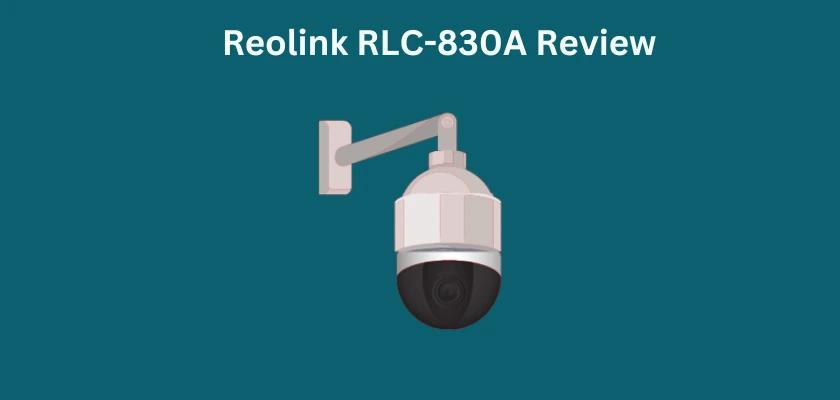 The Reolink RLC-830A is here and as usual, expectations are high as to what it is capable of. It is very similar in appearance to the Reolink TrackMix Series, particularly the Reolink TrackMix PoE version.
Before we begin in earnest with the review of the Reolink RLC-830A, personal security has become extremely vital in our world today, and surveillance systems can get the job done. They can deter potential intruders, help identify unauthorized access, help keep an eye on your acquaintances and pets, and provide you with evidence. Now, some manufacturers of surveillance systems stand out from the competition, this includes Reolink. The brand has a vast array of smart surveillance cameras with remarkable functionality and video quality.
The Reolink RLC-830A is akin to the Reolink TrackMix Series that's loved by so many. Let's see what you can expect from the RLC-830A and how it compares to the Reolink TrackMix PoE model.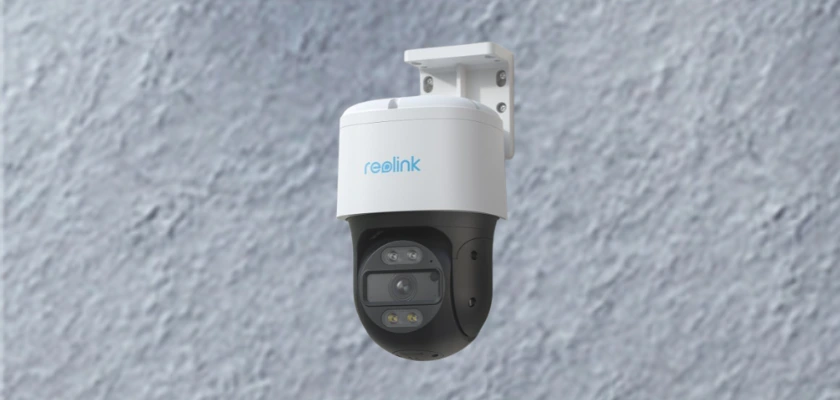 Overview of the Reolink RLC-830A
The Reolink RLC-830A has a very domineering appearance, well constructed, and is very robust. In front, you find 2 pieces of infrared LEDs capable of a 15 meters distance. Just below the infrared LEDs, to the right is the camera's microphone. Below this is the camera lens (1/2.7″CMOS Sensor, f=4mm, fixed; f=1.6, 8 Megapixels). To the right you have the camera's daylight sensor, and 2 pieces of spotlights below. Then you have a micro SD card slot (up to 256GB), a reset hole, and a loudspeaker.
In the package, you will find the Reolink RLC-830A, a quick start guide, a mounting template, a 1-meter Ethernet cable, a waterproof lid, a surveillance sticker, screws and anchors. The Reolink RLC-830A is a PoE camera. With Power over Ethernet, the device will receive power to come ON, as well as network connectivity if you connect it to a PoE Enabled Switch. A PoE Injector is an alternative if your switch doesn't have PoE. Then also, depending on what you already have, you may need an additional Ethernet cable, and the included one may not be long enough. As you consider these, you may also want to know how to connect these network devices together if you haven't done it before. To learn more about this, see this article.
The Reolink RLC-830A is an outdoor IP camera with operating temperature within -10°C~+50°C (14°F~122°F), and humidity within 10% ~ 90%. It weighs 1.2 kg, and its dimensions are 228 x 110 x 147 mm.
How to Set up the Camera
Having connected the Reolink RLC-830A with the network equipment you own, the next step will be to integrate the camera in the Reolink app. You can integrate automatically or manually. For automatic, simply connect your smartphone to the same network that the camera is connected to. Of course, this camera is a PoE camera and it is connected via Ethernet cables. However, your network is broadcasted over Wi-Fi by one of your network devices. With this, your smartphone can connect via Wi-Fi and be on this same network as your Reolink RLC-830A.
Having done this, open the Reolink app and tap on the three dashes at the top left-hand side. Then tap on Settings, and then select Add Devices Automatically. The Reolink RLC-830A camera will be detected automatically, tap on it, and proceed to the initialization page. For manual integration, simply tap on the + icon at the top right-hand corner of the app to add a new device. Now, scan the QR code on the camera, or alternatively, you can enter the UID Number or IP Address of the camera. After any of these steps, the camera will be detected and you can then proceed to the initialization page, create a device password, and give the camera a unique name.
You can choose to mount the Reolink RLC-830A on a wall or ceiling. The included mounting template provides you with a guide to mount the device on any platform you choose. So, simply find a suitable location and paste the mounting template. Then drill holes accordingly, insert the included anchors, place the camera, and screw it into position.
Features of the Reolink RLC-830A
(1) The standout features of the Reolink RLC-830A are its 4K Ultra High Definition video resolution and Smart Auto Tracking. These two are very key and advanced features for optimal surveillance. The RLC-830A captures very clear and detailed footage even from a distance. It has an 88° Horizontal Field of View, 46° Vertically, and can perform 355º Pan and 90º Tilt. With these, the camera is able to provide you with monitoring of large areas easily.
It has a very responsive Auto Tracking feature and Customizable Motion Zones. With motion detection for persons, vehicles, and pets (beta), the Auto Tracking feature works pretty well. Now, this feature allows you to choose your tracking type (either persons only, or with vehicles and pets). You also get to choose a Horizontal Tracking Range, Tracking Schedule, and Time to Stop Tracking.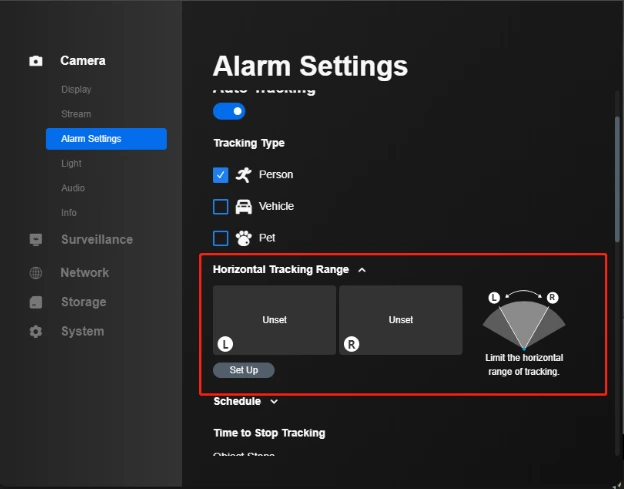 Beginning with the Horizontal Tracking Range on the Reolink RLC-830A, you can simply configure this by going to the Camera Settings on the app, then Alarm Settings, and then Auto Tracking. Continue by clicking on the arrows to move the camera lens to the leftmost position, click on Confirm, and Next. Repeat the same step for the rightmost position and the Reolink RLC-830A will only Auto Track within this range that you have set, along with the object type (persons, vehicles, or pets).
Moving on to Tracking Schedule, this enables you to set a time frame at which Auto Tracking functions. To do this, simply go to Schedule and Enable it. Then select the time range that you want this to occur (Enabled time range turns to blue) and click on Save.
The next is Time to Stop Tracking. With this you have two modes; The first is when the detected object stops, and the second is when the detected object disappears. So, essentially, you get to choose the time frame for these two modes. Beginning with when the detected object stops, this indicates the period of time that the camera remains focused on the object when the object stops moving (between 10 to 20 seconds).
For the second mode when the detected object disappears, if you set this to 15 seconds for example, the camera will remain focused on where the object disappeared for 15 seconds. After this, it will return back to the default.
(2) Another impressive feature of the Reolink RLC-830A is its night vision performance. With its 4K Ultra HD resolution, spotlights, and infrared LEDs, it produces well-toned images in the dark. This makes it very easy to identify any potential threats. Night vision performance is an extremely important feature in a surveillance camera, and on the Reolink RLC-830A, it is even better with its support for the Reolink Floodlight. This floodlight (PoE/Wi-Fi Model) is a stand-alone smart motion-activated light that instantly illuminates the entire area when motion is detected. It has a Smart Night Mode, a Scheduled Mode, and an Auto-ON Mode. Along with these, it has a built-in siren and these all work in sync with your Reolink RLC-830A and other supported Reolink cameras.
(3) Recording on the Reolink RLC-830A camera is by motion triggers, scheduled recording, and 24/7 continuous recording. This recorded footage will be stored locally on a micro SD card, a Reolink NVR, or via FTP. You will receive alert notifications on the Reolink app and also email notifications. Recordings are arranged in timelines which makes it easy for you to filter and locate a specific footage.
(4) The Reolink RLC-830A provides you with full-duplex two-way communication. Obviously, this is a very useful feature in a number of situations. It enables you to check in on your acquaintances and communicate with anyone on your premises, like giving instructions to a delivery personnel. This feature also enables you to speak to an intruder and make your presence felt. In addition to this is the Siren. You can set this to trigger automatically or you can manually.
(5) With the Reolink RLC-830A, you also get to use smart controls with Google Assistant and Amazon Alexa. But if you are using an NVR these features are incompatible.
(6) With regards to the mobile app and web application, both function pretty well in providing the live stream from your Reolink RLC-830A, recorded footage, as well as settings. Over time, both have received several updates and it is best to upgrade to the latest versions available for added features with your Reolink cameras.
Comparison of the Reolink RLC-830A with the Reolink TrackMix PoE Camera
As mentioned in the introductory part of this review, the Reolink RLC-830A is akin to the Reolink TrackMix PoE camera but with the latter having two lenses, 6x hybrid zoom, et cetera. The full comparison of both are shown in the tables below.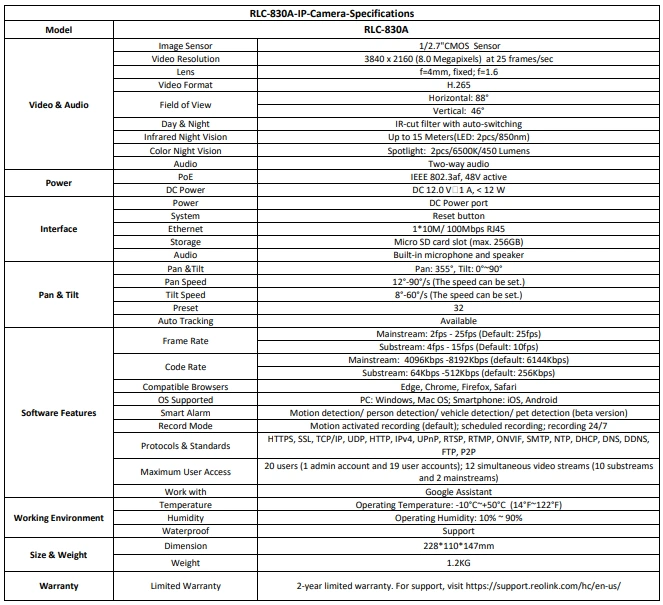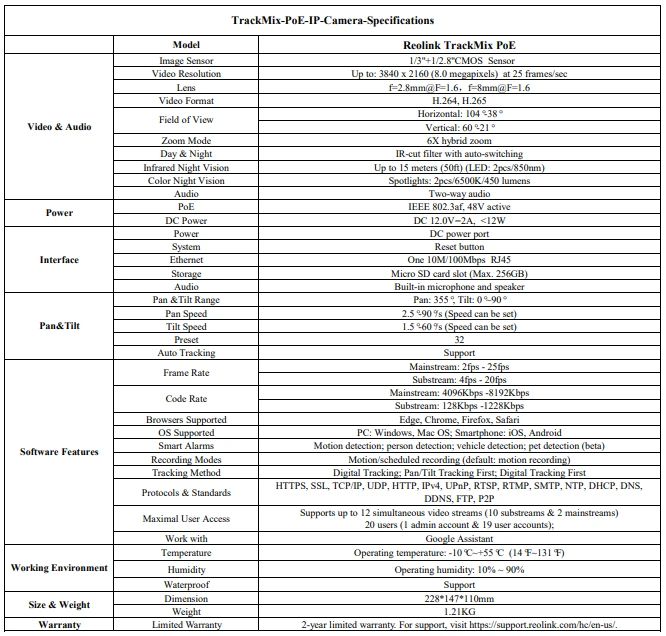 The Reolink TrackMix PoE camera obviously edges the Reolink RLC-830A but in terms of build quality, images and video quality, night vision performance, and AI functionalities, both cameras can compete.
Final Thoughts
The Reolink TrackMix Series and now the Reolink RLC-830A are top-of-the-line, high-end surveillance cameras available today. These cameras can solve the smart security camera puzzle for you. With very impressive 4K, 8MP Ultra HD images and videos which Reolink as a brand is known for, along with Pan/Tilt Smart Auto Tracking functionalities, and wide viewing angles, you can easily identify objects both daytime and nighttime.
Along with these, Smart AI motion detection, flexible storage options, without the need to pay for a cloud storage service, reliable hardware, and affordability, you will find a suitable camera in either the Reolink RLC-830A or the Reolink TrackMix Series.
Get the Reolink RLC-830A camera on the Reolink Official Website [Extra 5% OFF]
Get the Reolink TrackMix PoE camera on the Reolink Official Website
See our review of the Reolink TrackMix Series (Wi-Fi, PoE, and Smart Battery Camera).