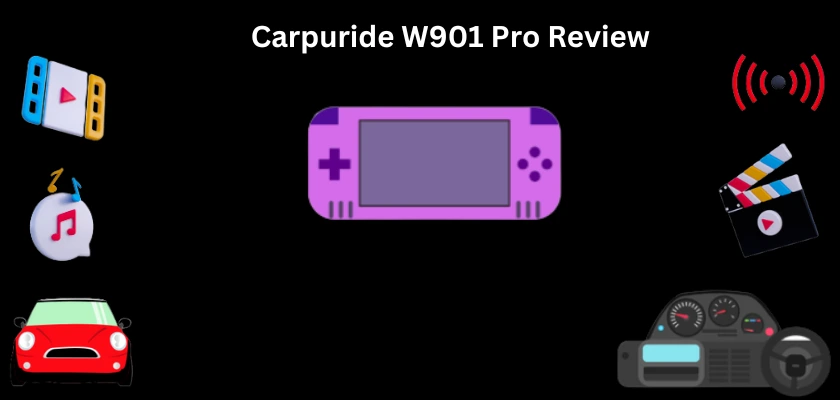 The Carpuride W901 Pro has been added to the fleet of Carpuride's Smart Multimedia Dashboard Consoles. This is another compact and portable device to help upgrade your vehicle with a modern infotainment system. As an automotive electronics manufacturer, the brand continues to stand out and has set a pace with its easy-to-use ultramodern smart multimedia devices.
The Carpuride W901 Pro is another delightful and feature-rich smart dashboard console from the brand. It is similar to the Carpuride W103 but with added features and a 9'' screen as compared to the W103 which is a 10.3''.
Whether you own a truck or sedan, the Carpuride W901 Pro fits comfortably into any of them. However, you may want to check your vehicle's dashboard to see that a 9-inch display wouldn't obstruct your view. The W901 provides for easy and convenient installation with all that you need to get it up and running. With this said, let's dive deeper into the review of the Carpuride W901 Pro.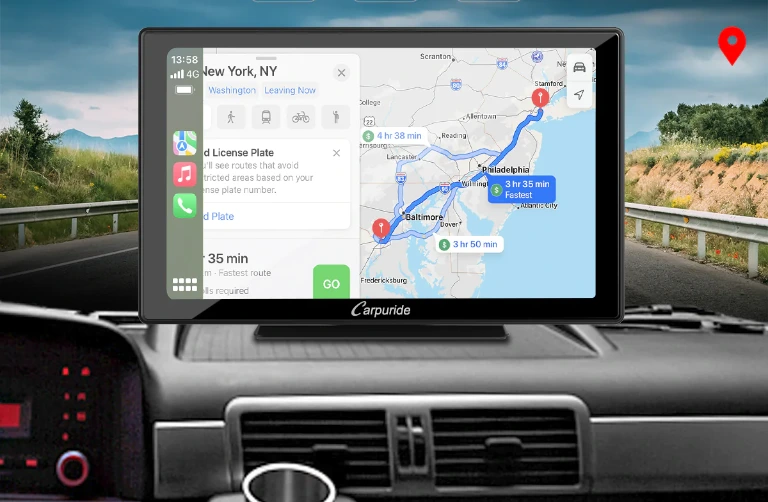 Carpuride W901 Pro Overview
The Carpuride W901 Pro comes in an attractive all-black finish with a huge 9-inch High Definition IPS Touch Screen. Horizontally, the screen measures 8.74 inches/22.2 cm, and vertically, it measures 5.3 inches/3.5 cm. At the back is a small LED which is responsible for Light Sensing. With this, the W901 Pro is able to automatically adjust the brightness of the display based on the ambient brightness. You will also find a loudspeaker at the back.
At the very top of the device, there are six ports. From left to right you have a Power port (12 Volts), a USB port to enable the insertion of a flash drive or an MP3 player, then an AV Output port, a Cam IN port to plug in its camera, then a Memory Card port, and an External Microphone port. At the top, you will find the Power Button for the device. You can choose to add a camera to your package and with or without this, you have the following items included; The Carpuride W901 Pro, a Suction Cup Bracket, Suction Cup Gasket, a Sticker Bracket, a Power Supply, an Audio Cable, and a User Manual. It is worth mentioning that the power supply of the Carpuride W901 Pro supports an input voltage range between 12 – 24 Volts which is suitable for most vehicle models and years.
How to Set up Carpuride W901 Pro
Setting up the Carpuride W901 Pro is a very simple and straightforward process. Firstly, take a look at your vehicle's dashboard or windshield and locate a suitable position for the device. Also, ensure that this position doesn't obstruct your view or interfere with your vehicle's controls.
Now take the suction cup bracket and the suction cup gasket, or the sticker bracket, and mount them accordingly. It is also worth mentioning that the suction cup bracket is capable of telescopic back-and-forth adjustments, and with the Carpuride W901 Pro placed on it, you can rotate it 360 degrees. Then with the sticker bracket, and the W901 Pro placed on it, it is capable of 180 degrees back-and-forth adjustments, and 360 degrees rotation. With that said, ensure that everything is firm and secure, and that there are no rattling components. Then, simply go ahead to power up the device with its 12 Volts D.C power cable connected to it and to your cigarette lighter port, and switch ON your vehicle's ignition.
The next step is to integrate the Carpuride W901 Pro with either the FM Transmit option or the Bluetooth Transmit option. On the home screen, you have all the apps and controls. So, select the Transmit button, and tap on the power button that's displayed, a frequency will then be shown. On your vehicle's sound system, set it to the same frequency that's displayed on the Carpuride W901 Pro and that's it. For the Bluetooth option, simply pair your vehicle's sound system with the Carpuride W901 Pro.
How to Set up the Carpuride Rear Camera?
Installing the rear camera would require you to have some knowledge of electrical wiring, particularly with D.C (Direct Current). The Carpuride rear camera works with your car's reverse lights. It comes ON and displays its feed on the screen of the W901 Pro whenever you put your car in the reverse gear.
To make this happen, you will observe that the rear camera has a Red and a Yellow connector. Then in the box that came with the Carpuride W901 Pro, you also have a camera power cable with a black connector and on the other end, the two wires are exposed (without a connector) – We'll call this Cable A. Then, a video cable with a yellow connector and black connector on the other end – We'll call this Cable B.
Now, begin by plugging the black connector on Cable B into the "Cam In" port on the Carpuride W901 Pro. Then the other end with a yellow connector, plugs into the yellow connector on the camera. Take Cable A and plug its black connector into the red connector on the camera. On the other end with exposed wires, the red wire is Positive (+) and the black wire Negative (-). Both of these should be connected to the wiring of your reverse lights and you are done.
Features and Performance of Carpuride W901 Pro
(1) Settings
Beginning with Settings, you will find a Language option to enable you to choose different languages. Next, you have Device Speaker. This gives you the option to turn ON or OFF the built-in speaker in the Carpuride W901 Pro and switch to Auxilliary speaker. After this, you have Right Drive, and tapping on it will move the Menu to the right side. Restore Factory Settings and System Version are the last two options you'd find here.
Under the settings icon, you can choose either Android Wired Link or iPhone Wired Link. Then you have the Wi-Fi icon, which when tapped on, shows you the Wi-Fi Name, Password, and the Wi-Fi Channel Options (5GHz and 2.4GHz).
The next icon you'd find is a car icon. This is with respect to the rear camera. Tapping on this icon shows you Video Warning, Parkline, Parkline Setting, and Rear Camera Mirror.
(2) Apple Car Play (i-Play)
This is one of the features desirable in the Carpuride W901 Pro. It enables you to conveniently and safely access your iPhone features and applications as you drive. You can listen to music, make phone calls, access your maps, send and receive messages, enjoy voice commands, and a lot more, hands-free.
(3) Android Auto (A-Auto)
Android Auto is another very desirable application you get in the Carpuride W901 Pro. It has an interface that's intuitive, with large icons, easy to use, and a simplified layout. Just like i-Play, A-Auto is a very useful tool for drivers. You can conveniently make phone calls, send messages, listen to music, benefit from voice control, maps, and a whole lot more.
(4) Mobile Screen Mirroring (Airplay)
With this tool in your Carpuride W901 Pro, you can simply mirror your smartphone to the W901 Pro. You simply establish a wireless connection between both devices and you are good to go. It delivers very stunning visuals, crystal-clear sounds, and no noticeable lag between both devices.
(5) Equalizer
The Equalizer is a mix of different sounds that you can play around with. You can make the device louder by toggling ON the Loud button, or change the preset sounds from Standard to Classic, Rock, Jazz, Electric, Pop, Soft, and Custom.
(6) USB and SD Card
These are storage options that are built into the device. With these, you can simply insert your flash drives or other device and play music or video files stored in them.
(7) Bluetooth
The Bluetooth option provides for easy connectivity with your mobile phone. This option is available if you aren't connecting via Android Auto and Wireless Carplay.
Specifications of the Carpuride W901 Pro
The full specifications of the Carpuride W901 Pro are shown in the table below.

Final Thoughts
The addition of the Carpuride W901 Pro to the fleet of Carpuride's multimedia dashboard infotainment systems comes with great expectations. It is one device that can greatly enhance your overall driving experience just as you have in other Carpuride devices. Whatever the reason why you want to upgrade your vehicle with a better multimedia system, you will find the Carpuride W901 Pro a good fit except you want to go for a screen size lower than 9 inches.
Get Carpuride W901 Pro on the Carpuride Official Website (30% OFF) Black Friday Discount Code [SHOP30]
Get the Carpuride Rear Camera on the Carpuride Official Website
You may want to see our review of the Carpuride W103.