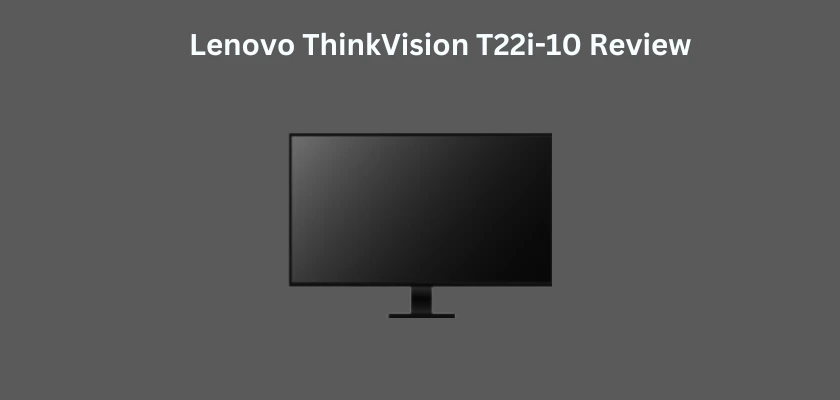 With several computer monitors available today, finding the right balance between performance and affordability can be daunting. This review takes a look at the Lenovo ThinkVision Monitor T22i-10 with the aim of enlightenment.
The Lenovo ThinkVision Monitor T22i-10 is among a portfolio of ThinkVision Monitors of different sizes, capacities, and performances. Lenovo as a brand is a Multinational Technology Company that produces Personal Computers, Laptops, Servers, Datacenter Solutions, Smartphones, Tablets, and Emerging Technologies. The Lenovo ThinkVision Monitor T22i-10 is featured in this review. Whether you are a professional looking for a monitor for your desk, an avid gamer, or you are just a multimedia enthusiast, you will find this review useful. It discusses the key features of the Lenovo ThinkVision Monitor T22i-10 such as its design and appearance, its display quality, its ergonomic features, the ways you can connect it with your PC, and its overall performance. In the end, you should be able to decide if it suits your needs.
Let's get started.
Overview of the Lenovo ThinkVision Monitor T22i-10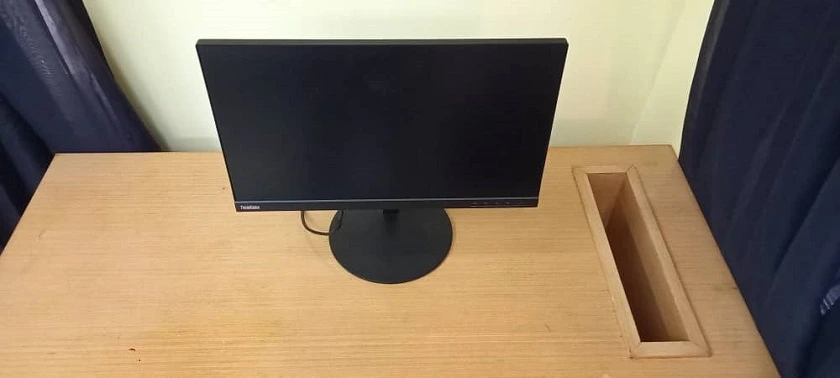 The Lenovo ThinkVision Monitor T22i-10 is a 21.5-inch wide monitor. The monitor head measures 489.7 x 43.5 x 297 mm (19.28 x 1.71 x 11.69 inches). It is capable of Front/Back Tilt Angles (5°/ 30°) and Left/Right Swivel Angles (+/-45°). Additionally, its Lift and Pivot capabilities are 110 mm/4.33 inches and -90°/90° respectively. It features In-Plane Switching, WLED, Anti-Glare, a Borderless Screen, and a Resolution of 1920 x 1080 (16:9).
It is a very beautiful monitor and blends aesthetically with any workspace. On the front, you find controls to view and change the input source, image setup, brightness, menu, power button, and power LED.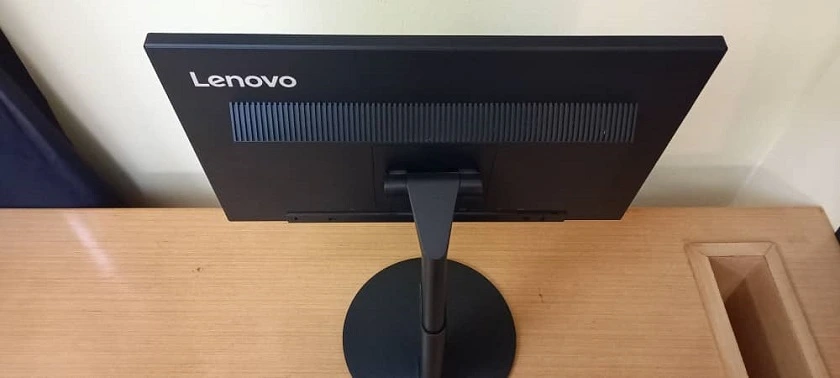 With the monitor facing you, on the left-hand side are four USB Ports and a Phone Jack for you to connect an earphone or external speakers. Then, under the monitor, you have an Input Power Plug, a Display Port, HDMI Port, VGA Port, and a USB 3.0 Port.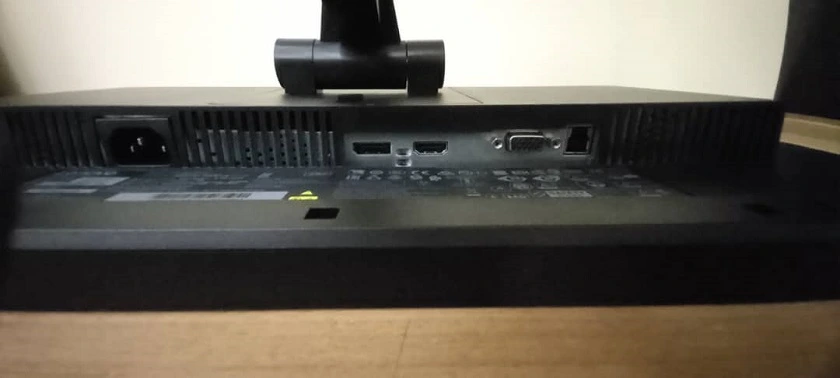 Features and Performance of the Lenovo ThinkVision Monitor T22i-10
(1) Design and Appearance
The design of the Lenovo ThinkVision Monitor T22i-10 is in a professional and attractive look that blends into any workspace. It is beautifully crafted with slim bezels that depict a modern look. While it is placed on your workspace table, it is very easy to adjust, tilt, swivel, pivot, and move around as it is very lightweight. Its compact design also provides an immersive viewing experience if you choose to have a dual-monitor setup.
(2) Image Quality
The image quality on the Lenovo ThinkVision T22i-10 is one you'd find attractive. With IPS, it delivers excellent color accuracy with vibrant visuals. Its wide viewing angle also makes images and videos more real to you. Then again, it is designed with anti-glare to protect your eyes from strain and would minimize reflections accordingly. Even in well-lit environments, it performs optimally and produces impressive images and videos.
(3) Connection Mediums
On the Lenovo ThinkVision Monitor T22i-10, you have a number of ways to connect a variety of devices. It is designed with a Display, HDMI, VGA, and USB 3.0 Upstream & Downstream Ports, with an Audio Output Port. These will enable you to connect peripherals such as desktop computers, laptops, gaming consoles, loudspeakers, earphones, et cetera.
(4) Comfort & Ergonomics
This is something everyone looks out for in a monitor. This monitor provides you with the flexibility of pivoting it in portrait mode, tilting it forward and backward, tilting it left to right, positioning it at a comfortable height, or any optimal position suitable for you. The ability to do this with this monitor is extremely important as it provides for better posture and helps to eliminate any form of strain on your back or neck, particularly when you are on your screen for extended periods.
(5) Performance Expectations
The Lenovo ThinkVision T22i-10 is a device built with features that are adequate enough to enhance your productivity at work, or at home while carrying out your regular tasks on screen. Its 21.5-inch display gives you an immersive experience as you work with it, coupled with its smooth visuals at 6 milliseconds response time. Also, if you are a gamer, you will find this monitor also useful, although this differs from person to person. Averagely, the monitor can handle casual gaming, but for more graphic-intensive games, some may be looking for lower response times and higher refresh rates.
(6) Supplementary Features
There are additional features of the Lenovo ThinkVision Monitor T22i-10 that further enhance your usage of the device. Firstly, it is Energy Star Certified which means that it will provide you with efficient power usage and less environmental impact. Then again, it supports VESA mounting which gives you the flexibility of mounting it on your wall or your monitor arm, thereby helping to optimize space. Another benefit of this monitor is cable management. It is designed with fittings to help you manage your cables and keep your desk clutter-free.
Full Specifications of the Lenovo ThinkVision Monitor T22i-10
The specifications of the Lenovo ThinkVision Monitor T22i-10 which include Display, Dimensions, Connectivity, Power Consumption, Mechanical, and Compliance are shown in the picture below.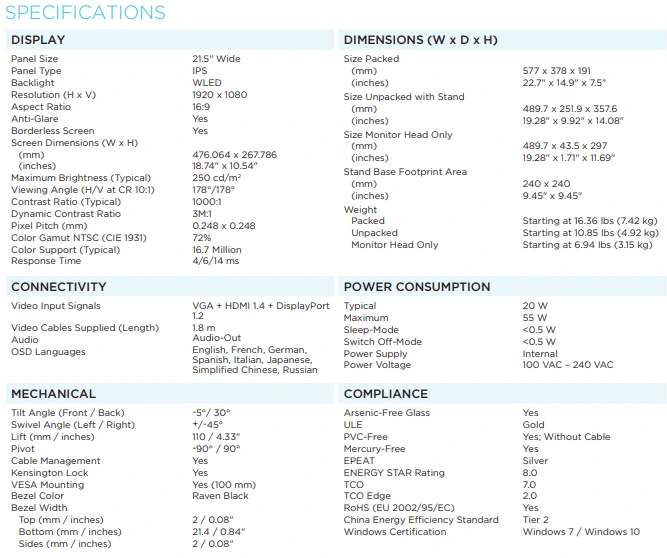 Final Thoughts
The Lenovo ThinkVision Monitor T22i-10 is a versatile, adaptable, and general-purpose monitor. From its design to its impressive image and video quality, to its ergonomic features and multiple connection mediums, the device meets the standards for various use cases like in an office, at home, and any kind of multimedia consumption. It is able to deliver comfortable viewing for everyday usage, and in terms of its affordability, it provides excellent value for its price range.
You may want to see our review of the Lenovo ThinkVision Monitor T24d-10.