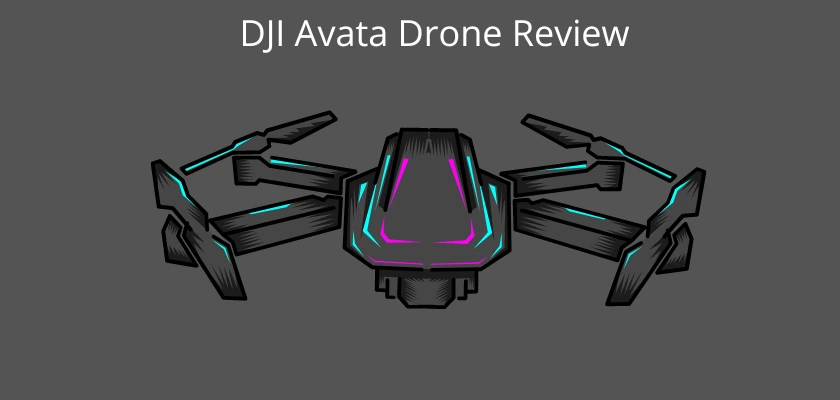 The DJI Avata FPV Drone is here. In 2021, DJI launched its Goggles V2 and DJI FPV. This signified its penetration into the FPV world. Now, the brand is back in the ecosystem with the DJI Avata FPV Drone – the more compact device that almost perfectly aligns with the demands of fast-paced aerial flights.
Wondering how well the DJI Avata FPV Drone performs? Or perhaps who it is best suited for? By the end of this guide, you'll be able to draw a more informed conclusion.
What is this DJI Avata FPV Drone?
The DJI Avata FPV Drone is a device bringing the experience of a cinewhoop-style flight mainstream. Put simply, it features the agility and speed inherent in a racing drone and adds the quality and stability of a cinema drone on top of that.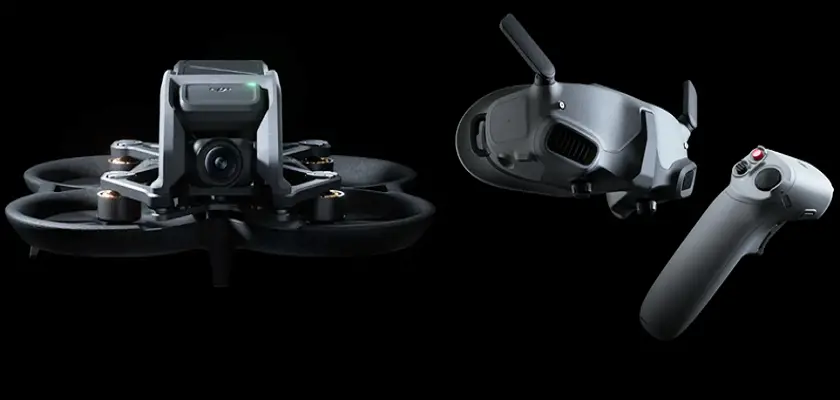 The DJI Avata FPV Drone is a build-it-yourself device. So, if you're expecting to just unbox your drone and start flying, this is not the right fit for you. You have to build it from scratch. Still, the setup is relatively straightforward.
The DJI Avata FPV Drone Setup
You can complete the initial setup for a normal DJI drone in about 5 minutes. But this is not the case here. Setting up this device is another ball game on its own. From linking the drone, headset, and motion controller to setting up the mobile application, the process should typically take up to 20 minutes. And fortunately, it works the first time in most cases, if it doesn't, you might have to retrace your path to see where you got it all wrong.
After assembling all the parts, you then have to complete a simple firmware update. Almost every new drone demands this process. So, it is pretty normal. But be patient and you'll get everything done before you know it.
After completing the straightforward initialization process, the remaining setup processes are even more straightforward. But as mentioned before, you might not be able to complete them as fast as you would for a normal DJI drone.
The process is not as fast because you have to connect every component and accessory that comes with your DJI Avata FPV Drone.
Do note that DJI has three packages for a DJI Avata FPV Drone Purchase. Each package comes with specific components as shown in the picture below.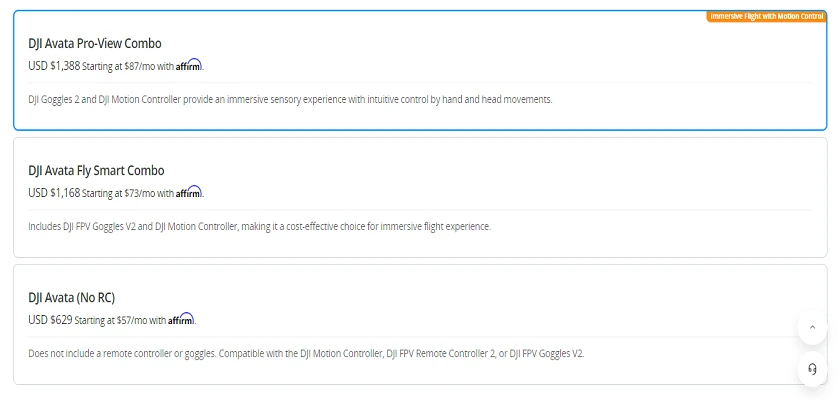 DJI Avata FPV Drone Design: First Impression
This device looks nothing like DJI's first-generation FPV drones. The brand went back to the drawing board and completely transformed everything about the DJI Avata FPV Drone. It got rid of the annoyingly large bodies, exposed blades, and poorly functional folding arms. Now, it reloaded these with a more compact, lightweight, and durable build that is more suitable for FPV flights.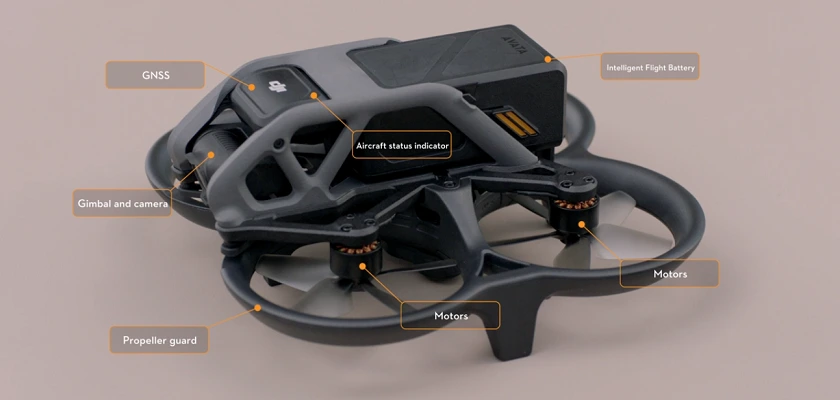 This device only measures 180 x 180 x 80mm. With this compact design, you can navigate smaller spaces without any hassle. Besides its 410g, lightweight design makes it zip through the air seamlessly.
The DJI Avata FPV Drone has 4 blades. Alongside these, there are guards protecting them from potentially dangerous collisions. Merely looking at them, these guards look pretty solid. While there's no guarantee that they'll survive high-speed collisions, they still help a great deal when it comes to bigger wall bumps and optimizing the drone's flight.
There is a cage on the device rare. This is where the battery slots into. You'll also find 4 LEDs on the battery. This is what tells you the current percentage of your battery capacity and they blink as well, while the battery is charging.
Most photo-focused drones have a gimbaled camera attached beneath. However, unlike these, the DJI Avata FPV Drone has its camera on its body. This is a proactive design, especially for an FPV-centric drone which is more prone to high-speed collisions. This design will help shield the camera from potential dangers. But the only limitation to this is you might sometimes notice traces of your blade tips in your recordings. These blades become even more prominent if you're breaking.
One major complaint about DJI's first-gen FPV drone was its bad sensor. Fortunately, the DJI Avata FPV Drone is built with better sensors. It has two down-facing sensors that can help you create ToF maps and estimate how far you are from the ground. However, it has no front-facing sensor.
The absence of a forward-facing sensor means you can access real-time updates about how far nearby objects are through your headset. The DJI's first-gen FPV drone could do that. But then, it compensates for that quite well with its more compact, durable build.
A downside to the design of this device is the location of its SD card and USB slots (within a blade ring). When you're getting started, ensure you take a look at the operations manual otherwise, it could be difficult to figure out where these are. These slots are hidden under a rubber seal and connecting the SD card and USB slots could be cumbersome, especially with a blade staring right at your hands. To make it all easier, you can remove the blade of course. However, this is not always an ideal thing to do.
There is an intuitive motion controller. This gives you a seamless way to control the drone, especially as a beginner. It works just like a joystick with sensors that help streamline your motion. There are different control options as well, including a record button, accelerator, brake, and RTH, among others. These are all you'd typically need during the course of your drone's flight. Best of all, this controller has a solid grip and is lightweight, so you can easily hold and control it. Besides, you'll find a charging port underneath, which further eases the overall experience.
From DJI products so far, it is clear that the brand believes the motion controller is the best approach to controlling a race-oriented FPV drone. However, if you don't want this and want to tread the traditional route, the FPV Remote Controller 2 works just fine. All in all, when it comes to design and build, the DJI Avata FPV Drone proves satisfactory.
DJI Avata FPV Drone Performance Review
If you're just getting started with FPV, the DJI Avata FPV Drone is a relatively accessible device to use. As mentioned before, its motion controller, helping you control its flight, has very intuitive handling. You'll find it pretty easy to use.
Even if you've been flying drones for a while but you've not been so confident with fast speeds, this device breaks down every complexity. You can control everything just like you're playing a flight game on your computer. It has no learning curve, which means you can hit the ground running in just a few minutes. And before you know it, you can start whizzing through the air, flying through narrow windows, taking 4K pictures of picturesque landscapes, and going through tree lines like it's nothing. With the big brake button, you can also drive knowing that you have full control over the speed.
Nonetheless, there are still some limitations, particularly to the motion controller. Firstly, you can't go directly upwards or fly to the back. It doesn't give you that control. As such, you might face some issues when going through a very cramped environment. It also has a 31mph speed limit when you're driving it with the motion controller.
Fortunately, if you want to access the maximum potential of the drone, the DJI FPV Remote Controller 2 is your best bet. You can get up to 60mph speed. On top of that, you have finer flight controls. But there's a caveat – it has a very steep learning curve than the motion controller. You may sometimes find it difficult to use when embarking on complex flights. This is to say that the controller is better tailored to professionals than someone who is just getting started.
When you're just hovering, the battery can last only up to 20 minutes. But, expect less if you're zipping around at full speed. If you want more battery life, you can always buy extra batteries from DJI. The batteries only take about an hour to charge. As such, you can enjoy minimal time between flights.
How well does the DJI Avata FPV Drone Camera perform?
Normally, if you're using traditional FPV drones, you need to mount another action camera to take high-quality videos because their cameras are not so good. For this reason, it becomes more difficult to pilot your device at maximum speed.
However, with the DJI Avata FPV Drone, you have one less worry. It allows you to take high-quality videos at 4K and 60 frames per second. If you're capturing at 1080p or 1440p, you can even enjoy higher frame rates.
That's not all. It also features a more sizable sensor and Megapixels count than the first gen product. With the superior 1/1.7in CMOS sensor, you can capture more surface area in light than the previous 1/2.3. Another plus is its superior capability even in low lights. On top of that, you can enjoy a more dynamic range if you use video editing software.
DJI Avata FPV Drone also helps you balance exposures automatically. With its automatic mode, you get to enjoy an ISO ranging from 100 to 6400. With this, you can expect excellent output for most environments. If you want, you can also crank it all up to the beastly 25.6k by switching to the manual mode. This is the most suitable option for anyone looking to shoot at night.
In terms of the upgraded Megapixels count, the DJI Avata FPV Drone features a whopping 48MP resolution which is a 400% increase from the previous version. You might be thinking this is too much for a 4k output. Well, it is. So, DJI uses the remaining capture space to incorporate the HorizonSteady and RockSteady features to ensure stability while recording.
With Rocksteady, you can stabilize your videos in general flights. It uses electronic image stabilization. On the other hand, HorizonSteady helps straighten your horizon at every point. With a blend of these features, DJI performs superiorly when it comes to recording impressive and smooth videos regardless of the speed and banking.
There are some days when you tend to forget to pack a MicroSD card. Don't worry, your DJI Avata FPV Drone has got you with its 20GB of inbuilt storage. So, unlike several other alternatives, forgetting your external storage shouldn't be much of an issue. With this, you can still capture up to 20 minutes of 4k videos at 60 frames per second. It's worth mentioning that you can expand this inbuilt storage by up to 256GB with an external SD card. Yes, the one with the awkwardly placed slot mentioned before.
Even with the positives to take from the DJI Avata FPV Drone camera, you should always remember that the drone wasn't originally built for aerial photography. So, expect some limitations in that regard. You might not be able to enjoy automated flights or rotate the drone at will.
In summary, the camera promises an enthralling FPV experience. After all, that's what you bought it to do.
The Headset
While you can fly the DJI Avata FPV Drone without goggles, you can enjoy an even more immersive experience putting them on. The goggles are very comfy and won't place unnecessary weight on your head. Besides, the live stream footage quality here is astoundingly crisp and bright. This lets you enjoy your flight in a confidence-inducing breeze.
There is also an option to plug your phone into the headset during the flight. With this, you can tweak various settings on the drone. This is great for you if you don't mind throwing another component into the already busy setup. Besides, in most cases, you might not have to. DJI Avata FPV Drone features a tiny touch-sensitive square button beside the goggles. This lets you adjust various flight parameters and control the camera at will. This works quite well, but it can be overwhelming at first, trying to figure out whether you should swipe horizontally or tap with two fingers to get your preferred menu. These gestures may be somehow at first. But with time, you'll adjust to them.
How much is the DJI Avata FPV Drone?
The DJI Avata FPV Drone promises an immersive experience and it is at three different prices, depending on the package you want. $629, $1,168, and $1,388. Of course, this might seem pricey for anyone new to FPV. But it's worth every penny.
Final Thoughts
If you're just getting started with FPV drones, there's no better way to begin than with the DJI Avata FPV Drone. From its compact built and improved camera to the durable design and low light performance, it is definitely a leap forward from most alternatives available at similar prices. The DJI Avata FPV Drone has a fair share of its limitations. But with the enthralling flight experience it promises, you might not even remember these limits exist.