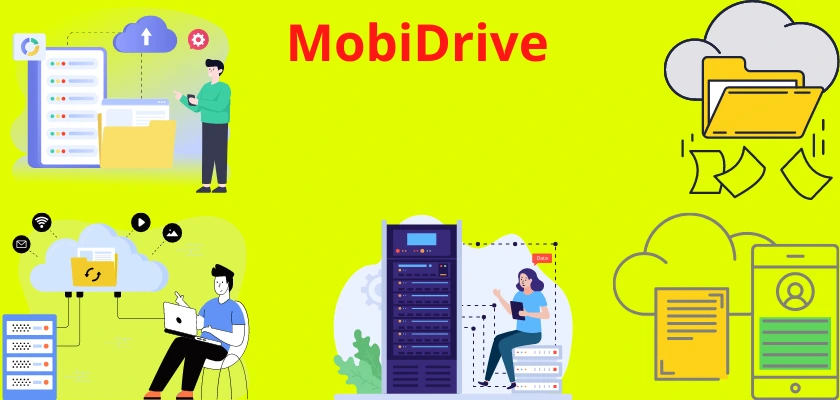 MobiDrive has been designed by Mobisystems, a business and mobile applications services provider. The trend of saving data using memory cards or making backups in computer systems is gradually on the decline due to more efficient and reliable cloud storage solutions. Better technological advancements have taken over old ways of saving, transferring, and syncing data. Nowadays, you get cloud space with which you can save as much data as you want reliably. With MobiDrive, you can get 20GB of free storage space to save your data, synchronize across all your devices, convert to 1200+ formats and do so much more as we will see in this article.
What is MobiDrive?
You might have heard about cloud storage. MobiDrive is a cloud storage solution by Mobisystems. It is designed to be a game-changing cloud storage application with premium features inbuilt. MobiDrive functions on Windows, iOS, and Android devices. You get 20GB of free storage and if this isn't enough for you, simply upgrade to 1000 GB of storage. Mobisystems has other existing applications which are OfficeSuite and PDF Extra, these applications function seamlessly with MobiDrive.
Starting out with MobiDrive is very simple and all you need to do is create an account by signing up.
Step-By-Step Guide to using MobiDrive to store your files
Here are the steps that would help you learn to use MobiDrive:
(1) Open MobiDrive on your device
First, download MobiDrive and create your account. Make a widget of MobiDrive on your home screen menu. It would become easier to get access to this cloud storage application.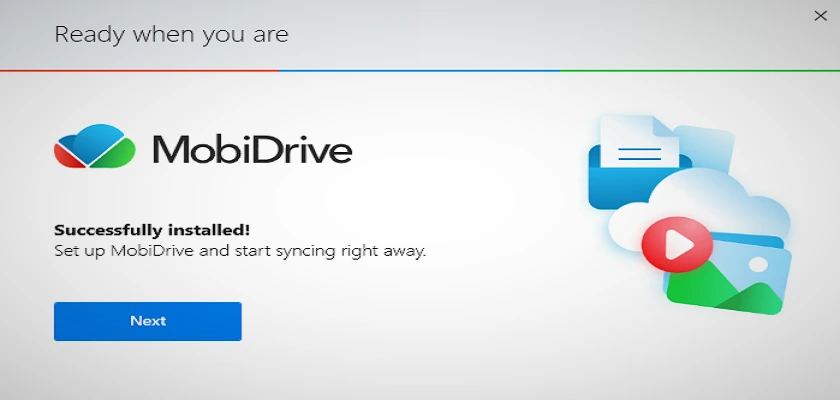 (2) Make a Folder for your files
It would be better to make a folder of media, documents, and other files that you would like to save in MobiDrive. You don't have to sort out files on your own because MobiDrive will automatically do that whenever you upload your files there. This way, you won't upload the same files again and again.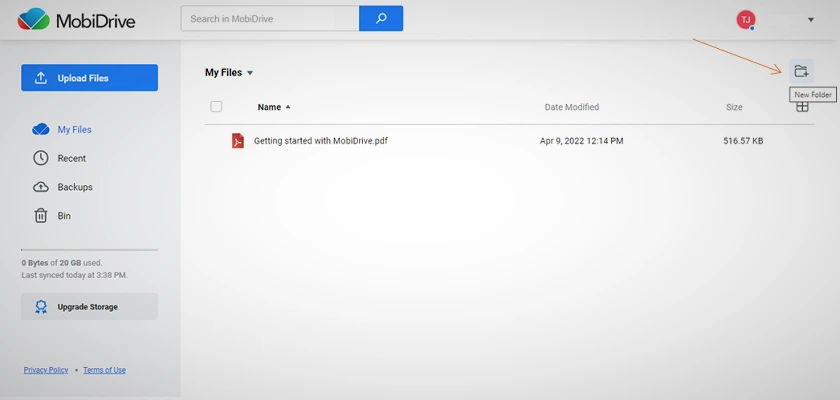 (3) Drag files into the MobiDrive Widget
The next step would be to move files into your folder in the widget area. You can also create more folders if you want to have all data well organized. So, whenever you want to get something out of this cloud storage, you won't have to search for it, MobiDrive will automatically organize your data.
(4) Share files with others
Once you upload your data on MobiDrive, you can share it across devices. When sharing across devices, you can simply synchronize your data and share to any device without connecting data cables.
When sharing also, you can send your files as links that can be downloaded on the receiving device.
(5) Management and protection of your files
With MobiDrive, you can manage your files easily, you can see the historical versions of all your files, manage the conversion from one file format to another other and your file(s) security is guaranteed.
Exclusive features of MobiDrive
As we have said above, when you create your account on MobiDrive, you will get 20GB of free space. If you want to get more space, you can upgrade to a premium plan as shown in the picture below.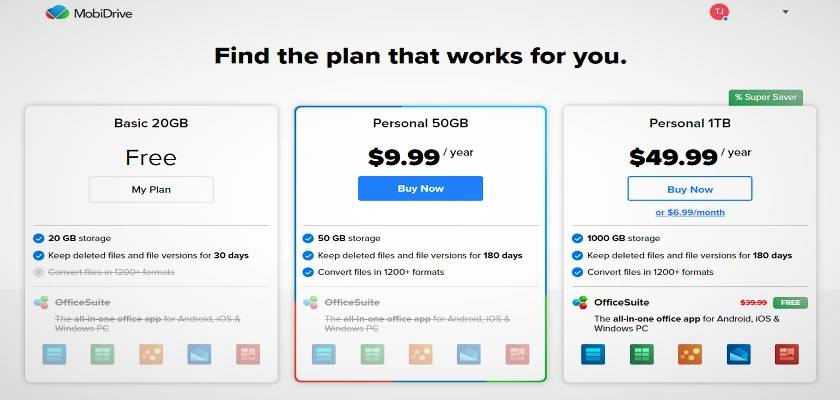 There are exclusive premium features that you can enjoy only on your MobiDrive mobile app (Android, iOS) and these features are discussed below.
(1) Convert your files
You can convert your files into 1200+ formats with the help of the mobile app. If you have saved a doc. file and you would like to convert it into a PDF file because you want to share that format with someone, then you can do that using your MobiDrive mobile app. However, you need a premium subscription to get all file formats and with this, you won't have to look for formats on the internet.
Note: You can try the premium personal subscription free for 3 days from your MobiDrive mobile app (Android, iOS) and this gives you the following benefits:
(i) 2 Terabytes of storage
(ii) Protection for your files for as long as 180 days
(iii) No limits to the file sizes you store
(iv) 1200+ file formats for conversion
(v) Free Premium OfficeSuite from Mobisystems
(vi) Cheaper price on the app
You can cancel your subscription anytime
On your mobile app, you can also upgrade to a personal plan that gives you the following benefits:
(i) 500 Gigabytes of storage
(ii) Protection for your files for as long as 180 days
(iii) No limits to the file sizes you store
(iv) 1200+ file formats for conversion
(v) Cheaper price on the app
(vi) You can cancel your subscription anytime
(2) Keep a backup always
Having a backup of your files is very much important. What if you lose them? How do you restore them? So, with MobiDrive you can have a backup that won't be lost in any case. What if we say that you don't even have to make the backup yourself? Yes, once you upload data to this storage solution, a backup has been made.
(3) Your files will get sorted
The last exclusive feature that you will get on MobiDrive's mobile app is organized data. You upload your data on MobiDrive, but what about sorting it out? What about managing your data for easy location of a specific file, photo, video, or any other media?
Sorting out data can be cumbersome and frustrating. MobiDrive will save you from this situation because when you upload data, it will get sorted out on its own. All videos, documents, photos, music, or data you would like to upload will be sorted automatically. Plus, a well-organized storage space looks good too.
Benefits of using MobiDrive
We have talked about MobiDrive and its features above, let's talk more about the benefits derivable:
(1) Store files without using cables
We used to save data on different devices to free up some space from our cellphones or laptop. To transfer and save that data on different devices, we used cords and cables to connect them. Well, that time is gone. Better technology has gotten rid of old data storage techniques. No cables will be required with MobiDrive cloud storage.
For example, whenever you think it is time to optimize your cellphone's memory and space, you simply use the super handy MobiDrive widget. Upload the file on MobiDrive that you think you won't need in the near future. Once you upload it, you can remove that specific file from your phone. It is one of the easiest ways of optimizing your cellphone's memory and space.
(2) Synchronize your data on a Windows PC
The data you have saved on MobiDrive's cloud storage can be assessable on your Windows computer. All you have to do is sign in to your MobiDrive account on your Windows PC, create a folder, and synchronize the data in your MobiDrive storage to that folder.
(3) Manage your data
Managing and organizing data can be a cumbersome task. Sometimes we leave files unattended, and we do not save them in an organized way. In the end, we simply do not manage our data efficiently. But with MobiDrive you can enjoy an efficient data management system without having to manage the process yourself.
Whenever you upload a new file, it will get into its right place. You upload data in its raw form and it gets organized alphabetically and accordingly. When you need any file, it is easily assessable.
(4) A cost-efficient storage option
MobiDrive obviously is a very affordable storage solution. With a free account, you get 20 Gigabytes of storage and the higher plans give you $9.99 (50GB) and $49.99 (1TB) respectively for a year. Also, this pricing is further reduced and the storage space is larger on the mobile app.
MobiDrive and OfficeSuite
One of the benefits of MobiDrive's premium storage solution is the fact that you get Mobisystems' premium OfficeSuite package. Now, OfficeSuite is a different software designed by Mobisystems to provide you with easy management of your documents, slides, mail, and so on. So, you get this software with its premium features with a premium MobiDrive subscription.
Selecting the best MobiDrive Subscription Plan
If you are considering getting the MobiDrive cloud storage solution right away, the premium plan with 2 Terabytes of storage (on the mobile app) is the best plan. However, you can start with the 3 days free trial (via the mobile app) to familiarize yourself with the MobiDrive service before paying for either the 500 Gigabytes storage plan or the 2 Terabytes storage plan.
Final Words
MobiDrive is simply a cloud storage solution beneficial for individuals and businesses desiring affordable and efficient cloud storage solutions. If you are very specific as to your cloud storage requirements, then this article guides you with all you need to know about MobiDrive.