There are situations where you require Dome-Shaped IP Cameras, Turret, or Fish-eyed IP Cameras because of their peculiar advantages. Whatever your use case, you will find several options to choose from. We will be exploring the Turret-Shaped Reolink RLC-1224A to give you an idea of what you should expect to get from it if you are looking into it.
The Reolink RLC-1224A is a higher version camera to the Turret-Shaped Reolink RLC-833A. The latter is an 8MP resolution camera and the former a 12MP resolution camera. Then also, the Reolink RLC-1224A can be seen as a competitor or player with the Reolink RLC-122A which is also a 12MP camera but in a bullet shape.
We will be exploring the Reolink RLC-1224A and if you are looking into a Turret IP camera, follow through with this review as in the end, you will be better informed as to whether this camera is right for you or not.
Overview of the Reolink RLC-1224A
Firstly, the Reolink RLC-1224A is a premium IP camera, designed with cutting-edge features such as high-resolution imaging, smart features, and robust construction. It features a Spotlight, Two Infrared LEDs, Camera Lens, a Daylight Sensor, a Microphone, a Speaker, and a Micro SD Card Slot. It also includes a cord that carries a D.C Jack (if you want to use a 12 Volts power supply adapter), a Reset Button, and a Port to plug in an Ethernet Cable.

The camera package comes with a quick start guide, a mounting template, pack of screws and anchors, a waterproof lid, surveillance sticker, a base plate, the camera itself, and an Ethernet cable. Now, the Reolink RLC-1224A is a PoE camera and you would need more than one Ethernet cable to get the camera operational.
How to Set up the Reolink RLC-1224A
To set up the camera, begin by downloading the Reolink app (Windows, Android, iOS, Mac). Then, power up the camera by connecting it to a PoE Enabled Switch or a PoE Injector. Learn more on how to do this in this article.
When the camera is powered up, you then need to add it to the Reolink app and configure it from there. Using your mobile phone, you can add the Reolink RLC-1224A automatically in the app by going to the settings option and selecting "Add Devices Automatically" so long your phone's Wi-Fi connection is the same as the network your camera is connected to. So, the app searches and detects your camera, and you can finish the setup by creating a Login Password and giving the camera a name.
If you choose the add the Reolink RLC-1224A manually, you then have to tap on the Add Button in the top right corner of the app, and you will be required to scan the QR code on the camera. Alternatively, you can select using the camera's UID or IP Address and typing these respectively. Lastly, you can add the camera by tapping on LAN. (Note that using IP Addresses or LAN may require some knowledge of networking).
Mounting the Camera
To mount the Reolink RLC-1224A, take out the mounting template and paste it on your desired location. Then, drill your holes as it is indicated on the template. Insert the anchors, place the camera's base, and screw it. Now, place the camera on the base and lock it into position by turning it in the clockwise direction. It is worthy of note that the Reolink RLC-1224A can turn 360° on its base, and you can tilt the camera up to 90°. Lastly on this, ensure to use the waterproof lid to protect the Ethernet Cable that you will connect to the camera now that it is mounted.
Features and Performance of the Reolink RLC-1224A
(1) Image, Video, and Viewing Angle
The resolution of this camera and its wide viewing angle are its unique selling points. The images and video footage are of very high quality and you will be able to see every detail with clarity. This has been consistent with Reolink as a brand, and what's the use of a surveillance camera without a good image output?
Comparing this output with that from the 8MP Reolink RLC-833A, there is certainly a difference in image quality but only slightly. The Reolink RLC-1224A also provides an excellent broad coverage of the viewing area and minimizes blind spots, ensuring that suspicious activity does not go unnoticed. So, whether it's monitoring your driveway, backyard, commercial venues, or large spaces, you do have a sure ally in the Reolink RLC-1224A.
(2) Motion Detection Capabilities
The Reolink RLC-1224A features Smart Motion Detection for persons and vehicles and does pretty well at this. One thing you do not want is unnecessary notifications from your surveillance camera every now and then. With this camera, you also have Motion Zones, and you can "Paint" areas of your choice for more specific monitoring and reduced alert notifications. You also have the option to adjust the Sensitivity from 0-50, as well as "Add Sensitivity Schedule". Then also, Sensitivity for Smart Detection (Persons and Vehicles) from 0-100 respectively.
In addition, there is the Alarm Delay feature whereby a detected object can stay in the detected area without triggering an alarm (You can leave this as it is or adjust it for Persons and Vehicles from 0-100 respectively). Lastly on this, there is the Object Size feature that you can use to filter out detected objects by size.
(3) Recording
With the Reolink RLC-1224A, you can choose to store footage on an SD Card (256GB Maximum) or Reolink NVR. You have Continuous 24/7 Recording, Motion-Triggered Recording, and Scheduled Recording. Push Notifications is another feature you have here and you can change the Push Interval as well as set a Schedule for periods you want notifications and when you do not.
(4) Night Vision Performance
One thing you will observe with the Night Mode of the Reolink RLC-1224A is that in "Auto" the camera stays longer in color mode using natural lighting. Of course, the image quality will fade with time and your external lighting will be needed to compliment the image quality. Also, you can tweak the "Auto" setting using the "Black & White and Color Switching Threshold" to adjust the sensitivity of the camera's light sensor to suit your needs. Then, a new mode you will find with the Reolink RLC-1224A is Binning Mode. If you turn this ON, you will observe an enhanced and well-toned picture. Furthermore, you have a 700 Lumens Spotlight on the camera. You can turn it ON, OFF, or set it to Motion-Activated.
(5) Audio and Smart Control
As mentioned in the overview of this camera, it includes a Microphone and Speaker. The reception and output respectively are satisfactory. So, you can reliably communicate with anyone that is around the camera. Also, you have a Siren to deter and ward off an intruder. With regards to Smart Control, you have Google Assistant with the Reolink RLC-1224A.
Specifications of the Reolink RLC-1224A
Below are the specifications of the camera.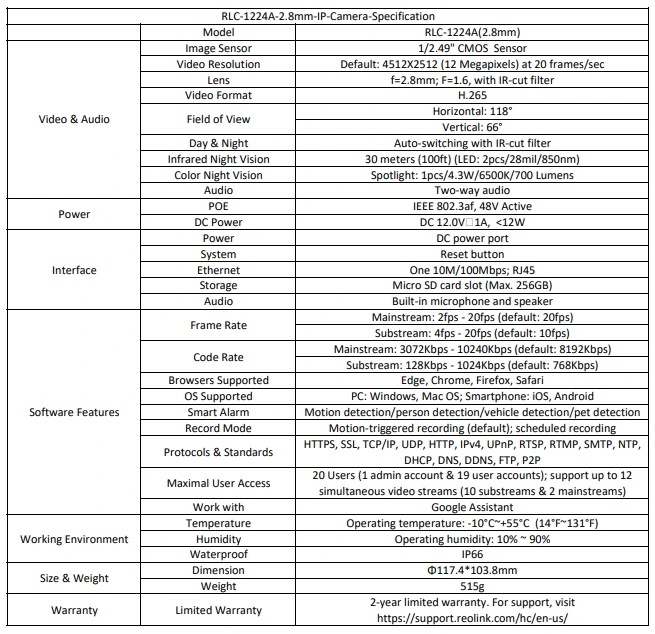 Final Thoughts
Conclusively, the Reolink RLC-1224A is a premium IP camera with advanced features for adequate surveillance. It provides the peace of mind that you require from a surveillance camera with its crystal clear images and video, wide viewing angle, remarkable night vision performance, and smart motion detection capabilities. Additionally, it is built strong as an outdoor IP camera, easy to install, and overall, a satisfactory device.