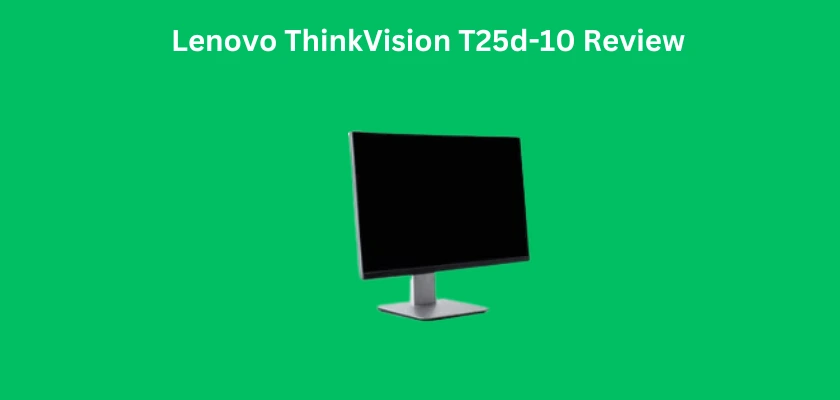 In the ever-dynamic availability of computer monitors, you will find high-quality display monitors that can cater to diverse user needs. The Lenovo ThinkVision Monitor T25d-10 is the higher model of the T24d-10. The latter is an attractive and professional-grade display monitor that can deal with demanding workflows and everyday use. The Lenovo ThinkVision Monitor T25d-10 is presented to you in this review, as it offers a compelling blend of design elements and specifications that would be appealing to creative enthusiasts, gamers, and professional users. In the end, you will be better informed as to the overall value of the Lenovo T25d-10 and how useful it will be for your use.
Overview of the Lenovo ThinkVision Monitor T25d-10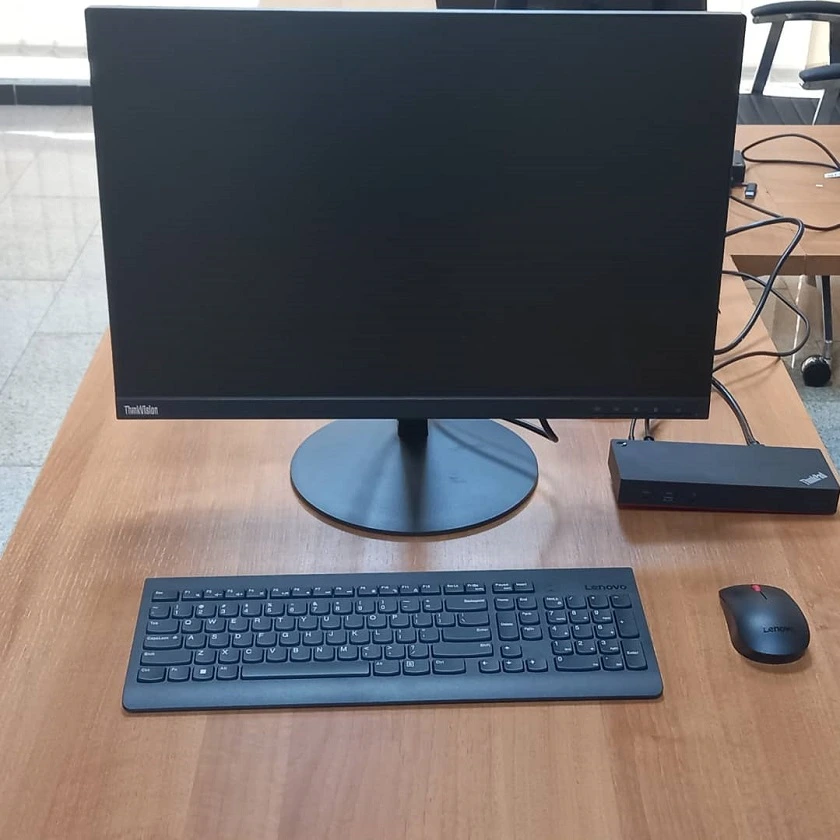 Taking a quick look at the Lenovo ThinkVision Monitor T25d-10, you will observe its attractive and thoughtful design that not only caters to aesthetics but to ergonomics. In front of the monitor, you have control buttons to enable you adjust the monitor's image. Then on the side as shown below, you have four USB 3.1 Gen1 ports for different connectivity options including a headphone/speaker jack. Below the monitor, you have a Display Port, HDMI Port, a legendary VGA Port, and a USB 3.0 Port.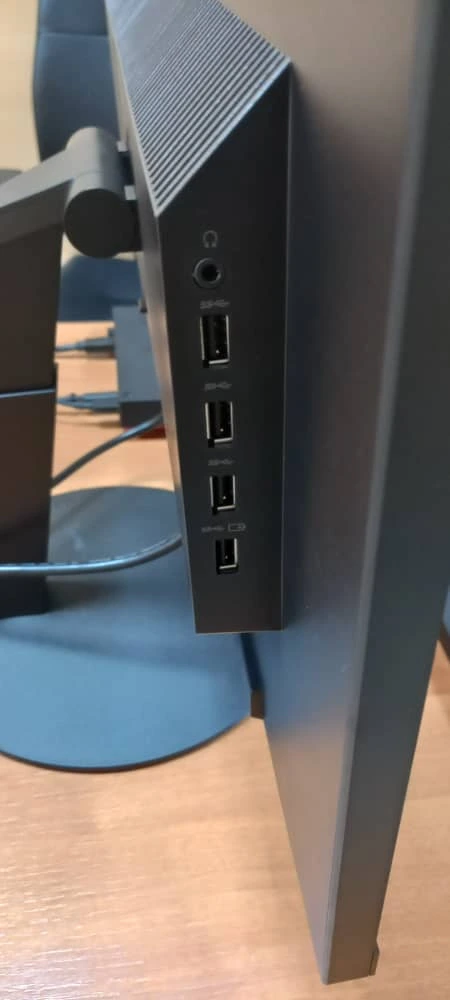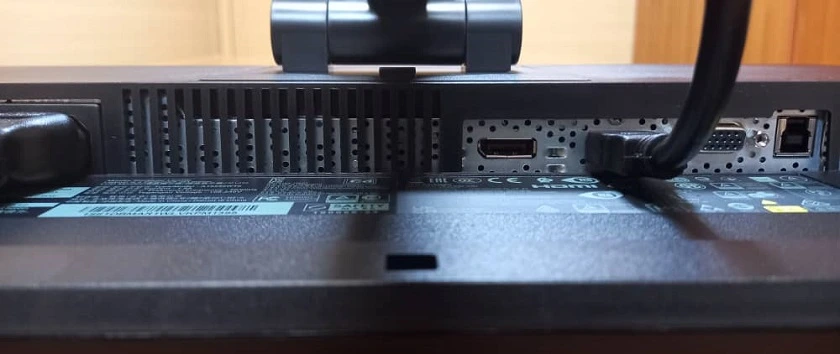 This monitor is a 25-inch monitor with a resolution of 1920 x 1200. It features an In-Plane Switching Panel with a Viewing Area of 533.45 x 338.76 mm, a Viewing Angle (H/V) of 178/178, an Aspect Ratio of ≈ 0.67, Pixel Pitch of 0.2789 x 0.2823 mm, and Dot/Pixel Per Inch value of 91 dpi. Then, the monitor's Dimensions with its Stand in H x W x D are 399.5 x 548.7 x 260.4 mm / 15.73 x 21.6 x 10.25 inches, while the combined weight is 5.5 kg / 12.13 lbs.
Features and Performance of the Lenovo ThinkVision Monitor T25d-10
(1) Design and Build Quality
As you've seen already, the Lenovo ThinkVision Monitor T25d-10 has an aesthetically pleasing and minimalist design. It has a sturdy and adjustable stand that gives you the flexibility of height adjustment, pivot, tilt, and swivel to enable you find an optimal viewing angle that ensures long hours of usage without negative effects. In addition, you will enjoy an enhanced immersive experience with the monitor's slim bezels, and benefit from seamless multi-monitor setups.
(2) Display Quality
The Display Quality of a monitor is one of its most important aspects. The Lenovo T25d-10 does pretty well in producing vivid and color-accurate visuals with its IPS 1920 x 1200 resolution, and 16:10 aspect ratio. The monitor satisfactorily delivers consistent colors and ensures wide viewing which makes it suitable for a wide range of tasks like watching multimedia content, collaborative & video streaming, content creation, photo editing, and gaming. The monitor's 16:10 aspect ratio gives you additional vertical screen space in comparison to more common 16:9 displays.
Speaking of the Color Accuracy and Performance of the Lenovo ThinkVision Monitor T25d-10, this is a feature you will find very appealing, especially for content creators. Out of the box, the monitor delivers remarkable color accuracy covering 99% of the sRGB color space. So, you will find this monitor very suitable for color-critical tasks like graphic design and video editing. It is factory-calibrated which ensures that you have the consistent and accurate colors from the get-go.
Then also, the Lenovo ThinkVision Monitor T25d-10 has a Pixel Response Time of 4 ms (Extreme mode) / 6 ms (Typical mode) / 14 ms (Off mode) and it is a 60Hz refresh rate monitor which is a standard for most creative and professional tasks. However, this may not be enough for some who are into competitive gaming.
(3) Connectivity Options
As you've seen, the Lenovo ThinkVision Monitor T25d-10 has a vast array of connectivity options that allow you to connect to the monitor directly, and easy integration with various peripheral devices. In addition to this, we had the monitor connected to a Lenovo ThinkPad USB-C Dock (DK 1633). This Dock is designed with Three USB 3.0 Ports with one providing always-on mobile device charging. Then, it has two USB 2.0 Ports, and a USB-C Data Only and Upstream Connection. In addition, it has a 10/1000 Gigabit Ethernet Port, Two Display Ports, a VGA Port, and a Stereo/Microphone Combo Audio Port.
(4) Convenience Features
Convenience features are designed to enhance user experience. The Lenovo ThinkVision Monitor T25d-10 is TÜV Rheinland Eye Comfort Certified, as well as Energy Star Certified, TCO 8.0, TCO Edge 2.0, EPEAT Silver, RoHS. The monitor's low light technology is there to filter harmful blue light emissions and eliminate eye fatigue. Also, it is an energy-efficient device and uses considerably less power, thereby minimizing environmental impact and electricity bills.
Full Specifications of the Lenovo T25d-10
The specifications of the monitor are shown below.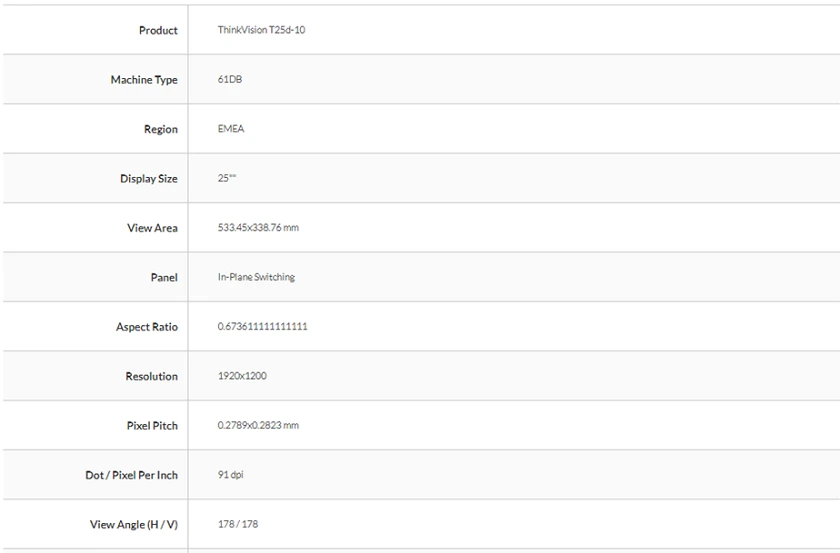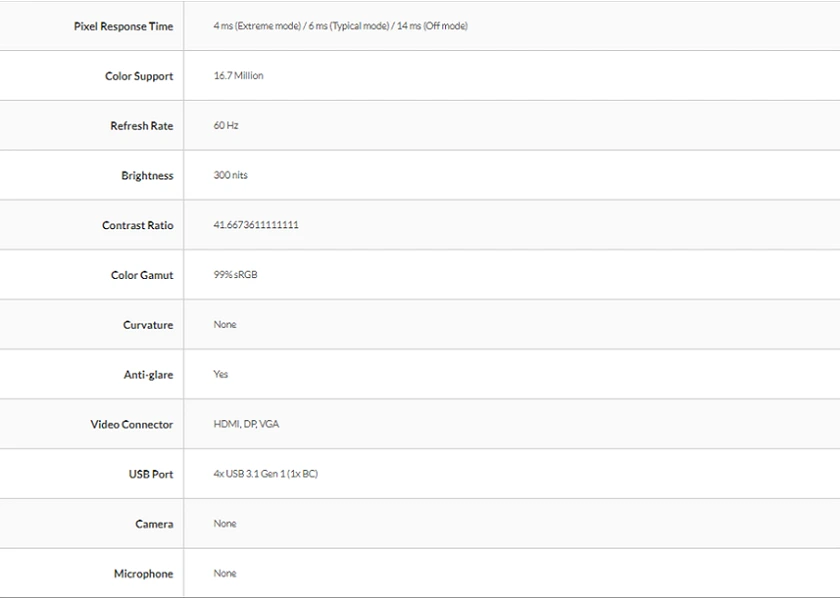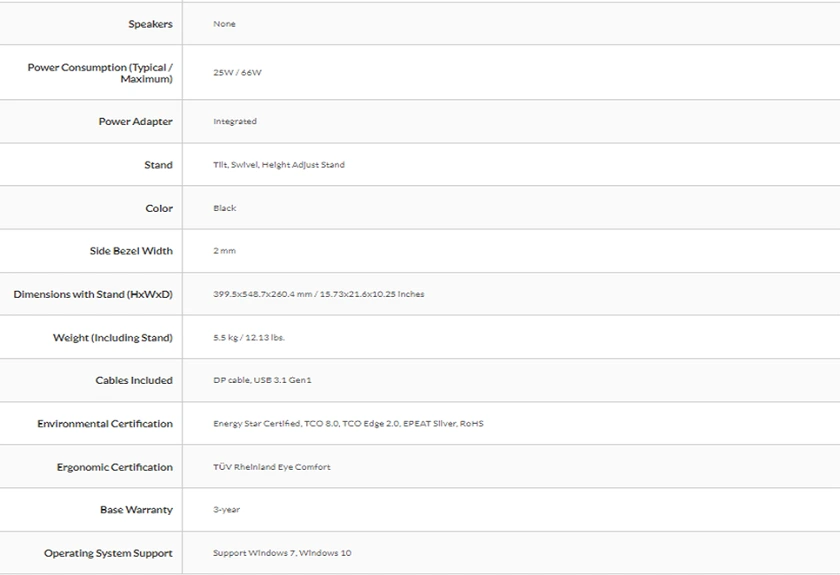 What you may not like
The Lenovo ThinkVision Monitor T25d-10 is not designed with speakers which means that you require external speakers or you make use of your headset. This may be an inconvenience for individuals who like to have inbuilt audio speakers. However, your laptop's speaker may also be sufficient for you.
Final Thoughts
The Lenovo ThinkVision Monitor T25d-10 is undeniably a top choice for anyone desiring a versatile and high-performance monitor. It is a well-rounded monitor that caters to a wide range of uses. From its design to its robust feature set, it is a monitor worth considering for anyone in the market for a monitor.
Get the Lenovo T25d-10 on the Lenovo Official Website (Cashback Reward Available)
You may want to see the Geminos Dual 24 Inch Stacked Monitors [15% Discount (Use Code GEMINOS15)]
You may want to see our review of the Lenovo ThinkVision Monitor P27h-20.