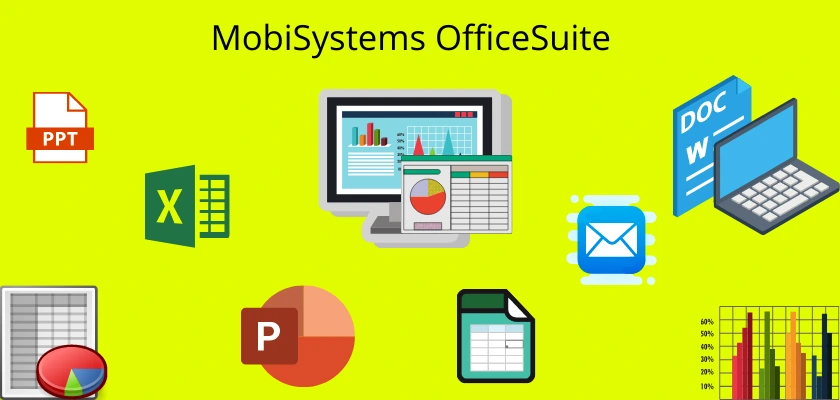 MobiSystems OfficeSuite is a software designed by MobiSystems Incorporated for document management. Microsoft Office has been ruling the documents software industry for a long time. Today, almost every organization, business, and individual has Microsoft Office as their main document editing and management software. While the services provided by Microsoft Office are good, they are not very affordable for everyone. This has made it possible for different document management software options to come on stream and MobiSystems OfficeSuite is one of them.
While MobiSystems OfficeSuite focuses on being a good competitor for Microsoft Office, it also provides cheaper services and this is one of the most attractive features therein. So, in this MobiSystems OfficeSuite review, we will be discussing how well of a job it does in achieving all that. Additionally, we will elaborate on whether going for MobiSystems OfficeSuite is worth it for you or not.
What is MobiSystems OfficeSuite?
MobiSystems OfficeSuite is a document editing software that enables individuals and businesses to create, process, edit, and access different types of documents in different formats. It works on different devices and brings a long list of features for all of these devices. There are different plans available also on MobiSystems OfficeSuite, and each of the plans has a different feature set available for it.
All of these things make it a good Microsoft Office replacement. However, this is not all about MobiSystems OfficeSuite, as more is to come and this review is going to provide a thorough teaching and the value you can expect from this software.
What are the features of MobiSystems OfficeSuite?
When we talk about the features, it is packed with features. There are technical and non-technical features that will make it very functional and efficient for you. Below are the details of different features you can enjoy when using MobiSystems OfficeSuite.
(1) It is a multiplatform tool
The first and one of the most important features to discuss here is that MobiSystems OfficeSuite is a multiplatform tool. Unlike many other document editors available only on one type of device, MobiSystems OfficeSuite is available on Windows, Android, and iOS. The best part is its cross-platform infrastructure, making sharing and syncing much easier.
(2) Document scanner
Next up is something that we do not find in many document editing software. PC users use some scanning devices while mobile users use their native camera app or scanner apps. The thing about MobiSystems OfficeSuite is that it has a built-in feature for document scanning. So, whatever device you are on, you can just use its camera to turn any document from hard form to digital form.
(3) MobiSystems OfficeSuite comes with amazing security
Having your files and documents will not mean having any type of compromise on security. MobiSystems OfficeSuite comes with a multi-layer security approach. So, companies and individuals working on different projects can safely work on them while keeping those files online. The encryption and authentication measures make it impossible for unauthorized users to access or edit those files.
See our review of MobiSystems MobiDrive and how to use it to store your files.
(4) You get multi-format support here
Another thing that sets MobiSystems OfficeSuite higher than most document editors is its multi-format support. Most software come with the support of only a few types of documents or files. With MobiSystems OfficeSuite, you can create, edit, access, and use documents in different formats like PPT, XLS, TXT, CSV, DOC, RFT, etc. The best part about it is that you can work on all these file types on all different supported devices which further enhances the user experience.
(5) It makes converting different files easier
MobiSystems OfficeSuite makes converting files easier than ever because of its cross-platform infrastructure. If you often have to switch between different devices and want to keep working on the same documents, converting documents from one format to another will not be an issue here. More interestingly, this feature is rare in most similar solutions available.
(6) Good range of administrative tools
A major use case for MobiSystems OfficeSuite is to be used for businesses and whole teams working on the same thing. There is a need for administrative tools in such cases, and OfficeSuite also provides impressive services. Adding, removing, and managing users via admin features is very easy and efficient.
Types of Applications you get in MobiSystems OfficeSuite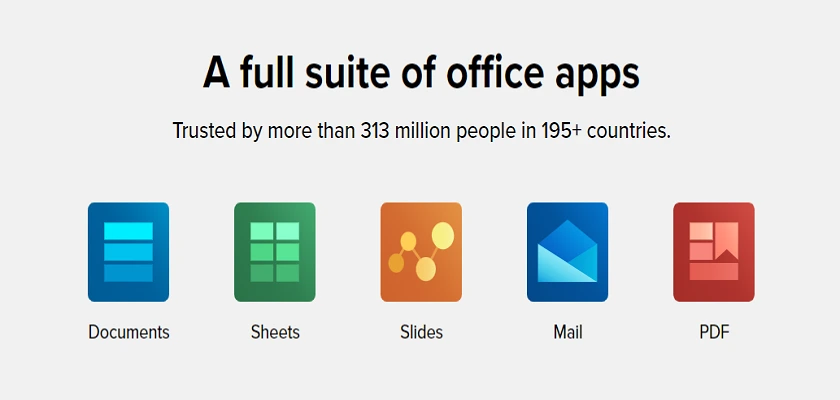 Many online and offline tools are available that provide services like Microsoft Office. The issue is that they only focus on one application or one type of service. On the other hand, MobiSystems OfficeSuite focuses on almost all your document viewing and editing needs. It comes with support for different types of file usage that include;
(1) Documents
The first application you get in MobiSystems OfficeSuite is documents. Writing is made easier and collaborative features make things even better when teams have to work on the same projects. With files working seamlessly on different devices, working on documents with MobiSystems OfficeSuite becomes even better.
(2) Sheets
Managing a business without using sheets is almost impossible. The Sheets application has many features that make accounting and calculations easier, more efficient, and quicker. So, the MobiSystems OfficeSuite Sheets software brings the best alternative to Microsoft Office Excel. Here, you can create and manage powerful spreadsheets to cater to your professional needs easily.
(3) Slides
Slides and presentations have a huge importance in usage by businesses, education, individuals, and the corporate world as a whole. It makes delivering ideas in front of a lot of people easier. So, using the Slides application must be easier as well. With Slides from MobiSystems OfficeSuite, you can create stunning presentations for all types of audiences to meet your business or corporate needs.
(4) Mail
Controlling all your emails in a centralized manner can reduce how cumbersome it is to manage them. Now consider the whole team doing this. With MobiSystems OfficeSuite Mail application, it becomes pretty much possible to do so. Here you can control all your different email accounts in a centralized manner with the Mail feature. Managing your events is also made easier with the calendar feature included.
(5) PDF
PDF files are good for exchanging readable documents in a form where nobody can edit these files. With MobiSystems OfficeSuite, you can also work on PDF file types for reading and sharing them. Interestingly, the MobiSystems OfficeSuite PDF application allows you to both read files and convert/edit them when you need to do so.
The best part about all these aforementioned MobiSystems OfficeSuite tools is that they are 100% compatible with Microsoft Office. So, two-way file sharing and usage is easier.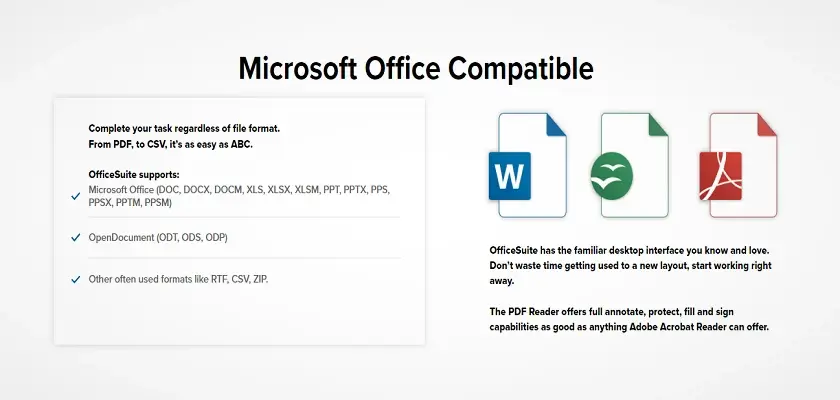 Advantages of using MobiSystems OfficeSuite
Whether you make OfficeSuite a part of your personal life or your business, it will bring a lot of advantages. Most of these are technical advantages that help enhance the work efficiency of any company, team, or individual. MobiSystems OfficeSuite brings a long list of advantages for its users and here we will cover a number of them.
Change Tracking
When teams work together, different people making changes on the same file is a common thing. However, reporting is not that simple with most of the OfficeSuite tools out there. With MobiSystems OfficeSuite, it is very easy to track any changes made to a document. With accounts, tracking becomes even more efficient when you know who made which change.
Employee Tracking
MobiSystems OfficeSuite can only be fully efficient if the users are efficient with it. So, with OfficeSuite, businesses and teams can use the administration features to track the productivity of their employees. It works across a long range of files and features. Employee tracking also helps secure employees, business, and personal information better.
Teamwork Features
The cross-platform feature of MobiSystems OfficeSuite makes it possible for teams to coordinate and work together. Here, working on different devices at different times make things even more efficient. OfficeSuite also helps work-from-home teams. So, no matter the team working peculiarity, the whole team can be on time with all the daily tasks assigned to them.
Electronic Signatures
Approval matters a lot, and in this digital era, it is not efficient to visit someone physically to get their signatures on a document. So, MobiSystems OfficeSuite brings an intuitive solution to this problem. Its electronic signature support allows users to easily get their electronic signatures on documents. The approval process is very quick and efficient because everything is done digitally.
In-Depth Editing Options
With MobiSystems OfficeSuite, you can edit documents in many ways; there are no restrictions on editing file type. Some of these are;
(i) Word file editing
(ii) PowerPoint file editing
(iii) Excel file editing
You can edit these files using annotations, notes, comments, hyperlink editing, and several other things like converting to PDF.
Document Protection
For individuals and businesses who want top-notch security for their files, MobiSystems OfficeSuite comes with a password protection feature for documents. It is easy to enable and use across different devices with different operating systems. This feature serves its purpose as anybody without a password cannot access the information stored in the file.
See a video below of OfficeSuite.
Pros and Cons of MobiSystems OfficeSuite
MobiSystems OfficeSuite comes with many pros that make it an attractive choice. However, it is not all about the pros, there are some cons to it as well. Below are the pros and cons of using MobiSystems OfficeSuite you must know. In this way, you will get a better, unbiased, and neutral idea about MobiSystems OfficeSuite.
Pros
(i) Its interface is very easy to get used to and intuitive on all devices.
(ii) There are advanced tools for different document types.
(iii) If there is some font missing, you can easily download it if you need.
(iv) The document recovery features here are amazing.
(v) Integrated dictionary and spell check features make it even more efficient.
Cons
(i) The word processor of OfficeSuite is a little basic and lacks some latest features.
(ii) It does not bring any live collaboration features like Google docs and sheets.
Why should you choose MobiSystems OfficeSuite?
If you are looking for a document editing and viewing software for different devices that do not break your budget, MobiSystems OfficeSuite might be the perfect choice for you and here are a few reasons why;
(1) A perfect choice for businesses
The first reason for selecting MobiSystems OfficeSuite is that it is a dependable choice for almost all businesses. Regardless of how big a team your business has, MobiSystems OfficeSuite brings different plans for every business requirement.
So, it makes a perfect option for small businesses, medium businesses, and large businesses. The best part is that if you feel like the features or technical specifications like MobiDrive storage space are less than what you need, you can upscale conveniently.
(2) Available on different devices
One of the most attractive things about MobiSystems OfficeSuite is that it is available on all devices. It is available for 64-bit and 32-bit Windows operating systems. Similarly, you can get it on Google Play Store for all your Android devices. You will also get OfficeSuite on the Apple App Store if you are an iPhone user.

It is not only available on different devices, but when you register, you can use the same account across different devices. This makes syncing files and documents pretty easy.
(3) Amazing customer support
Customer support is one of the most important things to providing an excellent user experience. With MobiSystems OfficeSuite, you get online and phone support. Online support is available via emails and tickets. So, whenever you get into an issue, you can use any available support methods.
(4) A long list of integrations for efficiency
When we talk about integrations across different operating systems, many features make OfficeSuite stand out from all of its competitors. Some of the integration options include; iCloud, Google Drive, Dropbox, OneDrive, SugarSync, WebDAV, and more.
Integrations are not only about the things mentioned above, there are different feature integrations when you use OfficeSuite in the Apple ecosystem. For example, the OfficeSuite app on iOS integrates with Apple Watch to make a good remote control for presentations.
(5) A good user interface makes adapting to it easier than ever
Whether we consider the Windows PC interface, Android interface, or iOS interface, you will observe that everything is very familiar and straightforward. There are buttons and tools in sections where finding them across different devices is very easy. So, if you want to start with a good user experience, going with OfficeSuite will be a good choice.
For Home Users
If you are looking for a document editor for your home usage, below are pricing plans you will get with MobiSystems OfficeSuite.
Family Plan
The family plan costs $59.99 per year for six users. It allows you to use 1 Windows PC and 2 mobile devices simultaneously. You also get 50GB in MobiDrive storage with this package.
Personal Plan
The personal plan costs $39.99 per year for one user. It allows you to use 1 Windows PC and 2 mobile devices simultaneously. You also get 50GB in MobiDrive storage with this package.
Home and Business Plan
For this plan, you get MobiSystems OfficeSuite as a one-time purchase, it will cost you $99.99. Here you will be able to only use 1 windows pc and no mobile device. Additionally, this plan comes with only 5GB of MobiDrive storage.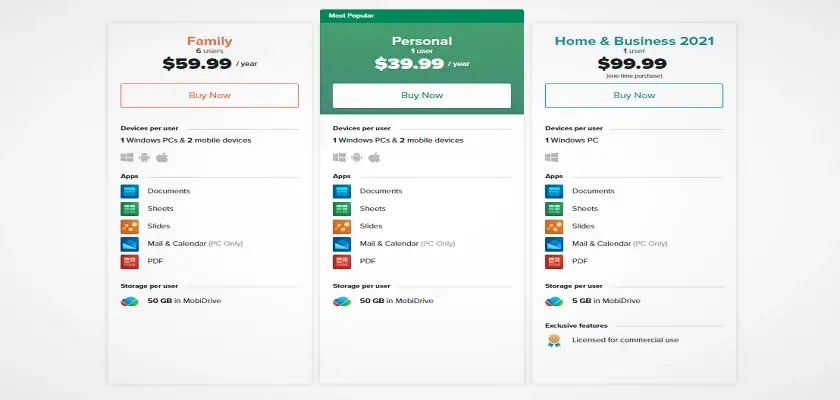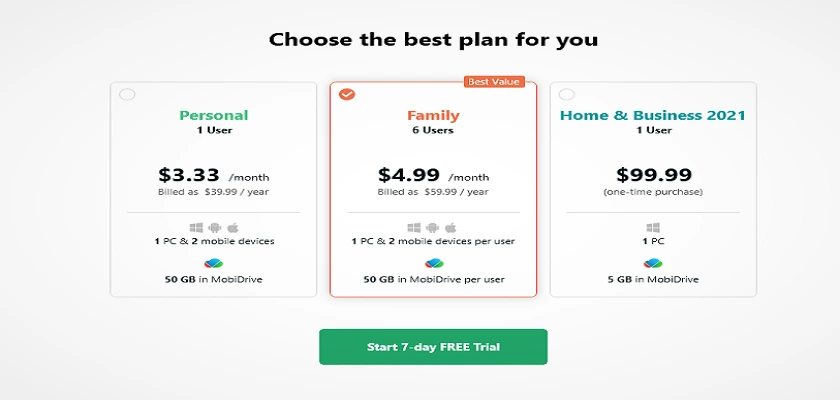 For Business Users
Business users also have three packages here to choose from and they are;
Business Plan
This is the best value package that costs $3.99 per user for 1 month. Here you can use 5 Windows PCs and 10 mobile devices simultaneously. It also comes with a standard 50GB storage in MobiDrive.
Business Extra Plan
Business Extra costs $6.99 per user for 1 month. Here you can use 5 Windows PCs and 10 mobile devices simultaneously. It also comes with a standard 50GB storage in MobiDrive.
Home and Business Plan
The home and business plan costs $99.99 and is paid yearly. You can use this package with one Windows computer and you get 5GB of MobiDrive storage.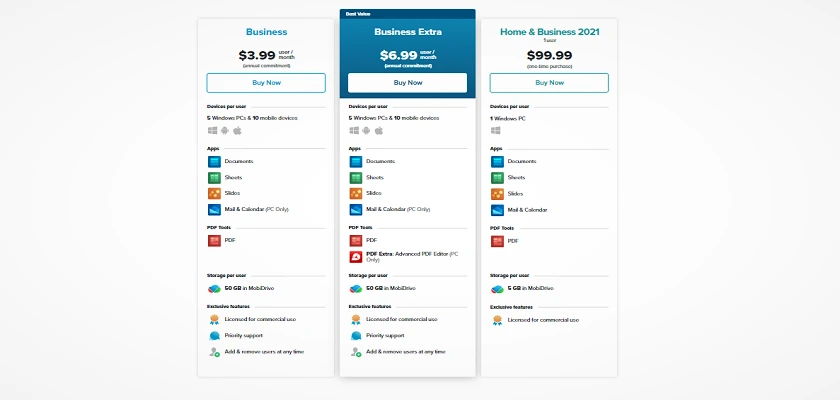 Conclusion
If you look in the market for document editing software, MobiSystems OfficeSuite is one of the software you will come across among many alternatives. There are both free and paid versions. The free versions come with a trade-off with a lot of features missing. Similarly, the paid versions bring all the features available therein but are very expensive. In all of these situations, a software like MobiSystems OfficeSuite makes a good option.
MobiSystems OfficeSuite is good in so many ways. So, it depends on what value you want or are looking for. If you plan to purchase a document editing software, you must set your requirements straight and then select that tool if it meets your requirements. In our opinion, MobiSystems OfficeSuite brings good value for users with affordable pricing.
We hope that this review clarified the value you can expect from MobiSystems OfficeSuite.
Get MobiSystems OfficeSuite on the MobiSystems Official Website
Get MobiSystems PDF Extra on the MobiSystems Official Website