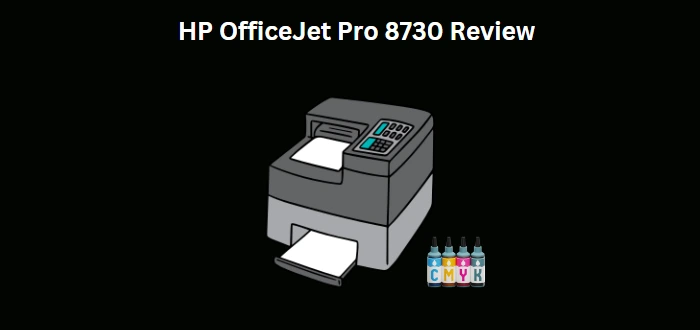 The HP OfficeJet Pro 8730 All-in-one printer is one of the 8700 Pro series from the brand. Within the series, you will find the 8720, 8725, 8728, 8730, 8740, and 8745. The 8730 is a versatile inkjet printer designed for printing, copying, scanning, and faxing needs. The HP OfficeJet Pro 8730 is suitable for small to medium-sized businesses and home offices to help streamline tasks and enhance productivity.
The device is built with features to provide fast and efficient printing, scanning, copying, faxing, wireless connectivity, energy saving features, amongst other features. As an inkjet printer, you will get to see its versatility and its ability to produce high-quality prints both in color and monochrome. In the end, you will have a thorough understanding of the device and how suitable it is for you.
Overview of the HP OfficeJet Pro 8730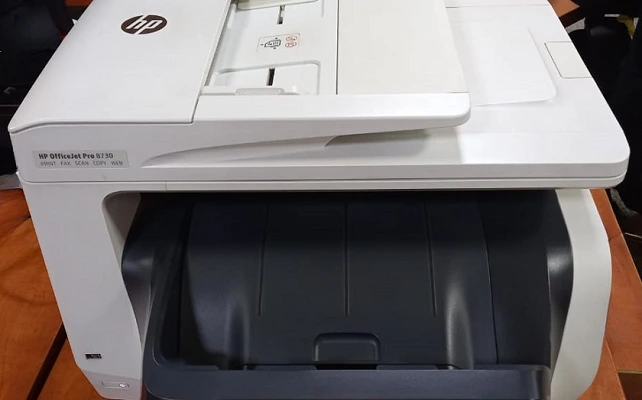 Looking at the HP OfficeJet Pro 8730 All-in-One printer, you will observe that it has a compact and professional exterior design. The color scheme may vary but it comes in a glossy finish and neutral tone that enables it blend aesthetically. At the top, you have a Document Feeder with the associated paper-width guides and feeder tray. Next, you have a Scanner Glass, followed by the printer's Cartridge Access Door/Output Tray, its Control Panel Display, Input Tray, Power Button, and a USB Port.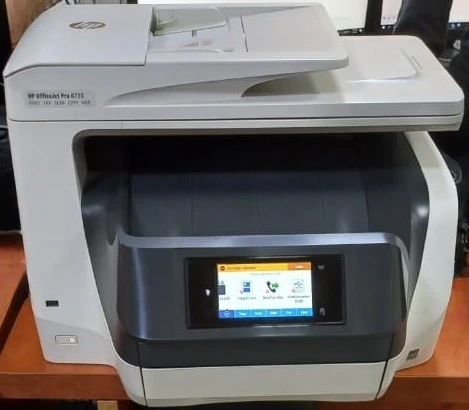 Speaking of the Control Panel Display, this is the primary interface for interacting with the machine, and it gives you access to various settings and functions. Around the Display, there are soft-touch icons which are Setup, Wireless, HP ePrint, Wi-Fi Direct, Ink, Fax Status, and HP EcoSolutions.

Moving to the back view of the HP 8730, you will find a hub of different connection mediums which are; a Fax Port (2-EXT), a Fax Port (1-LINE), an Ethernet Network Port, USB Ports, Power Input Connector, and the printer's Rear Access Panel.

How to Set up the HP OfficeJet Pro 8730 All-in-One Printer
Firstly, take out the printer from its packaging and remove all tapes or films from the machine and the scanner glass. Then, connect the printer's power cord to it and to your Power source. Now, turn ON the printer, and on the Control Panel, set your preferences such as Language, Country, et cetera, and confirm your choices.
Proceed to Loading Paper into the Input Tray by opening this, and then loading plain white paper onto it. Ensure that the short edge is forward and the print side is downward. Also, ensure that the Paper Width Guides rest against the edges of the paper before inserting the Paper Tray.
The next step is to Install the ink cartridges that came with the HP OfficeJet Pro 8730. So, open the Ink Cartridge Access Door and allow the carriage to be idle before proceeding. Now, you have to insert each cartridge according to the letter on the slot. So, hold the black plastic part of the cartridge, with the color circle facing you, and then press it into its slot till you hear it snap into position. Then, close the Ink Cartridge Access Door.
The last step is to Connect the HP OfficeJet Pro 8730 to your Wi-Fi Network with HP Smart for Windows. Do note that you can also set up the HP OfficeJet Pro 8730 with the HP Smart App for Android, Apple iOS, iPadOS, and macOS. In addition, you can set up the printer with a USB Cable and Wi-Fi Direct. With this said, simply open your browser and go to https://123.hp.com and you will find a search bar. Type HP OfficeJet Pro 8730, click Next, and the following page will give you the option to install HP Smart. Once installed, you can then finish the integration of the 8730 with your Wi-Fi network, and the printer will be ready for use.
Features and Performance of the HP OfficeJet Pro 8730 All-in-One Printer
(1) Print Performance
Firstly, the HP OfficeJet Pro 8730 is a machine that's designed with four essential functions; Printing, Scanning, Copying, and Faxing. Its print speed in black (ISO and A4) is up to 24 pages per minute. While for Draft, it is 36 pages per minute. Then, its print speed in color (ISO, A4, Draft) is up to 20, 36, and 36 pages per minute respectively.
The first-page output in black is as fast as 10 seconds, and in color, it is as fast as 11 seconds. The HP 8730 is also built with a monthly print volume of 250 to 2500 pages. With the speed of the printer, you won't have to wait long for your documents, and the machine is very well able to cater to the demands of small to medium-sized offices.
The print quality of the HP OfficeJet Pro 8730 is impressive. You can expect vibrant and crisp outputs every time. With a maximum print resolution of 2400 x 1200 dpi, you will get your documents in sharp text and high-resolution images. The device is also capable of automatic two-sided printing which saves you time and paper. The standard paper handling input of the HP OfficeJet Pro 8730 is 250 sheets, while the standard output paper handling is 150 sheets.
(2) Scanning Capabilities
As seen in the Overview of this machine, it is designed with a flatbed scanner and an automatic document feeder that holds up to 50 sheets, thereby providing you with efficient batch scanning. In addition, you are able to scan just a page, multiple pages, and double-sided documents. The scanning quality of this machine is equally impressive. Its maximum scanning resolution is up to 1200 dpi and with this, scanned documents are of very high quality. You will also enjoy the flexibility of streamlining your document management processes with Scan to Email, Scan to Network Folders, Scan to the Cloud, and file sharing with your clients or colleagues.
(3) Convenient and Time-Saving Copying
In this area, the copying capabilities of this machine were designed with efficiency in mind. It features a maximum copy speed of 36 cpm in black for A4 and 22 cpm for ISO. The copy resolution for black text and graphics is 600 dpi respectively. For color, the maximum copy speed is 36 cpm for A4, while the copy resolution for colored text and graphics is 600 dpi respectively. With these, reproducing your documents is quick without compromising on their quality.
The HP OfficeJet Pro 8730 also provides you with customization of your copied documents. These are resizing, collating, and duplexing. You have Copy Reduce/Enlarge Settings from 25 to 400%. Whatever you would like to do which may include the reduction or enlargement of your original documents, sorting several documents into sets, and creating double-sided documents, it is easy with the HP OfficeJet Pro 8730.
(4) Faxing
For those who still rely on faxing as a means of communication, the built-in fax functionality of the HP OfficeJet Pro 8730 has got you covered. So, you do not need an additional fax machine, you can send and receive faxes with the HP 8730. Speed Dial, Fax Forwarding, and Auto Redial are features you will find useful for quick and hassle-free communication. Color Faxing on the HP OfficeJet Pro 8730 also gives your images or documents the visual impact you desire.
(5) Connectivity Mediums
The versatility to connect with a printer is always a feature to look out for especially in today's fast-paced world that requires seamless use of gadgets. The HP OfficeJet Pro 8730 provides physical connectors from a Fax Port (2-EXT), a Fax Port (1-LINE), an Ethernet Network Port, USB Ports, and wireless connectivity to help integrate the machine with your home or office network or directly to your PC.
Then also, you have Mobile Printing. HP ePrint enables you to effortlessly print files, pictures, and documents from your mobile phone. Locally, you can also print from your USB Drive by simply plugging it into the USB Ports on the printer.
(6) Security
Security is at the heart of the functionalities of the HP OfficeJet Pro 8730. Personal Identification Number is available for authentication at the Control Panel to ensure only authorized users can access the machine to release or print out documents. Secure print is also available to ensure that printing is delayed until access is granted. Also, the communication between the printer and connected devices whether locally or remotely is encrypted as well as the printer's internal memory. You have SSL/TLS, Lightweight Directory Access Protocol, and support for third-party badge readers. In addition to these, the HP OfficeJet Pro 8730 securely boots up with integrity checking to ensure that its firmware is not compromised. Lastly, Syslog is present to give you an audit trail of who printed what and when, thereby providing evidence in the event of security incidents, investigations, or just monitoring.
HP 8730 Specifications
The specifications of the HP OfficeJet Pro 8730 All-in-One printer are shown below.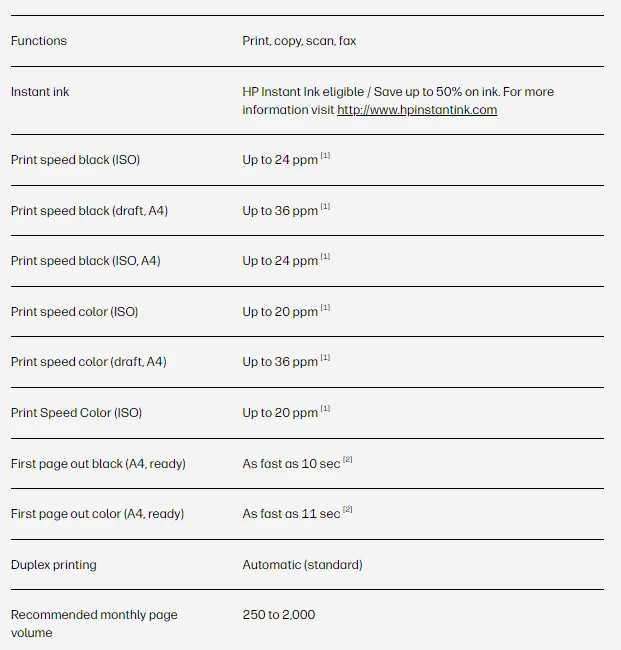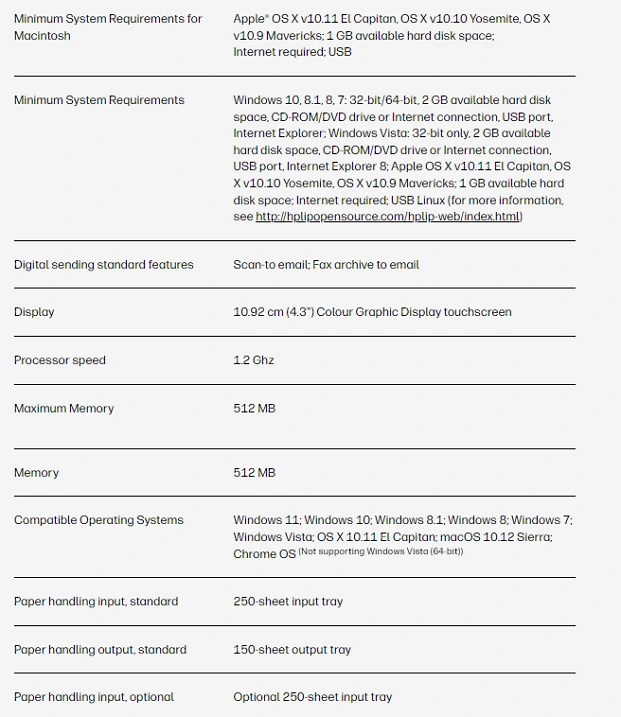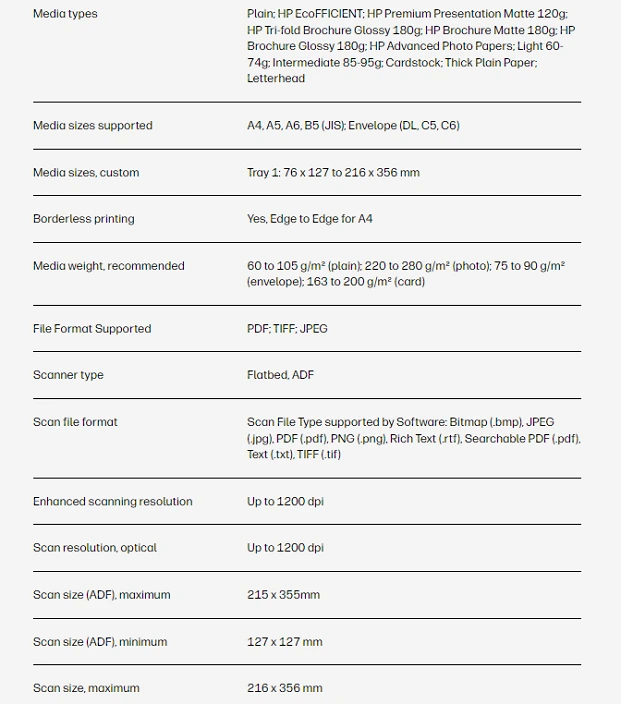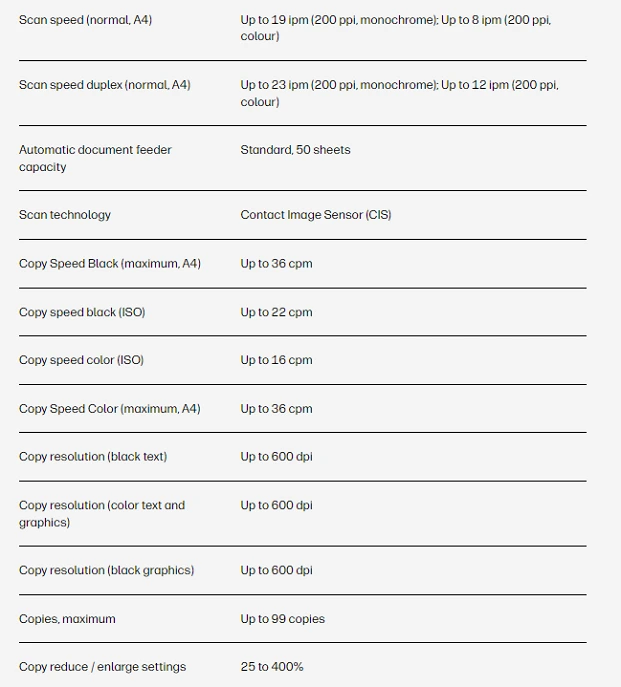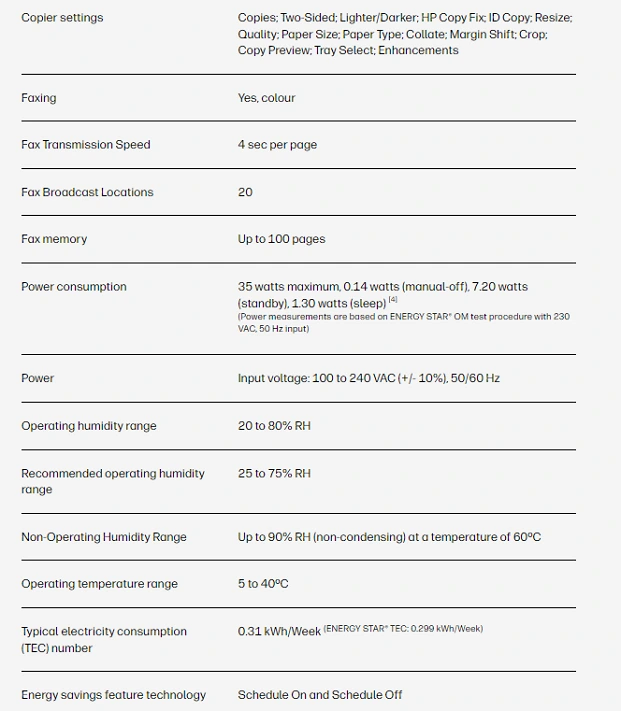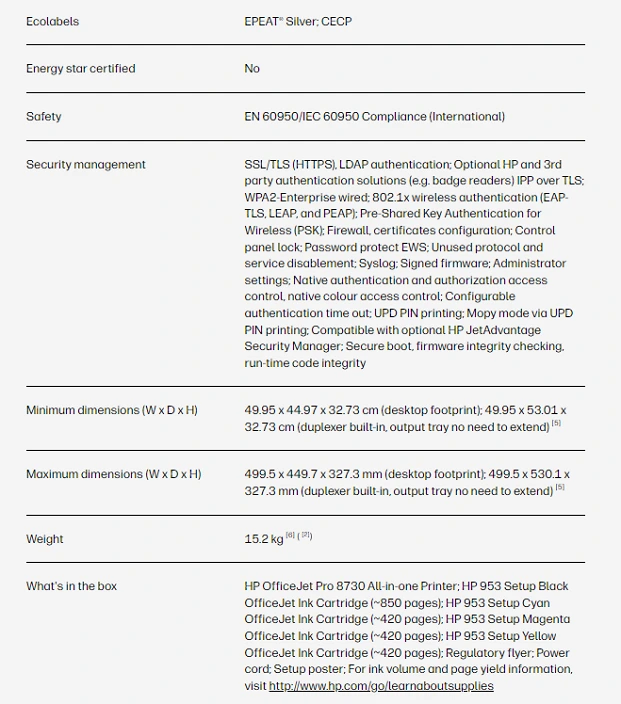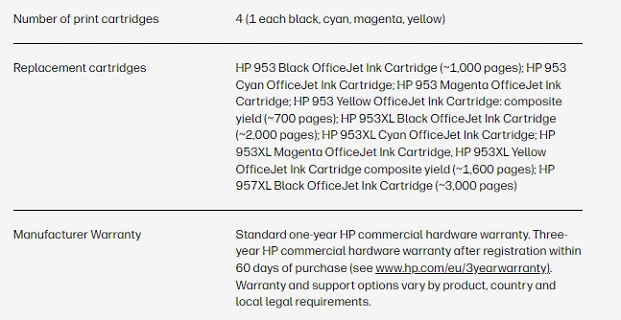 Final Thoughts
For an inkjet machine, the HP OfficeJet Pro 8730 All-in-One printer is an impressive mix of cost-effective printing, with remarkable output quality, and a versatile array of advanced features. With the long-term benefits of this machine which include lower operating costs and the overall convenience of an all-in-one solution, the HP OfficeJet Pro 8730 meets the ever-evolving requirements of a small to medium-sized modern office or just your home office.
You may want to see the Epson WorkForce Pro WF-4820 Wireless All-in-One Printer or the HP Color LaserJet Pro MFP M183fw.