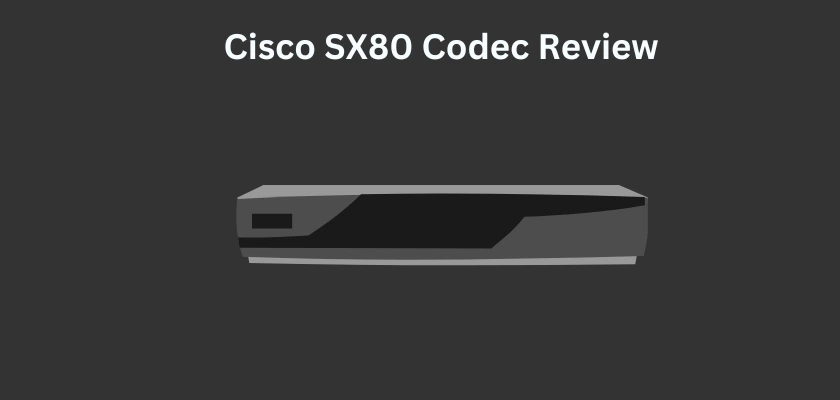 The Cisco TelePresence SX80 is part of the Cisco SX Series that includes the SX10 and SX20. These are units that were designed to cater to different meeting room sizes and requirements, and they've been available for a while now.
This review speaks to the Cisco TelePresence SX80 to see its features, performance, and overall user experience. Before we begin in earnest, the brand is among those that stand tall today in networking and collaboration solutions. In terms of video conferencing solutions, the brand has a comprehensive portfolio of products that suit the evolving needs of collaboration solutions. Along with these is the Cisco Webex Platform that helps deliver high-quality, and feature-rich collaboration experiences.
As we journey in our review of the Cisco TelePresence SX80, you will get to see how the device delivers its features and bridges the gap between geographically dispersed Teams.
Let's get started.
Overview of the Cisco TelePresence SX80 Codec
The Cisco TelePresence SX80 Codec is designed elegantly and in a modern, compact design that blends easily in any professional environment. Its shape and design make for easy mounting and placement however you want to do it. Also, the build quality ensures durability and longevity. On the front of the Cisco TelePresence SX80, you have a power button and indicator LEDs that show what's operational and what is not. Then, at the back of the unit is a vast array of connectivity options as shown below.

All of the connectivity options you see above provide you with enough flexibility in how you can provision the unit with devices you may already have. It is worth mentioning that Cisco provides you with three methods to integrate the TelePresence SX80 so as to help reduce the need for external devices, thereby reducing the overall cost of provisioning the unit. These methods are using the Cisco TelePresence SX80 Codec with a Precision 60 Camera, using the SX80 Codec and SpeakerTrack 60 Dual Camera System, or the SX80 Codec and Quad Camera. With the Cisco TelePresence SX80, you have a powerful media engine that will allow you to build the collaboration meeting room of your desire.
Features and Performance of the Cisco TelePresence SX80 Codec
(1) Collaboration and Connectivity
This is one device that fosters collaboration and empowers participants to interact effectively. With it, you have the Cisco Intelligent Proximity feature that would enable you to share content to mobile devices and wireless sharing between PCs. Dynamic collaboration and idea sharing is further enhanced as meeting participants can share, review, edit, and comment on files and documents in real-time, thereby boosting engagement, creativity, and productivity.
Also, whether you register the Cisco TelePresence SX80 on-premises or to the cloud, you will benefit from One Button to Push (OBTP) in Cisco Webex meetings. If your SX80 is registered to the Cloud, you have Whiteboard Sessions in Cisco Webex Teams app. Furthermore, if you are familiar with third-party control system processors, you will be able to use this to automate the control of your meeting room lights, room dividers, et cetera from the Touch 10 Control Unit.
(2) Video Performance
This is one of the most remarkable features of the Cisco TelePresence SX80 system. It is able to deliver vivid, lifelike visuals with its advanced video processing technology, and maintains seamless video streaming in low bandwidth conditions. It is worth mentioning that the SX80 is capable of up to 10 Mbps total MultiSite Bandwidth and 10 Mbps Point-to-Point on H.323 and SIP Protocols as well. This system allows you four simultaneous video inputs with High Definition video collaboration in 1080p60 and 1080p30 content. Overall, the video performance does not fall short of expectations.
(3) Audio Performance
The Cisco TelePresence SX80 Codec is built with advanced audio processing algorithms that enable it eliminate echoes and background noises, thereby producing natural and intelligible sound. With its support for several external devices, you are assured of enhanced audio capabilities if you integrate external microphones and speakers to the unit. Also, with the Cisco Intelligent Proximity feature, devices you pair with the unit further enhance your audio experience.
(4) The Graphical User Interface and Controls
When you provision the Cisco TelePresence SX80 system, you can simply Log into the Codec with its IP Address and get into the Graphical User Interface, or from the TouchPad, you can get into the device. Once in, you will find a lot of features that you can play around with and configure for the system. The interface has a very organized layout with a detailed list of settings, controls, and advanced configuration options. The picture below gives you an idea of some of what you will find in the GUI.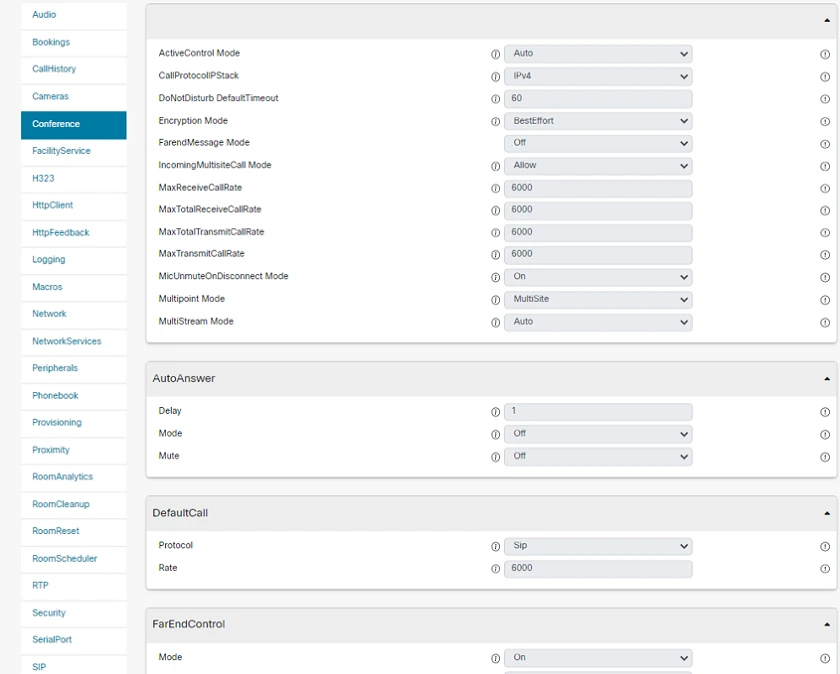 (5) Security Features
One notable feature of Cisco devices as a whole is the emphasis on Security. With regular security updates and bug fixes, you are rest assured that the security of your TelePresence SX80 system is taken care of. The device is built with robust encryption protocols that ensure you have secure communications. Also, you have authentication features with network isolation that help to protect against potential security breaches. With these in place, you have secure communications and the privacy of your Organization's data.
(6) Scalability
Growth and expansion is a very important consideration with any video conferencing solution. The Cisco TelePresence SX80 allows users to adapt their setups as their needs evolve. For example, the Codec provides multiple camera options which allows you to scale up with the best fit for your meeting room. Also, the Cisco TelePresence SX80 has different Ports for you to connect it with any other equipment you want. If you are an IT Administrator, this helps you scale the collaboration requirements of your Company any time it is needed.
Final Thoughts
The Cisco TelePresence SX80 video conferencing system is largely a satisfactory system. Simplicity was considered in its design and this allows inexperienced and experienced individuals to operate it effortlessly. The Graphical User Interface provides comprehensive controls that aid manageability, and you benefit from extensive support from the manufacturer's user guides, documentation, and online community to maximize the potential of your Cisco TelePresence SX80.
You may want to see our review of the Cisco Webex Codec Plus & Cisco Room Kit Plus.