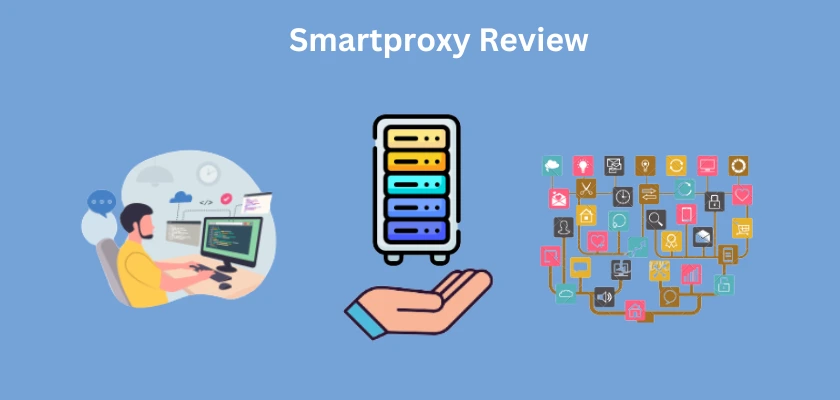 This Smartproxy review is aimed at outlining its usefulness and providing a succinct guide to using it and benefiting from it.
In this digital era, individuals and businesses alike rely heavily on data-driven decision-making. This is where web scraping comes in, but without the right tools, this process can be very cumbersome, time-consuming, and you have to deal with restrictions and blocks.
Smartproxy, among other proxy alternatives, comes in here. With a proxy service, everyone desires what works, and can enable them extract data anonymously, securely, fast, and efficiently.
As we review Smartproxy, you will get to see what it is capable of doing, and helping you achieve. In the end, you will be able to make an informed decision.
Let's get started.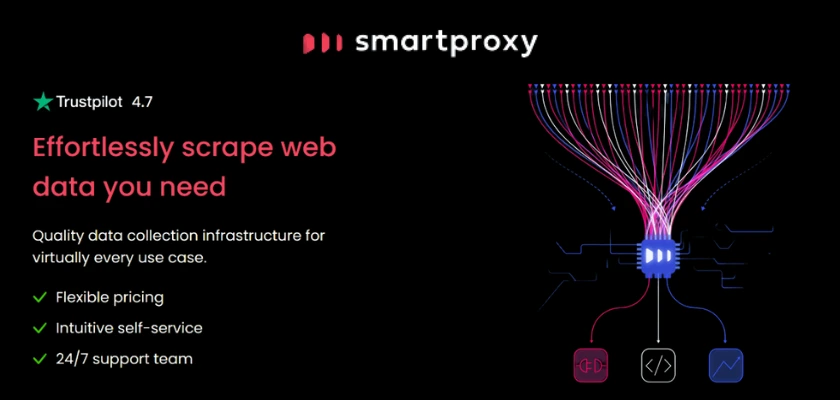 Overview of Smartproxy
Smartproxy is a premium proxy service that has quickly become a reliable provider of proxy services. It simply functions by being an intermediary between your device and the internet. This is made possible by the provision of IP Address masking/location masking and rerouting of your internet traffic through a different IP Address via its Servers.
Taking it further, Smartproxy provides individuals and businesses with solutions that provide reliable, anonymous, and secure ways of accessing the web. Now, this service is desired by many to enable legitimate gathering of information across the internet. Some of these include Market Research, Price Aggregation, Ad Verification, E-Commerce, Search Engine Optimization, etc. However, web scraping is generally not allowed by website owners as they want to protect their content, data privacy, their server resources, and any automated tools accessing their website. While there are legitimate reasons for web scraping, it is necessary to adhere to a website's privacy policy, terms and conditions, and obtain permission before performing web scraping.
With this understanding, Smartproxy can be a goldmine to efficient gathering of data. Smartproxy is a fully-featured proxy service with 40 Million + Real Residential IP Addresses in 195 + locations, in any city worldwide, and in 50 States in the United States. That's not all, you also get Mobile Proxies with an IP Address Pool of 10 Million + ethically-sourced addresses, with 130 Plus locations & 700 Plus ASNs.
Then you also have Datacenter Proxies, Dedicated Datacenter Proxies, and multiple free tools to enable convenient use of your proxies such as a Chrome Extension, X Browser, a Firefox Addon, an Address Generator, and a No-Code Scraper Extension.
Let's see these in detail.
Smartproxy Residential Proxy
When you are online, there are several traceable fingerprints that you leave behind as you surf, the most valuable of them all is your IP Address. With your IP Address, your exact location can be pinpointed, and all restrictions applicable to that location by any website are in effect.
With Smartproxy's residential proxy, each IP Address in the entire pool is that of a real mobile device and a real desktop device that pinpoints a designated physical location. With this in place, websites cannot figure out if you are connected via a proxy, thereby providing you full anonymity.
As mentioned earlier, Smartproxy delivers you 40 Million + ethically sourced Residential IP Addresses from 195 + worldwide locations. These IP Addresses are rotating and you are able to use the entire pool with unlimited connections. With a vast amount of locations available for you to choose from, you can easily carry out geo-targeted marketing, geo-targeted website testing, or content localization among other things. As an example, you can perform large data gathering in an instant by launching a script to send 10,000 requests to several websites and you will get 10,000 different IP Addresses for this task, with the data you requested for.
Also, if you do not want the IP Address to change with every new request, you have the option of stick sessions where you can keep the same IP Address for 1 minute, 10 minutes, and 30 minutes. If you do not choose any duration, the system defaults to the 10 minutes duration.
With Smartproxy Residential Proxy, you have secure communications and transactions with HTTPS and SOCKS5. Then, you also benefit from easy manageability of the service. You have an easy-to-use dashboard that enables you to monitor your daily traffic usage, change your plan or add extra credits, whitelist IP Addresses, and add extra sub-users.
With regards to pricing, you have flexible plans with a 3-day money-back option. Beginning with, you have a Pay As You Go plan at $12.5/Gigabyte. This plan and all other Smartproxy residential proxy plans and payment methods can be found below.
 Get the Residential Proxy Plans on the Smartproxy Official Website
Smartproxy Mobile Proxy
The convenience and flexibility of having a mobile proxy is very desirable. Smartproxy mobile proxy provides you with Android and iOS support with 10 Million Plus ethically-sourced rotating mobile proxies. Now, mobile IP Addresses are gotten from real mobile devices that are connected to a mobile carrier. Smartproxy mobile proxy delivers you 3G, 4G, and 5G proxies all around the world. To see the full list, visit this link.
With 700+ mobile carriers, unlimited concurrent requests, 99.99% uptime, rotating IP Addresses with each connection session, and the option of sticky IP Addresses for up to 30 minutes, you are sure to get the most out of Smartproxy mobile proxies. The manageability of your Smartproxy mobile proxy is also top-notch, with a very user-friendly dashboard. With it, you can monitor your daily traffic usage, track requests, change your plan or add extra credits, whitelist IP Addresses, and add extra sub-users.
Another remarkable feature you get with Smartproxy mobile proxy is integration with Add-ons and third-party tools. You get to use Multilogin, GoLogin, the Chrome Extension, and Firefox Add-on. In terms of secure communications, you benefit from HTTPS and SOCKS5. With regards to pricing, you get three primary plans, and then Enterprise plans. The first primary plan which is the Micro plan gives 2GB at $50 a month. This plan, all other plans, and payment methods can be seen via the link below.
Get the Mobile Proxy Plans on the Smartproxy Official Website
Smartproxy Datacenter Proxy
A datacenter proxy as the name implies is a proxy server domiciled in a datacenter, and facilitates the communications between a user and the internet. Requests sent by a user for a website resource go to the datacenter proxy first, which then sends this request to the intended website and vice versa.
Now, datacenter proxies provide the advantages of powerful hardware, high-speed internet connections, and efficient use of resources because they are hosted in a datacenter. However, datacenter proxy IP Addresses are normally registered to a datacenter or a hosting provider, and this pool of IP Addresses may be limited which makes them easily detectable. As several users around the world use datacenter proxies, websites can detect IP Addresses associated with popular datacenter proxy providers, and with high volume of traffic patterns, they are then blocked.
With Smartproxy datacenter proxy, you have several datacenter proxies with over 100,000 datacenter IP Addresses worldwide, in over 400 subnets (See the full list). Then, you get advanced rotation, with a unique proxy for each connection request. You also get sticky sessions to use an IP Address for up to 30 minutes.
With a Smartproxy datacenter proxy, you have an intuitive setup with seamless proxy integration. In addition to this, you have an in-depth developers guide, public API, and 24/7 live support. Your dashboard also gives you easy manageability of the service; you also benefit from free tools which are the Google Chrome Extension, the Mozilla Firefox Add-on, and an Address Generator. Furthermore, If you want to test the Smartproxy datacenter proxy, you can do so for 3 days at $10 and if you are not satisfied with it, you can ask for a refund.
Generally, datacenter proxy prices are relatively cheap. With a Smartproxy datacenter proxy, you get to choose from two pricing models; Pay Per IP and Pay Per GB. The differences between them are that the former allows you to pay for a specific amount of datacenter IP Addresses from 100 and above, and GBs from 50. Then, the latter allows you to get unlimited IP Addresses while you pay for the bandwidth only.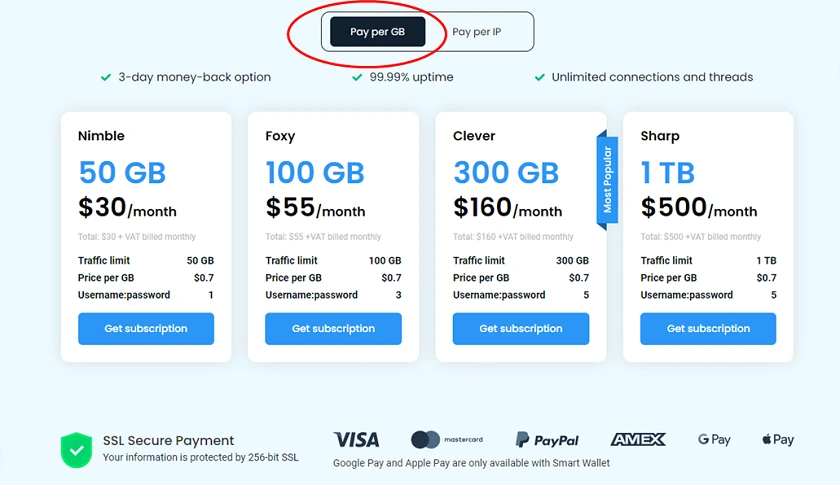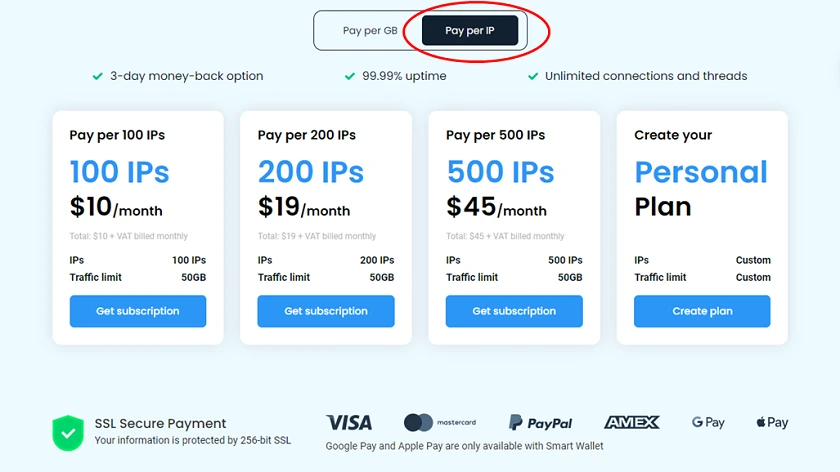 Get the Datacenter Proxy Plans on the Smartproxy Official Website
Smartproxy Dedicated Datacenter Proxy
Dedicated Datacenter proxies are proxies that enable you have static IP Addresses. These IP Addresses are used exclusively by you, thereby giving you full control, trust, and acceptability of these IP Addresses. With this in place, you have minimal risks of blocks as compared to shared proxies.
With the Smartproxy Dedicated Datacenter Proxy package, you have IP Addresses from 400,000 DDC proxies pool in the United States, with the added benefit of powerful hardware and extremely fast machines. With multiple devices, you will conveniently gather data with unlimited threads and connections. Also, you benefit from SOCKS5 or HTTPS.
With regards to pricing, you have the option to choose a Sequential Plan or Non-Sequential Plan as shown below.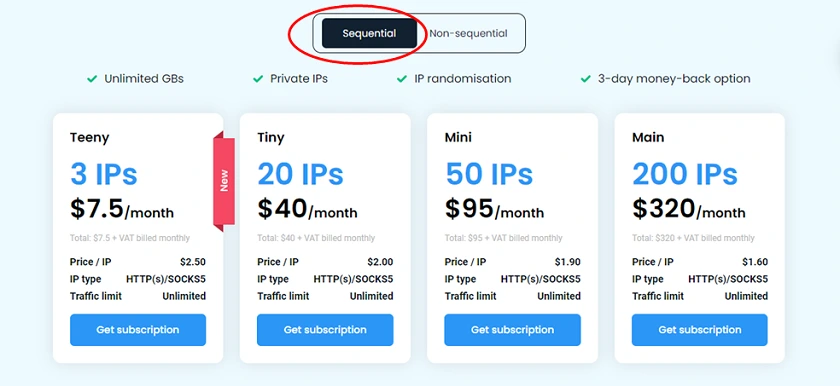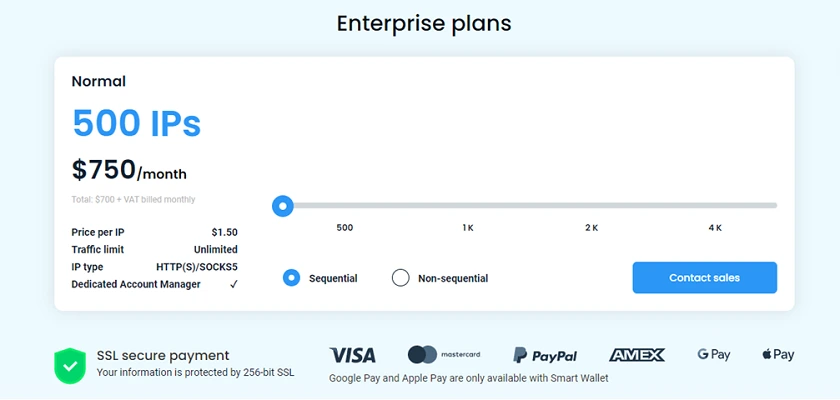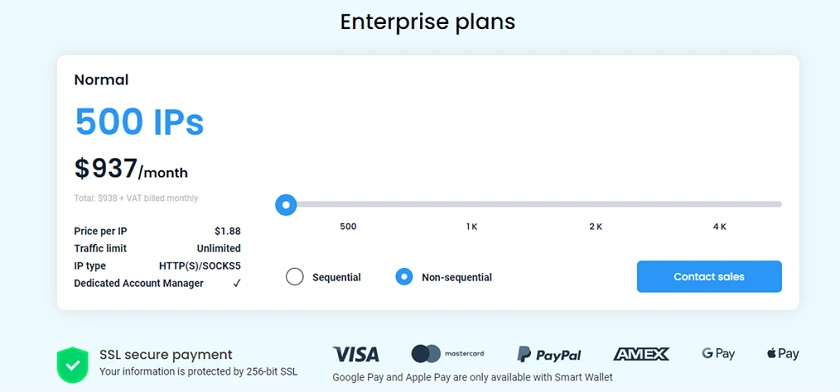 Get the Dedicated Datacenter Proxy on the Smartproxy Official Website
Tabular Representation of Smartproxy Use Cases
Smartproxy Scraping APIs
Smartproxy has a set of feature-rich tools to enable convenient and efficient use of APIs. These are shown in the table below.
How to test if Smartproxy is working
It is essential to verify that indeed your proxy from Smartproxy is functional. For Smartproxy Datacenter, Residential, and Dedicated Datacenter, use the format below.
curl -u username: password -x endpoint/IP: port website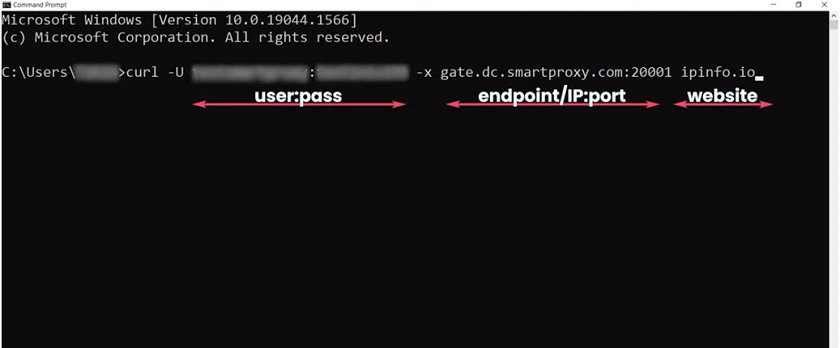 To check if your Search Engine Proxies are working, use the format in the first screenshot below; the other screenshots are the results.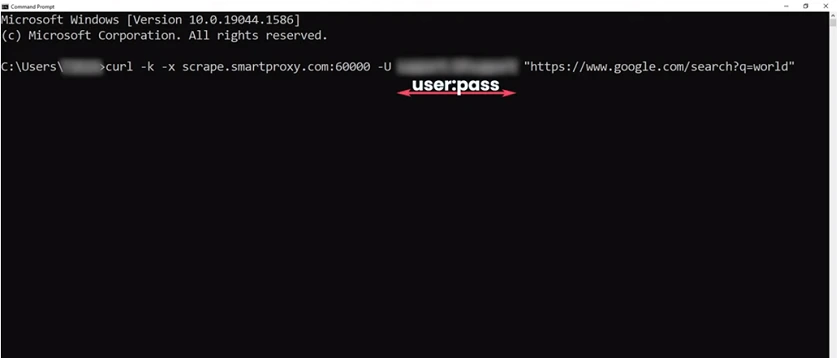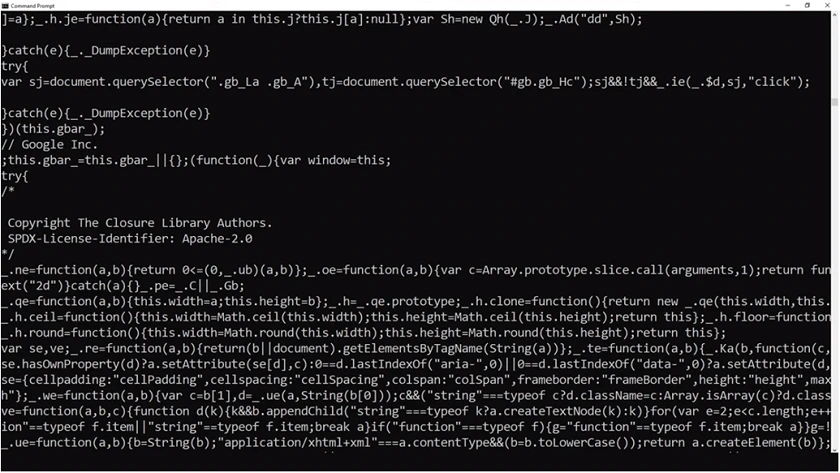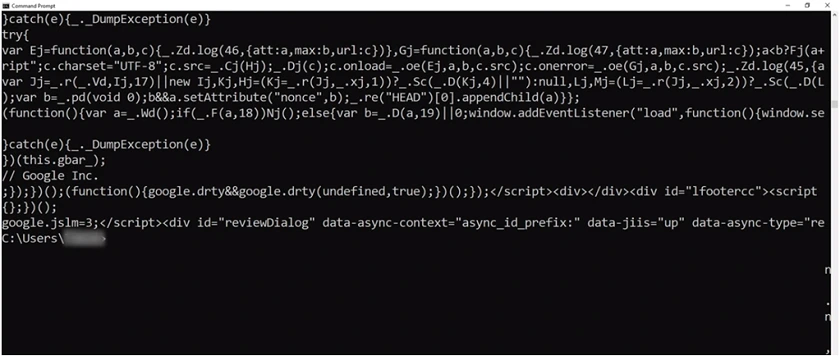 Optionally, you can go to an Online IP Checker and if your Smartproxy IP Address matches that of the Online IP Checker, then you are fine. See the screenshot below.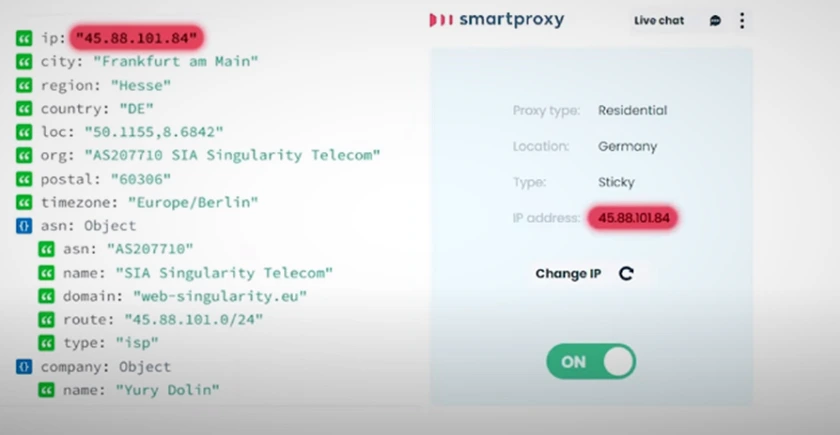 Final Thoughts
Smartproxy is a versatile tool that can help individuals, small businesses, or large corporations with fast, secure, and dependable proxy services. With several residential IP Addresses, mobile proxies, APIs, widespread coverage, and support for needed protocols, it is a sure tool for all your web scraping activities.  
It's usability and intuitive dashboard provide convenient management of the service, and with different price plans, you definitely will find a suitable entry point.
If you would like to try out a VPN, you may want to try NordVPN Free for 30 Days or Surfshark Free for 30 Days and ExpressVPN Free for 30 Days.