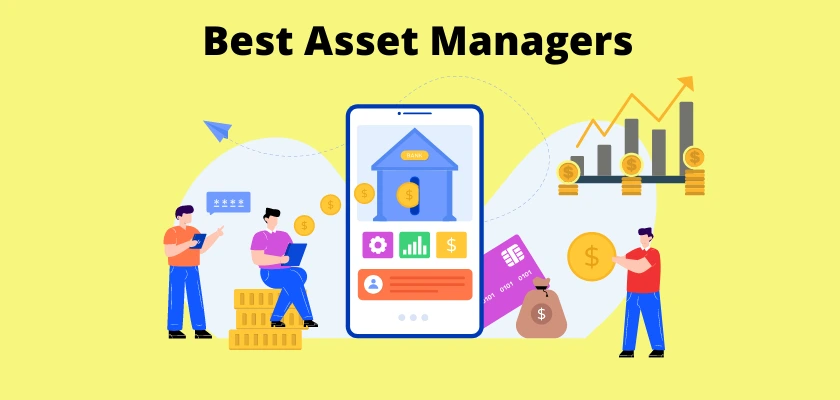 Asset management and the use of asset management software has become very popular today. Things were a lot different several years ago when digitalization was not a thing. However, taking a look at the mode of life today, you will see that most things are now functional in the digital form. So, digital management of assets brings about asset managers. If there is an issue in all of this, then that is about selecting the right asset manager or asset management software for you. So, here we will be elaborating on all that you need to know in this regard.
What is an Asset Management Software?
The name is pretty much self-explanatory here because an asset management software is a digital tool available in the form of some mobile app, web application, or computer software that you can use to manage your assets digitally. The best part is that it does not matter what type of assets you are looking to manage and what your usage requirements are.
Whether you are using an asset management software for your personal needs or organizational needs, these tools can serve you in very efficient and reliable ways. An Asset Management software brings the following features and functionalities for any user:
(1) Managing assets made easier.
(2) Better visibility of all assets under one platform.
(3) Optimum utilization of all assets.
(4) Fewer management costs.
(5) Compliance with all the regulatory requirements to ensure security and reliability.
When we use asset management software for managing assets, we can easily view and manage all the assets in a single dashboard. This representation of data is in an organized and informative form that can be used to make all sorts of detailed and calculated decisions whenever needed.
The prepared, accurate, balanced sheets and calculated decisions ultimately help make informed decisions that can be very valuable for all sorts of businesses.
The Top Performing Asset Management Software
Although there is already a lot of awareness about asset management, some people still get confused when it comes to selecting the right asset managers or asset management software. The wide variety of options available out there also makes it difficult for people to choose. So, here we have picked the top-performing asset managers and asset management software that you can use according to their features and benefits.
(1) AssetExplorer Asset Management Software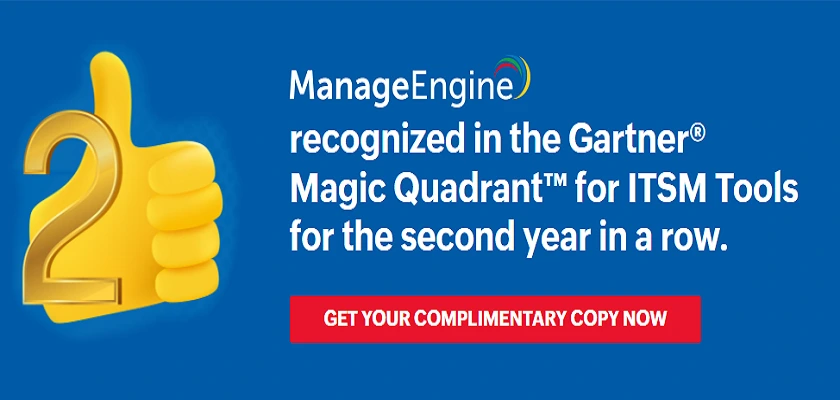 The first one on our list is ManageEngine AssetExplorer which comes as one of the top-performing asset management software in its category. It keeps hold of all the important features and requirements which are necessary for a feature-rich experience for users. If you are concerned about what type of assets it caters to, then there is no need to worry as it works for physical assets as well as virtual assets.

Features:
(i) Cloud-hosted software to meet your asset management needs.
(ii) Virtual Machine based asset support is available as well.
(iii) Provides excellent asset-tracking tools to meet your requirements.
(iv) Amazing reporting tools available for different types of assets.
(v) Unified capability of detecting all types of operating systems in your network.
(vi) Provides all information you need in making purchases of devices, software, licensing, and tracking.
(vi) Doesn't matter if your assets are networked or not, It works for all.
(vii) Relationship mapping services bring amazing value.
(viii) Very easy-to-use user interface.
(ix) Mobile apps available on iOS and Android.
(x) A free version, trial version, and professional version are available.
(2) Pulseway Asset Management Software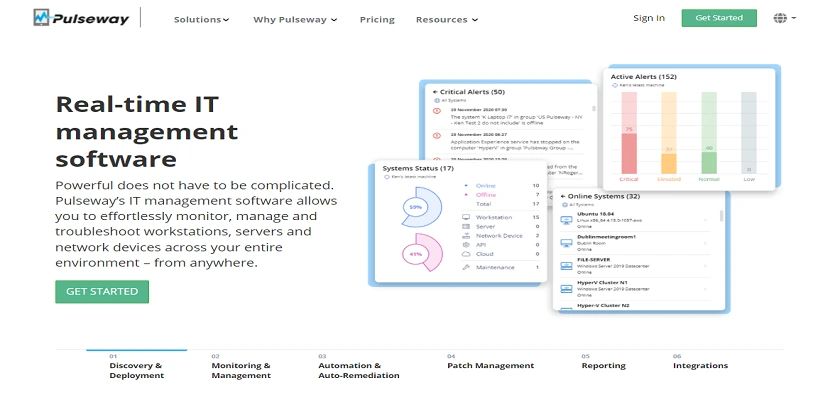 If you are looking for an all-rounder in an asset manager, you do not need to look further, as this is one of the best options we have here for you. Pulseway brings the features that make it the best choice for most large and medium-sized businesses that are looking to manage their assets efficiently.
The functionalities this asset manager brings make it an excellent and reliable software for your needs by any means.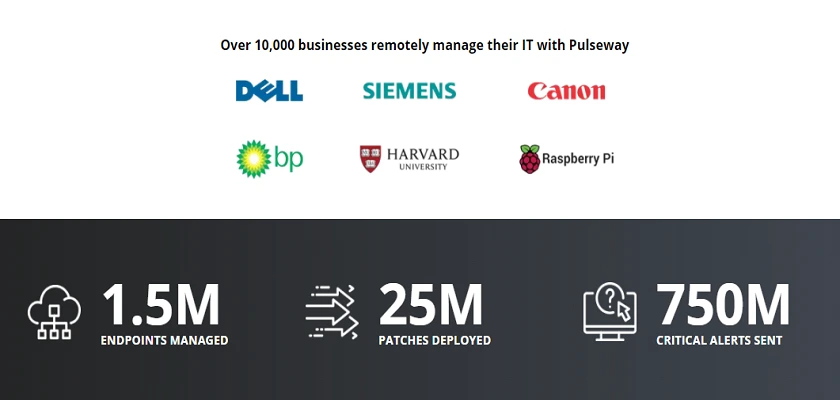 Features:
(i) Real-time monitoring.
(ii) Enabled with automatic discovery which gives you total visibility.
(iii) Real-time alerts in the event of any glitch. 
(iv) Complex infrastructure bringing the best features.
(v) Focuses on the management of mobile assets.
(vi) Powerful tool.
(vii) 2FA for better security.
(ix) Very easy-to-use interface that is intuitive and modern.
(x) Works on different devices.
(xi) Works with both backend technologies for the best experience.
(3) Asset Panda Asset Management Software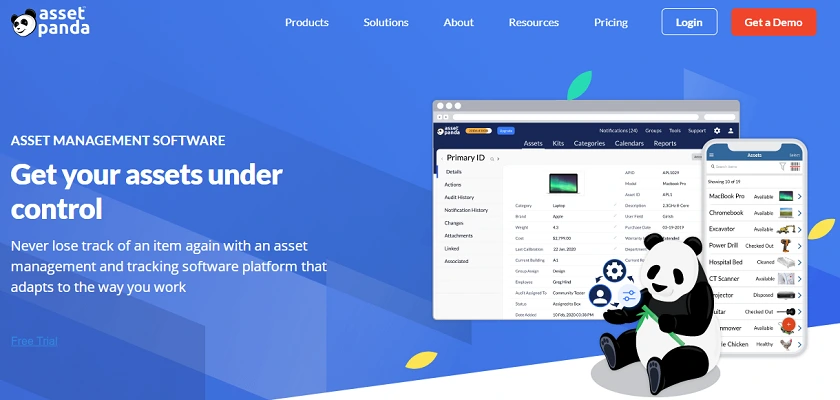 Next up on the list is Asset Panda which also comes with top-notch services for managing your assets. It is complex in terms of backend functionalities making it better than most contenders. It is the same thing that also makes it very capable of most users' needs.
The list of features and benefits this asset management software brings along with the learning curve makes it one of the best asset managers for most businesses and companies.

Features:
(i) The customizability feature allows you to set things according to how you want and need them.
(ii) Cloud connectivity feature is available for remote accessing of data and reports.
(iii) Brings excellent support for a variety of devices.
(iv) Amazing reporting feature.
(v) Supports different types of data including videos, images, voice notes, and even custom types.
(vi) A budget-friendly option according to the features it brings.
(vii) Free trial available.
(4) InvGate Assets Asset Management Software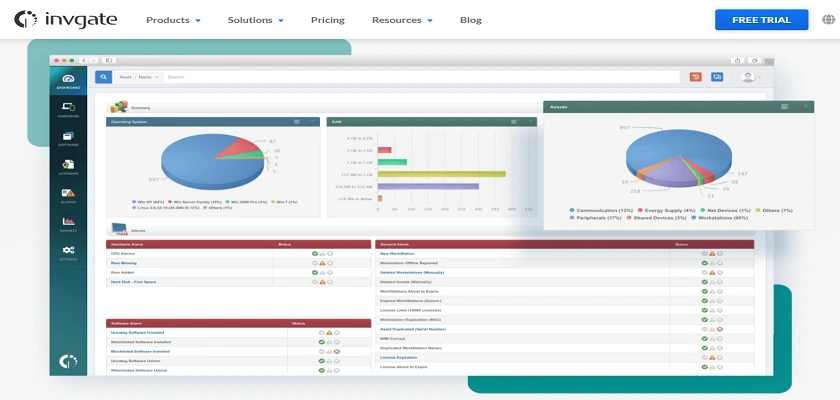 Yet another amazing asset management software that brings amazing features for both software and hardware management needs. InvGate Assets bring some amazing functionalities making it the perfect option for many. It is one of those software options that require you to have a locally hosted backend for better functionality.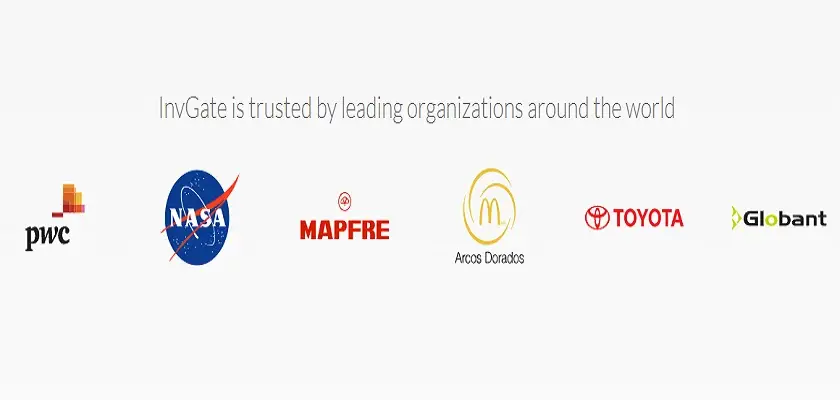 Features:
(i) Locally hosted backend working mechanism brings better speed.
(ii) The entire setup takes a few hours without complexities.
(iii) It is enabled with an alarm feature which works amazingly to provide you alerts.
(iv) Language switching option is available.
(v) You can get advanced reports by running custom queries.
(vi) Everything is very fast because of the locally hosted server.
(vii) Free trial available.
(5) Ivanti IT Asset Management Software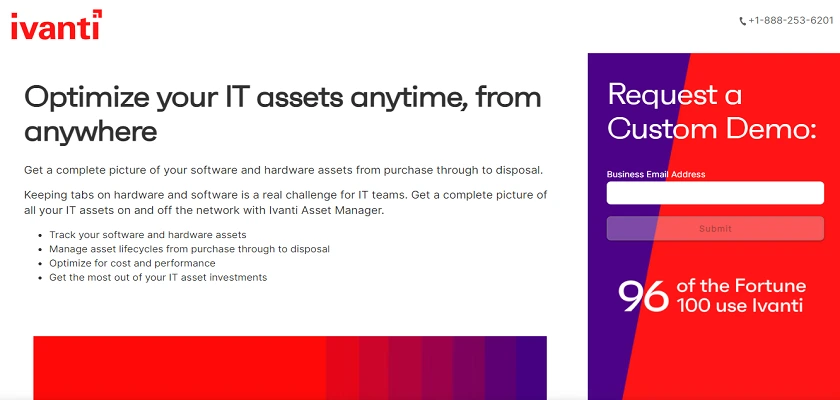 Ivanti IT Asset Manager is excellent with customization options along with the best flexibility of tracking things just the way you want. The options to use personalized queries open doors for limitless options.
Also, these are not the only benefits of Ivanti as there are a lot of other features and functionalities available with some pre-built options as well.
Features:
(i) Available on both mobile devices and desktop devices.
(ii) Easy-to-use Windows-style interface.
(iii) The setup wizard makes the setup process very easy.
(iv) Comes with a lot of tech support options.
(v) Works on all types of assets.
(vi) Allows you to install agents on your devices to make things even easier.
(vii) A free trial is available for those who are not sure about the quality and value they are getting.
(6) GoCodes Asset Management Software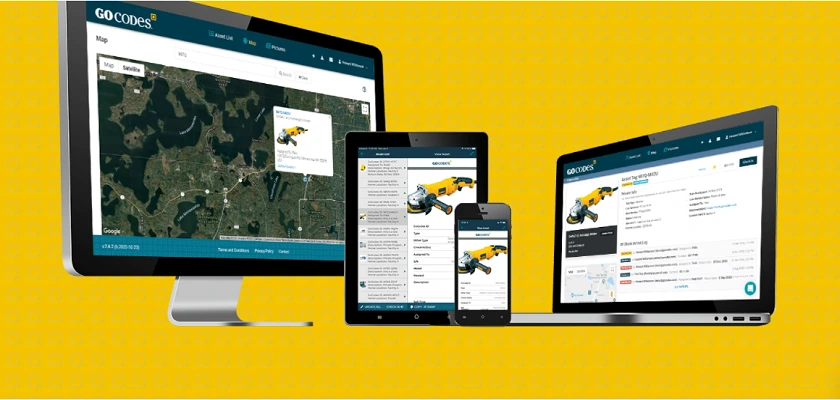 GoCodes asset management is another quick-performing asset manager that also comes with amazing features as well as tracking options. It is an excellent software in its league, making things amazingly functional for different types of business. The backend features are powerful, and the pricing is affordable, making it a dependable choice for almost every user.

Features:
(1) Cloud Solution.
(ii) Mobile-capable software for managing assets including quick response code licensed labels.
(iii) The stickers come with the best quality to hold all information securely.
(iv) Works for different assets, even for those that are not networked.
(v) GPS location tracking is available.
(vi) Works amazingly for locating powered-down assets.
(vii) Very easy-to-use user interface.
(viii) Affordability makes it good for small businesses and individuals as well.
(ix) Robust system for tracking all of your physical assets.
(x) Free trial available.
(7) ServiceNow Asset Management Software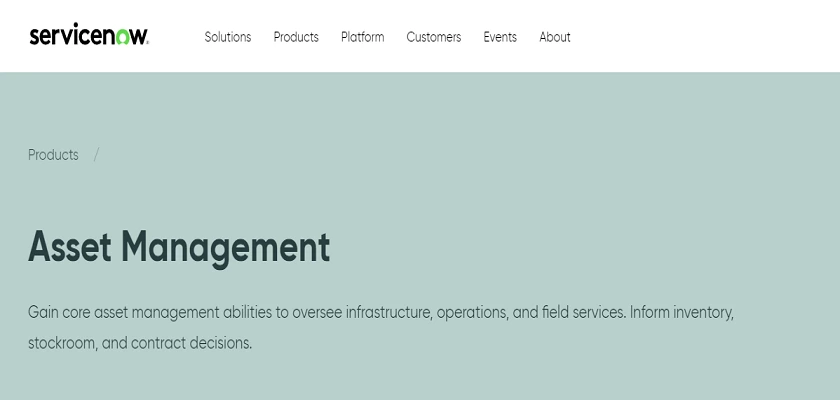 ServiceNow is the asset management software in our list that is oriented more towards enterprise needs, so it also comes with enterprise-grade solutions, features, and services. Looking at the list of features you get, it is hard to say that something you wanted is not provided here.
While there are a lot of amazing features and benefits of using this software, you must make sure to take the steep and long learning curve to use this software for the best experience.
Features:
(i) Cloud-hosted backend that comes with affordability and remote services.
(ii) Track different things about your assets like HR, Mobile, Locker, and Contract Asset Management.
(iii) The reports you get are very well organized for easily grabbing all information at a go.
(iv) Brings customization options when it comes to generating reports.
(v) There are several support options that you can go for.
(vi) No need to manage the locally hosted hardware.
(vii) Provides options for plugins and solutions according to your needs.
(8) SysAid Asset Management Software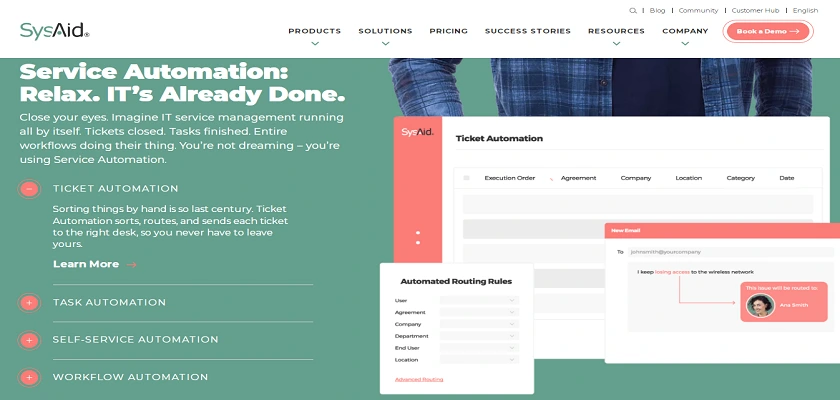 Technology is never complete sometimes, and integrations make things complete because in this way, you can get all the features and functionalities that you need. With SysAid, you can get all the features you need because of the integrated solutions available.
Apart from what you need, there are a lot of features for companies based on different scales and levels to help manage different types of assets.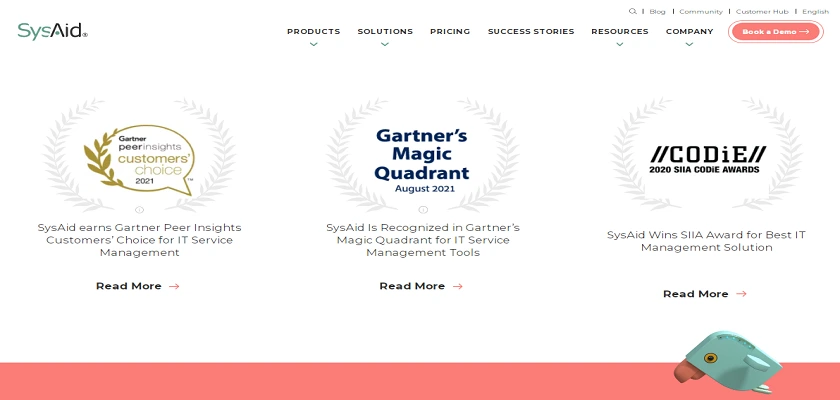 Features:
(i) Automated ticketing.
(ii) Automated self-service.
(iii) Automated workflow.
(iv) Help Desk Software.
(v) ITSM software.
(vi) ITSM Plus software.
(vii) Asset visualization options are available.
(ix) You have the option to download agents.
(x) Amazing backend integration option.
(xi) Network detection.
(xii) A lightweight software working on the Lightweight Directory Access Protocol (LDAP).
(xiii) Comes with an HTML5 browser client for mobile usage.
(9) SolarWinds Asset Management Software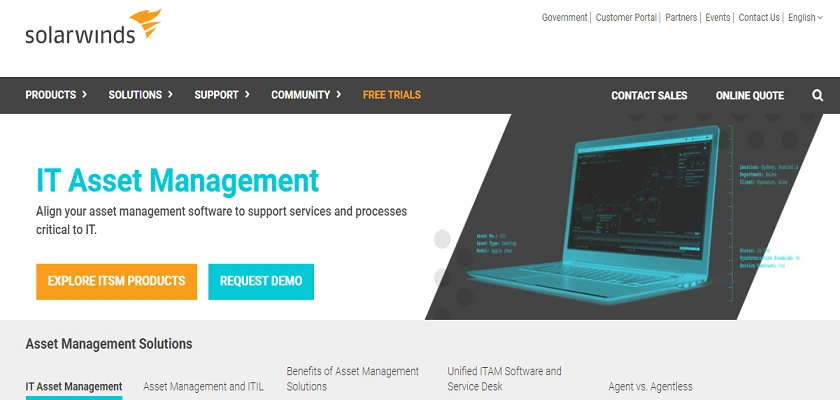 Sometimes the most complex software is not the best for your needs and SolarWinds is the perfect choice in this case. It is a lightweight software that brings more than just asset management. While it tries its best to bring all the necessary features, lightweight still lacks some features and this software is more suited for small businesses.
However, this software still brings amazing value to users for asset management with excellent support from the SolarWinds helpdesk. As earlier noted, you need to know that it is not the best choice for all of the very large organizations, but it is amazing for small businesses and individuals.
Features:
(i) It comes with a free tool to administratively manage Active Directory.
(ii) A separate free tool to manage permissions for Active Directory.
(iii) A free tool to forward event logs in Windows.
(iv) Service Desk asset management software which you can try for 30 days free.
(v) Ticket Management software which you can try for 14 days free.
(vi) Remote Administration with Dameware which you can try for 14 days free.
(vii) A separate Dameware tool for the management of systems and remote support.
(viii) A special ITSM pack for Help Desk support.
(ix) Setting things up takes no more than a few hours.
(x) Comes with report scheduling options.
(xi) Brings amazing value.
(xii) Affordable pricing makes it attractive to many.
(xiii) Very easy-to-use interface with large buttons and helpful text where needed.
(xiv) It is a web-hosted solution making it perfect for most devices.
(10) Track-It Asset Management Software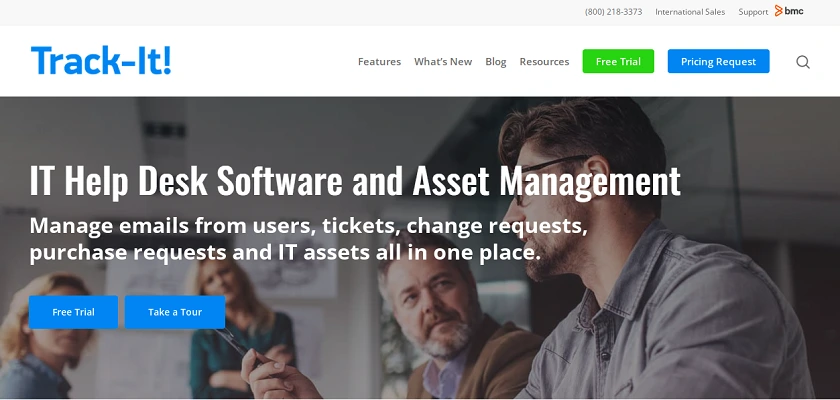 The last but not the least asset management software that we have here is Track-It by BMC. Track-It is known for its single-pane system for controlling and managing all your assets. It is a very robust software that brings amazing features and modules. Also, to make things easy and simple for everyone, there is a very useful helpdesk making things extremely simple and easy for everyone.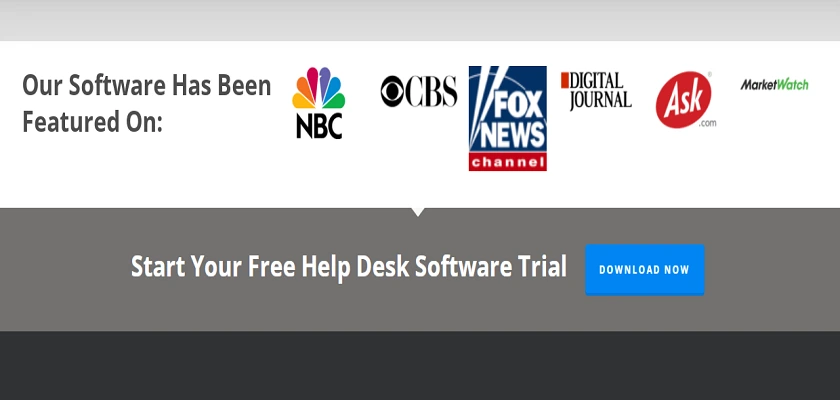 Features:
(i) Configurable options for your dashboard.
(ii) Knowledge vault.
(iii) Automated ticketing system.
(iv) Excellent help desk application with integration for the management of endpoints.
(v) A dedicated portal for end-users to manage by themselves.
(vi) Automated prioritization.
(vii) Reporting and benchmarking.
(viii) Lightweight Directory Access Protocol integration is available and takes care of old hardware.
(ix) Comes with a network detection feature.
(x) Mobile app available.
(xi) Customization available.
(xii) Free chat support.
(xiii) Software license management.
(xiv) Free trial available.
These are the 10 best asset management options if you are looking for some software that solves all your needs regarding asset management of different types.
Buying Guide – Factors to check when selecting the best Asset Management Software
As mentioned above, selecting the right software for you is as simple as it is. So, instead of getting confused and making bad decisions, you need to efficiently make the right decision. Getting help from this guide can be vital as it will help you keep track of all the important things.
These are the things you need to check with respect to your requirements, as well as the software that you are selecting for the best experience.
Type of Asset Management Software
The first thing that you need to check is the type of asset management tool. There are 4 basic types which are:
(i) Infrastructure assets management software.
(ii) Financial assets management software.
(ii) Software assets management software.
(iv) Physical assets management software.
As each of these types is made for different types of users, you need to know which one is made according to your requirements so as to get the best experience.
Integration Options
Next up, you need to check the integration options an asset management software allows you. Different integration options with third-party services will make you productive or the other way around. So, it is always better to check for the available integration options according to your needs.
Performance
Performance is also a critical factor in your decision. The software you are selecting for your asset management needs must be well-performing on desktop, laptop, tablet, and mobile devices.
It is important to consider that complex systems fail to perform very well on older devices. So, ensure to keep track of your needs and your hardware environment to select the best software.
Backend Technology
The last thing that you need to check is the backend technology of the asset management software that you are selecting. There are 2 main types, Cloud-based, and Locally hosted.
There are pros and cons to each of them and both fit perfectly for the needs of different types of people. So, you need to check out which one of these brings better value for you.
These are some of the most important things that you need to keep track of when selecting the software for managing your assets. Make sure to check these after setting your list of requirements straight so that you select the best software.
Are the Open-Source and free Asset Management Software any good?
Although there are not a lot of options available that fall under this category, some still bring amazing value and services making open-source and free software a good choice.
Is Asset Management Software good for Businesses?
Yes, selecting the right asset management software can bring wonders for any business because it will eradicate the need to use physical registers. There will be a lot of other benefits for businesses like low cost, better productivity, and safety.
What type of Asset Management Software is more affordable?
Cloud-based software is usually more affordable. They also provide other benefits like remote data access as well as security and reliability. However, there are some things that this cloud-based software misses, which as well are only available in the locally hosted options.
Final Remarks
Asset management and the use of asset management software as we have seen is very vital today. If we take a look at our usage of records and assets, we can say that getting software that efficiently manages all these assets is not only necessary for all businesses, but it is also important for various individuals. The reason is not only the need for this software but the amazing benefits that they bring along as well.
However, if there is something else that you need to pay attention to, then it is you selecting the right asset management software or asset manager according to your set requirements. In this way, you can have the best experience using these software options.