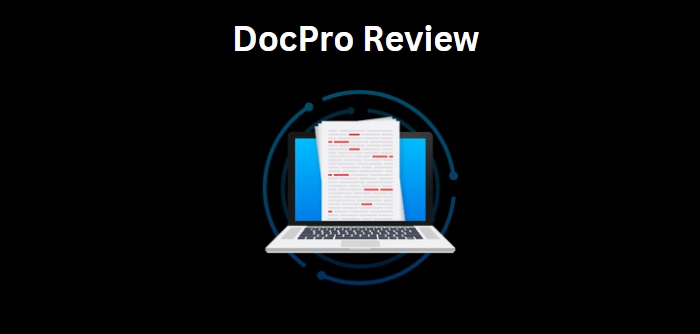 Document Management can sometimes be a burden, especially in today's world where the pace of business and life is really fast. A solution that can simplify Document Management Processes is DocPro.
DocPro is simply a hub that contains a vast library of customizable templates, and a comprehensive suite of tools that can help you seamlessly transform your document-related tasks. With DocPro, you have a better approach to handling everything from legal agreements to crafting essential business documents, vital contracts, and beyond. You may be a seasoned professional or just someone starting his or her entrepreneurial journey, DocPro can make document creation and management a breeze. It provides an extensive collection of templates and user-friendly features to suit every need; Let's go into the review in-depth.
Overview of DocPro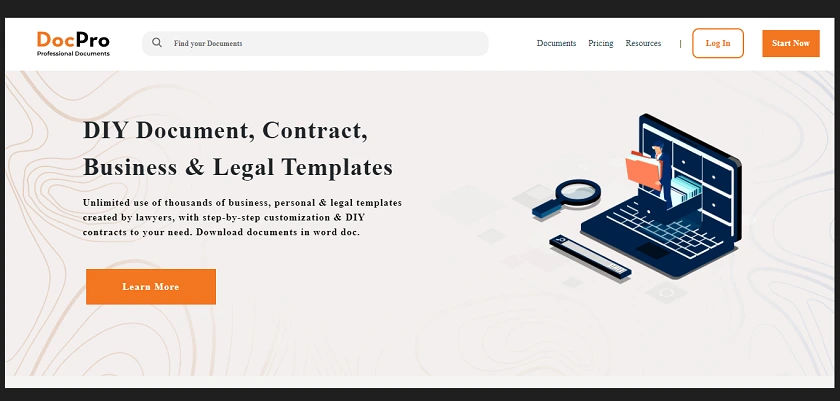 Firstly, DocPro provides you with two main categories where you can find and use templates. They are Business and Personal. For Business use cases, you have the following; Banking and Finance, Commercial, Sales and Marketing, Corporate, Debt/Equity Investment and Capital Raising, Goods and Services, Human Resource/Employment, Intellectual Property/Information Technology, Litigation and Liability Management, and Setup of Business/Entity.
For Personal, you have the following; Complaints and Apologies, Employment/Work, Family/Personal Relationship, Government, Bank and Utilities, Greetings/Invitation/Reply, Legal/Settlement/Insurance, Property, School/University/College, Services/Contracts/Miscellaneous, Travel/Transportation.
When you click on any of the Tabs under Business or Personal, you will find other Sub Tabs with more options for you to look at, and make use of. As an example, under Business, if you click on Banking and Finance, what you find is shown below.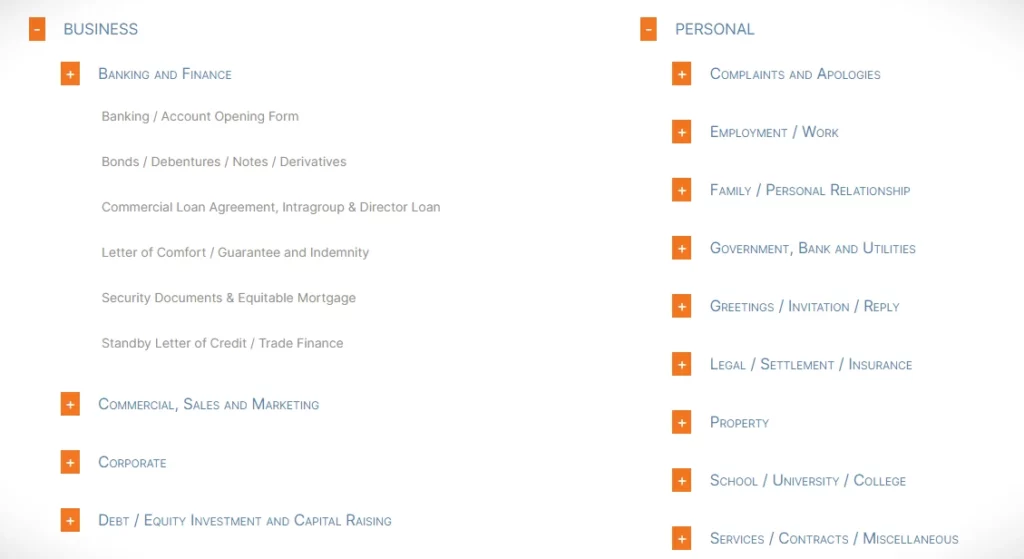 How to find Documents in DocPro
To make the process of finding documents easier, DocPro provides you with three methods. The first is using a Search Box, the second is with Advanced Search, and the third is with Categories.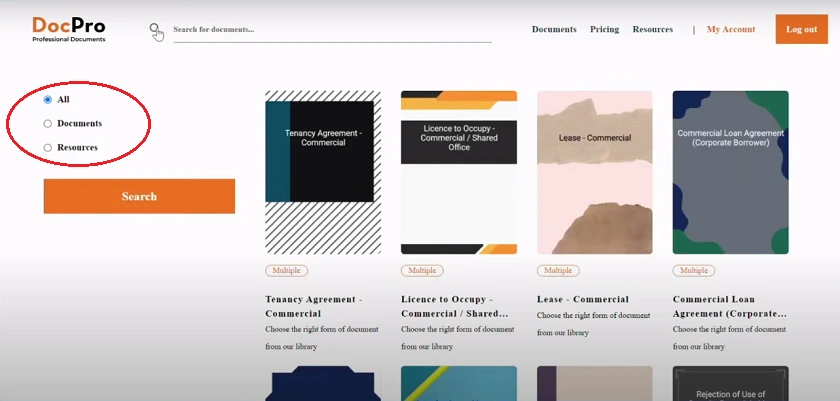 Beginning with the Search Box, within your DocPro Account Dashboard, you will find the Search Box at the very top. You can then type the keyword related to the document you are looking for and click on the search button. All documents that are related to your keyword will be shown to you. Then, on the left-hand side, you can choose to see All, Documents, or Resources (Blog Posts).
Using Advanced Search, you can find this on the Homepage of your DocPro Account Dashboard. With this, you can search using Keywords, using the Type of Document, selecting if it is for Personal or Business, or using Category as shown below.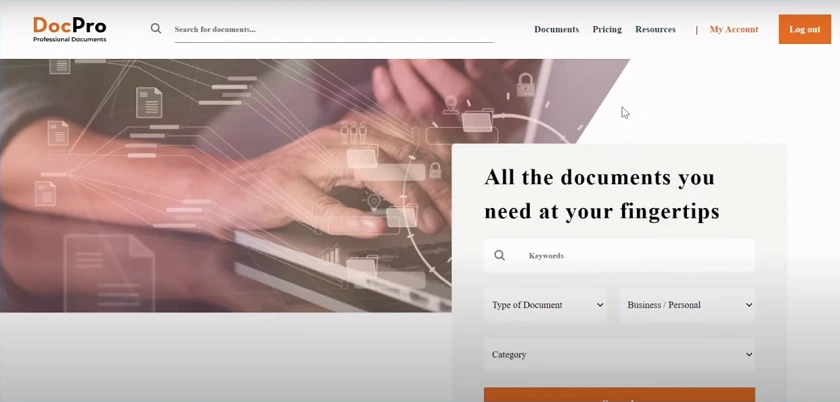 Then, to search using Categories, simply click on Documents at the top of your DocPro Account Dashboard and you will be presented with the two main DocPro categories which are Business and Personal.
Creating and Editing Documents
Firstly, it is necessary for you to fill in your complete Personal or Company information in your registration details within your DocPro Account Dashboard so that this can be used to automatically populate whatever documents you create or edit.
Now, simply search for any document of your choice and when it is out, click on its name, and you will be presented with a summary page of that document, as well as a more detailed preview description. If you find this template suitable for your use, click on Create Document. The next page that appears will highlight all the relevant fields that you should edit. On the left-hand side, you will find "Fill Using Member's Personal Information" and "Fill Using Member's Business Information". So, choose which is applicable to the document, and choose the appropriate answers to the questions relating to your end goal for the document. If you choose to skip the questions, you will get a blank document at the end that's ready for download. Then, you have the option to go back using the "Previous Button" and make changes as necessary. When you've completed all the steps, the Progress Bar at the top will show 100% and on the left-hand side, you should see "Get Document". Now, click on this and your DocPro customized document will be downloaded and saved under "My Templates" in your DocPro Account Dashboard.
Why DocPro?
(1) An Abundant Treasure Trove of Templates: As of the time of writing, DocPro has 2,718 documents in 113 categories. Its extensive library of templates reviewed by legal professionals is one of its most remarkable features. This will save you hours of research in drafting contracts, wills, agreements, et cetera. Also, these DocPro documents are not for legal contracts alone, they cover other areas.
(2) Straightforward Customizations: The DocPro Graphical User Interface is very simple and intuitive. It enables you to customize documents in no time, even with basic knowledge.
(3) A Cost-Effective Solution: DocPro saves you money that you may have budgeted for legal fees, especially for startups and small businesses looking to save money.
(4) Responsive Customer Support: The DocPro customer support has been satisfactory with their responsiveness and willingness to assist. Also, if for any reason you do not find a document you want, you can simply request for it using the "Request Document" function and it will be produced for you.
(5) Money-Back Guarantee: The DocPro brand does provide a 7-day 100% money-back guarantee according to its terms.
Final Thoughts
DocPro is a document management solution that can become an indispensable tool for you. Its extensive library of templates, easy customizations, and affordability, make it attractive for individuals, small businesses, and large corporations. If you are in search of a way to simplify document management without sacrificing quality and security, DocPro is recommended.
Get DocPro on the DocPro Official Website (50% Off on an Annual Plan or Lifetime Plan)